I am a HUGE fan of taking a "Black" spin on beloved media characters, whether it's for Halloween or cosplay in general. And for me, this usually means using different coloured box braids over wig or just leaving my natural hair colour.

Back in 2021 I had the INCREDIBLY fun honour of partnering with Pinterest to bring some Halloween costume ideas to life, and I since I ended up capturing way more content than was needed… I thought I'd share more photos here, as well as some recommendations on how to make them yourself!
Full outfit breakdowns to come of each individual costume.
*Some of the links included in this post are affiliate links. This means, at no additional cost to you, if you click on them and make a purchase, I will make a small commission.*
3 Costume Ideas for Black women with Blonde Box Braids
When brainstorming what to be for halloween this year, I started by looking for characters with blonde hair–for the sole reason that I already had golden blonde box braids in.
So here is what I came up with:
1. Rapunzel
This one was a no-brainer. The moment I put in my blonde boxbraids, I knew I wanted to try to do a halloween costume inspired by Disney's Rapunzel.
Like is there any better concept for long thick box braids?
I ordered the dress and corset from SHEIN (boo, I know.. this is before I knew better). And ran to the dollar store to pick out a varied selection of fake flowers to stick in my hair.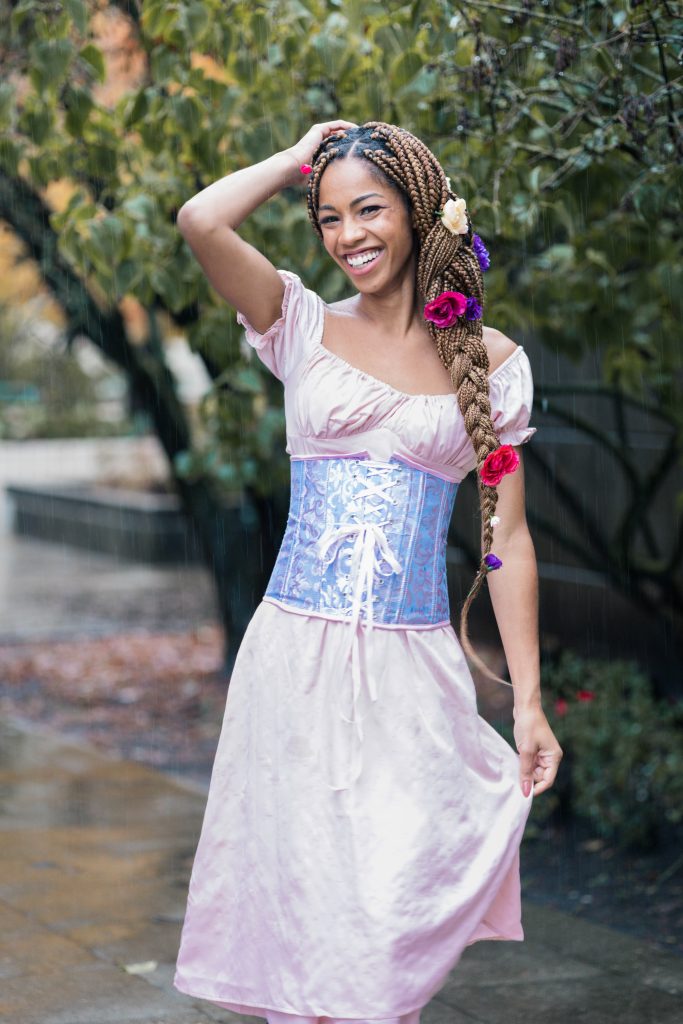 It's funny, when I debuted this costume on TikTok people either…
Came at me for being… racist?
Or critiqued the fact that I was wearing the corset backwards… but Rapunzel in the movie has her ties in the front.. so I was just trying to emulate that the best I could.
I probably could have tied it better, but still. :|
2. Sailor Venus
A second no-brainer for me was dressing up as Sailor Venus… although it was a tie between her and Sailor Moon. In fact, it's my goal to work my way through cosplaying all of the Sailor Scouts
This costume, I was quite proud of because I made most of it from scratch.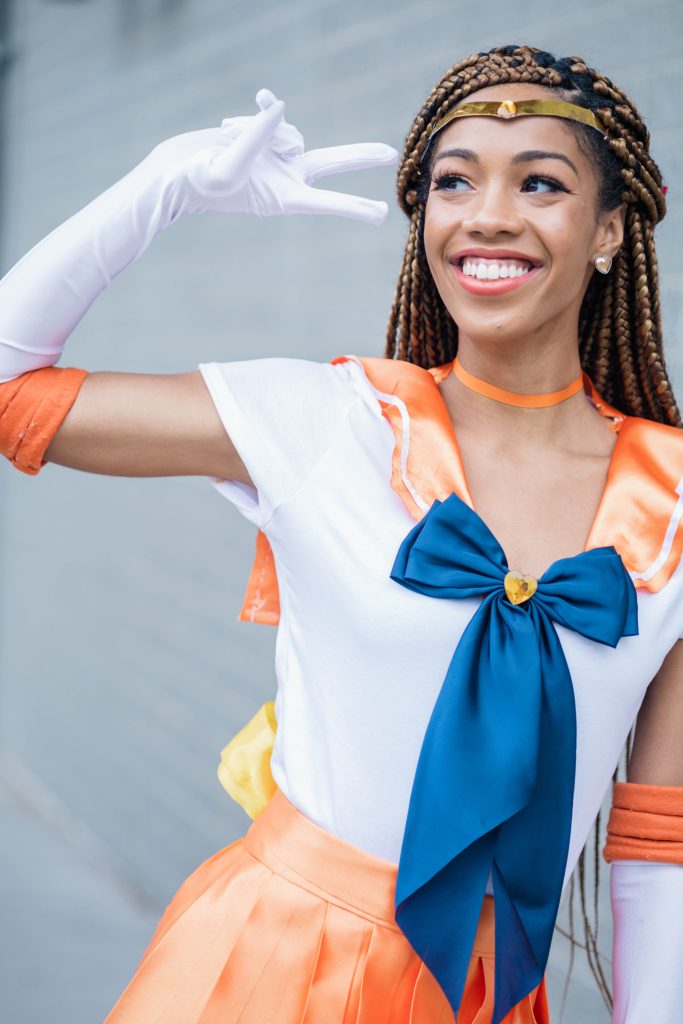 Items I purchased to bring this to life:
What I DIYed:
The Tiara made out of thick stock paper, Gold letter cut outs, and a plastic gems
Skirt and the cape (…Is it a cape?), using some shiny satin fabric I purchased at Michaels.
Love Chain, using red and gold beads from Michaels.
I didn't take many pictures of the back, but you can see how I styled my box braids below, and a little tiny peek of the yellow bow.
3. Tinkerbell
Or… Mother Nature…. or Princess Tiana with Blonde Hair….
This costume was admittedly VERY low effort. I got the dress off SHEIN again, tied up my hair in a large bun, threw on a green head wrap to add a bit more *flavour*… and was good to go.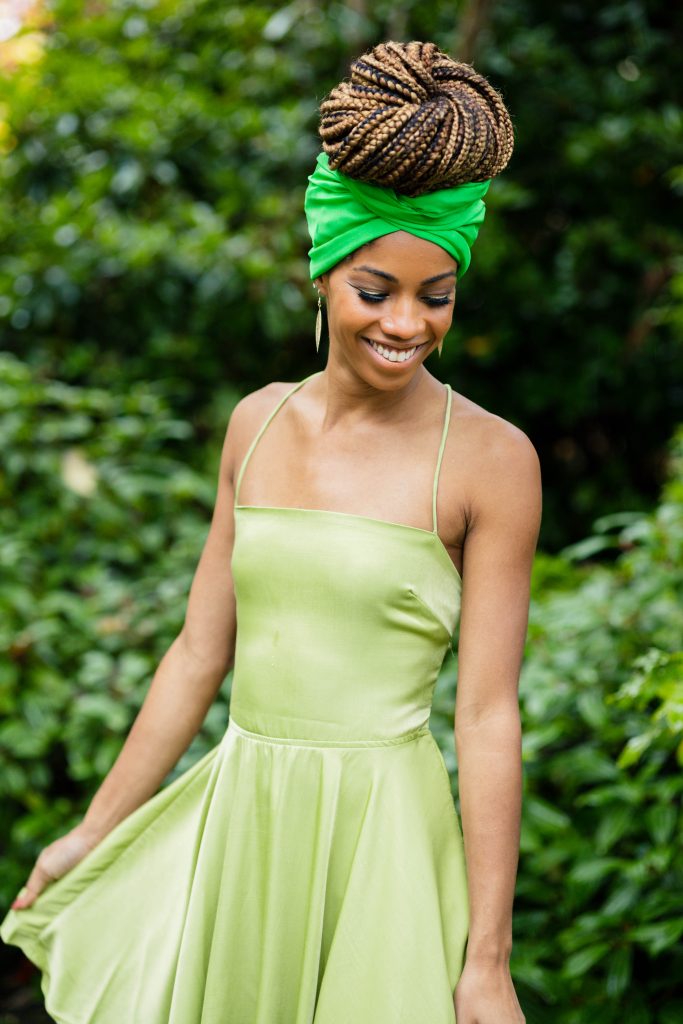 If I had been able to find some wings, I think the vision would have been much clearer…Because as it stood, no one really knew who I was trying to be. It's giving a bit more of a Disney-Bounding vibe, more than anything.
But luckily we have Photoshop AI to help us out.. okay maybe AI has a ways to go…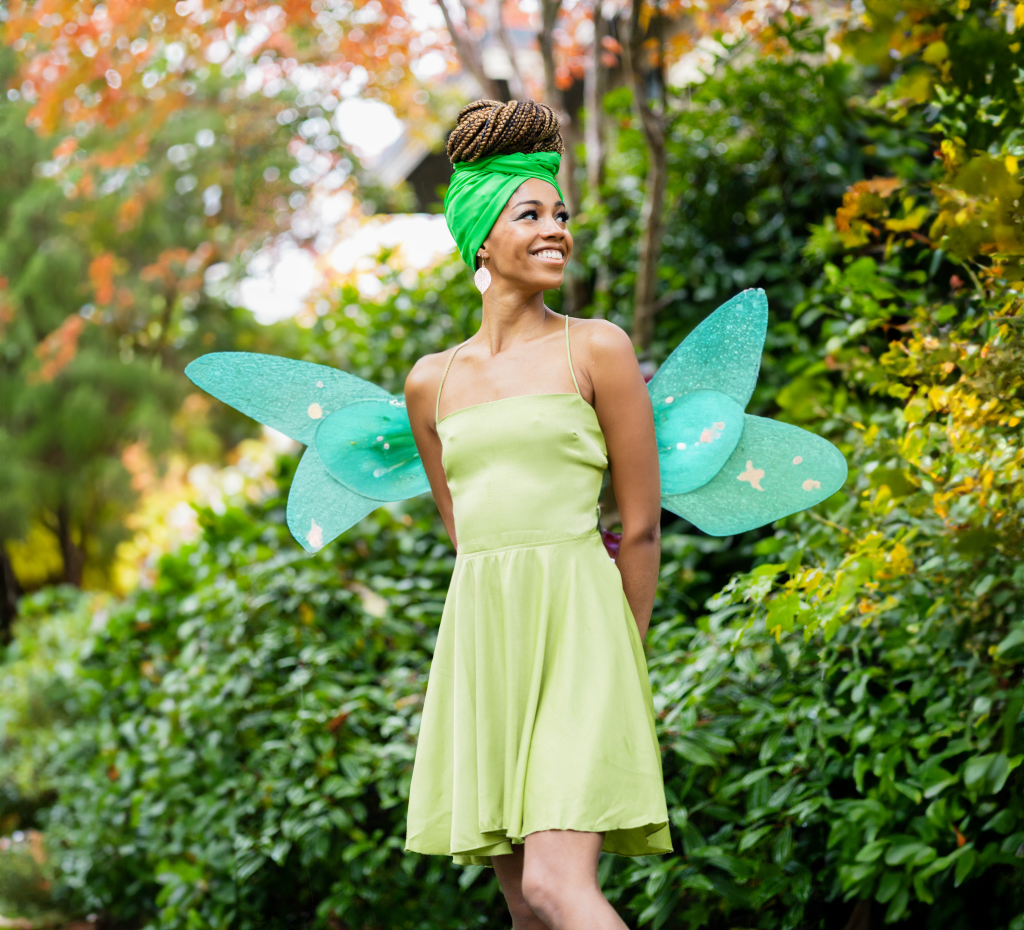 Final Thoughts on my Blonde Box Braid Halloween Costumes
Did this help you gather any inspiration for your next Halloween costume or maybe your venture into cosplay?
I'm always on the hunt for good ideas for the future, so drop your recommendations below! Or perhaps, recommend a box braid colour, and I'll see what costumes I can come up with!
Halloween-Related Posts: