I had the honour of partnering with Pinterest Canada to share my natural hairstyle recommendations for holiday parties, and loved them so much I'm sharing them here too!
Black women and people with curly natural hair textures often struggle when it comes to figuring out how to style their hair for holiday parties and events.
And when I was brainstorming for my own looks for the festive season, I quickly fell down a rabbit hole looking at gorgeous crystal and rhinestone hair jewelry.
That being said, most of the looks and inspiration I was finding were of women with straight hair. So I decided to order some and experiment with the hair jewellery in my natural hair.
These are the results.
*Some of the links included in this post are affiliate links. This means, at no additional cost to you, if you click on them and make a purchase, I will make a small commission.*
Holiday Party Approved: Jewelled and Pearl Natural Hairstyles
The beauty of all these hairstyles is HOW EASY they are to recreate. All you need is the hair jewerly, which I'll link inspiration for below beneath the breakdown of each holiday look.
1. Braided Updo with Pearl Hair Pins
This style feels very Christmasy to me. A perfect choice for an elegant Holiday function.
An incredibly easy style; I started with my hair slightly stretched, and separated in two.
Then I braided my hair back into two chunky french braids, tucked up the ends, and added pearl-tipped pins throughout.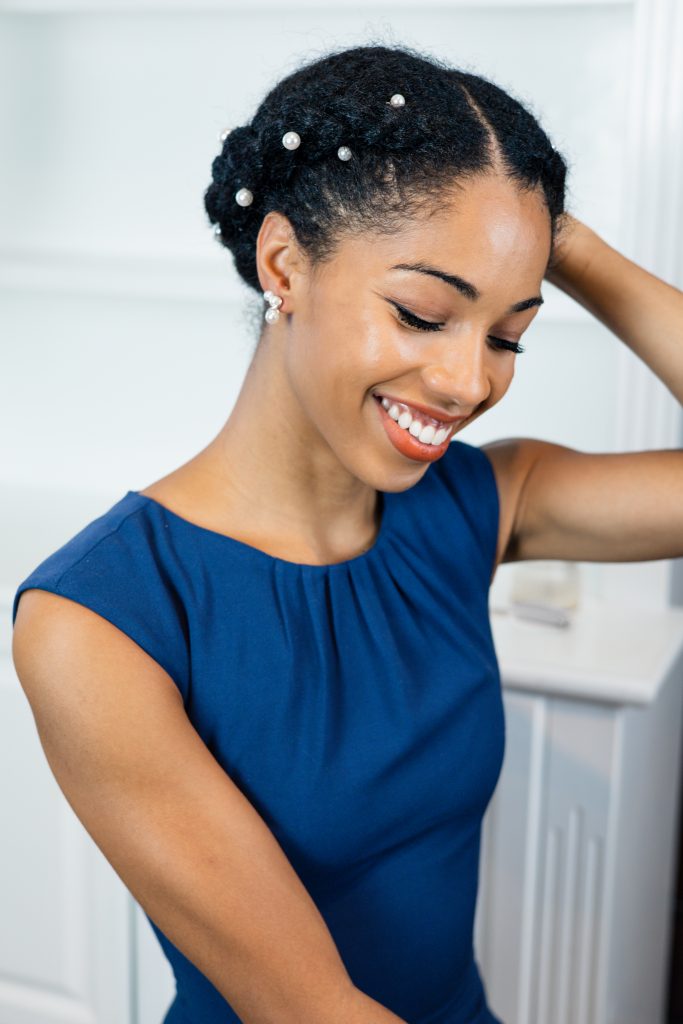 I used the open-style hair pins, but depending on your needs and hair texture, here's a few different options to check out:
2. Slicked Back Bun with Embellished Bobby Pins
I love this look because it somehow looks both elegant and severe–reminding me of my ballet days.
Begin by putting gel in hair and brushing it back into a ponytail.
Pro Tip: I find stretched out hair easier to smooth back.
Then style your bun as you normally do–I like to split my ponytail in half, and pin it around one half at a time.
Then simply add in the embellished bobby pins!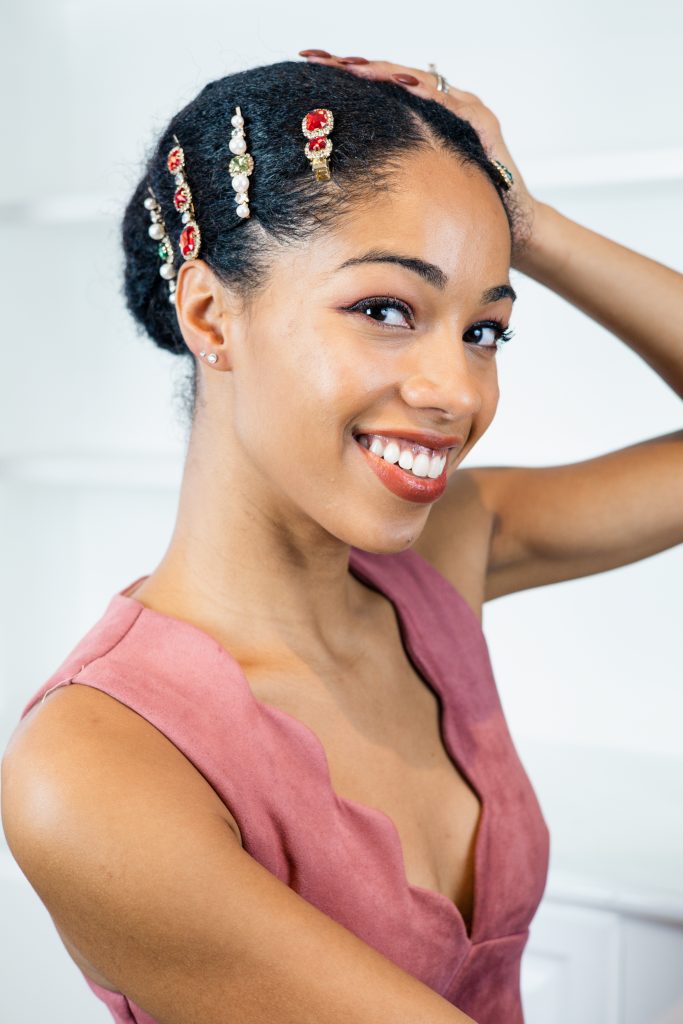 I found these on Etsy… but then later found them cheaper on Amazon. (Making me think someone is just reselling Amazon products…)
3. Twist Out with Bejeweled Headband
I love a simple holiday natural hairstyle that lets my curls be on full display!
So a twistout adorned with a bejewelled headband is a Christmas party go-to!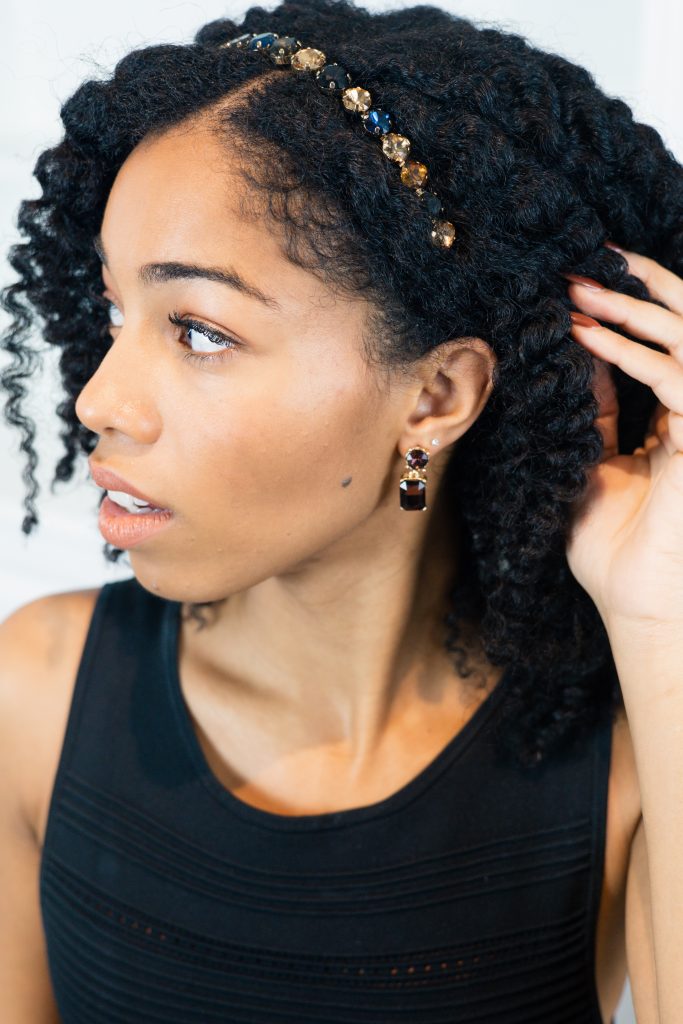 I got my headbands from Anthropologie in 2021, but between them, Amazon, and Etsy, there is no shortage of places to shop gem-studded headbands.
4. Twist Out with Snowflake Jewelled Hair Combs
Another Holiday Natural Hairstyle that makes full use of your curls!
To complete the style, I worked from a stretched twist out, pinned up half my hair with bobby pins, and then added the snowflake combs.
I was obsessed with these rhinestone hair combs from LeletNY, and found them at Antrhopologie. They were my Christmas splurge last year.
Final Thoughts on Holiday Natural Hairstyles
However you choose to style your natural hair at the next holiday event, I hope this post helped serve as inspiration!
Black women are always told that for formal events and holiday parties, that we need to have more subdued hairstyles. But this is your reminder that Black women can wear their hair however they'd like–even at Holidays and other Christmas events–whether that's natural, big and bold, or slicked back and relaxed.
But either way, I encourage you to take full advantage of the festive season, and add a little sparkle through the jewelled accessories above!
Want more winter/holiday content? Check these out: