I had the honour of partnering with Pinterest Canada to share my hair accessory recommendations for the Fall season in an Idea Pin, and I wanted to share them here too!
And since I had box braids in at the time (my favourite protective style), I made sure my picks would fit over my hair.
But first, what really separates fall hair accessories from ones you can sport the rest of the year?
For me… the qualifying characteristics are simply items that are either:
Warm and Cozy
Fall-coloured
Which means that there are a lot more qualifying items out there than what's on this list.
*Some of the links included in this post are affiliate links. This means, at no additional cost to you, if you click on them and make a purchase, I will make a small commission.*
My Fall Hair Accessory List
Now let's get into the my go-to list of fall hair accessories, which all happen to work with your favourite protective styles.
If you have anything you'd like to add, share in the comments!
See my Idea Pin below for all the details, and find the list-version with BONUS ITEMS and product links beneath it.
*And did you know you can save this pin directly to your favourite board?*
Beanies (or Toques for Canadians)
You can never go wrong with a toque or beanie for the colder months.
They're especially great to break out when I have my box braids in, because it's the only time I can actually fit them on my head.
I picked up both the toques in the video from Garage, who always have a great selection of cold-weather accessories every year.
I also like to keep an eye out for satin-lined beanies which help protect my hair further, and reduce frizz. Otherwise, I'll just wear a satin bed-time cap beneath a normal one.
Great places to shop beanies:
Brimmed Hats
Nothing says 'Fall Photoshoot' like a hat with a brim.
I always know autumn has hit when I see the girlies on Instagram hitting the pumpkin batch or going for hay rides with their hats on.
2021 has also seen bucket hats sweep in as the trendier option in comparison to the more traditional sturdy-brimmed ones.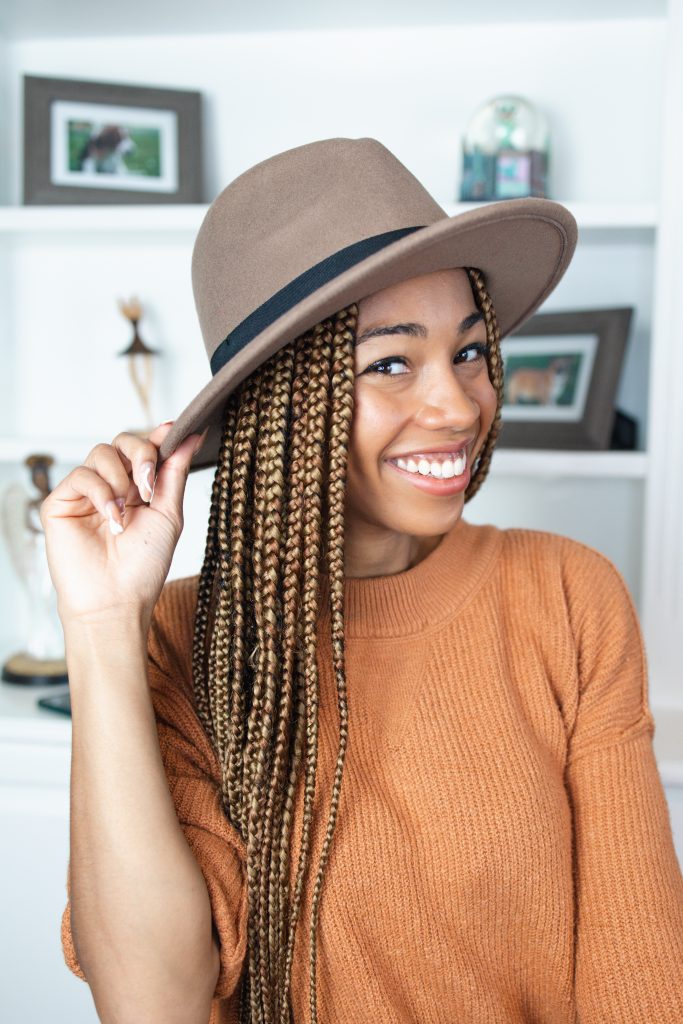 Head Wraps
I may be bias on this one, because I'm a fan of head wraps all year long.
But I think they are an especially perfect hair accessory for fall.
Headwraps can help keep your head and ears cozy, and ones with warm autumn hues can complete any outfit.
Great places to shop head wraps:
The Wrap Life – Crowned – Turbrand
Need help tying headwraps? Watch THIS.
Scrunchies
Ok I'll admit scrunchies are a great hair accessory all year long.
But because they are great for reducing breakage, they are especially great for cold weather when our hair can be especially fragile.
To really get in the season, opt for some fun fall-coloured and textured. I love going for anything earth-toned, velvet or even corduroy!
I'm also especially in love with oversized scrunchies that I just discovered while researching for this post!
Great places to buy scrunchies:
SuperCrush – Ardenes – Etsy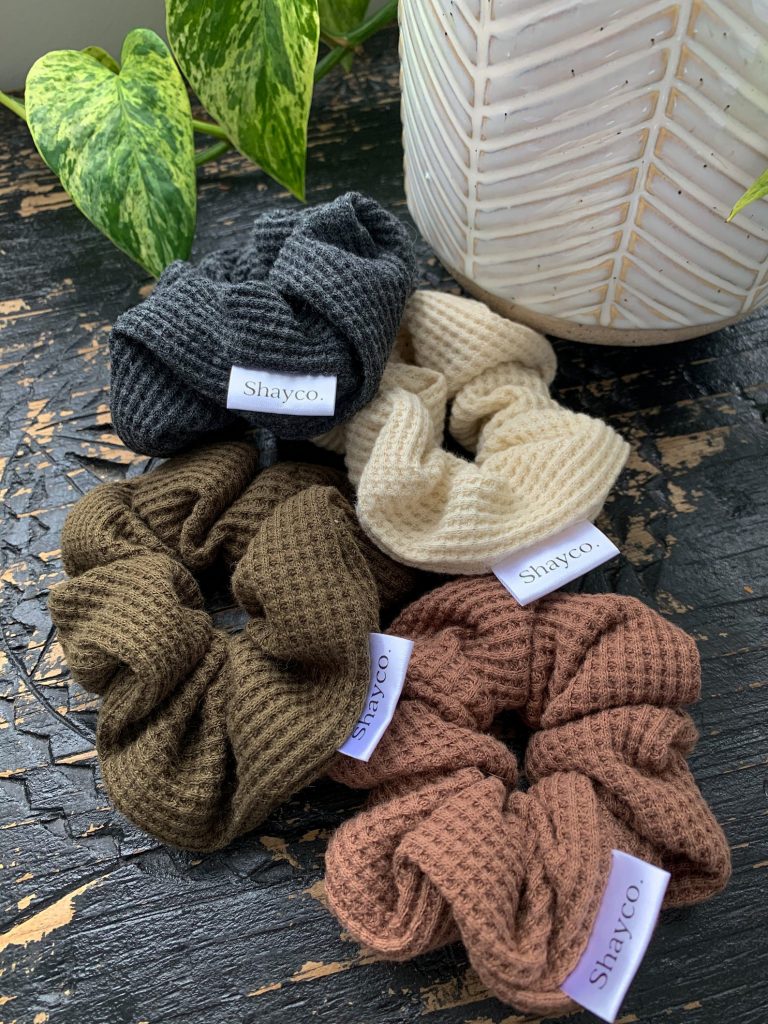 Warm Head Bands/Ear Warmers
Now for some bonus accessories for fall that were not in the original video.
I don't know about you, but I have become OBSESSED with these cozy headbands the past few years.
Quick and easy to throw on, they compliment any outfit.
Fall-Themed Hair Pins, Clips and Combs
Whether you're looking to be on-theme for Thanksgiving dinner, or just carry a touch of fall with you wherever you go, there are tons of great hair pins and clips out there to elevate your look.
Click here to see more jewelled hair accessories!
Final Thoughts on Fall Hair Accessories
Okay.. I think we can all probably admit that these fall hair accessories aren't just to be worn September through November.
But with the right amount go coziness, oranges, browns, and burgundy, I think anything can be considered an accessory for fall.
Don't agree? Debate me on it in the comments!
Want to keep the Fall Vibes going?