A HUGE 'thank you' to Maui Moisture for sponsoring this post highlighting their Strength and Length Castor & Neem Oil line! As always, all thoughts are my own.
I am so excited to be back trying another Maui Moisture hair care collection (which brings me one step closer to trying all the Maui Moisture products so that I can provide better recommendations on the best product for your needs).
So far we have covered the Maui Moisture:
And in this blog post, as I'm sure you can tell by the title, we will be covering the Strength & Length Castor & Neem Oil collection.
But first..
Let's Talk about Maui Moisture
Just in case this is the first Maui Moisture post you've seen from me, let's give you an overview of the brand.
What I absolutely love most about Maui Moisture hair care is that all of their products include 100% Aloe Vera as the first ingredient.
My skin and hair absolutely adore Aloe Vera for its hydrating properties, so anything that includes it as a key ingredient is at the top of my list.
Their products are also…
100% Vegan
Formulated with coconut water
Free of Silicones, Parabens, Sulfated Surfactants, Gluten, Synthetic Dye, ALES, SLS
Very affordable
Incredibly accessible (my Canadian friends, you can find them at your local Shoppers Drugmart!)
The Strength & Length Castor & Neem Oil Collection
Now let's talk about the hair care collection of the hour.
As the product name alludes to, this Maui Moisture line is designed to strengthen and lengthen your hair, and it is specifically targeted towards damaged and transitioning hair (i.e. those looking to grow out hair that may be chemically damaged from relaxers or even colour treatments).
Note: Your hair is always growing. Products that advertise lengthening your hair, do so by helping you prevent breakage and therefore help you retain length.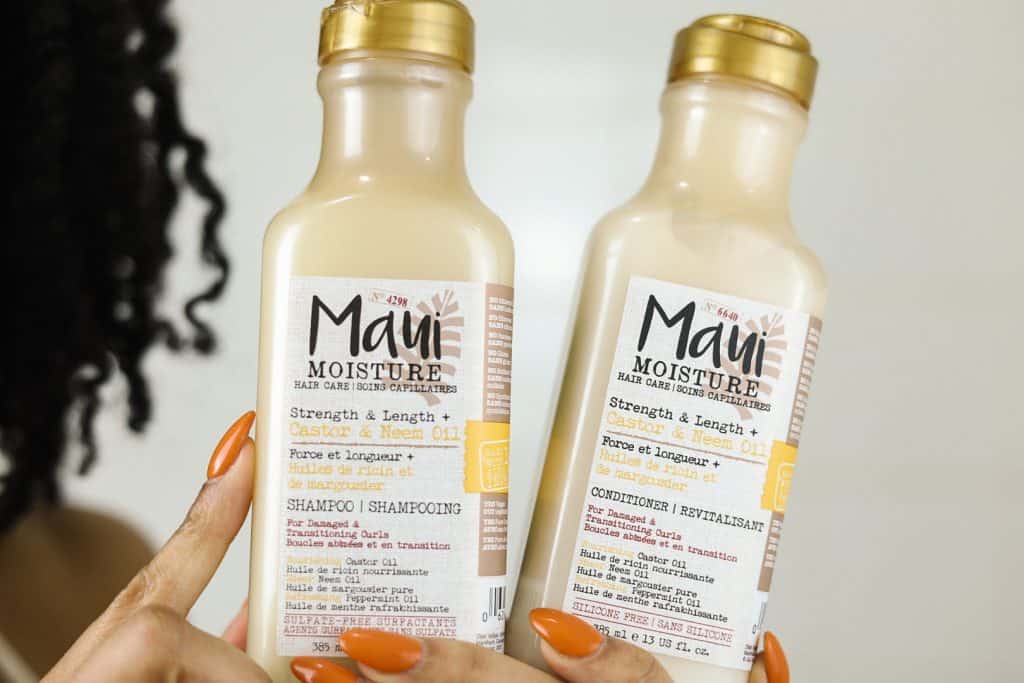 In addition to the signature inclusion of aloe vera and coconut water, this collection includes three additional ingredients designed to strengthen and renew damaged hair:
Castor Oil

An ingredient that has been a staple in the natural hair community since the beginning. It promotes hydration by acting as a humectant–drawing in moisture.

Neem Oil

Neem oil is an ingredient that I'm less familiar with, but was so excited to try. It is rich in fatty acids and Vitamin E which help improve overall hair health.

Peppermint Oil

I love products that include peppermint oil, especially in my shampoos as it gives the scalp that extra clean and soothing feeling.
At this time the collection includes a shampoo and conditioner (both of which I will be reviewing today), and looking online, it also includes a Curl Oil Gel.
The state of my natural hair right now
When I talk about hair care products, I like to try to provide an idea of what my hair is going through at the time of trying them.
That way you can get a better idea of if a product will work for you!
My hair is growing, and I am retaining length. But it's not the healthiest…
I over-manipulate it, I go too long between wash days, and it's overall on the dry side.
All of which has led to it being pretty damaged–visible in the split ends and tons of mid-strand splits.
Which all means that I am definitely the target audience for this Maui Moisture collection!
How it worked for my hair:
Starting with the shampoo, it worked exactly how I anticipated–with the peppermint oil helping provide that squeaky clean, soothing feeling.
As with all the Maui Moisture shampoos I've tried, the Strength & Length didn't leave my hair feeling stripped, and I was able to comb my fingers nicely through it.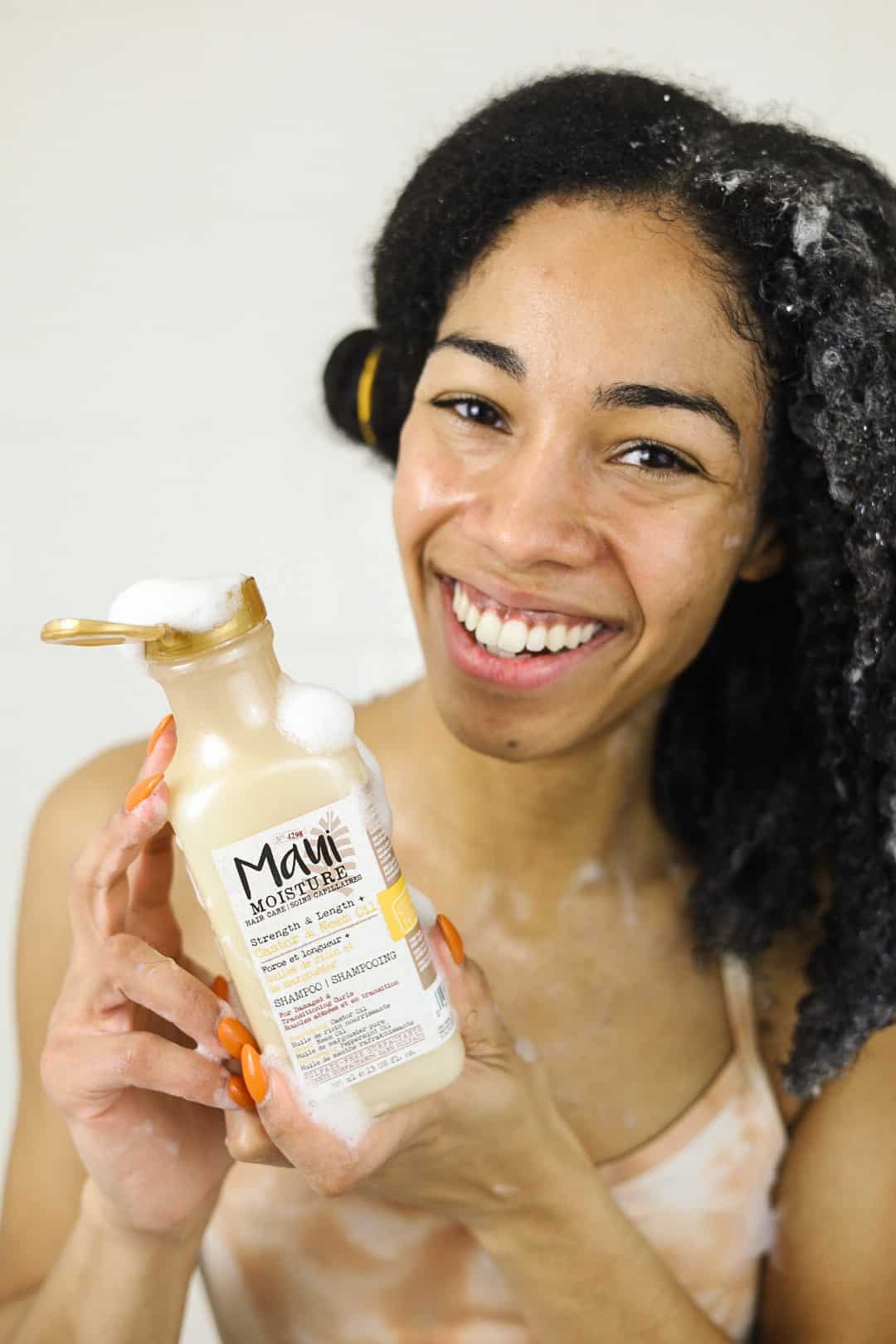 The conditioner is a nice creamy texture, and soaked into my hair nicely.
I found the slip was moderate, I could comb through my curls nicely without much resistance but it wasn't as smooth as the Curl Quench Conditioner.
Which makes sense as this product is focused more on strengthening.
With any wash day product that promotes hair health and renewal, you'll need to incorporate it long term into your routine to see if it works for you.
I've been at it a month and love the way my hair feels.
I definitely noticed less breakage on my wash days. Which is right in line with the brand's claims that you will notice less breakage after just two washes!
I can't wait to see the results with ongoing use!
Final Thoughts
Overall I enjoyed using the Strength and Length collection, and will continue to incorporate it into my routine longterm in order to manage some of my breakage.
I'll likely rotate it with products that give that extra oomph of moisture (i.e. the Curl Quench line) to help keep my curls extra moisturized.
If you're someone who is transitioning to natural hair or deals with damaged strands, I would definitely recommend checking out this line.
Reminder that you can find this and other Maui Moisture hair care products at Shoppers Drugmart!
And thank you again Maui Moisture for sponsoring this post!
Related Posts: