Thank you Maui Moisture for sponsoring another post! This time I'll be reviewing the Maui Moisture Curl Quench + Coconut Oil shampoo, conditioner, and curl smoothie. All thoughts are my own.
Welcome back to another deep-dive product review, where I share my experience and results after using a hair care collection on my type 4 curls.
Today I'm really excited to share my thoughts on the Maui Moisture Curl Quench + Coconut Oil collection, as it's a product line that is completely aligned with my hair type and needs.
I have thick, dense, high-porosity hair that never seems to be able to soak in or retain enough moisture, so I lit up at the chance to try a super hydrating product.
Related: The Key to Healthy Natural Hair? Knowing Your Porosity.
Before even trying this collection, I anticipated that these products would work even better on my hair than the last Maui Moisture line I reviewed, which was the Lightweight Curls + Flaxseed products designed for … well… lightweight curls.
About Maui Moisture
If you've already checked out my last Maui Moisture review, you'll be familiar with the brand. But just in case you aren't, here's a high-level recap:
Maui Moisture is an effective and affordable haircare brand. They are incredibly accessible, given that they're available at a number of local drugstores, with my favourite being Shoppers Drug Mart.
All their products have 100% Pure Aloe Vera as the first ingredient, which is infused with a unique blend of coconut water (which my hair absolutely loves).
Their brand is also proudly vegan.
Maui Moisture products are also free of a lot of things curly/coily-haired folks tend to avoid: Silicones, Parabens, Sulfated Surfactants, Gluten, Synthetic Dye, ALES, SLS, and animal by-products.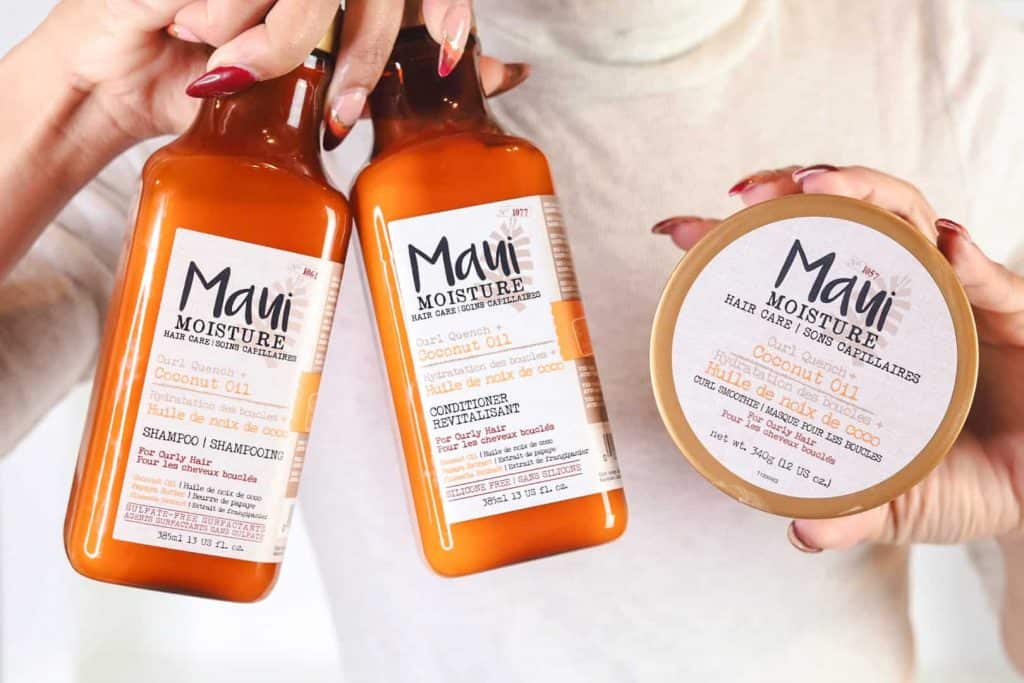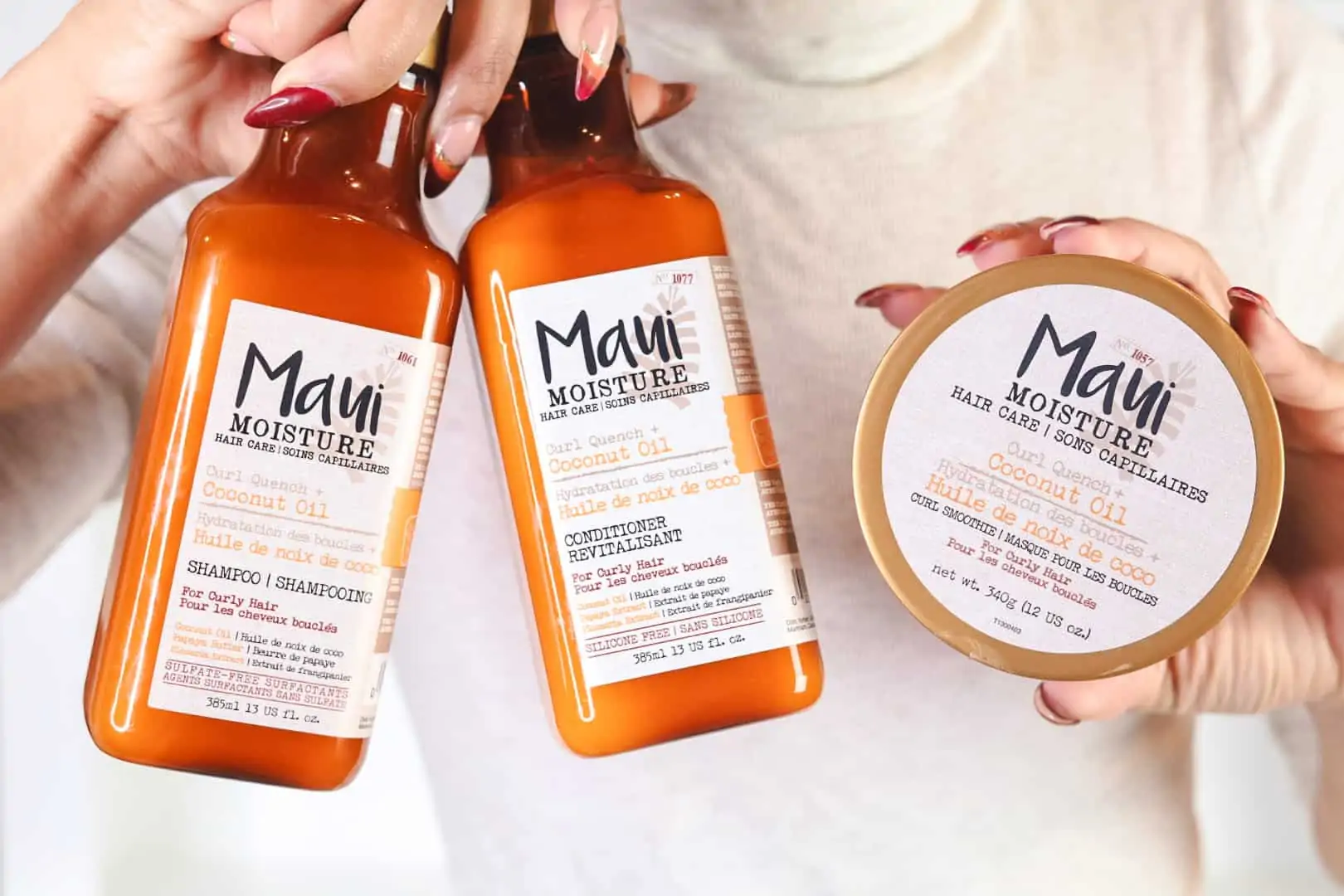 The Maui Moisture Curl Quench + Coconut Oil Collection
I love when products are straight up about their intention and their key ingredients by having all the information in their name. This is evidentially the case with this collection; which is intended to quench your curls, and has coconut oil a main ingredient.
Related Post: Can you use coconut oil as a shaving cream?
As I mentioned above, these products are designed with thick, curly hair in mind. So of course, I'm their target audience.
For this review, I tried three out of the four products in the Curl Quench collection (a hair milk is also available, but that's another product for another day):
Curl Quench Shampoo
Curl Quench Conditioner
Curl Quench Curl Smoothie
And I have a bit of confession to make regarding using the last one… but we will get there at the end.
Key Collection Ingredients
We've covered that 100% Aloe Vera and Coconut Water are integral ingredients to the brand, and that Coconut Oil is a key ingredient in the collection, but there are a couple other inclusions that make this product line unique.
According to Maui Moisture, Papaya Butter & Plumeria Extract are included to help "detangle, defrizz, and define" the hair.
The Scent
I don' t always call out a product's scent, but will often make an exception if it is extremely great or extremely not.
Luckily this line falls into the first category. You know it's good when your husband compliments the scent from the other room. Anything coconut-scented in natural hair products is an instant win for me.
My thoughts on the products:
To get a visual of how these products work (and how I failed using the Maui Moisture Curl Smoothie the first time around), check out the below wash day video!
A deeper breakdown of the products follows.
Curl Quench + Coconut Oil Shampoo
I've mentioned it before, but the two standards I hold my shampoos for to are:
Did it CLEAN my hair and scalp?
Did it leave my hair feeling stripped of moisture?
The first thing I noticed when I applied the Curl Quench shampoo to my hair was the lather. This always gets me both excited and nervous, because it usually means a great clean, but a higher risk of my curls left feeling stripped.
But my hair did not end up being stripped. In fact it was left feeling clean but still hydrated.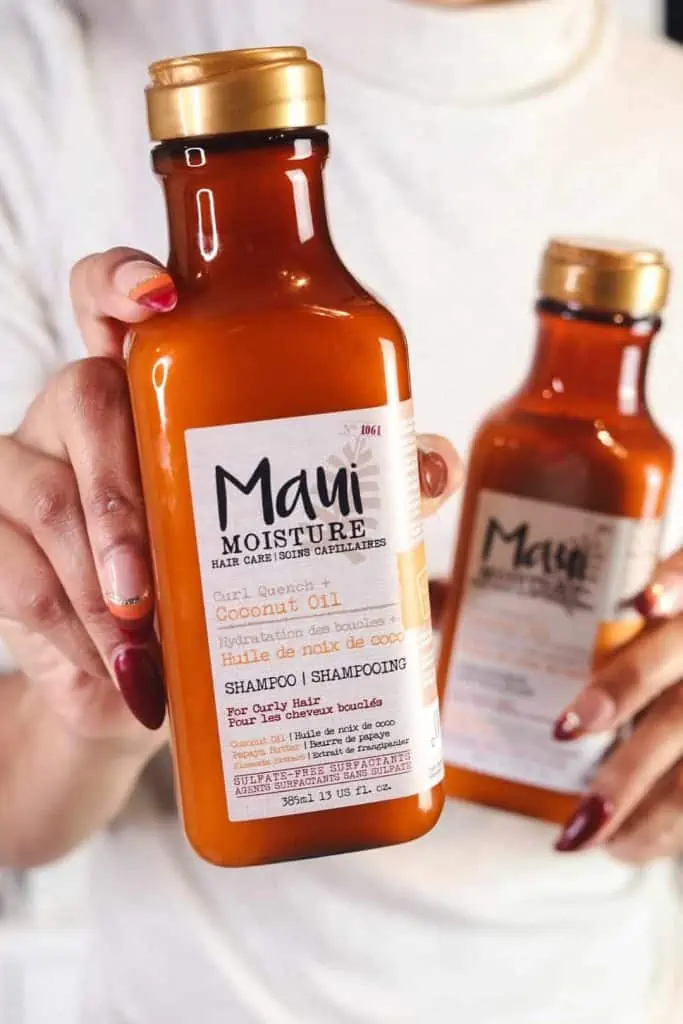 Curl Quench + Coconut Oil Conditioner
This conditioner really conditioned my hair, soaking in and leaving my hair feeling incredibly moisturized.
The texture is incredibly thick and creamy, which matched switch the amazing scent, gives the product a very luxurious feel.
Overall it softened my hair, kept it hydrated, and primed it for styling.
Maui Moisture Curl Smoothie
Okay. Incredibly embarrassing confession time. (If you watched the YouTube video, you'll know what's up.)
I blasted through my washday feeling over-confident, and I didn't read any of the product instructions.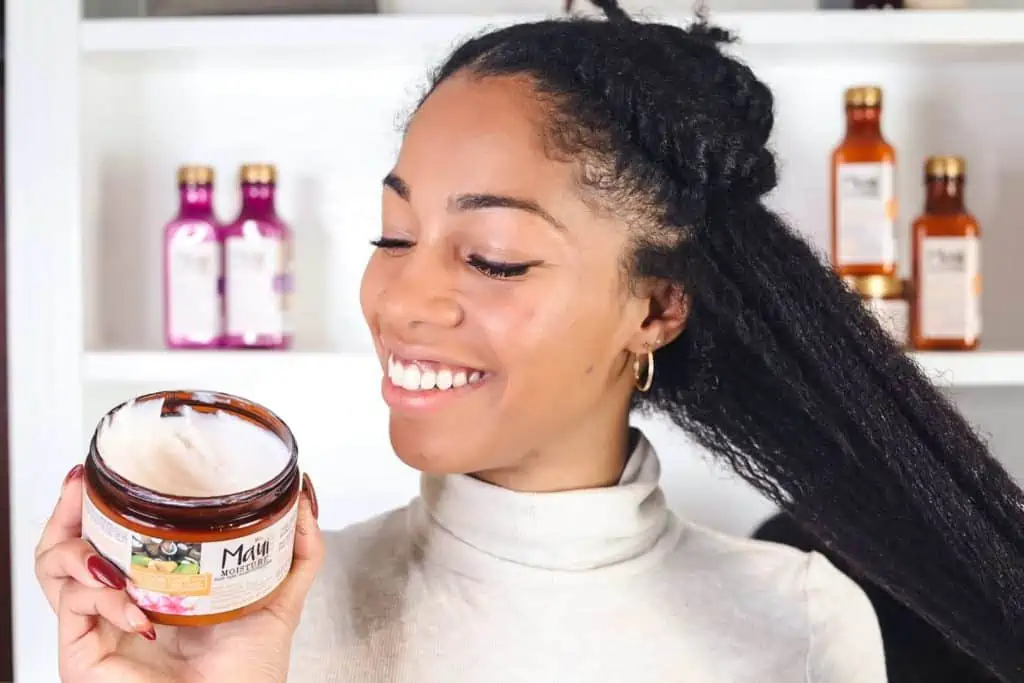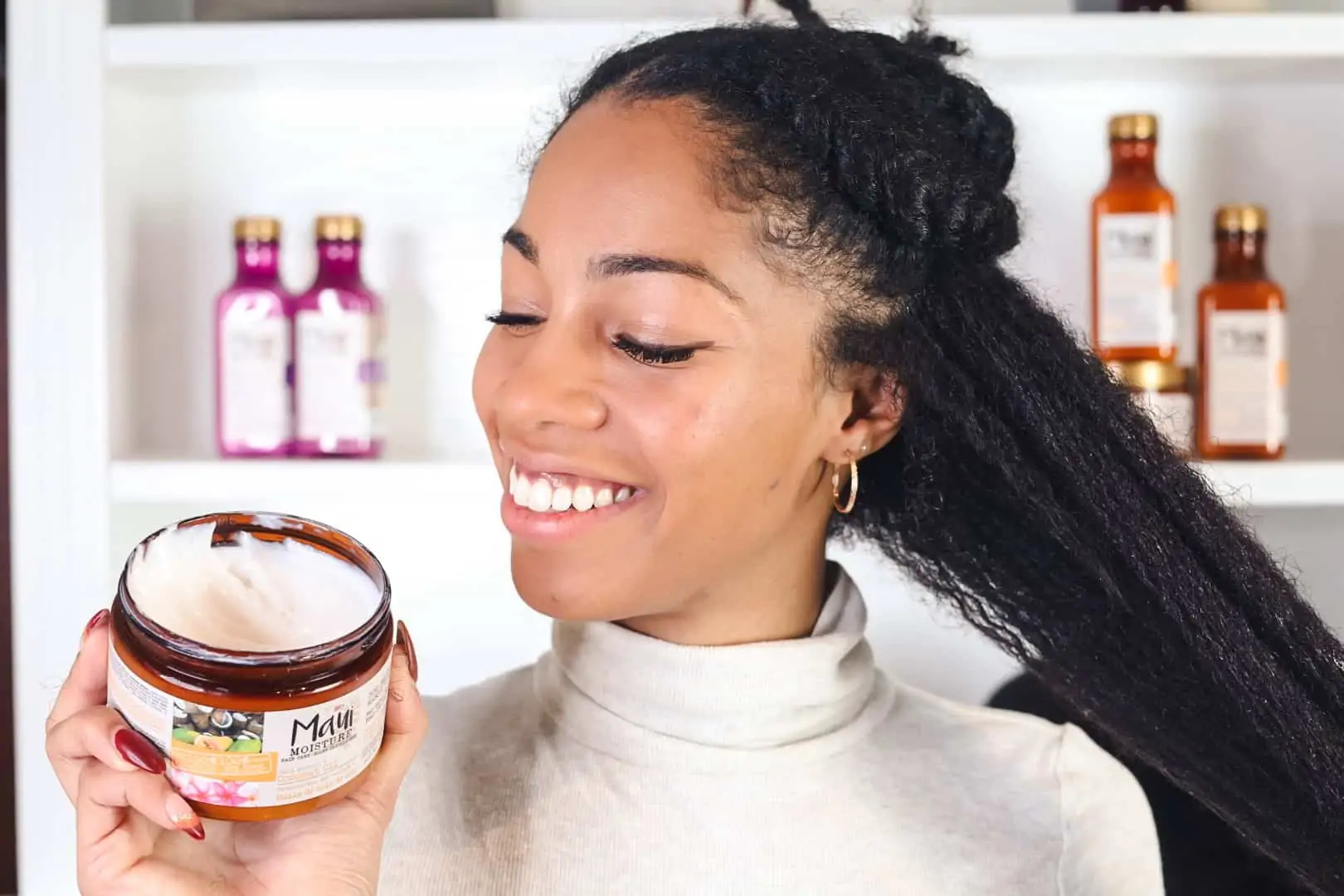 I straight up used the Curl Smoothie as a deep conditioning mask; feeling all proud of myself too by incorporating the baggie method and applying heat with my thermal wrap.
I blame the jet lag, since I filmed the video immediately upon landing from a 26 hour journey from a time zone 12 hours ahead.
It honestly worked pretty okay as a deep conditioner.. but in retrospect it's pretty clear that was not the purpose of this product.
So I strongly advise you use the product for its intended use…
Upon realizing my mistake… about 24 hours later… I rinsed my hair out to style it properly with the curl smoothie.
And I tell you, it felt like everything clicked.
While the instructions say you can use this product on both dry and damp hair, I recommend adding a bit of water to help with the detangling. Especially if your hair is like mine and is especially prone to breakage.
The texture of this product is creamy but not too thick. It really is ideal for a styling product as it hydrates nicely without weighing down your curls.
To really test it out, I used it on its own (without any oils, other creams, or gels)—and several days later, my hair still felt hydrated and healthy.
Who this Maui Moisture collection is ideal for:
I always like to take the time to outline the ideal candidate for a product line, because the reality is there are so many different collections out there, and not every one will work for every person.
So I always advise readers to take all the information provided in a product review, and to compare it against their hair's characteristics and needs.
Maui Moisture makes it clear on the packaging that this product line is designed for thick, curly hair.
While technically anyone could use it and probably get satisfactory results, it's important to know that using products made to pump moisture into thick hair, could likely weigh down someone with finer hair.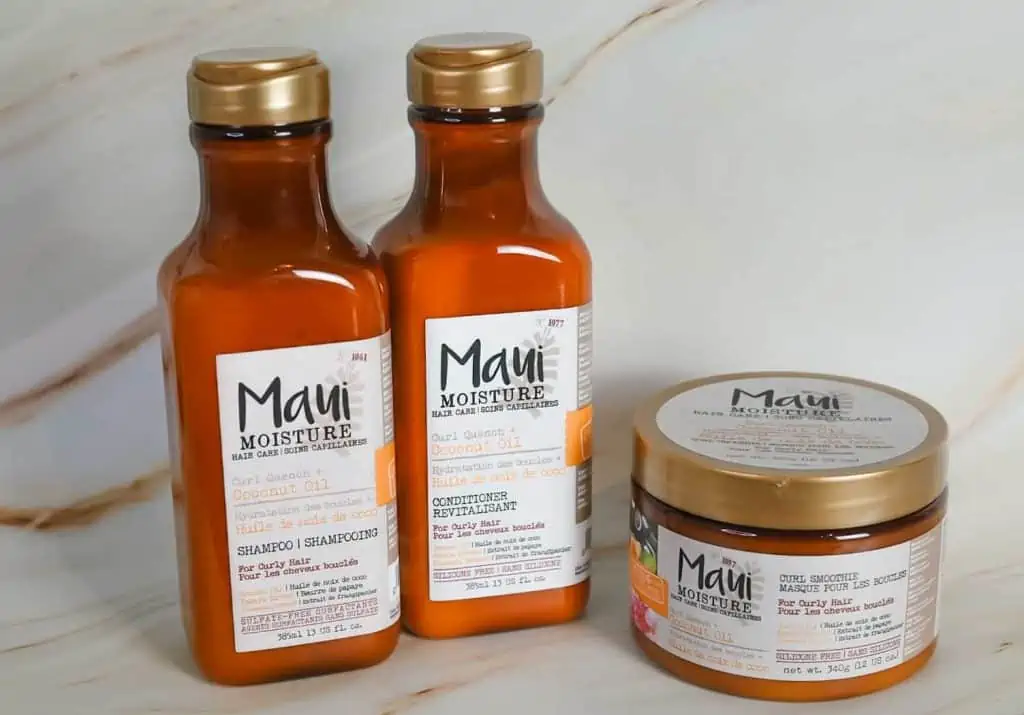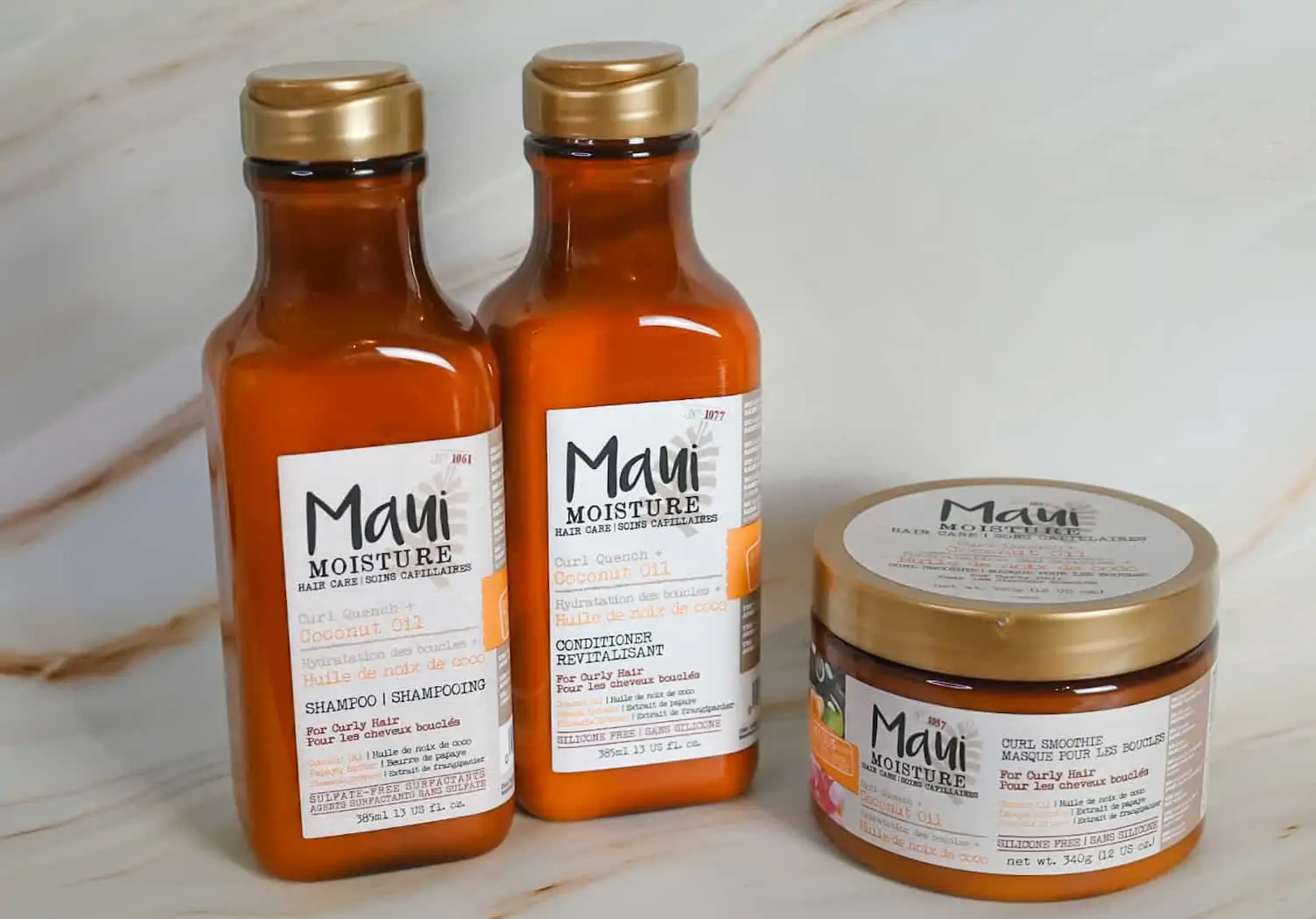 Final Thoughts
As someone who is definitely the target audience of these products, this is a line I'll be using again and again! I'm even getting my brothers on board with it, as they both deal with exceptionally dry hair.
Reminder that you can grab the Maui Moisture Curl Quench + Coconut Oil line at Shoppers Drug Mart!
Related Posts:
If you enjoyed this post, pin the below to Pinterest: