Thank you Maui Moisture for sponsoring this post, where I'll be reviewing the Maui Moisture Lightweight Curls + Flaxseed shampoo and conditioner. All thoughts are my own.
I don't know how I managed to be natural for so long without trying ANY Maui Moisture products. They've been all over my Instagram feed for ages, and on my to-try list even longer… so when they reached out to see if I wanted to try their hair products, it was an immediate yes.
I actually packed ALL the products they sent me on my trip to Ghana and had to fight my family off from trying them before I could.
My goal is to eventually get to my thoughts on ALL the Maui Moisture hair products… but today we're starting with the Lightweight Curls + Flaxseed line.
Related Post: Maui Moisture Curl Quench Collection: For Thick + Dry Hair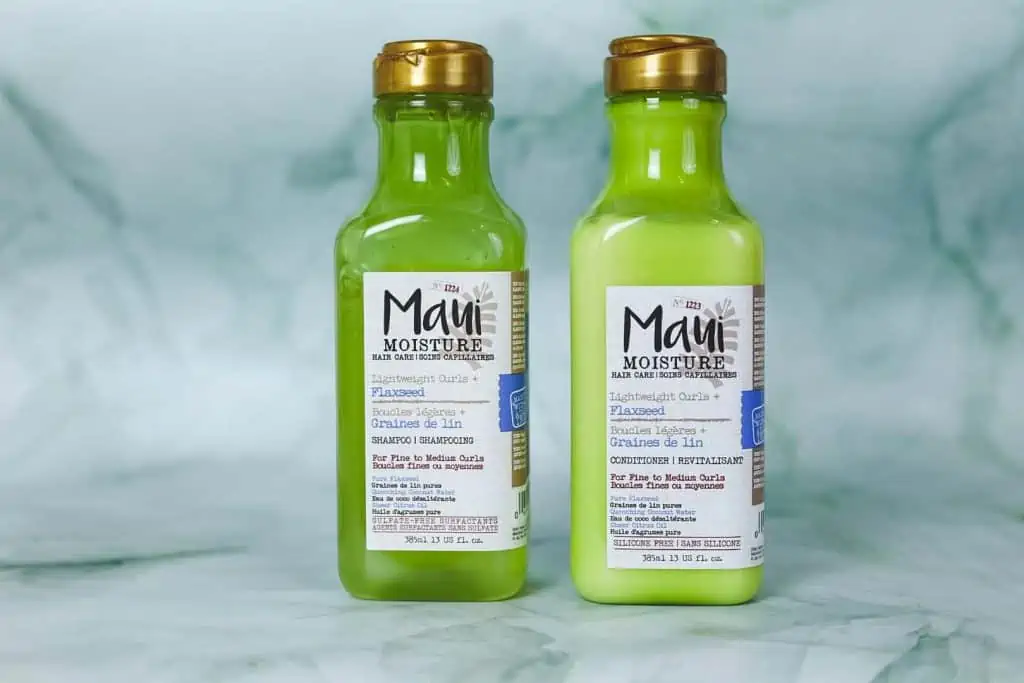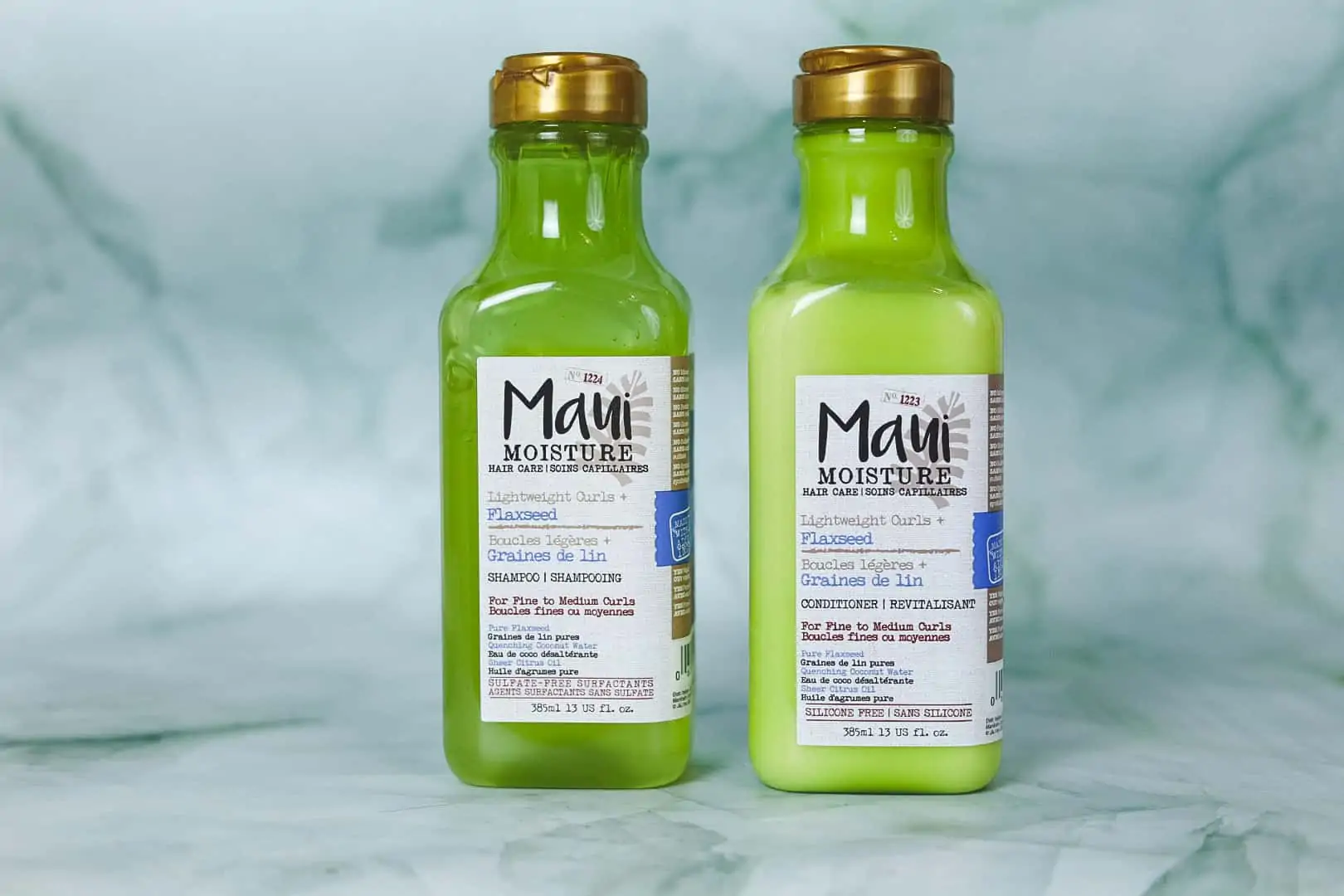 About Maui Moisture
First, let's talk a little bit about the brand for those not familiar with it.
Maui Moisture is an effective and affordable haircare brand, that is available at Shoppers Drug Mart (woot woot!).
Their products are vegan and also have 100% Aloe Vera as the first ingredient to keep curls of all patterns nice and hydrated.
They are also free of a lot of the things us curly/coily-haired folks want to stay away from: Silicones, Parabens, Sulfated Surfactants, Gluten, Synthetic Dye, ALES, SLS, and animal by-products.
The Maui Moisture Lightweight Curls + Flaxseed Collection
The key products in this collection are a shampoo and conditioner. They also have a Curl Refresher Mist, which I didn't try this time around.
Their purpose is to help revitalize and define curls and add softness and shine, all without weighing down your hair… hence the apt name of "Lightweight Curls".
As always, these products have 100% Aloe Vera as the first ingredient, with the added benefit of being infused with pure flaxseed (an ingredient my hair happens to respond quite well to).
They also include coconut water and and citrus oil to help up the ante on hydration and shine!
I documented a washday (my first washday after taking out 5 week-old box braids) with the products, and you can watch it here on YouTube:
My thoughts on the products:
Lightweight Curls + Flaxseed Shampoo
Candidly, I am not the pickiest with shampoo, but I do always try my BEST to match my shampoo to my conditioner (which I am extremely picky about).
That being said, but I do hold my shampoos to two standards:
It needs to CLEAN my hair and scalp.
It can't leave my hair feeling stripped of moisture.
And guess what? This shampoo does both WONDERFULLY.
It had a great lather, which I felt really lifted the dirt from my hair. (If you watched the YouTube video, you'll know that's a great feat after taking out box braids).
And my hair was definitely not stripped, I was even able to lightly finger detangle with the Lightweight Curls + Flaxseed Shampoo in.
Bonus points? It smells AMAZING. I think it's gotta be that citrus oil coming into play.
Lightweight Curls + Flaxseed Conditioner
This conditioner really checked all the boxes for me.
And if we're being honest, I put this conditioner to a serious challenge because my hair after removing my box braids was DRY and just all around unhappy.
But upon application, the conditioner melted right into my hair and made detangling incredibly easy.
For me, the real moment of truth is when you rinse out your conditioner. That's when you find out if it's only good at providing slip for detangling, or if it actually conditions.

I can't tell you how many conditioners I've tried that felt great initially, but did absolutely nothing for me upon rinsing.
That was not the case with the Lightweight Curls + Flaxseed Conditioner. I quite literally breathed a sigh of relief when I went to wash it out and my hair was still soft, shiny, and hydrated.
Who this Maui Moisture collection is ideal for:
The Maui Moisture Lightweight Curls + Flaxseed shampoo and conditioner are intended for those with fine to medium curls.
In other words, it's designed for curls that have to find that delicate balance between a product that hydrates, and a product that weighs your hair down.
If you haven't figured out as much.. my hair is THICK. Not technically the target user, but using products like this definitely has its benefit for those with hair like mine.
I have high porosity hair, so I usually apply heavy creams and oils in the styling process. But to prevent going too overboard, washing and conditioning with a product line like Lightweight Curls means I have a clean and light base to build on.
Sometimes I really just want a fresh, light-feeling head of hair. One that is without-a-doubt hydrated, but still light and bouncy.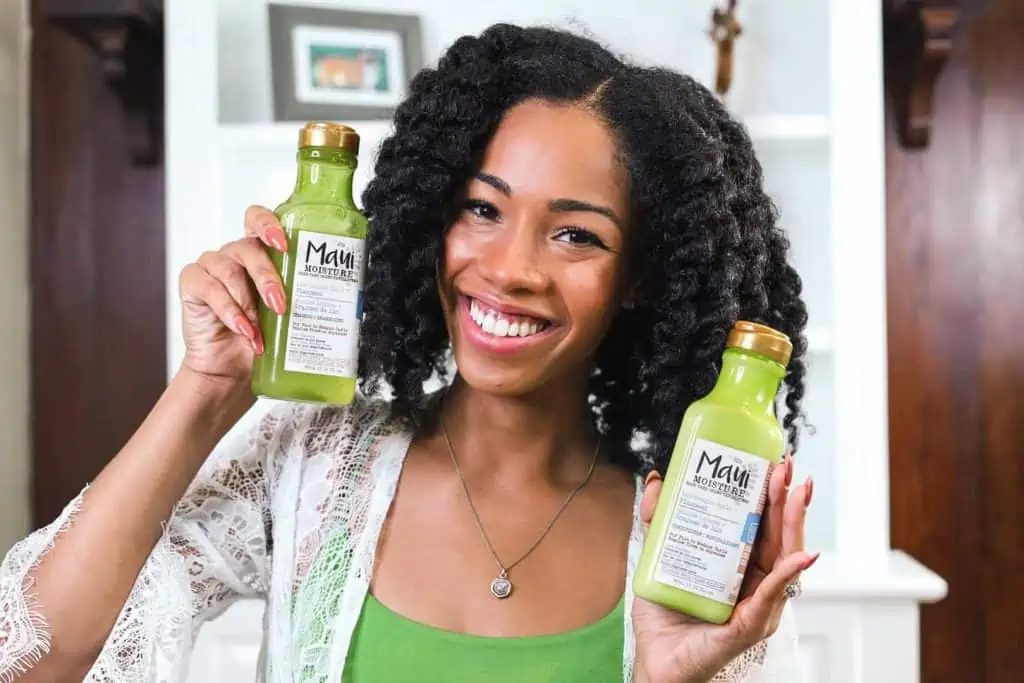 Final Thoughts
All in all, these are products I plan to keep in my roster. Yes, even with my extremely thick hair.
If you've been thinking of giving this shampoo and conditioner a try, remember you can grab yours at Shoppers Drug Mart! Drop a comment if you do, I'd love to hear your thoughts on them!
I plan to make my way through reviewing the many different Maui Moisture collections–which would you like me to cover next?
Related Posts:
If you enjoyed this post, pin the below to Pinterest: