Looking for an easy Halloween costume? I'm talking minimal effort? Then do a DIY option and go as a tree.
Thanks to our limbs, humans are already relatively-tree shaped, so dressing up as one for Halloween doesn't have to break the bank. In this post I'll be sharing how I dressed up for Halloween as a tree decked out with autumn leaves, and know that the same idea could apply to a tree of any season.
*This post contains affiliate links. This means, at no additional cost to you, if you click them and make a purchase, I may make a small commission (which helps support the growth of this blog).*
A bit of background on this particular costume…
I have always loved dressing up, and have long-admired those who have the skill for cosplay. But between lack of time and lack of skill, I've foregone dressing up most of my adult life.
But in 2020 I began partnering with aerie as an ambassador, and a challenge went out to dress up using primarily aerie items!
I don't know exactly how "Fall Tree" popped into my head, but a huge draw for me was the lack of effort (and money) required from me to make it work.
Halloween Tree Costume Supplies
Like I said, this is an easy, low-budget, DIY Halloween costume. So here's what you need:
A brown turtle neck. The beauty of this is that it can be skin-tight or over-sized and cozy. Whichever best-suits you and the look you're going for.
I can see "sexy tree" being a thing, what do you think?
I (of course) got my turtleneck from aerie, but you can literally get one anywhere.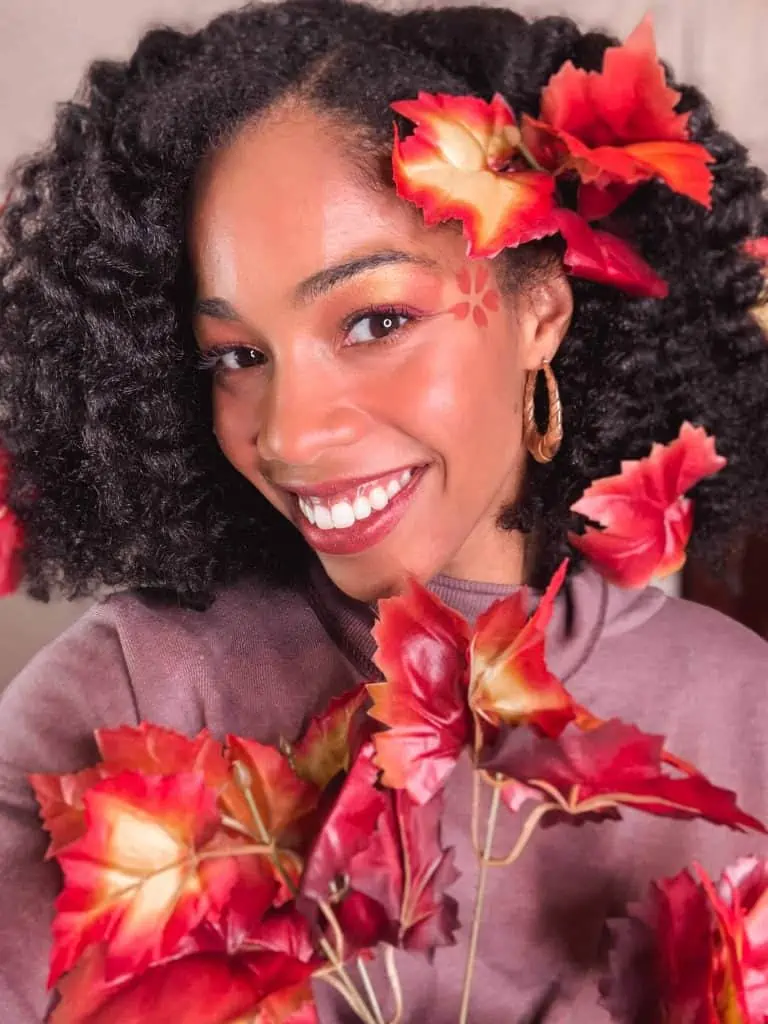 Fake leaves. Choose your colour depending on the season of the tree you want to emanate. Orangey-red leaves for Autumn, bright green leaves for a Summer, white-frosted evergreens for Winter… or even just twigs.
Want to get extra creative and Spring-inspired? Switch out leaves for cherry blossoms.
I got mine from my local dollar store, but Amazon will always do if you're in a crunch or looking for a wider selection.
Makeup is of course 100% optional, but since my Halloween costume was so simple, I wanted to experiment with a tree-inspired makeup look.
I pulled out some eyeshadow palettes that matched the colour-scheme of my leaves (golds and oranges), and used a floral stencil for the corner of my eye.
Finished DIY Fall Tree Costume
So here is the final result of my diy tree costume–I was honestly so surprised with how it turned out!
I actually didn't have any place to go for Halloween, so I threw up a sheet, set up my lights, and had a little photoshoot.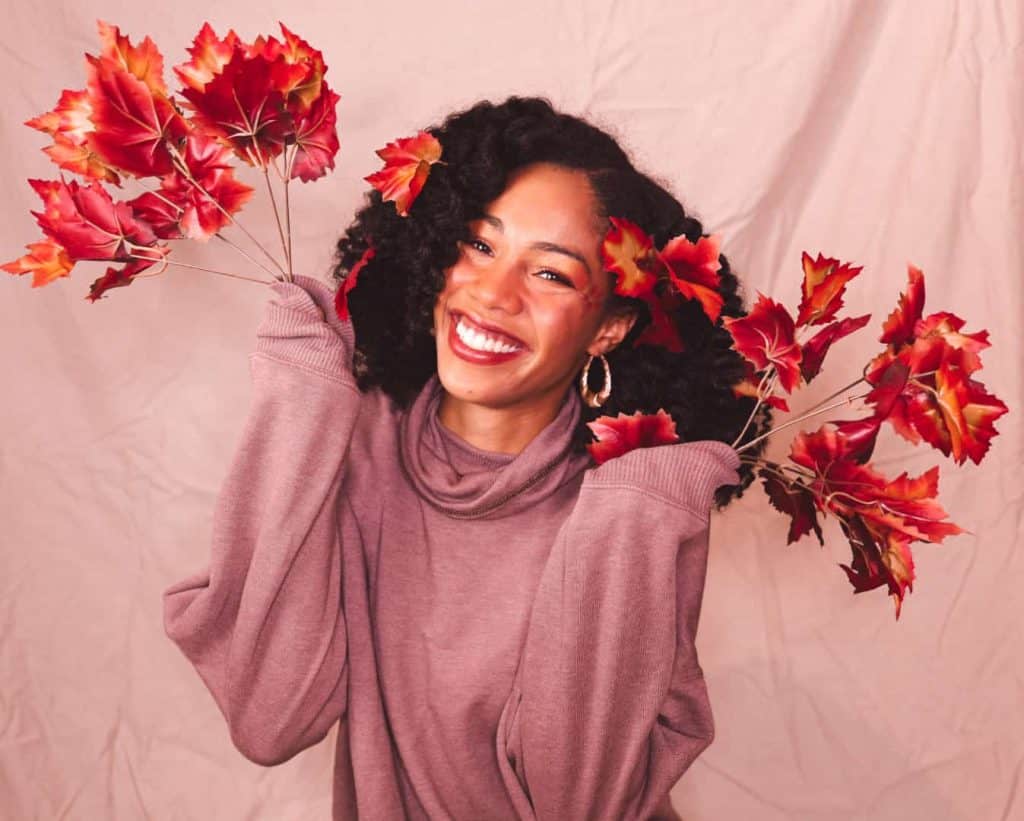 One of my favourite things about this look is that the costume somehow managed to be both pretty and silly. I also think the aethetic is quite versatile!
You could use the same supplies and call yourself "Mother Nature", or maybe a woodland fairy, with the addition of some wings!
What do you think? Will be doing a DIY tree costume or something similar for Halloween? Or perhaps for your next costume party?
Don't mind me dumping more photos… I thought it was better than them living on my phone until the end of time… :)
Like the inspo? Share to Pinterest!