Have you been hunting for cute camera bags for women? You know, a stylish bag to hold your DSLR or mirrorless camera, that looks like a purse?
And not… whatever this is?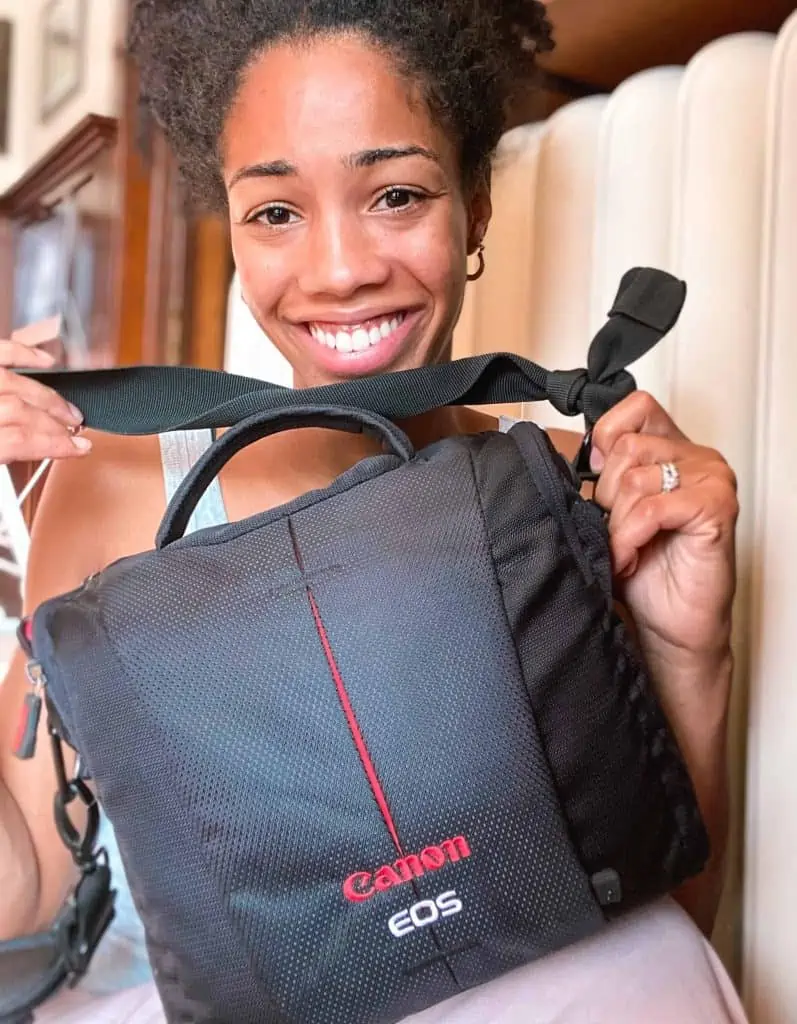 I'm sorry Canon. I love you, but I am sick and tired of lugging around my branded bag. It's bulky, it's not the most stylish, and honestly, it screams to the world "I HAVE A CAMERA ON ME".
Also, while I'm here providing feedback, the hardware on my existing bag squeaks like crazy.
*Some of the links included in this post are affiliate links. This means, at no additional cost to you, if you click on them and make a purchase, I will make a small commission.*
Why I want a cute Camera Bag Purse designed for women.
Other than wanting a stylish yet functional accessory, I have some pretty solid reasons for wanting to invest in a camera bag that looks like a cute women's purse.
A cute camera bag is less conspicuous.
As I mentioned above, branded camera bags are unmistakably intended for camera gear. They make it incredibly obvious that you're carrying expensive equipment. And that's not ideal, especially when travelling.
I feel like I might as well slap a sign that says "steal me" on it.
And even when I'm not travelling, I don't like drawing extra attention to myself. And your average camera bag, whether branded or not, is just far too conspicuous.
I want to carry fewer bags.
Amongst my friends, I have quite the reputation of being a crazy bag lady.
If I'm planning a day of content creation, I usually have at minimum, my purse, my camera bag, a bag of outfits, and a shoe bag.
In getting a camera bag that doubles as a cute purse to hold my personal items like my phone, keys and wallet, I can limit the number of bags I'm lugging around.
Portability is important to me.
This is tied to the above, but having my purse and camera all in one makes it a lot more likely that I'll take my camera with me when I leave the house.
When heading out to brunch with the girls, or just strolling around the city, I usually leave my gear behind because it's too bulky to take along.
Also since upgrading from my VERY old DSLR camera to my pricier mirrorless camera, my gear has become far too precious to just throw in any old bag without proper padding like I used to.
All in all the lack of portability has caused me to miss many great moments, and I long for the days where I could capture images of strangers on the street.
I want to be stylish…for once.
Okay, I am seriously not a stylish person, but as a blogger and influencer… I'm trying to work on that.
And what better way to pull an outfit together than with a stylish camera bag purse?
This isn't the most important feature I consider when hunting down a bag, but since I'm already looking, why not add style and fashion to the list?
And when I stay stylish, it doesn't necessarily have to be targeted towards women.
And personally, I rather not gender something like a camera bag. But I find the bags labelled "unisex" are usually rugged and ugly. I'm sorry, but why can't unisex things be CUTE?! Why can't camera bags that lean more feminine be sold as just a cute bag?!
Camera Bag Purse vs. a regular purse or crossbody bag
I keep two things in mind when shopping for a camera bag versus a standard purse, whether it's more of a tote, crossbody, or shoulder bag.
Padding is the first thing I consider. I want to make sure my camera body and lenses are well-protected. I don't want to risk my gear getting damaged as I jostle my bag about, or when I put it down.
So I want to ensure the bag I get has ample padding throughout, as well as adjustable velcro dividers to prevent the lenses from hitting each other–something that is staple in bags designed specifically to hold a DSLR or Mirrorless camera.
Easy Access is the other thing I look for. I'm not just looking for a bag to transport my gear from one place to another, I'm looking for something to keep on me so that my camera is easily accessible to grab a shot on the go.
This means I'm looking for something that keeps my camera buried under as few flaps, zippers, and compartments as possible.
List of Cute Camera Bag Purses for Women
Okay, the list you've been waiting for! Where can you find the stylish camera bag of your dreams?
Try shopping the below online stores!
Note this list is made up primarily of women's camera bags that disguise themselves as purses, cross body bags, totes, and messenger bags. Many of these brands also carry backpacks, but there is a separate camera backpack post in the works!
You can thank Gatta for this blog post since it was one of their Instagram ads that made me realize there was an alternative to my ugly camera bag.
They have several leather crossbody camera bags in two sizes, as well as the Audrey Noir, which thanks to its adjustable shoulder straps, can be worn as a backpack, satchel, tote, or crossbody bag!
All their designs are chic, yet timeless.
I've been going back and forth on their website for hours trying to choose a favourite.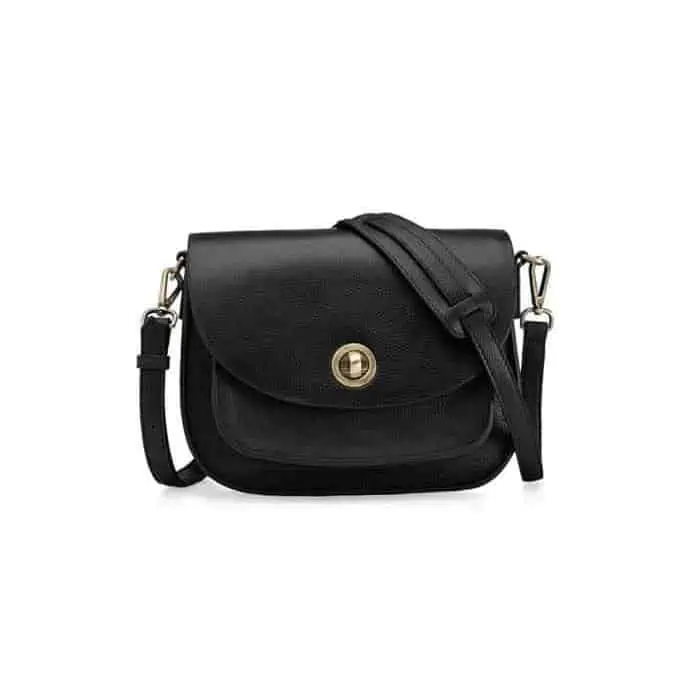 Details we love: I love that even the smallest of Gatta bags have an extra pouch/pocket for you to keep your phone or a small wallet!
Lo & Sons Claremont bag is such a hot commodity that it often sells out! If it's available now, I strongly recommend you grab it, and if it's sold out.. you've got to jump on the waitlist for it.
And I mean, just LOOK AT IT. The Claremont camera bag purse is absolutely stunning, with a leather exterior and quilted interior. Can I have one in every colour, please?
While you wait for them to restock, check out their Catalina Deluxe Tote and Waverly 2 bag! (Both of which are my travel-staples!)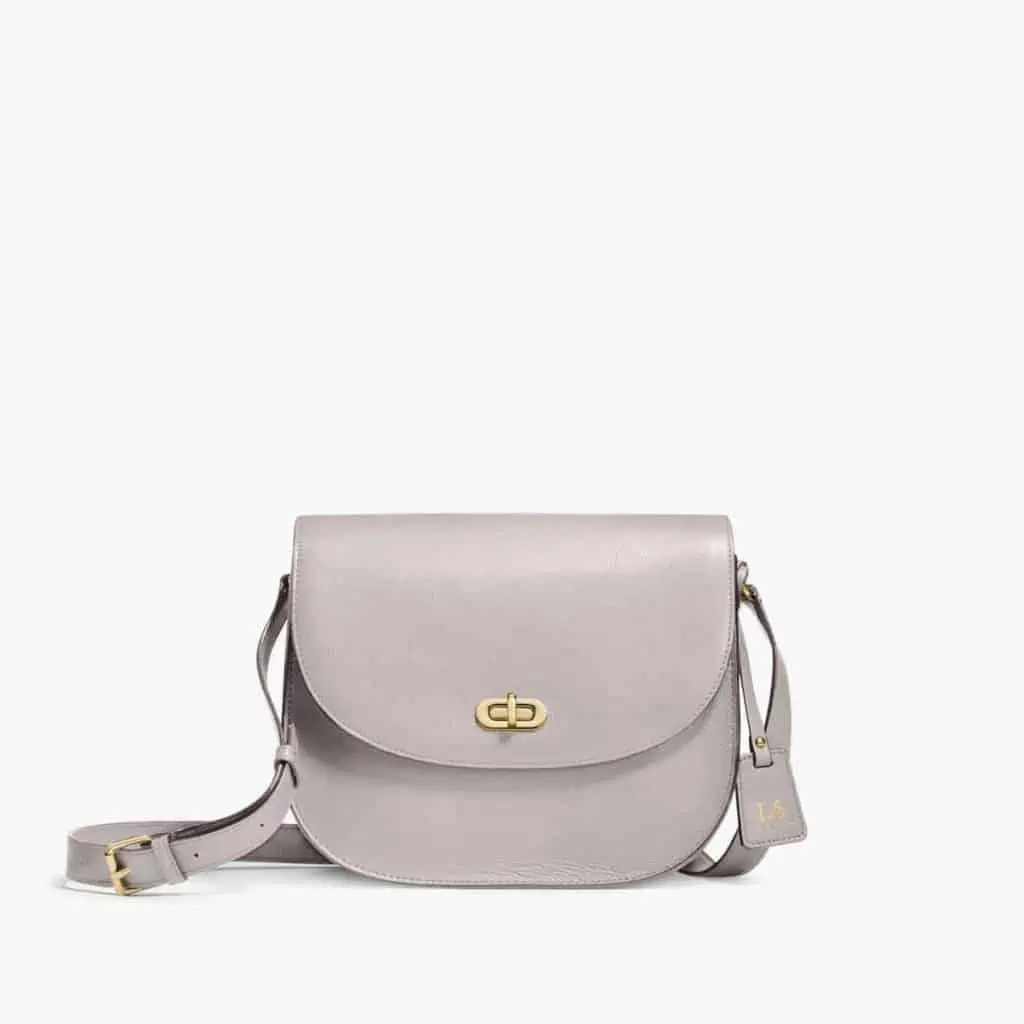 Details we love: Never lose your memory! The front of the Claremont has two perfectly sized pockets for SD cards!
Kelly Moore is definitely known as a go-to for camera bags for men and women, for both day-to-day and travel.
You can shop your bag by material, choosing from full-grain leather, Vegan-friendly, or waxed canvas.
Whether you're looking for a small leather camera bag, a tote, a messenger bag, or a larger purse like the Libby 2.0, they've got an option for everyone.
Jo Totes is another site with quite a selection of stylish women's camera bags. Each bag is handcrafted with top-quality materials.
I especially love that they have different colour options for those who don't like to stick to neutrals! All their bags have extra padding on the bottom and sides to make sure that your gear is well-protected!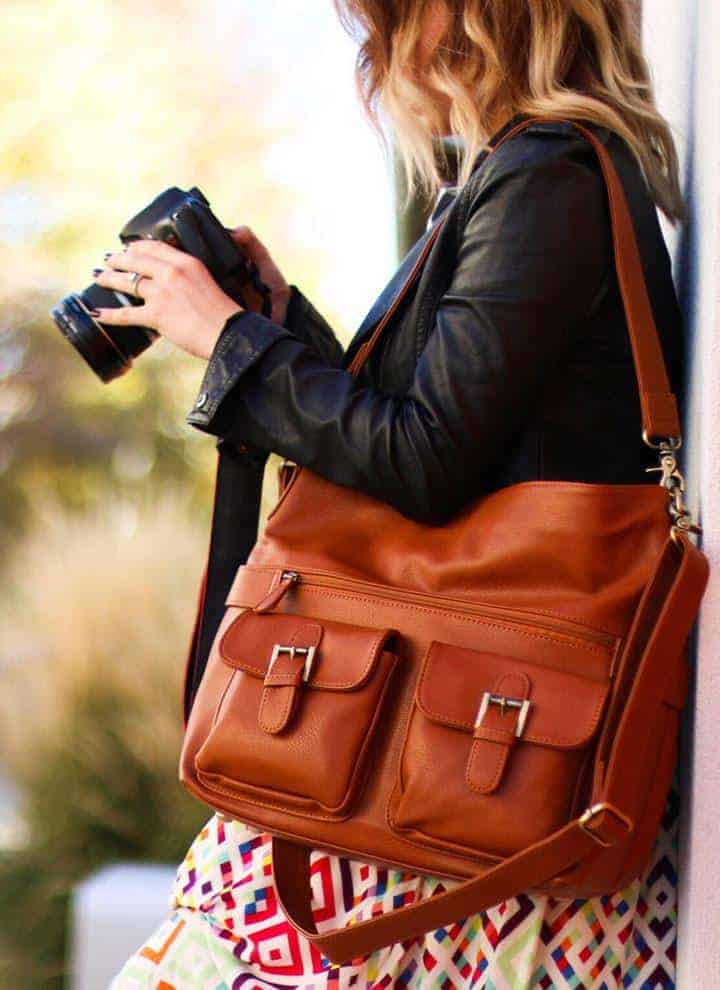 The Kamrette bags are absolutely stunning, and they are another one that sells out quickly! Probably because it's so affordable for such a gorgeous design! Get yourself on the waitlist so you don't miss the next drop!
This vegan leather camera bag purse also comes in black, and it has quite a few velcro divider inserts to customize the main camera compartment to suit your needs!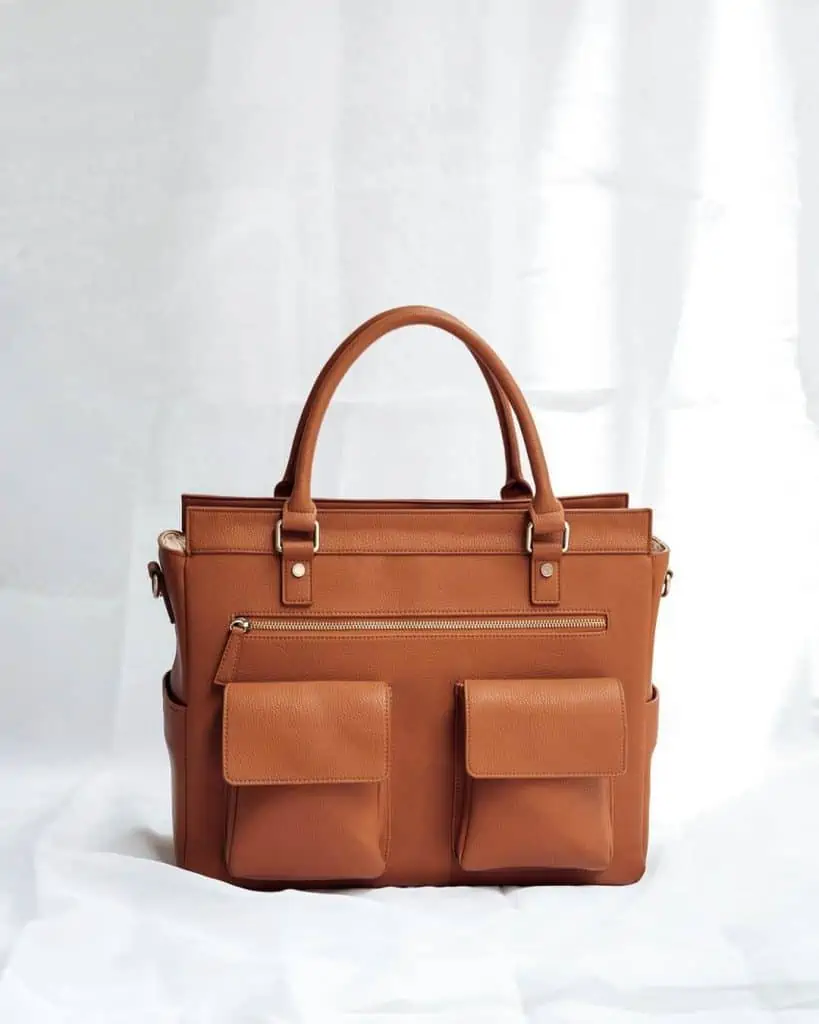 Details we love: This camera bag is perfect for women on the go, and it features a laptop compartment that can fit up to a 16- inch Macbook Pro (2013+).
MegaGear Torres might just be your go-to when shopping for a crossbody messenger camera bag. The easy access top-flap makes this style the perfect camera bag for travel!
Made with top-grain leather, and coming in a variety of colours, you are bound to find a cute camera bag that fits your needs!
You can also shop them on Etsy and Amazon!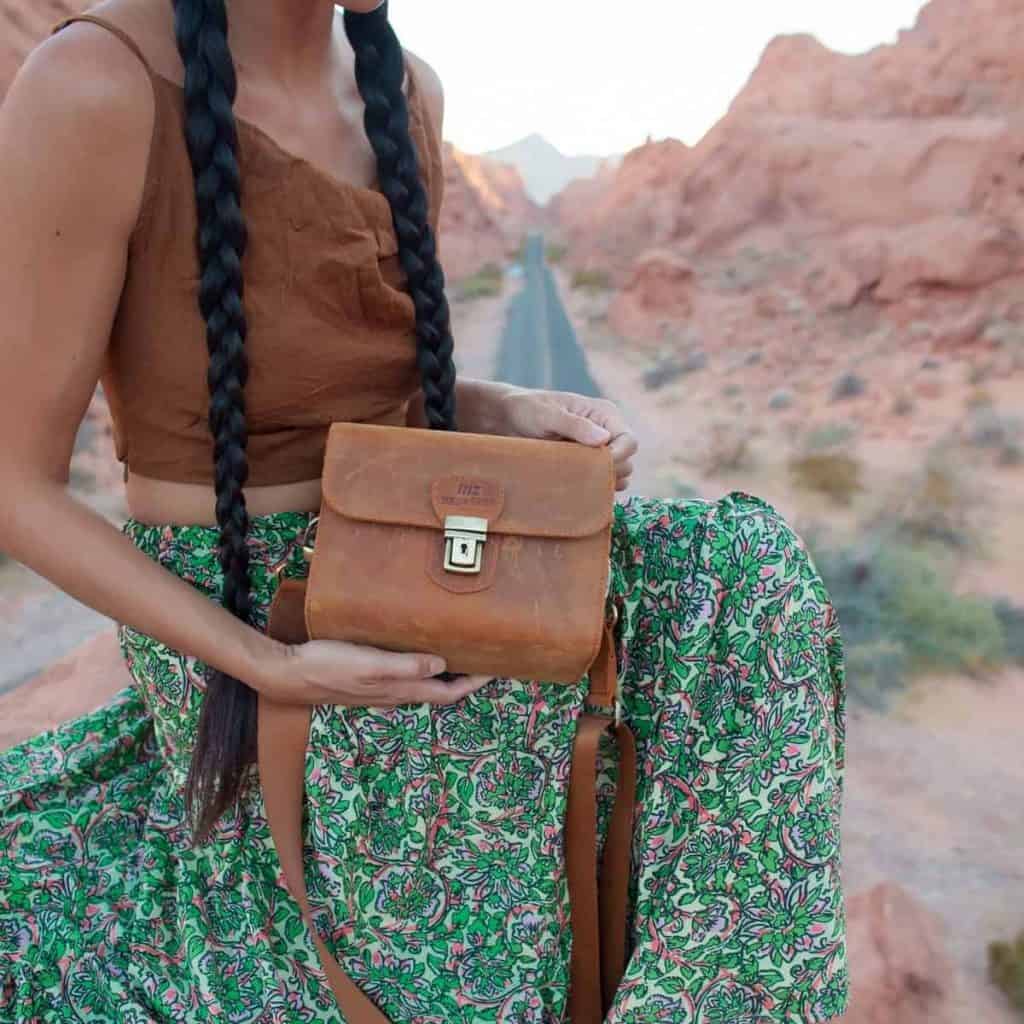 Details we love: You can even get these messenger bags personalized with your name, initials, or a sentence!
ONA Bag has a wonderful selection of both messenger bag-style camera bags, and a more traditional women's purse or tote. Most of their styles also offer two different fabric options: leather or waxed canvas.
Details we love: While they aren't completely waterproof, all of their camera bags products are proofed to be water-resistant!
Ephiphanie is another camera bag seller with a seemingly infinite amount of crossbody bags and purses to hold your DSLR or Mirrorless camera, plus a few lenses.
Many of them actually double as camera backpacks, so you can switch them up to suit your needs!
They also have a one-of-a-kind section, featuring incredibly unique embroidered bags!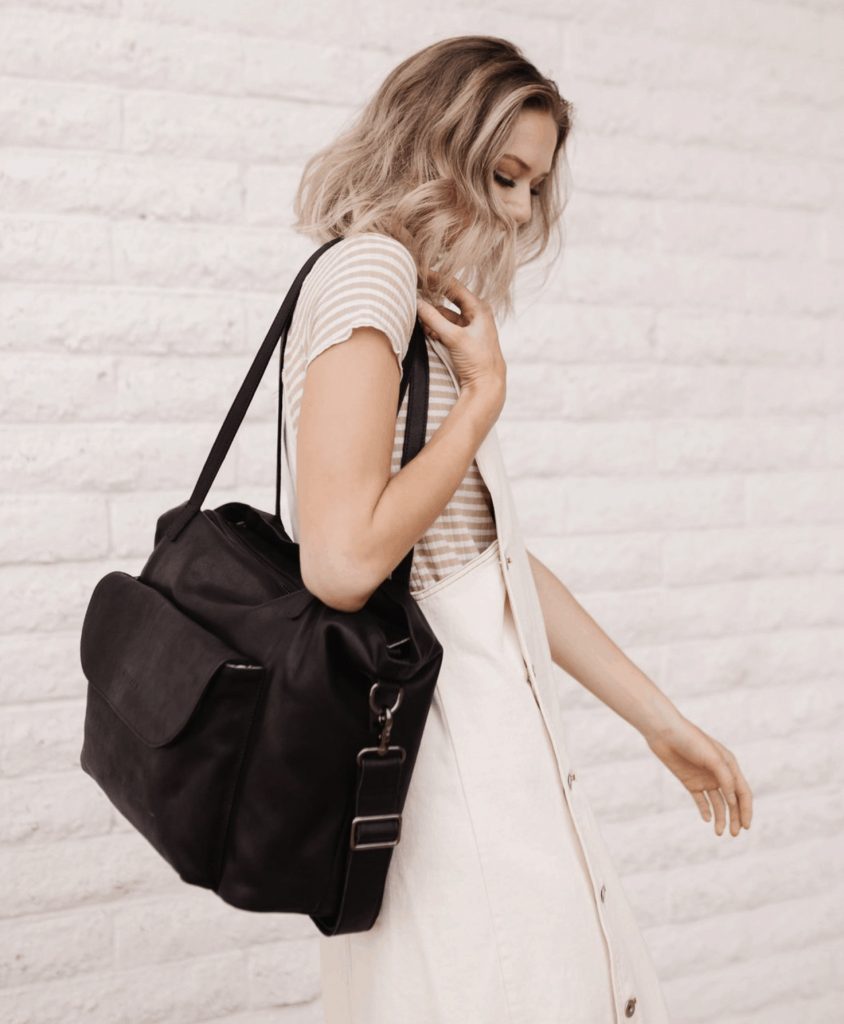 Details we love: want to make your bag unique to your style and set it apart from others? You can switch out your shoulder strap with a gorgeous thick embroidered one.
MooliLondon has a selection of camera purses for the fashion-forward woman! Their goal was to create a bag with the appeal of a designer purse, with a more affordable price tag and all the functionality!
They have both leather and vegan leather options, and you can get the straps personalized with up to three letters!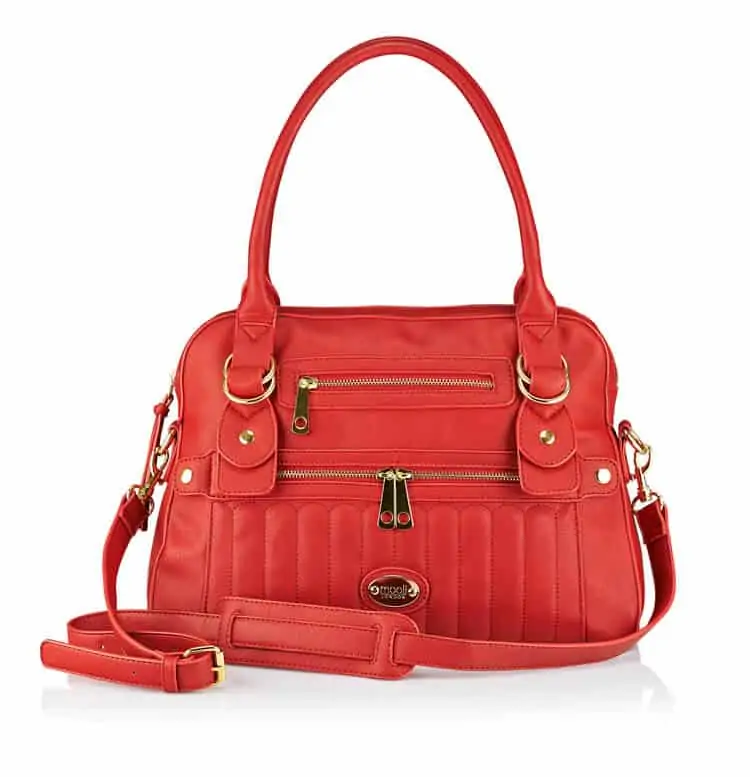 Details we love: Their bags have NFC tags for owner identification! Perfect for everyone, but especially those who travel!
House of Flynn EASILY wins in terms of selection and variety. Whether you are looking for leather goods, canvas, or something totally unique, they've got you covered!
You can shop their site by how many lenses you are looking to store in one bag, making it so much easier to fit your needs!
Seriously, all I can say is check them out for yourself. I will be honestly surprised if you can't find something that interests you!
The inspiration for Fig Bags is very much in line with the purpose of this post–as a photographer, their founder was sick of carrying multiple bags around.
They have quite a variety of gorgeously coloured crossbody purses and messenger bags that come in incredibly cute colours!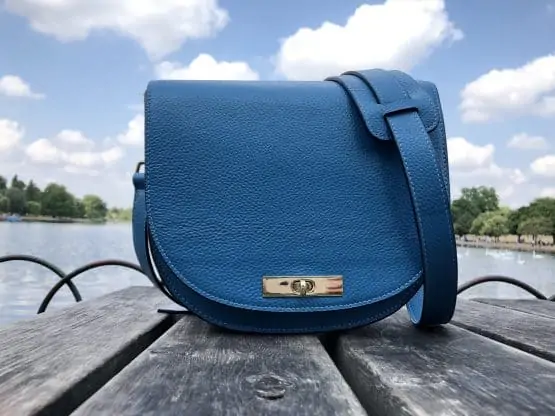 I honestly am in love with every bag from Carleen Creative.
Their camera bag purses are lightweight and affordable, made with polyurethane (not leather), which helps save on costs!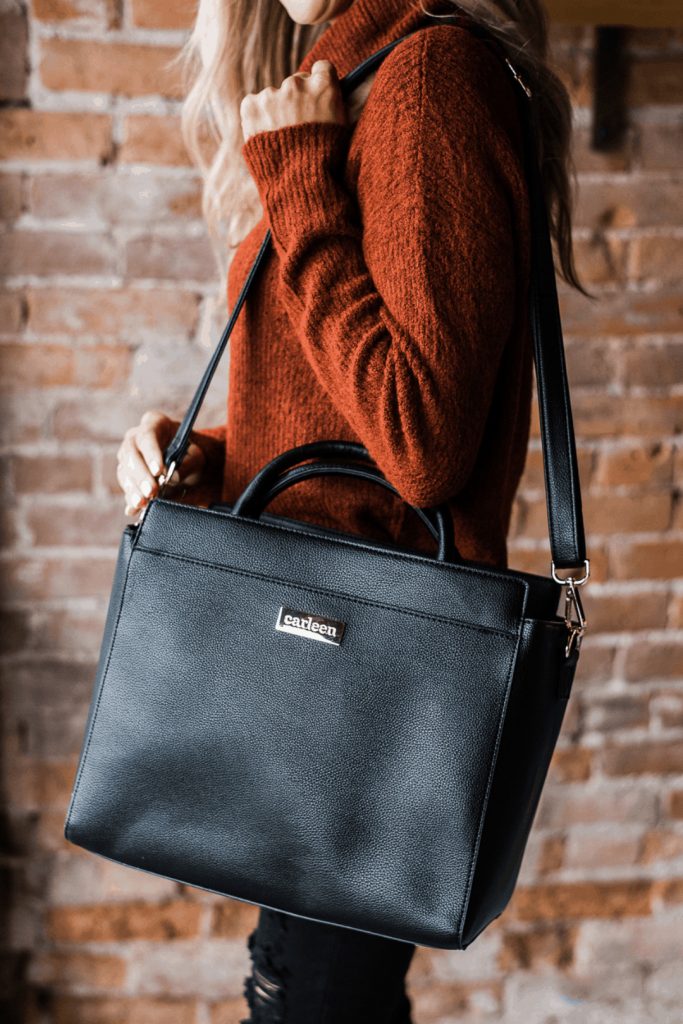 Details we love: The padding is thicker than anything I have seen on this list! You know your gear will be well-protected!
Pompidoo is definitely on the pricier end of spectrum, but they are high-quality camera bag purses with beautiful feminine designs you won't find anywhere else!
All their bags are designed and produced in Europe. Hand-crafted with a commitment to supporting fair labour.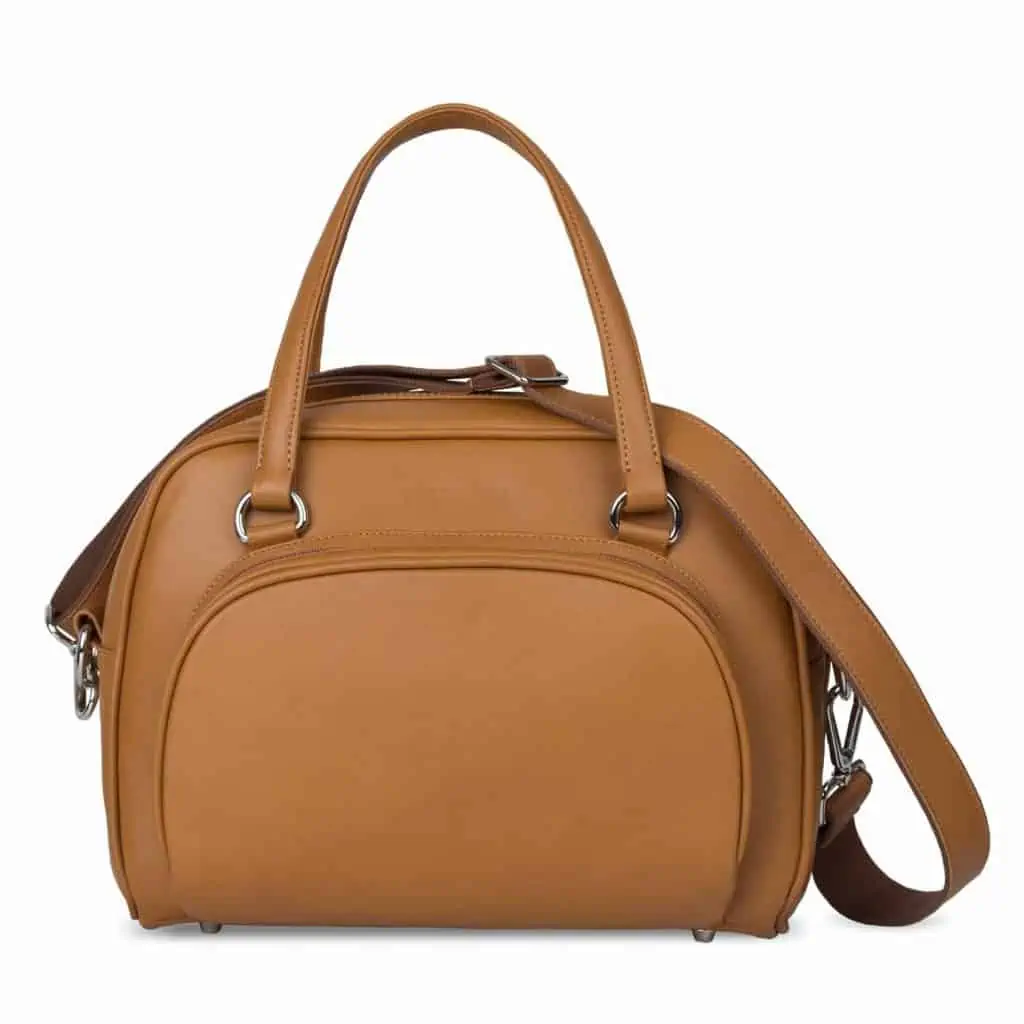 Oberworth is another extremely high-end line of bags. They are based out of Germany, and produce luxury bags made of carefully selected cowhide from Italy and southern Germany.
Meliae bag designs are simple yet stylish. Their products are made from 100% authentic cowhide leather.
Depending on your camera model, they have room for two lenses, making it perfect to carry around while travelling, or if you're a blogger or content creator looking to shoot on the go.
Also available on Amazon!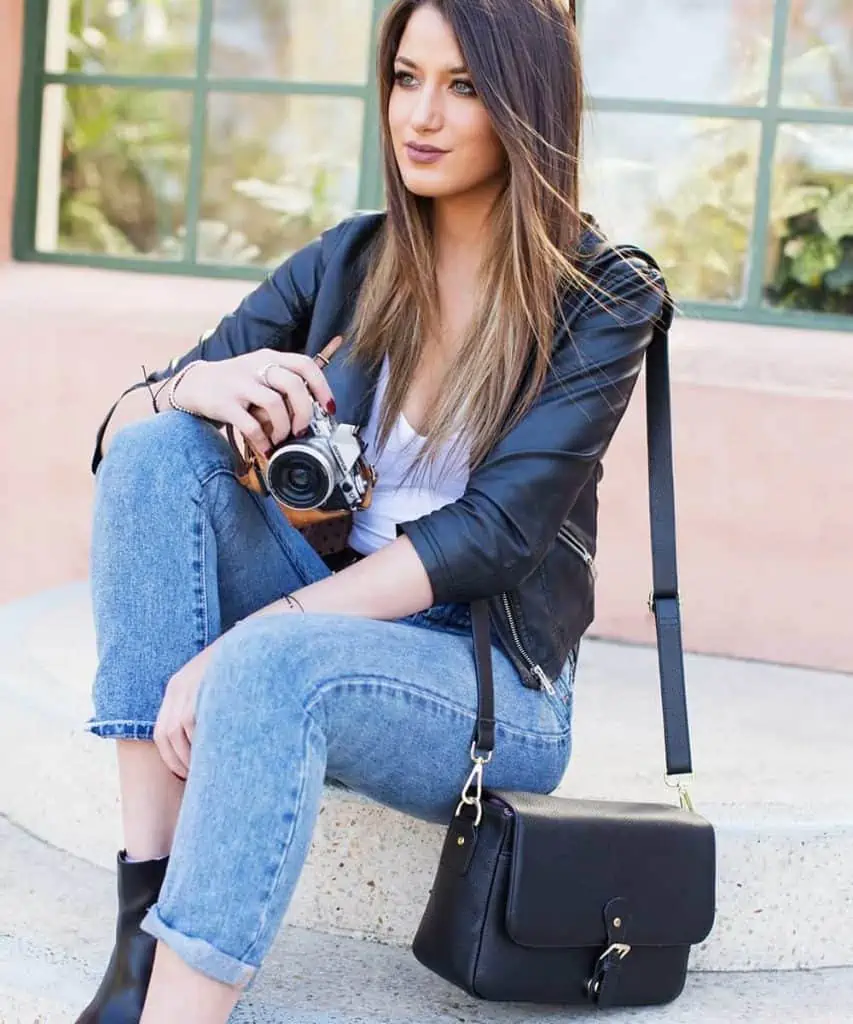 I actually found Rofozzi while hunting around Amazon, and then later found that they had their own online store front. These camera bags for women are sturdy and stylish, made of leather, and have room for a tablet as well as a few other personal items!
Their bags all come with a removable padded basket so that your bag can double as a normal purse if needed!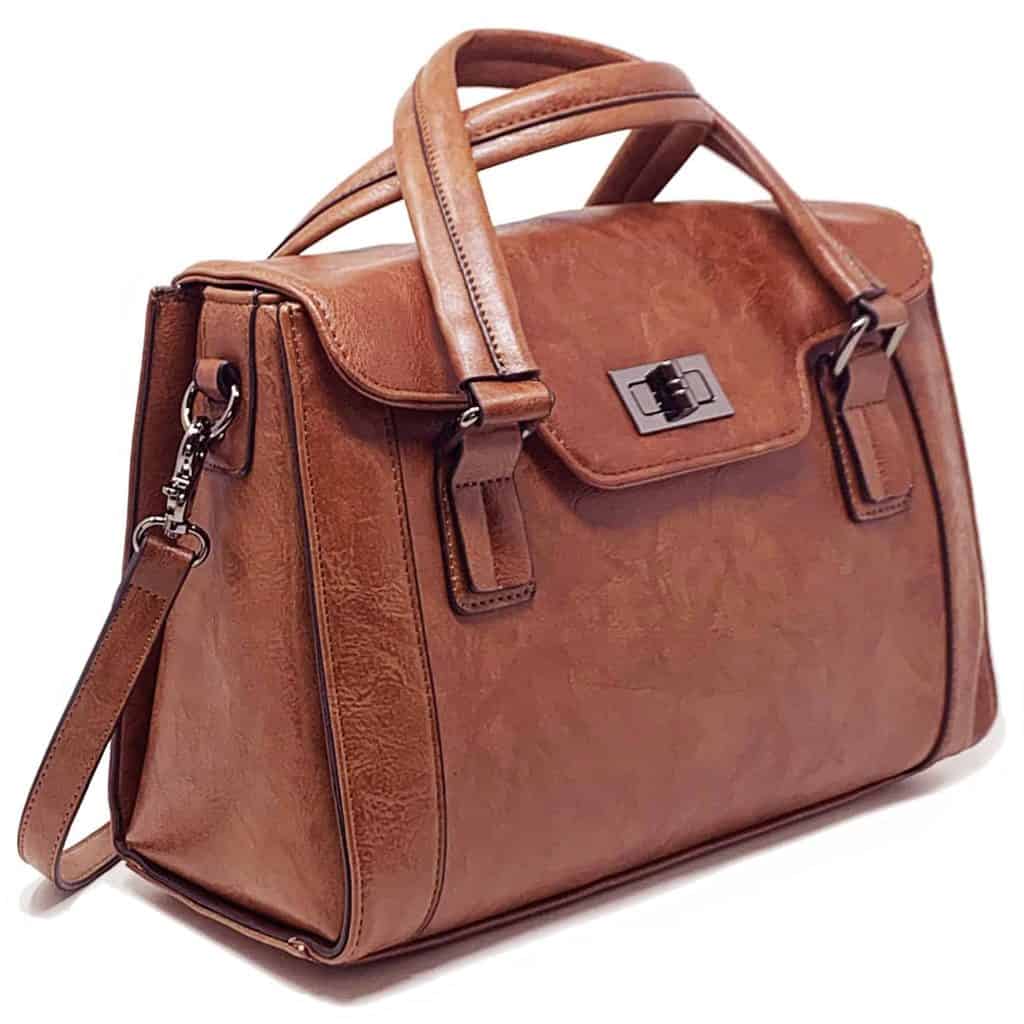 And finally, consider getting yourself a Tog bag! They are sleek, stylish camera bags that are incredibly functional.
The Tog tote is versatile in that it has a removable compartment, enabling you to convert it from camera tote to day bag with ease! It is also packed with hidden features, like an inside pocket to store your water bottle upright!
Also available on Etsy!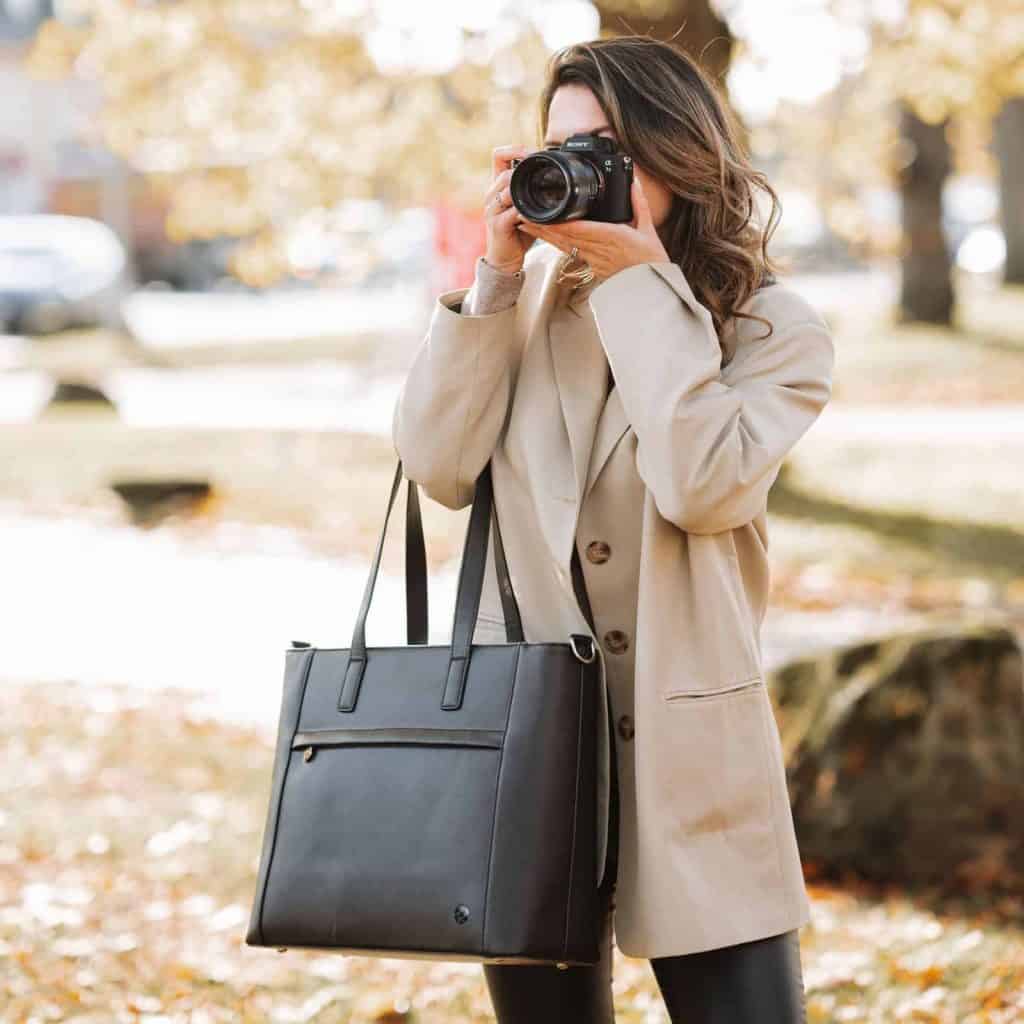 Details we love: There is a hidden sleeve on the outer side of the bag to slide over your Tog suitcase handle! How cool is that?
---
Did you find a cute camera purse or handbag to suit your needs amongst all these brands? I'm drooling over all of them, and want one for everyday, plus an extra handful for travel!
There are no shortage of options to protect your expensive equipment with style. Which camera bag brand do you have your eyes on? Comment below!
If you enjoyed this post, pin the below to Pinterest: