This blog post is in paid partnership with Evo Car Share. All thoughts are my own.
Both my husband and I are born and raised in Vancouver, and as of writing this… we don't own a car.
I know for many the concept of not having a car of your own is unimaginable–especially for those who don't live in the city, but we don't need one for any of our day-to-day activities.
Trust me, I get the rationale of needing your own vehicle if you have to commute, or if you're still holding onto the perspective gained from living somewhere that is impossible to navigate without a car.
But in a city like Vancouver? Not having your own car isn't as crazy as it sounds.
So let's dive a bit deeper into the question…
Do you really need a car living in Vancouver?
I would say for many people, owning a car in Vancouver is more of a choice than a necessity.
In fact, I know of many Vancouverites who got a car simply because they felt it was the grown-up thing to do, only to later realize that most of their needs could be met with other means of transportation.
With reliable public transit, endless bike lanes, and the absolutely game-changing concept of Evo, people are opting to skip investing in a vehicle of their own.
For those who live, work and play in Vancouver, owning a car can be more of a hindrance than an asset. Especially when you start thinking about gas, insurance, parking and maintenance!
Look at my husband and I as an example. We've been holding off on getting a car because we rely on Evo or transit for almost everything! But more on how we use Evo below.
What is Evo Car Share?
Evo is the ultimate car-sharing concept, where you get to enjoy all the benefits of owning a car, without much of the responsibility and cost associated with owning or leasing.
It's a one-way service, where you can book on the go, and keep the vehicle for as long as you want, as long as you leave it somewhere in the Home Zone when you're done your trip.
How does Evo work?
Everything can be done through your app.
Technology, am I right?
So there are Evo cars parked all around the city, and all you have to do is use the Evo app to pull up a map to find one closest to you!
You can book one up to 30 minutes in advance, unlock it from your phone, and take it for a drive!
Just park it in a valid spot in the Home Zone when you're done and you are good to carry on with your day
Benefits of using Evo?
As I mentioned you get all the benefits of having your own car, without the hassle! But here are some things we love as long-time Evo users, living in Vancouver, without a car of our own!
Cost-Effective + Affordable
You only pay for what you use, with rates rolling per minute, by the hour, and by day. Which means you get the best rate whether you are using it to zip downtown, to travel out of town, or to rent it for a full day trip.
Other than that the only expense is a one-time registration fee, and an annual $2 Car Share Operator fee… yes you read that right, TWO DOLLARS.
You also don't have to worry about the standard costs that normally comes with vehicles; gas, insurance, maintenance and repairs.
SO Convenient
Evo Car Share is so incredibly popular that it's rare to walk around our neighbourhood without seeing one, and we don't even live downtown Vancouver!
This means that whenever we need a car, whether it's a spontaneous errand-run or a date night, there is always one at our disposal, available to book.
Easy-to-use bike racks (that double as ski racks!)
I've only just started getting back into biking, but my husband has been using Evo and his bike in tandem ever since he got his membership.
The fact that he's able to take his bike with him on the go means he can drive somewhere when he's in a rush, and ride back home when he has more time to spare.
We can't wait wait to take it on another day trip or two before the summer is over!
How we use Evo Car Share throughout the week:
Evo has been part of our weekly routine for years now, and I honestly couldn't imagine life without it.
We use it almost every Sunday to drive to family dinners, my husband drives it to the soccer practices he coaches, and we use it for tons of other everyday activities like the following:
Grocery Shopping + General Errand Running
Before Evo, grocery shopping was something that had us seriously thinking about getting our own vehicle.
There are two of us… with two cats, and I'm sorry but cat litter and food alongside all the groceries we buy for ourselves? Well, it's insanely heavy.
Now Evo is a critical part of any errand running. It makes the process so much quicker and easier.
Fitness Classes
I am always running late for everything, I swear it runs in my family… so before we had our Evo membership, I was either straight up late to bootcamp (which was run by my mother), or was dishing out money for a cab.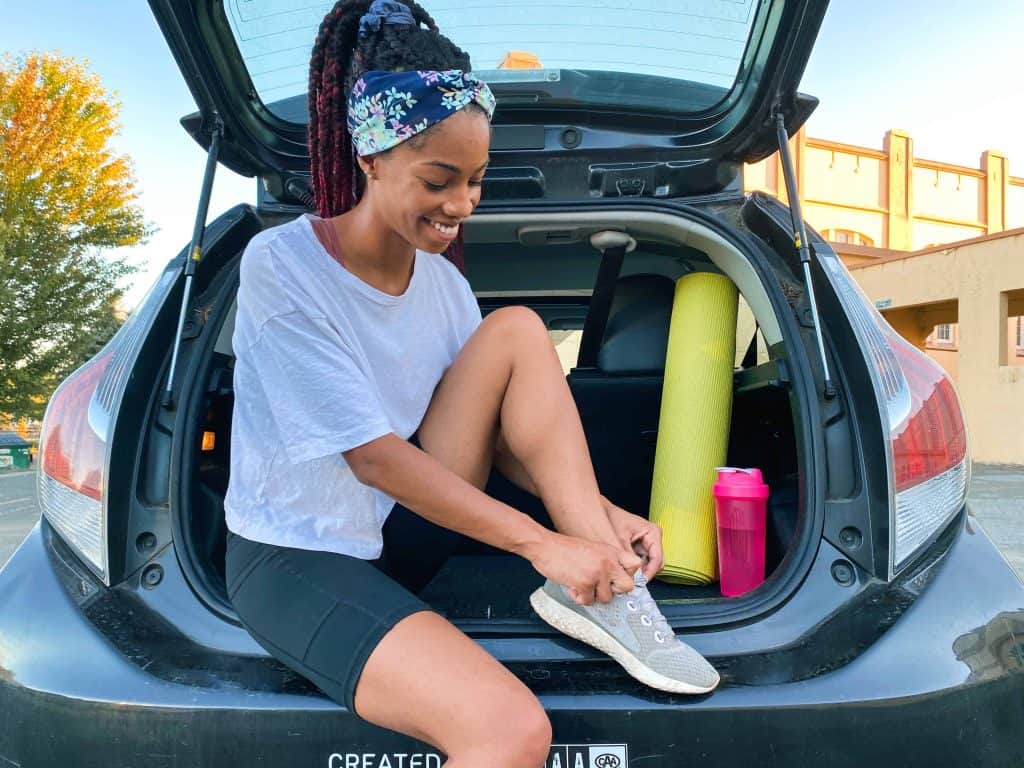 Date Nights
Evo truly gave us so much more spontaneity and freedom in our date nights.
Before Evo, we were never really keen on dressing up in our best outfits just to sit on the bus, and cabs added up quickly, so we often settled on eating in or somewhere within walking distance to us.
Now we can dress up spur of the moment and drive anywhere in the city (or beyond if we really wanted to).
Final Thoughts on Needing a Car in Vancouver
So there you have it, do you really need to have a car when living in Vancouver? My take is that you only should if you really want one, especially when you have Evo, the perfect alternative.
They've also just now made it to Vancouver Island! You can find them in Victoria! (And yes, your membership is valid!). I'd love to see Evo continue to expand because the concept is such a problem-solver!
What do you think, will you be giving car sharing a go? Let me know below!