This post is a paid partnership with LuvMe Hair to highlight their headband wigs! All thoughts are mine.
(Use the discount code KayaM for 20% off–or click HERE for the latest coupon codes)
Y'all ready for something brand new from me?! For as long as I can remember, I have been curious about wearing wigs, but it always seemed so daunting to me.
Watching the Insta-baddies and the Youtube gurus, it looked like a lot of skill was needed to be able to effectively wear and style a wig, so I ruled it as something I would never try. I mean seriously.. I can barely cornrow my hair.
But then I heard about the headband wig.
What is a Headband Wig?
A headband wig is exactly what it sounds like: it is a wig with a headband attached.
The hair bundles are attached to a cap that is rimmed with a headband, which can be slid on to the head comfortably for a quick and realistic look. No glue, no lace, so it is an incredibly simple and beginner-friendly option for those looking for a protective style.
These wigs also come in a seemingly endless amount of styles. From bone-straight to kinky, natural textures, there are so many choices for those looking to switch up their look.
There are a number of different brands out there selling headband wigs, but I am so grateful that LuvMe Hair reached out to send me one of theirs!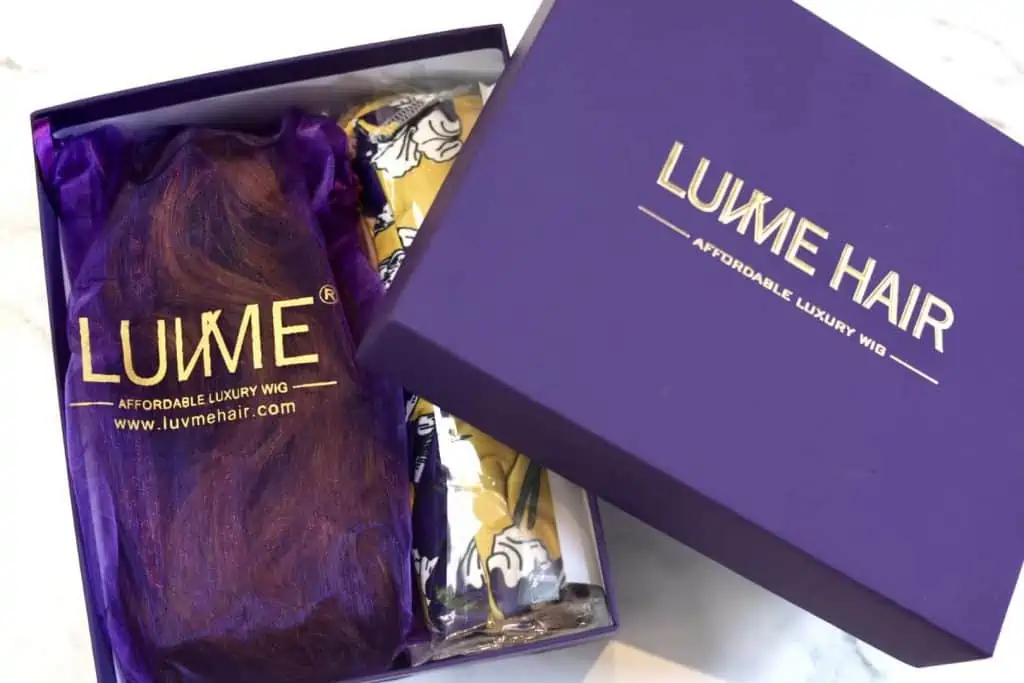 About Luv Me Hair
"LuvMe: Affordable Luxury Wigs"
LuvMe Hair is an online beauty market supplying a wide variety of hair pieces, bundles, wigs, headband wigs, and more.
Compared to a lot of alternatives out there, LuvMe is quite affordable, and has an incredible track record of satisfied customers. Seriously, it takes two moments to scroll through their Instagram's tagged photo section to see reviews from customer after customer flaunting gorgeous hair.
And if you take a scroll through you'll see that people are especially in love with their headband wigs… but we'll get into that in a second.
All the hair at LuvMe is 100% human hair. This means that you can heat-style it, dye it and bleach it, and that it should be washed and conditioned regularly to be properly cared for.
My LuvMe Headband Wig
For my very first time ever trying a headband wig, I picked out the 20″ Chestnut Brown, loose wave.
I was initially itching for a kinky or curlier style, but for my first try I wanted to take the opportunity to try something very different from my natural hair colour and texture.
(I was really on the fence for a bit though, and had to seek advice from friends).
REMINDER: Use the code KayaM for 20% off
Here's what came in my LuvMe box:
My delivery came jam-packed with goodies, so let's dive into them!
Headbands
LuvMe Hair provides FIVE free headbands with the shipment of your wig. These soft and elastic hair accessories come in random colours/patterns, and I loved every one of mine!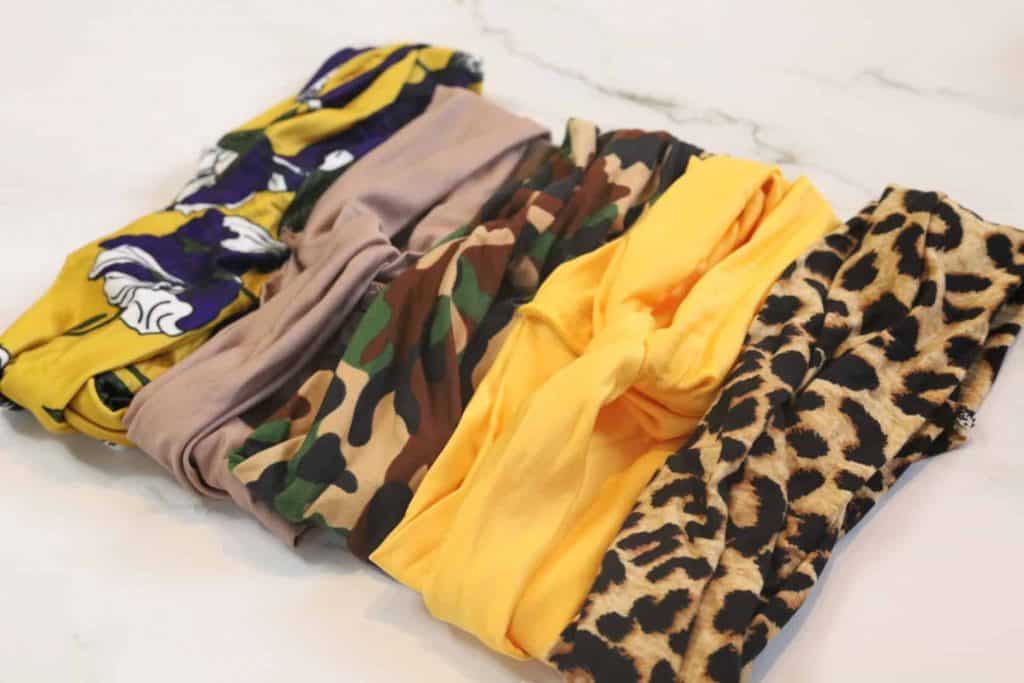 Gift Bag of Goodies
I also got an adorable bag of wig-related goodies, which were all nicely packed up in a cosmetic bag.
Here's what was included:
Edge Brush
Silk Edge Scarf
Wig Cap (which I was REALLY grateful for, since I didn't have one.)
Bobby Pins
Tweezers
LuvMe Clip
I honestly wish I had opened up the box before I braided/prepped my hair for the wig. I would have used the scarf to better-lay my edges, and the edge brush instead of my old tooth brush.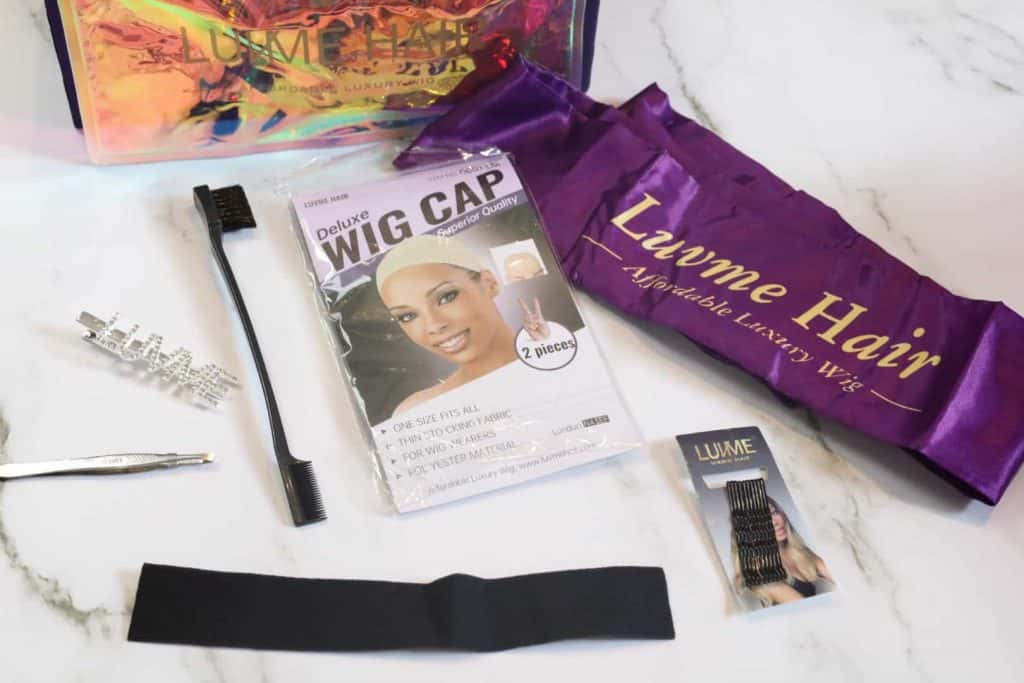 Putting on and Securing my Headband Wig
It took me literally TWO minutes to put on my headband wig. If you were in a rush, it would be super easy to throw it on and go about your day.
As mentioned above, I did prep my hair by cornrowing it (which I split into about 6 braids). I have a LOT of hair, so if I had done smaller braids, I think the wig would have laid a little flatter.
When it was time to put it on, all I did was slide the headband wig on to my head and secure it.
The black headband pictured below is part of the wig, and it has velcro at the back which enables you to adjust the tightness. (Adjustable headband wigs are a must in my mind, since we all have different-sized heads!)
To help secure the hair piece, there are also 4 combs inside the cap; one at the top, one at the back, and one on either side.
Then, since the hair piece had been sitting in a box for awhile, I combed it out, and ran some hair oil through the strands.
And then I was good to go! The black headband that it comes attached to is honestly so simple, that I have no problem wearing it as is.
Styling my LuvMe Hair Headband Wig
I had an incredibly fun time experimenting with styling my new loose wave headband wig, and came up with five different ways to wear it. (One for each headband color and pattern I was sent!)
Check them out, and let me know which style is your favourite!
1. Half Up Half Down
I found the half up/half down style, combined with the neutral headband to be a more elegant look. With it styled this way, I can definitely see myself wearing this wig on a date night or to an event!
I also love how full this style makes the hair look.
2. Low Pig Tails
I can't think of the last time I wore pigtails, but I felt absolutely adorable wearing them here. This fun and care free style also matches the feel of the headband!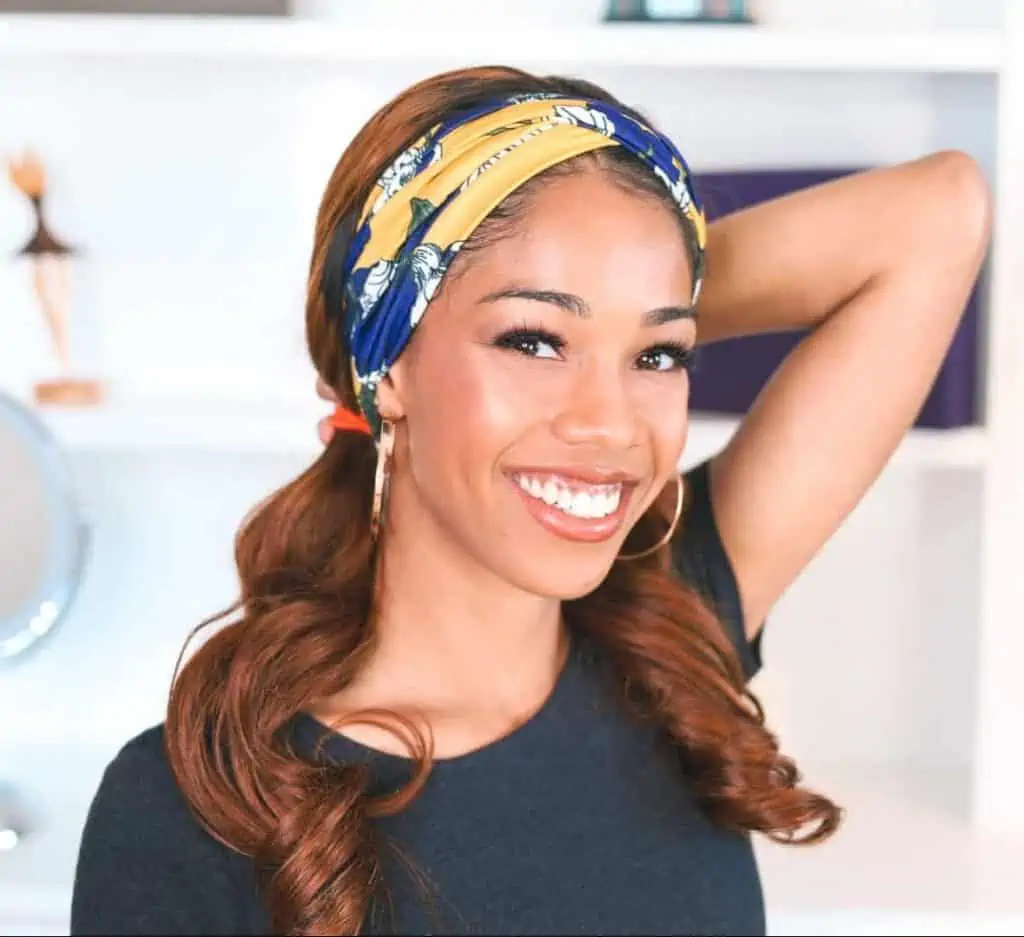 3. Low Pony Tail
The low pony is honestly such a timeless style. I felt casual yet put together at the same time when I styled my wig this way.
Perfect for a brunch hangout, or just running around tackling errands!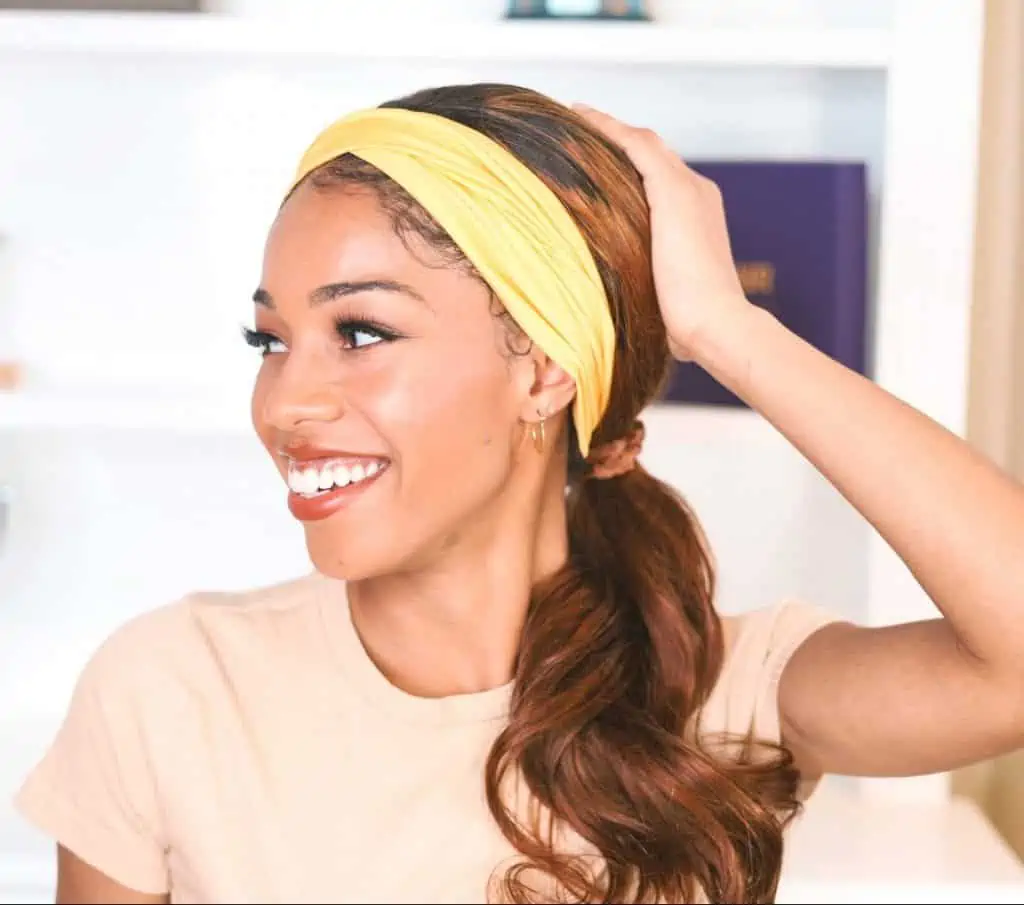 4. High Messy Bun
The beauty of the headband wig is that you can wear updos and still have it look realistic! The band doesn't show! I honestly felt like a 90s R&B star with the high messy bun and camouflage print!
5. Side Braid
Mixing it up a bit, this hair is seriously so versatile! A low side-braid keeps the hair off my face, while still giving a sweet and simple style!
Final Thoughts on LuvMe Headband Wig
I am so pleasantly surprised by my new headband wig! It was so simple for me to secure, super versatile when it came to styling, and overall great quality. I am also a HUGE fan of the colour!
And if you are looking to mix things up even further, you can switch out the headbands for your own accessories and wraps, like I did below! (If you know me, you know I have a lot of wraps).

I honestly can't wait to try other styles. Any suggestions on what kind I should try next? The body wave? Kinky straight? Something more on the curly side?
And don't forget, when you order your own LuvMe Headband wig, use the discount code KayaM for 20% off!
Keep tabs on @LuvMeHair on Instagram, and while you're there give these hashtags a follow: #luvmehair, #luvmehairreview, #headbandwig, #luvmeheadbandwig.
Related Posts: