This post is in partnership with SkinCeuticals Canada and Project Skin MD. I had the opportunity to try the SkinCeuticals Custom DOSE, and all thoughts are my own.
Have you been looking for a personalized skin care product that is not only customized for your individual skin concerns and skin type, but also formulated fresh before your eyes?
Well you're in the right place.
Let me introduce to you the Skinceuticals Custom DOSE. It is a skin care solution born of an incredible combination of science and technology.
Depending on your skin concern, it can help tackle signs of aging (fine lines anyone?), discolouration, and the appearance of imperfections.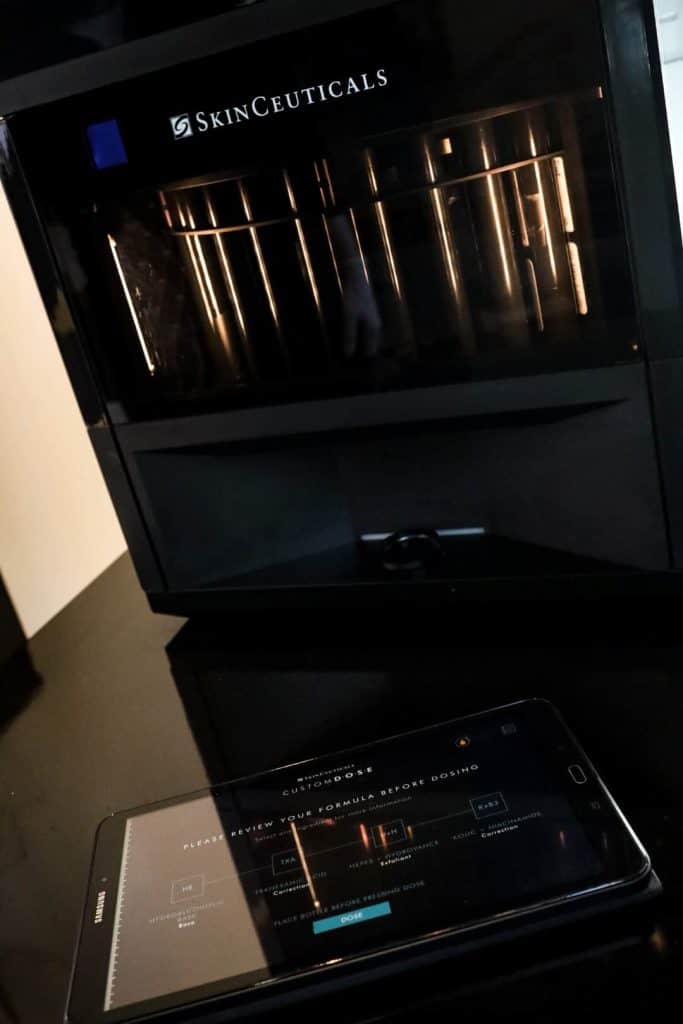 If you aren't familiar with SkinCeuticals, they are a skincare line with innovative science at its core. Their founding scientist, Dr. Sheldon R. Pinell, conducted research that changed the game for topical antioxidants. His research set the standard for stable vitamin C formulations as we know them.
So if I trust anyone to develop an effective and science-backed customized skin care serum, it is 100% SkinCeuticals.
How does the SkinCeuticals Custom DOSE work?
To create your personalized serum, SkinCeuticals combines your skincare professional's recommendations with the Custom Dose technology to provide you with a personalized corrective product. (So no trying to navigate things on your own with a skin quiz).
For us on the receiving end, the process is quite simple. In fact, it usually doesn't take longer than 10 minutes.
The first step to getting your new product is consulting with a physician, and having them diagnose your skin and determine which formula is the best choice. (I visited Dr. McGillivray at Project Skin MD in Vancouver, BC.)
Next, the formulation choices are synched up and your new customized skincare serum is compounded and dispensed right before your eyes.
Then, once it's ready, it's time for both the serum and the box to get a custom label with your name on it. (I am absolutely loving this attention to detail. I'm a sucker for anything with my name on it.).
Now pause and geek out over the science and technology with me for a second…
I don't know about you, but I'm always in awe of how far technology has advanced.
From a technical perspective, the SkinCeuticals Custom DOSE machine has 1227 unique parts and over 2000 algorithms that come together to compound your personalized serum.
And when talking about the serum itself, you're looking at high concentrations of active ingredients, chosen to help exfoliate, brighten, enhance, and clarify.
They are then compounded in either a hydroalcoholic or emulsion base, whichever best suits your skin as determined by your physician.
It's important to know that because your unique serum is made fresh, it has a shorter shelf-life than pre-packaged products. But if you're using it as directed, twice a day, it should last you 3 months!
After that, you'll be ready to revisit your clinic for an updated assessment. The beauty of that is that your custom formulation can evolve as your skin does for the ultimate treatment plan!
Okay, so we covered how incredible the technology is and all the juicy details, now let's get personal…
Getting my Custom DOSE at Project Skin MD
Only four locations across Canada that have the Custom DOSE available, and one of them is Project Skin MD in Vancouver, BC. I received my personalized skin care product on my second visit ever to their clinic, and that visit was just as wonderful as the first.
As I mentioned earlier, I first met with Dr. McGillivray, who provided his expertise to assess my skin.
We discussed my concerns, which are acne and hyperpigmentation. It often feels like a constant cycle of acne and post-inflammation hyperpigmentation (PIH), and I know the latter is something that is quite common to those with my skin tone. (Shout out to my friends with dark skin, you're not alone!)
Dr. McGillivray provided fantastic advice with a balance of scientific information and helpful analogies, and helped build out my Custom DOSE formula, and we were good to go!
I truly feel like I had the full experience because a SkinCeuticals representative happened to be in that day, and she operated the Custom DOSE system to create my serum.
Watch it in action:
How do I include it in my routine?
I had already been using a variety of SkinCeuticals products for a month and a bit now, so to be fair, adapting this new serum into a lineup of products of the same brand was pretty easy.
In the mornings I cleanse my face, tone, use the SkinCeuticals Silymarin (my antioxidant), and then follow with my Custom DOSE and SPF.
In the evenings I double-cleanse, tone, apply my Custom DOSE, additional corrective serums/treatments, and then my moisturizer.
It's been a week so far and I love how the product is working in my routine. To see how it works over the next few months, make sure you keep tabs on me over on Instagram at @Comfygirlcurls, where I do the majority of my stories makeup and filter-free….even on my breakout days.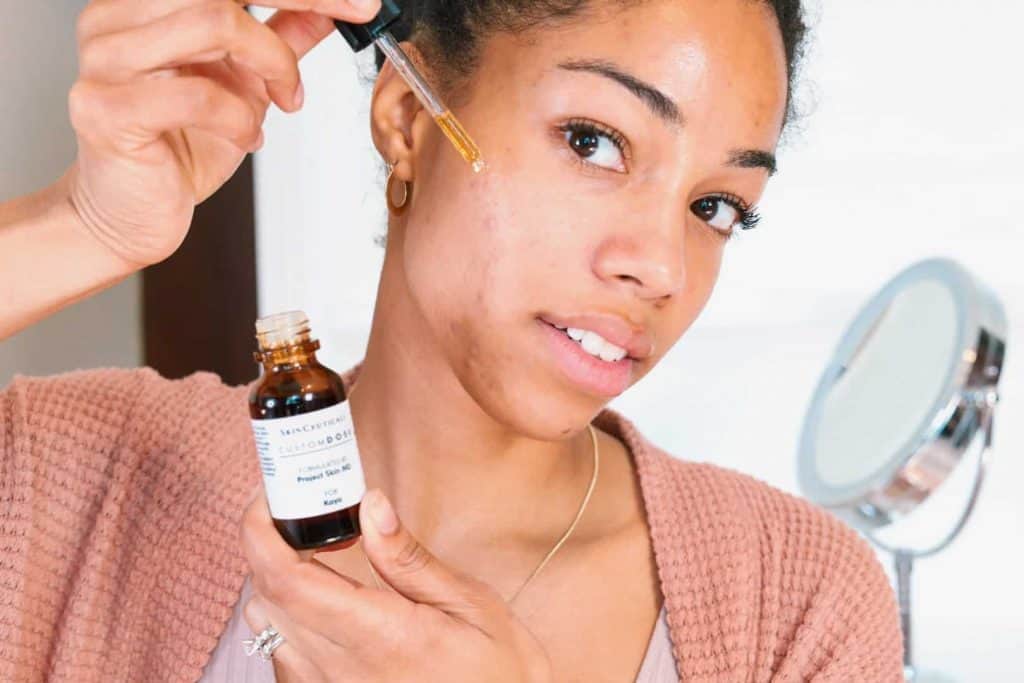 Final thoughts on my New Personalized Skin Care Product
I used to be incredibly skeptic about beauty brands that advertise custom skincare products… and I still am, depending on the brand. It's good to have your guard up.
I always wondered how could something effectively work for my unique skin needs, and how could I really know if a product was being uniquely formulated for me at all?
But the SkinCeuticals Custom DOSE takes away all of that doubt when you get to watch your personalized skincare product being formulated in front of you, based on an assessment you had with a professional.
Related Skin Care and Beauty Posts:
If you enjoyed this post, pin the below to Pinterest: