Awhile back, Eminence Organic kindly gifted me the three-product lineup of their new gemstone collection. This included the Charcoal Exfoliating Gel Cleanser, the Turmeric Energizing Treatment, and the Camellia Glow Solid Face Oil. All thoughts in this review are my own.
I filmed my unboxing and first impressions (which I've shared below), and have now been using products in my skincare routine for a few months. I felt it was the perfect time to write a blog post sharing ALL the details on this collection, so here we are.
Eminence Gemstone Collection Overview
Okay, so before we dive into my first impressions, and then the nitty gritty details of each product, let's talk about the collection as a whole.
Each product in this line includes actual gemstones. Yes, you heard that right.
I feel like this is very fitting of the heightened interest in crystals, which I believe is where much of the interest in this lineup lies.
On top of getting high-quality products, the inclusion of gemstones turns your skin care routine into more of an energizing ritual.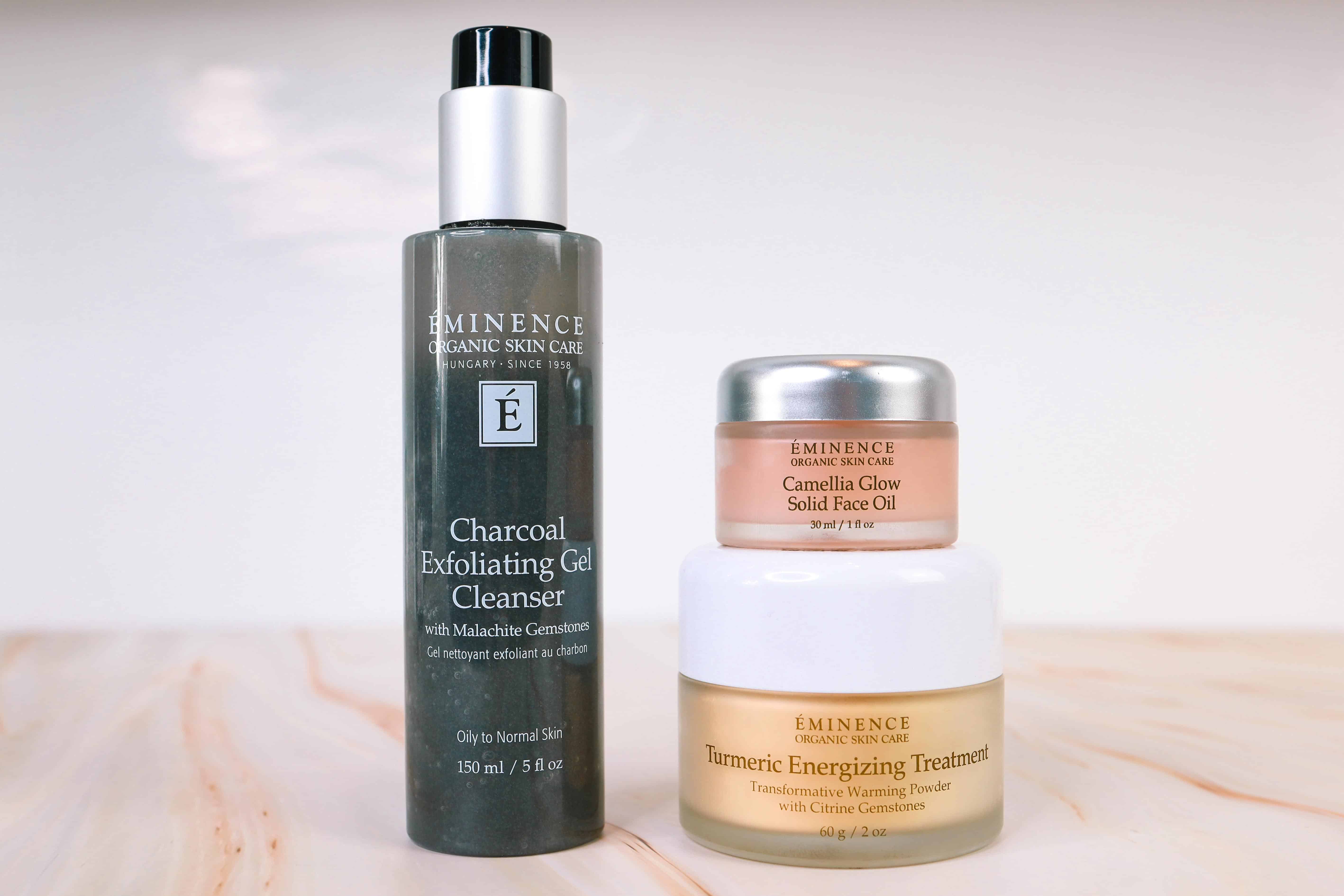 Personally, I'm not on the crystal train, but I do make a big deal about indulging in a great skincare routine as an act of selfceare.
Here is how EminenceOrganics.com describes these products:
Energize your skin care ritual and prepare to glow from the inside out with a completely transformative experience. Stimulate your senses and reveal the look of balanced, energized and glowing skin.
All and all, I believe the inclusion of these different gemstones to be more symbolic, and ritualistic, rather than having proper skincare benefits, but that just could be me.
And then as with all Eminence Organics products, they are all organic, natural, cruelty-free, sustainable, and Biodynamic®.
The last word, Biodynamic®, was new to me so I dug around their website for more information.
The key things to note is that this means their ingredients were harvested using conscious farming practices, and without harsh pesticides or fertilizers. You can read more here.
Unboxing + First Impressions
As mentioned above, I shared my initial thoughts on the Eminence Gemstone Collection on YouTube. Watch to get my true first impressions, and some highlights on each of the three products!
(I also drop a couple skincare tips, and share some of the products I'm currently using from other brands!)
---
Covering Each of the Eminence Gemstone Collection Products
Okay, now that you're all caught up on my first impressions, we're ready to do a deeper dive into each product!
I'll be talking about them in the order that one might usually use them.
Charcoal Exfoliating Gel Cleanser
Product cost: $58.00 CAD
Okay, first up, the Eminence Charcoal Exfoliating Gel Cleanser. This product is meant to be a a "supercharged purifying cleanser", and to exfoliate away impurities and help "reveal a balanced complexion". It is designed for oily to normal skin.
Featured ingredients:
Malachite is the gemstone of choice for this Eminence cleanser. It is supposed to be the stone of transformation, aiding with stress-relief, leaving you feeling balanced.
Charcoal as a skincare ingredient is something most of us are quite familiar with. It is used to draw out impurities, such as oil and dirt, leaving the skin healthy and clean.
Blue Matcha (Butterfly Pea Flower) is something I have never really heard of before. It is supposed to be rich in antioxidants, and help with a youthful appearance of the skin.
Peppermint is something that I love in my skin products. Maybe just because I like the tingle. What I didn't know is that it is also rich in antioxidants, as well as vitamin A and C.
Experience using the Exfoliating Gel Cleanser
The past few months, I have been using the Eminence Charcoal Cleanser the same as I did in the gemstone collection first impressions video; as the second cleanser, in a double cleanse.
Because this product is an exfoliant, I would only ever want to use it on an already-clean face. (I don't want to be rubbing dirt and makeup deep into my skin).
I am actually not usually a fan of physical exfoliants, but I really enjoyed this one. Maybe it is the invigorating peppermint (which is very strong by the way), or maybe it is the mysterious effect of the malachite gemstones, but either way, I am a huge fan.
And it left my skin feeling so soft. I'm talking baby skin soft.
But I wouldn't necessarily recommend for anyone with sensitive skin, nor would I recommend it for daily use. As you could see in the video, it left my skin quite red.
It cleared up pretty quickly afterwards, but I will admit, it was a little alarming at first.
One, completely separate note: My pump broke after the second use, so anytime I use this product, I have to open the top and pour a bit out into my palms.
Turmeric Energizing Treatment
Product cost: $90.00 CAD
Next up in the gemstone collection, the Eminence Turmeric Energizing Treatment! This is a "Transformative Warming Powder with Citrine Gemstones", and turns out this product is actually one of Eminence Organics' best sellers.
If you're someone who likes to make your skincare routine an experience, this is the product for you. You add water to the powder to turn it into a mousse-like face mask. The DIY experience really makes it really feels like you are concocting your own product.
Featured ingredients:
Citrine Gemstones are supposed to channel light and happiness, leaving you feeling energized and motivated.
Zeolite is something I've never heard of, but it seems to be responsible for the "warming" sensation this product provides. It also is supposed to smooth, tighten, and even out the tone of the skin.
Turmeric was actually the only household ingredient I ever experimented in DIY skincare with. It is a powerful antioxidant, and helps brighten the skin.
Paprika is supposed to invigorate the skin, leaving it soft and glowy.
Kaolin Clay is an ingredient I've been hearing more and more about. It is supposed to be fantastic and drawing out impurities, and cleaning deep.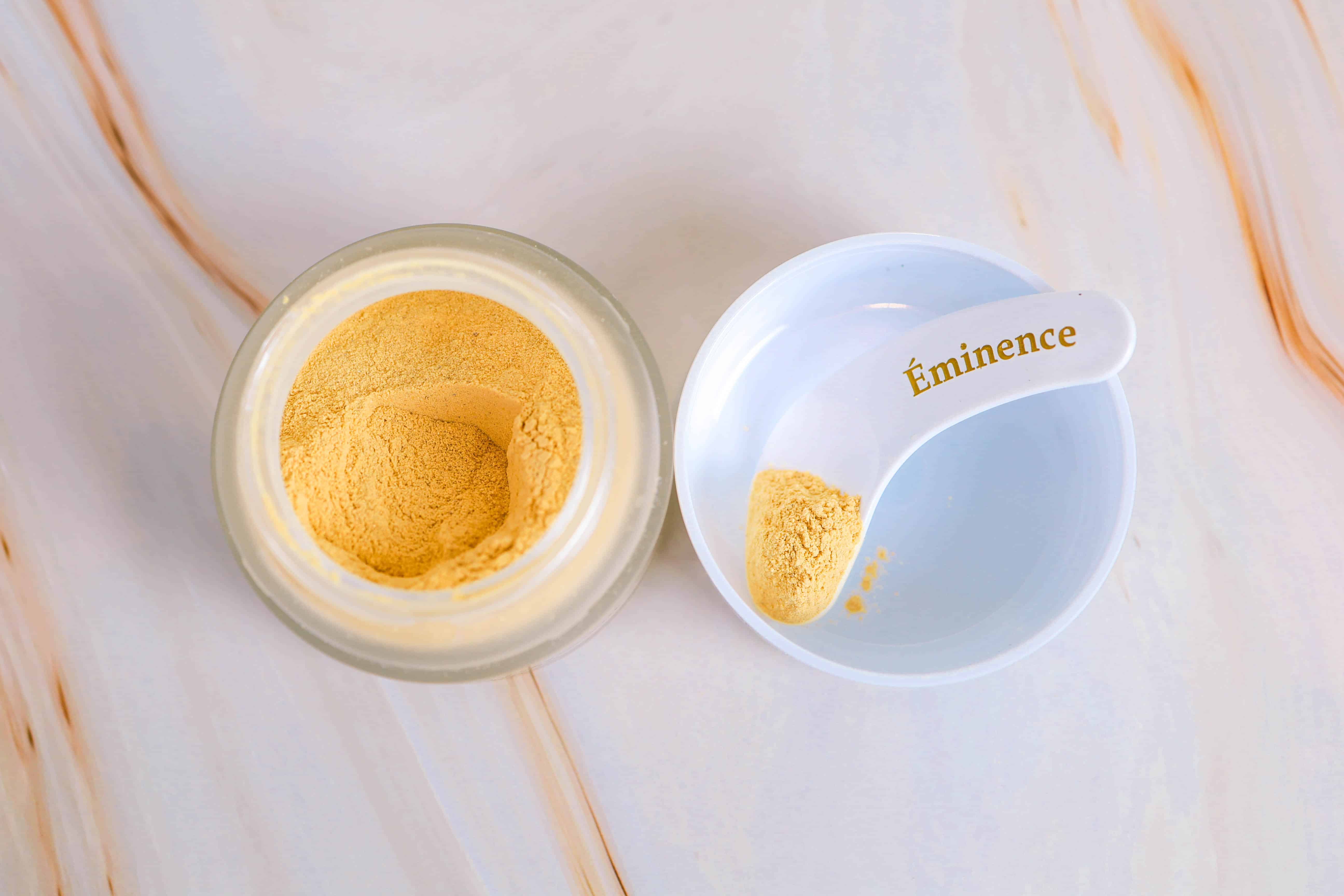 Using the Eminence Turmeric Energizing Treatment
This product is a little messy, but it is a LOT of fun to use. It cleans out of the container super easily, but try to make sure you aren't wearing anything white when you do this treatment.
As I mentioned above, it is perfect for those who like to make a whole event of their skin care routine. Do not underestimate the warming sensation of this treatment. The only way I can really describe it is that my face feels spicy when I use it.

Because the warming is fuelled by the zeolite coming into contact with water, the sensation is hottest upon application, and when you rinse it off.
Similar to the charcoal cleanser, I do not recommend this product if you have sensitive skin. This product is also extremely exfoliating, so I recommend not using it with any other exfoliators, whether chemical or physical. I've been using it about once a week to once every two weeks.
That being said, this product doesn't feel harsh or stripping in anyway. Strangely enough, when I wash it off, my skin actually feels hydrated!
Because the Eminence Turmeric Energizing Treatment is also supposed to help motivate you (thanks to the citrine gemstones), I also tend to use it early in the evening, when I still have a relatively long to-do list to tackle!

Camellia Glow Solid Face Oil
Product cost: $88.00 CAD
The final product in the Eminence Gemstone collection: the award-winning Camellia Glow Solid Face Oil.
What better way to end a skincare routine, than with a luxurious face oil? Apparently, this one also won two recent beauty awards:
Winner of Best Face Oil – Skin Hydrators, 2021 New Beauty Awards
Winner of Best Crystal-Infused Balm – Crystal Beauty, The Beauty Shortlist Awards 2021
Featured Ingredients
Pink Tourmaline Gemstones are supposed to encourage the mind and spirit to have positive thoughts. Tying into to overall positive energy the eminence Gemstone collection is supposed to help channel.
Camellia Oil is the key oil in this product, it is incredibly hydrating, and leaves the smooth feeling soft and supple.
Marula Oil is another great oil, this one packed with fatty acids. Marula Oil helps protect against stressors in the environment, and signs of aging.
Hemp Seed Oil is rich in antioxidants, and again helps leave skin soft and assists with signs of aging.
Eminence Camellia Glow Solid Face Oil Review
As I mentioned above, this product is absolutely luxurious. I like to end my skin care routine every evening with a face oil, so I rotate the camellia face oil and my rose hip seed oil from The Ordinary, every other evening.
The oil is solid, but it melts down quickly when rubbed into the skin. The tiniest scrape of a spoon goes an extremely long way. It has lasted me quite awhile so far, so if you're eyeing the price tag in fear, note this little tub will last you months.
I'm also a huge fan that this oil is solid. It makes using it completely mess-free, and I'm not wasting any because I only take as much as I need.

I'm not sure if it's the Camellia Oil, or something else in the product, but I found it to have a very strong scent. I'm not the biggest fan of it, it is a bit floral, but also reminds me a bit of an elderly woman.
That being said, my skin is absolutely glowing after I apply this oil, and when I wake up the next morning, my skin still looks radiant.
So for me, the smell isn't that big of a deal for such a great payoff.
Final Thoughts on Eminence Organics Gemstone Collection
First of all, I am so grateful to Eminence Organics for sending me over this skincare trio. They are the first products I reach for when I'm looking for a luxurious and effective.
Yes they are a bit on the pricey side, but they really are comparable to high-end spa skin care products. And besides, a little goes a long way for all three of these.
The Charcoal Exfoliating Gel Cleanser is an incredibly effective exfoliator, and the peppermint tingle leaves my skin feeling so clean and soft.
The Eminence Turmeric Energizing Treatment is an absolutely wonderful experience. The warming sensation leaves me incredibly recharged, and my skin silky-smooth and bright.
The Camellia Glow Solid Face Oil is an evening staple, leaving my skin hydrated, plump, and radiant.
Anytime I use any of these products, I honestly feel like I'm running my own personal at-home spa. I definitely recommend them.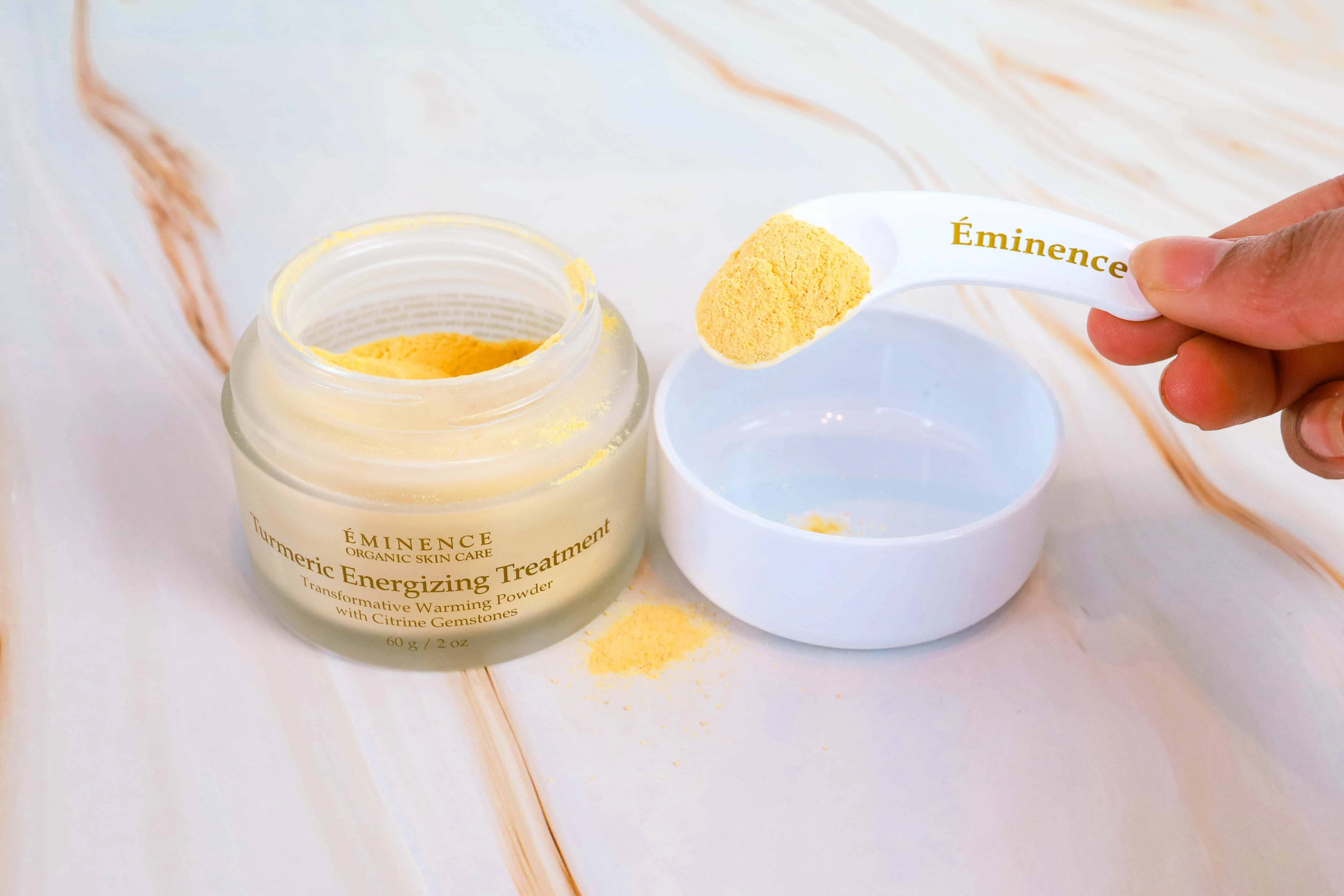 Since writing this post, Eminence also gifted me their Stone Crop Cleansing Oil and Gel Cleanser. Stay tuned for a future blog post on that!
More Skin Care Posts: