I had the honour of partnering with Attitude Living to help hype up the launch of their brand new shampoo and conditioner for textured hair. In addition to sharing my thoughts on their new products, I shared a bit of my Natural Hair Journey, and some of my natural hair care routine!
Attitude Living is a Canadian-based company sharing products natural personal care and household items, with the goal of creating a more sustainable future. They focus on less-plastic, more trees!
Keep reading below to catch the info I shared with them, and check out their website for more details on their brand and products!
Attitude Living: How do you feel about your coily hair? Do you like having this hair texture? If so, has this always been the case?

Me (ComfyGirlCurls): I adore my natural hair, and especially as an adult, my curls have become a huge part of my identity. I love how big I can make them, their versatility, and how taking care of them with a solid routine and amazing products feels like an ultimate act of self-care.
While my hair and I are currently on the best-of-terms, the journey to self-acceptance took some time. Years, in fact.
Related Post: Read my entire Natural Hair Journey in four parts.

Growing up, I definitely attached a lot of negative words to my curls and coils. I often saw them as unkempt, unprofessional, and above all: unmanageable.
It took time to change these perceptions, but the key to overcoming those labels was learning how to manage my hair & how to style it. I had to discover that my natural hair (and textured hair in general) needed a different hair care regimen than straight hair did.
So building out a routine for myself, educating myself on the best products, paying close attention to how my curls responded to different ingredients; it all helped me better-understand my hair, and learn to really appreciate it.
ATTITUDE LIVING: Can you guide us through your hair care routine for coily hair and give us your styling tips?
Me: Since building out a proper regimen for me and my curls was essential, here are some non-negotiable tips that have helped keep my hair healthy:
1. Ensuring I'm using the right products for my hair
This is going to look different for every person, as every curl needs a different type of love. The key is to listen to what your hair needs, and act accordingly.

As someone with type 4 hair, my curls and coils are prone to dryness and therefore breakage. So on my wash days, I ensure that I have a good shampoo that removes product build-up without leaving my hair stripped of hydration, as well as an ultra-hydrating conditioner to pack my hair full of long-lasting moisture.
Not sure what your hair type is? Check out this guide. Learning mine helped me understand its needs!
And did you know that ATTITUDE makes shampoo and conditioners specifically for the unique needs of textured hair? As part of their 100% natural, EWG VERIFIEDTM Super leaves TM collection, they have a curl amplifying set for wavy hair, a curl moisturizing set for curly hair, and an ultra-hydrating set for coils (like mine)!
2. Introducing the LCO method when styling
After shampooing and conditioning my hair, I always put on a layer of three products so that moisture is locked in to last me the week.
"LCO" refers to the products that I apply to my hair and the order.
1. Leave-in conditioner (usually water-based for extra hydration).
2. Cream (a heavier product, usually intended to help with styling, which helps keep the water in).
3. Oil (to seal all the products and moisture in).
Following these steps every wash day is critical to my natural hair health, and helps me achieve my hair goals!
3. Minimizing Manipulation
Have you heard of fingers-in-hair syndrome? Okay, it's not a real thing, but it's an expression used to describe people like me who just can't stop touching their hair.
If I'm wearing my curls out in a style that shows all its voluminous glory, there's a really good chance my fingers will be in it constantly.
And the reality is that constant manipulation of textured hair leads to a higher chance of breakage. So my solution is to keep my hair in low-manipulation styles as much as possible! Twists and braids for most of the week, and then letting it be free on the weekends!
This also helps protect my ends (the most vulnerable part of my hair) from the elements, or from the friction of rubbing against my clothing.
Incorporating ATTITUDETM Super leavesTM
I mentioned ATTITUDE's Super leavesTM hair products above, and I recently began including their Curl Ultra-Hyrdating Shampoo and Conditioner in my routine, and am super happy with the results.
They are high-performing; the shampoo does not leave my hair feeling stripped of moisture, and the conditioner is incredibly hydrating. The latter even offers enough slip that I can detangle my hair with it!

And in addition to being effective, these natural hair products are ideal for those looking to lead an eco-friendly lifestyle.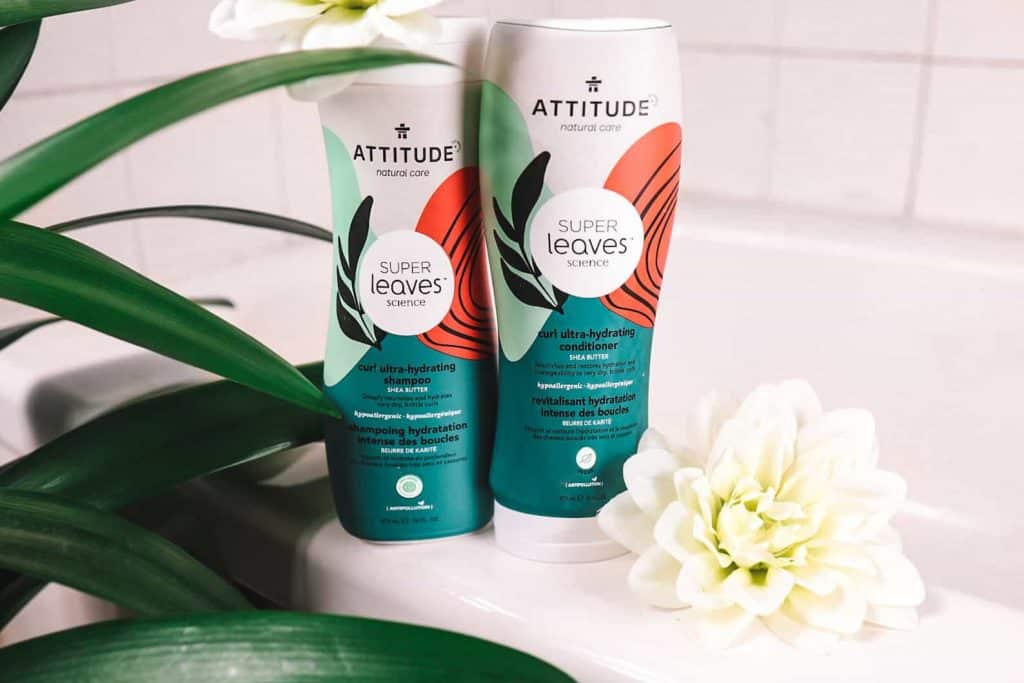 What makes ATTITUDETM Super leavesTM hair products so unique:
There are a lot of hair products out there on the market, but not too many of them can balance performance, ingredient-consciousness, and sustainability. The Attitude Living Super leavesTM shampoos and conditioners are all natural, vegan, and hypoallergenic.
And being eco-friendly and ingredient-conscious doesn't need to come with an astronomical price tag! Shop their textured hair products for yourself, and see just how affordable they are.