I was gifted beautiful hand-made hair & body products, and artisan soaps from ImoNatural. All thoughts are my own. If you are looking to support an amazing Canadian Black-Owned Business, you've come to the right post!
Are you a sucker for absolutely luxurious-smelling products? If so, you'll want to get your hands on everything from ImoNatural. And then when you do, you'll want to hide them from everyone else in your household. Even my husband adores the way these natural hand-made products smell, and I can't have him using them all before I do!
About ImoNatural
ImoNatural (pronounced "I'm O'Natural") is a Canadian-based, Black-owned business with a wonderful collection of hair and body products. Their products are small-batch, all natural, and cruelty-free.
I actually found them through YouTuber, Jenn Jackson, who had mentioned their Leave-In Conditioner on Instagram.
Related Post: List of Canadian Natural Hair Care Brands to Support!
Gifted Hair & Body Products
ImoNatural was kind enough to send me a selection of their products to try.
We're going to dive into some info and thoughts on each of the products, but for a quick overview, they are all amazing quality, thoughtfully made, and I seriously find their scents therapeutic.
(And that's coming from someone who sometimes gets a headache from smelly things.)

Using all these products back-to-back, seriously makes for a perfect self-care night. If you follow me on Instagram, you've probably seen me documenting an indulgent Sunday night or two with some of the below!
ImoNatural Leave-In Conditioner
As I mentioned above, I first heard about the leave-in conditioner through Jenn Jackson, and wow was she right in recommending it.

This is definitely going to be a staple in my hair-care regimen.

My high porosity hair LOVES and depends on thick leave-in conditioners and so it absolutely loved the texture of ImoNatural's one.
Related Post: Knowing your Porosity: the Key to Healthy Hair
It has fantastic slip, leaves my hair feeling super-hydrated, and smells AMAZING. It also plays nice with other products (a must, as I always use the LCO method).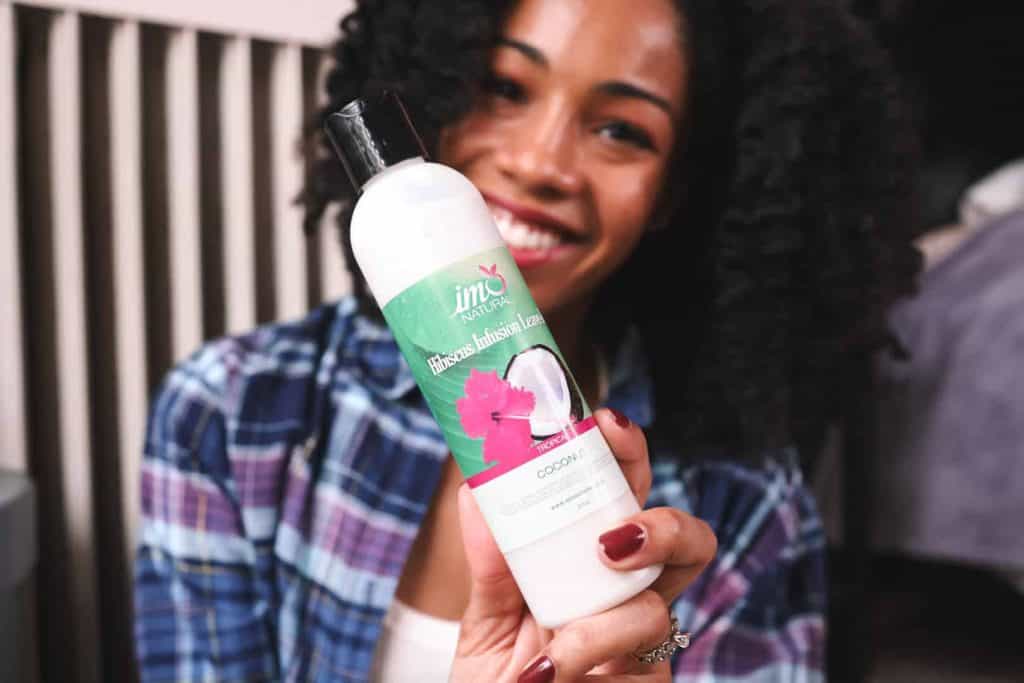 ImoNatural Hair & Body Crème
Products that have a dual purpose? Yes. Please.
These Hair and Body Crèmes are super light and hydrating. They are water-based, and absorb wonderfully both into the skin, and the hair!
I was sent three different scents: Oatmeal Milk and Honey, Black Raspberry Vanilla, and Vanilla Lavender.
They are all amazing, but that Oatmeal Milk and Honey is something SPECIAL. Like phew. No words. Ultimate fave.
I use the Oatmeal Milk and Honey more day-to-day. The Black Raspberry Vanilla when I need a pick-me-up, and want to feel bright! And then the Vanilla Lavender when I need that stress-relief, or to calm myself and my Sunday scaries.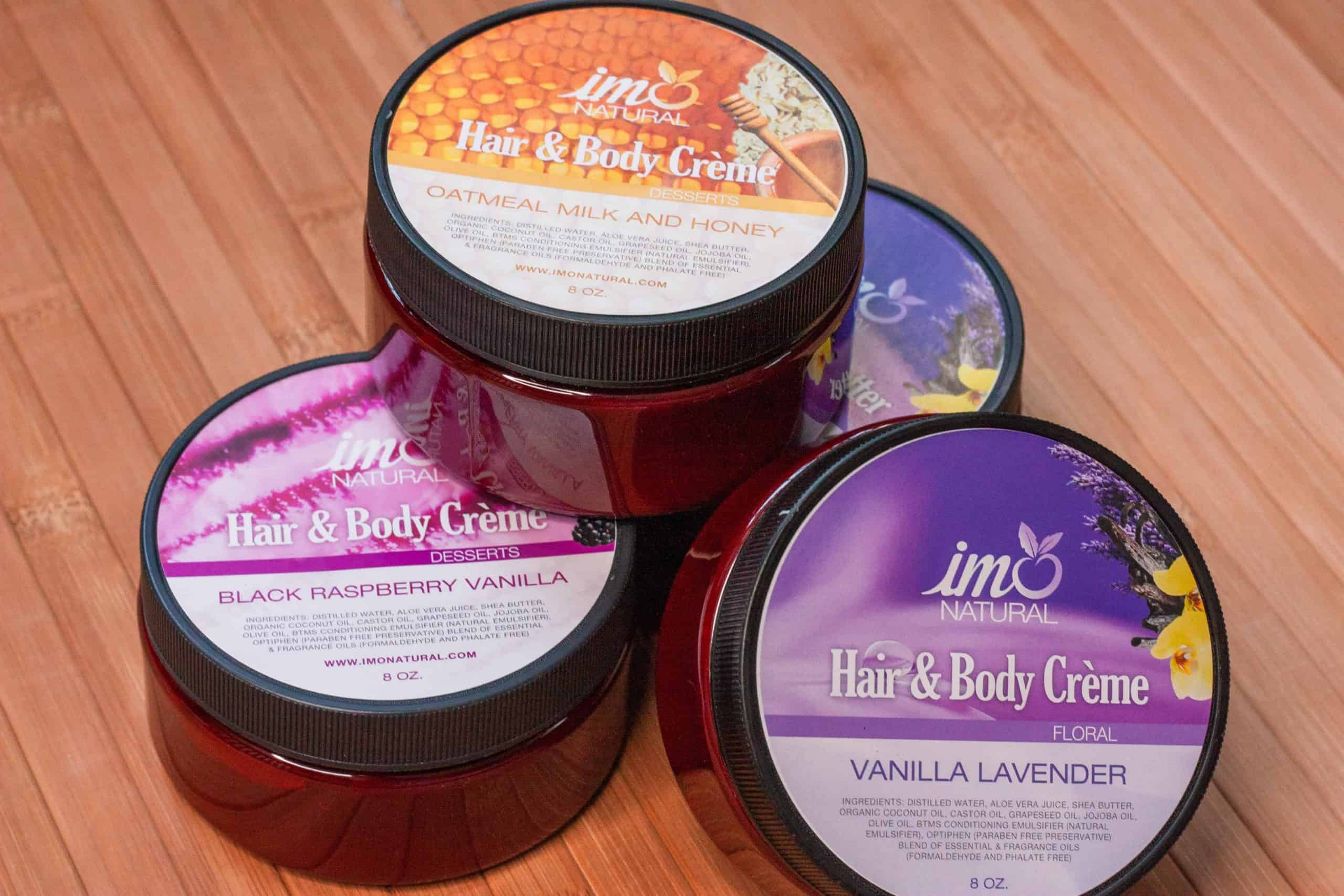 Hair & Body Butter
ImoNatural's Hair & Body Butter melts down… like, well.. butter.
I see a lot of searches out there for Black-Owned Body Butter, so if you've been on the hunt, jump on these right away!
The butter is heavier than the crèmes, and as it is not water-based, acts more as a sealant. (This is a concept my natural-haired ladies are probably already familiar with).
Because the butter seals in moisture, I use it in my hair as the O in my LCO method (Liquid, Cream, Oil). Or straight out of the shower, when my skin is already damp.
When I'm feeling super luxurious, I'll layer it on my skin after the crème to really lock that moisture in for some soft, glow skin.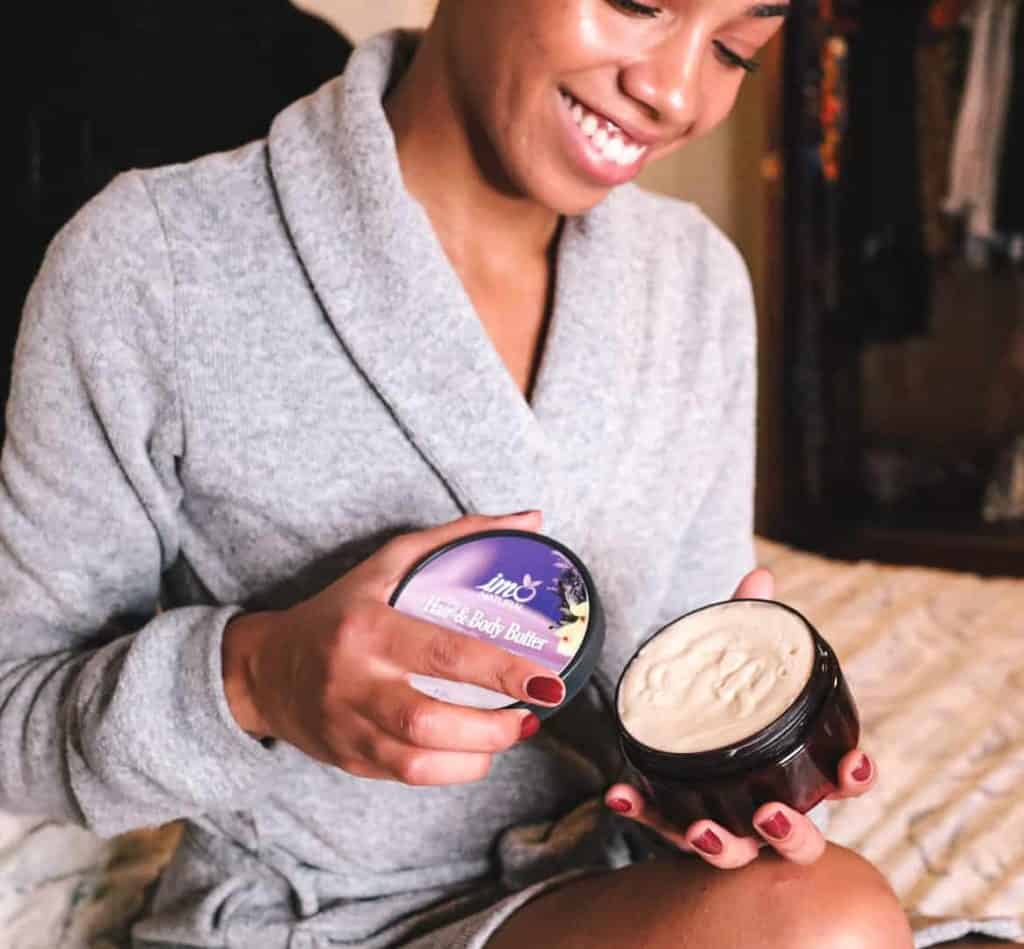 If you're unsure whether you should go for the butter, the crème, or both, check out this blog post from IMO Natural, themselves!
Handmade Artisan Soaps
For me, ImoNatural's artisan soaps really stole the show.
First of all, they are so gorgeous and aesthetically pleasing. It took me AGES to use them, because I just wanted to keep taking pictures of them. #ContentCreatorProblems, am I right?
Then when it finally came time to use them, they smelled great, lathered wonderfully, and left my body feeling nice and clean!

A weird bonus? I recently transitioned to natural deodorant, and these handmade soaps really helped get me through the detoxing process. When I tried to use Dove soap, and my pits were SMELLY. Then I used these artisan ones, and I smelt so clean and yummy!
I also absolutely love that the scents match back to the crèmes and body butters. You can synch up your entire routine around a scent!
Final Thoughts
These products were gifted, but you can bet I've already spent my own dollars placing orders to replenish my stash.
If you're someone who loves natural products and shopping Black-owned, make sure you visit ImoNatural, and fill your cart up with all the body butter, crèmes, and artisan soaps you can fit!
I love being able to throw my support behind small, Black businesses, and using these handmade, luxurious-feeling products. What else could a girl ask for?!
Make sure you go visit ImoNatural.com, and give them a follow over on Instagram at @imonatural!
Related Posts: