As a Black woman, I knew I needed Propa Beauty's satin nude lipsticks in my life. I saw some swatches on Instagram, and they looked like the PERFECT everyday nude lipstick shades for brown skin. So I took the plunge and bought all 12 colors of their lipsticks (yes, the full collection), to swatch and review for you!
There is a video below so you can see the swatching in action!
*Some of the links included in this post are affiliate links. This means, at no additional cost to you, if you click on them and make a purchase, I will make a small commission.*
About Propa Beauty
Propa Beauty is based out of Phoenix, and they are a Black-owned, women-owned, makeup company that is creating satin nude lipsticks for women with darker complexions.
So that right there is a plus for me! If anyone knows how to make a perfect nude lipstick for brown skin tones, it's a Black woman!
Related Post: 10+ Black-owned Etsy Shops You Need to Check Out!
So often beauty brands throw a handful of nude colours at women with darker skin, and say "there, hope you're happy". Meanwhile forgetting that people with darker skin tones come in a variety of shades and undertones!
But Propa Beauty knows what they're doing. They don't have just three or four nude lipsticks for brown skin. They literally have twelve different lipsticks, all with different undertones, shades, and depths.
That is showing a genuine effort to try to cover the beautiful variety of deep skin tones that exist!
The Line-Up of Nude Shades:
So as I mentioned, there are twelve different nude lipstick shades, so you're bound to find one that works on your brown skin.
Here's a quick overview of each of them:
Driven – Deep Mauve-tones
Empower – Deep Chocolate Maroon-tones
Limitless – Toasted Pumpkin-tones
Believe It – Nutty chestnut tones
Profits – Deep coral-tones
Fighter – Rich Reddish Brown tones
Victress – Deep rose petal tones
Clo$er – Plum Mauve-tones
Focused – Toasted Cinnamon with reddish-brown tones
Finesse – Neutral Taupe-tones
Made it – Juicy Tangerine-tones
Her Magic – Deep Rose-tones
And now about the lipsticks themselves:
We covered the amazing variety in shades, so let's talk about the formulas a bit!
Propa Beauty's shades are all luminous satin lipsticks, and they are vegan, cruelty-free, paraben-free, and phthalate-free.
And after trying them for myself, I found their nude lipsticks to be:
light-weight
highly-moisturizing
pigmented
buildable in coverage
One swipe goes on slightly sheer, but you can apply more for a saturated, juicy-looking colour! Personally I love that type of range with my lip products! Or any product, really!
After you watch the below video, let men now which one was your favourite!
Propa Beauty Lipstick Swatches on Brown Skin (video):
Watch the full video to see me try on all the shades, and hear what I think! Then check below to see a swatch on my arm!
Makeup Tip: to remove the lipstick between takes, I relied on Farmacy's Green Clean. The ULTIMATE makeup-remover.
(And don't forget to subscribe to my YouTube channel while you're at it!)
I had a LOT of fun swatching these lipsticks, but I know it can sometimes be a little tricky to gauge colours on video.

So here is picture of all the shades swatched on my arm. Honestly, probably not my best-lit shot… but you get the idea: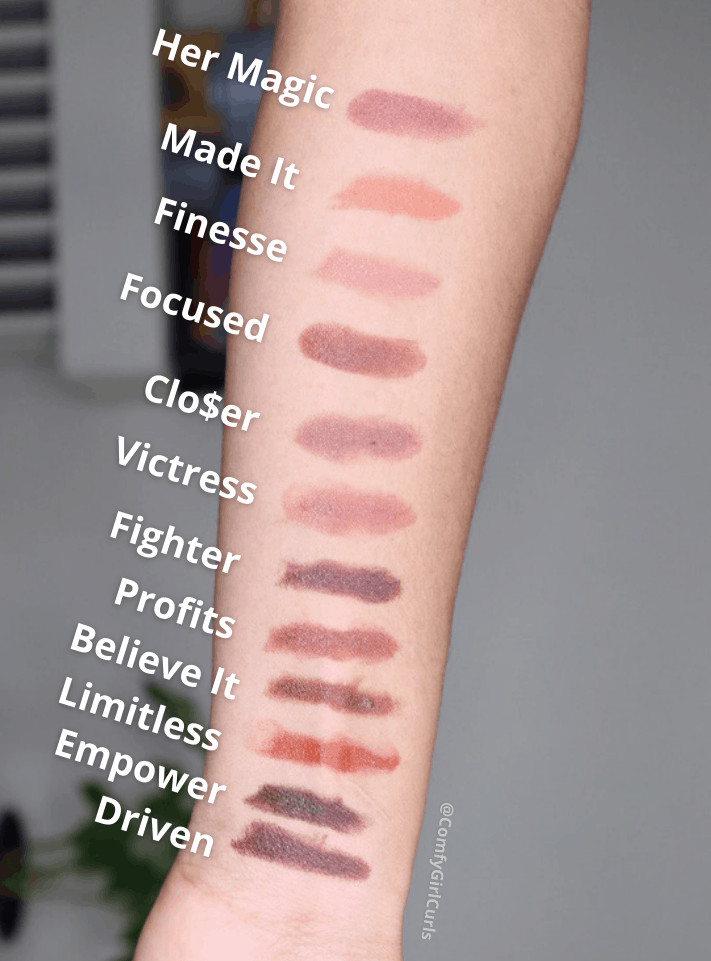 Final Thoughts
I have honestly been wearing these lipsticks every day. Whether a sheer swipe for work, or a more bold look for the content I shoot at home, Propa Beauty has been really holding it down for me the past couple months.
No matter what your skin tone, I just know that you'll be able to find a Propa Beauty lipstick shade for your complexion.
One thing though, that I really hope they launch some day are some gorgeous nude liner options! Just imagine being able to use liners to alter each color to the perfect nude.
It's what dreams are made of for women with darker skin!
In addition to adding lip pencils, I'm curious to see if they will add different finishes. They are doing SO well with the colors they have I wonder if they would expand to matte lipstick, liquid matte lipstick, and even lip gloss!
Personally, I'm always on the hunt for new lipsticks to try, so if you have others to recommend, drop them in the comments!
Related Posts:
If you enjoyed this post, pin the below to Pinterest: