I am incredibly excited to partner once again with Olay Canada to share the details of their brand new product line up: Olay Collagen Peptide24. All thoughts are my own.
As you may have seen me gushing, I introduced the Olay Regenerist Micro-Sculpting Cream into my routine earlier this year, and LOVED IT. I also shared the details on the benefits of peptides (their star, anti-aging ingredient) in this blog post.
And now that I've had the pleasure of trying out their brand-new Collagen Peptide24 collection, I am so excited to dive into the ingredients and share my thoughts with you all.
So let's get to it!
Olay Collagen Peptide24 Collection
If you've been searching for affordable, drugstore skin care products that help address signs of aging, products that help increase firmness of the skin, you'll definitely want to reach for the Olay Collagen Peptide24 line in their sleek white packaging.
Collagen has been getting a lot of buzz lately, and I love that Olay launched a line with it as a key ingredient.
Because honestly, if I trust any brand to get it right, it's Olay. The formula contains Olay's highest concentration peptides yet, and that's one of the reasons why Olay's Collagen Peptide24 visibly firms skin in two weeks! (Yes, you read that correctly).
Two weeks.
Their product line-up includes a moisturizer, a serum, a cleanser, and an eye cream. That makes it super simple to build out a full skin care routine for yourself! Just don't forget to add sunscreen!
Collagen Peptide24's Star Skin Care Ingredients
I absolutely love talking ingredients.
Learning about skin care ingredients, and truly understanding the benefits of the products I'm putting on my face has been an absolute game-changer.
The knowledge helps ensure I'm making educated decisions that target my skin concerns. No more shots in the dark when I'm searching for a new product.
No more slathering random creams and serums on my face and crossing my fingers, hoping to see results.
So let's get into the star ingredients of the Olay Collagen Peptide24 collection.
Collagen Peptide
As I mentioned, we learnt all about peptides in this Olay Regenerist Micro-Sculpting Cream blog post, but let's recap a bit.
When it comes to anti-aging skin care products like firming creams, peptides are an extremely powerful ingredient.
They are the building blocks of our skin cells, and they work hard to build up different vital proteins; proteins that tend to naturally slow down in production as we age.
Collagen is what helps keep our skin plump and firm.
But remember, all peptides aren't made the same (and that includes collagen ones). The collagen molecule on its own is too big for your skin to effectively absorb, so they just sit on top of your skin. Which isn't very beneficial.
But luckily, Olay's peptide formula is specially formulated so that the molecules are tiny enough to effectively penetrate the skin and provide visible results!
On top of that, with these products having Olay's highest concentration of peptides, I can definitely understand how these products help visibly firm skin within a two weeks of consistent use.
Niacinamide (also known as vitamin B3)
Niacinamide is one of Olay's super-star ingredients. It's like their secret sauce.
It is also one of my favourite ingredients, because it helps with SO MUCH.
Intentionally including niacinamide in my routine has done wonders for my acne-prone skin.
I've found that consistent use has helped me manage breakouts (probably thanks to the fact that niacinamde helps exfoliate the skin's surface), and has also helped reduce hyperpigmentation. (Which is such super nice because wow, do I scar very easily).
Glycerin and Snow Mushroom Extract
Okay this ingredient was a new one for me.
And it's not that often I come across a new skin care ingredient, so I was so intrigued!
Glycerin and snow mushroom are added to increase the moisture in your skin, while also helping your skin retain it.
This is so perfect as we're still trapped in these colder months!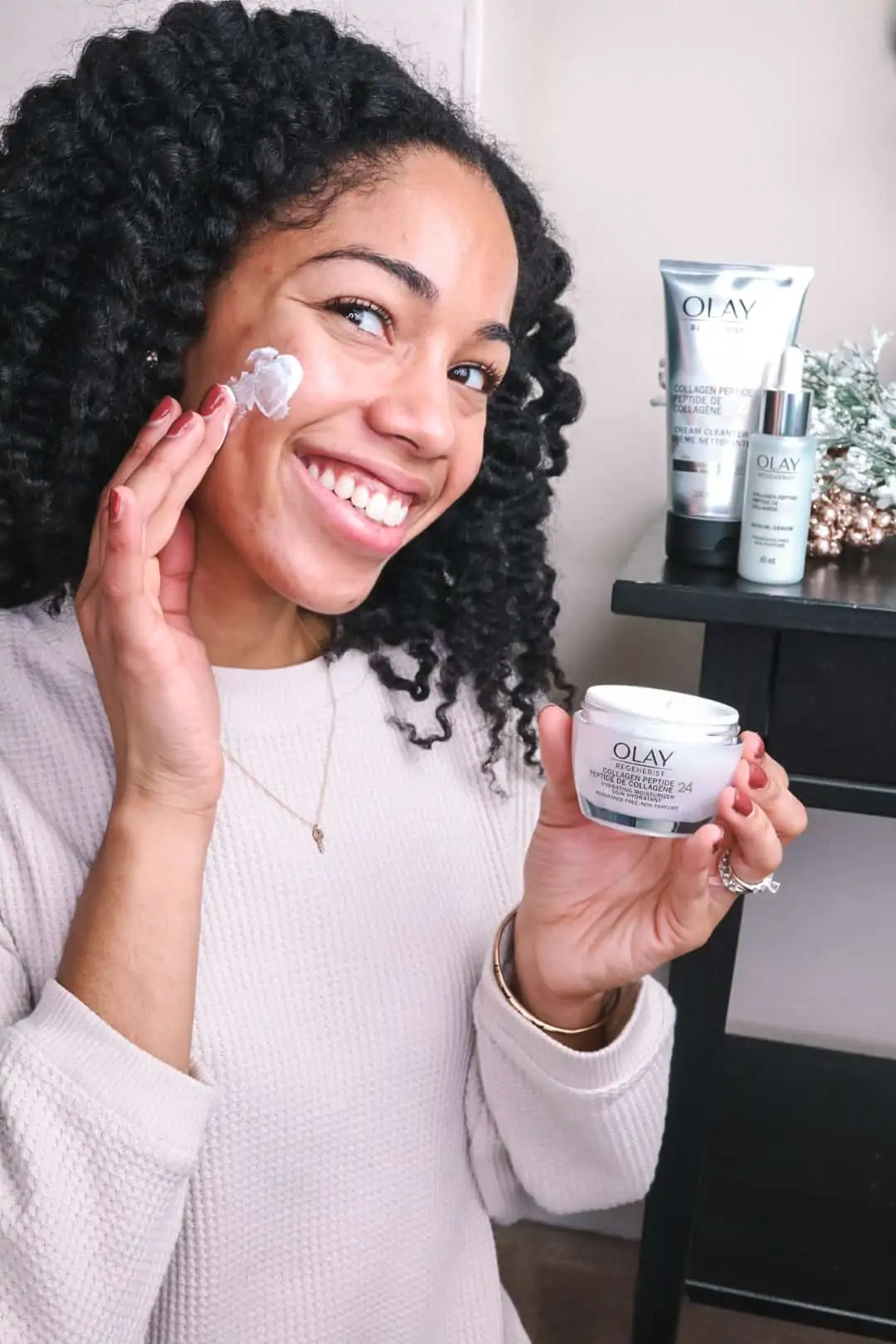 My experience introducing the collagen firming cream into my routine
So what are my thoughts after adding Olay Collagen Peptitde24 into my skin care routine?

Well let's just say I've added some new go-to products to my list.
I absolutely love that this has an entire product line-up, which makes the routine a no-brainer.
Morning and night, I have been using the cleanser, followed by the serum, and moisturizer with great success! In the evenings, I pull out the eye cream to give that tender area some TLC!
All the products are truly awesome, but as my skin loves moisture, the hydrating moisturizer really stole the show.
The texture is thick and creamy, without being greasy. It absorbs right into my skin and leaves me with a glow!
It's fragrance-free, which for me, is a huge bonus. I mean, I love a pleasant scent as much the next person, but on the days that I get migraines, I love being able to reach for products that won't agitate them.
I really look forward to using it long term, and enjoying the skin-firming benefits!
Final thoughts
Honestly, it doesn't matter what age you are. If you are an adult, it's not too early to start picking up anti-aging products.
Our collagen production slows down as we get older, so it's so beneficial to be proactive!
So if you're considering picking up a firming cream, or better yet, an entire line of firming skin care products, reach for Olay's Collagen Peptide24 line up.
Get visible firming results in two weeks, with these peptide-packed products that are proven to hydrate better than some $400 prestige creams!
You can find these products at your nearest Shoppers Drugmart or online!
I want to end with a huge thank you to Olay Canada for partnering with me to bring you all this post! Have you added collagen peptides to your skin care routine yet? Comment below!