I am incredibly excited to partner with Olay Canada to bring you this informative post on peptides and the Olay Regenerist Micro-Sculpting Cream. All thoughts are my own.
Are you actively using peptides in your skincare routine? Peptides are an incredibly valuable ingredient, especially when it comes to anti-aging creams and products for dry skin.
While I have seen the term "peptides" floating around the skincare side of the internet, I really had no clue what they were until recently. In fact, I hadn't actually tried a product containing peptides until I used the super-hydrating, Olay Regenerist Micro-Sculpting Cream.
In this post, we're going to chat all about this super special ingredient, but first, let's talk about the product that introduced me to them:
The Olay Regenerist Micro-Sculpting Cream for Anti-Aging
The Regenerist Micro-Sculpting Cream is the iconic Olay cream in the red jar. Did you know they sell 20 jars a minute, worldwide? When I heard that, I thought okay, they are doing something right.
So what makes this product so popular? Why do the reviews for this Olay cream say it's one of the best anti-aging and anti-wrinkle creams?
In my opinion, it comes down to two things.
1. The ingredients
I love getting nerdy over ingredients, and Olay isn't choosing theirs all willy nilly. They aren't chasing the latest ingredient trends. Their choices are intentional and backed by nearly 70 years of science.
The Regenerist Micro-Sculpting Cream is packed with the following effective skincare ingredients:
Amino Peptides

the star of today's show
incredibly valuable in anti-aging skin care products
proven to reduce the appearance of fine lines and wrinkles, for smoother looking skin
Niacinamide (or Vitamin B3)

a personal favourite of mine

helps with cell turnover, which helps overcome dull-looking skin, reduces fine lines, and dark spots (I scar super easily, so yes please!)
Hyaluronic Acid

an incredibly popular ingredient when it comes to hydration
helps the skin retain moisture by acting as a magnet
2. The accessibility & affordability
The Olay Regenerist Micro-Sculpting Cream is an affordable drugstore skincare option. This makes it accessible for anyone looking to introduce an effective, hydrating, anti-aging product into their routine.
Not only can it be found at a drugstore at a great value, this cream is also proven to hydrate better than some prestige creams. (I'm talking up to $200 creams here, don't go wasting that money!)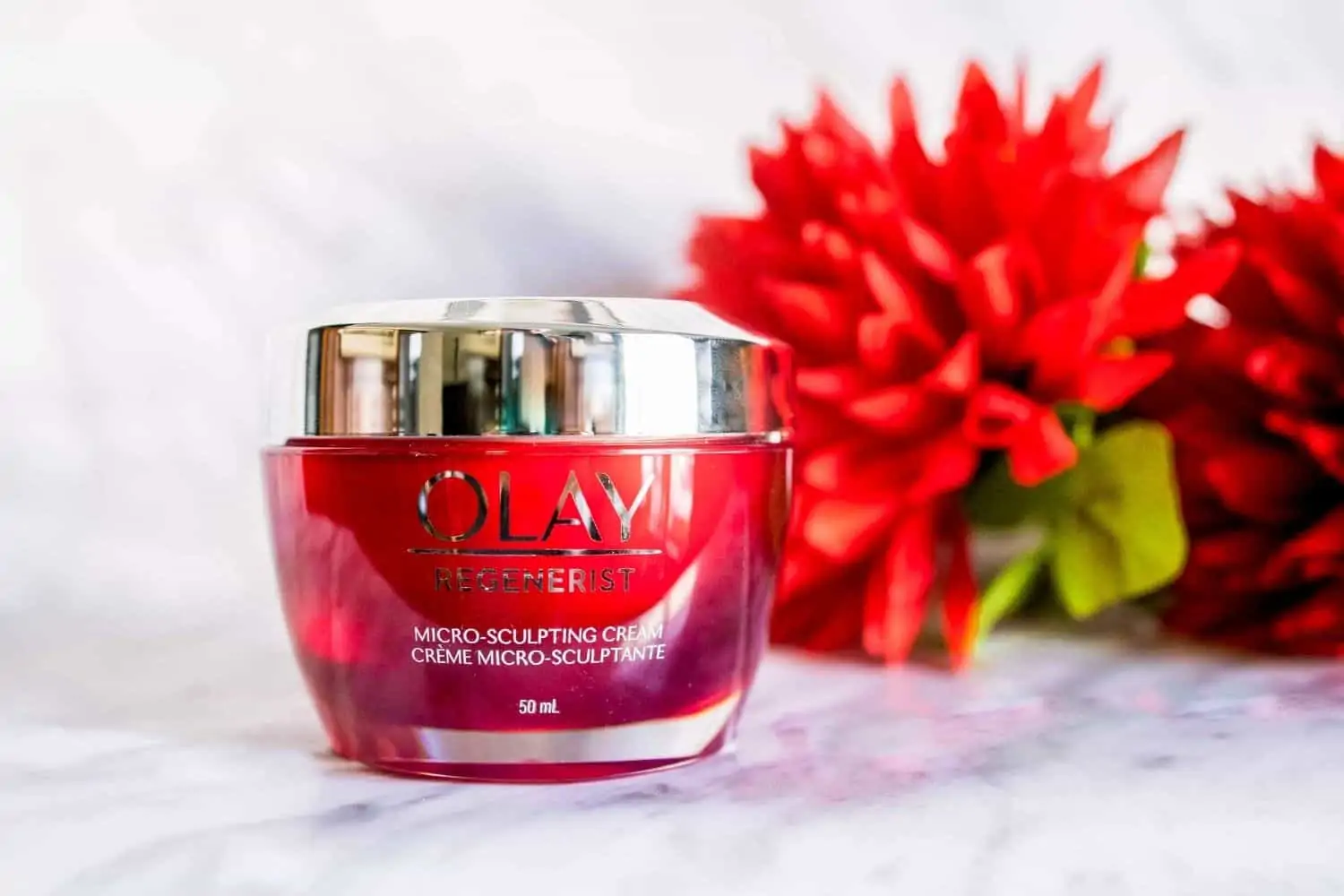 What are peptides and how do they help our skin?
Peptides are often called the "building blocks" of our skin cells. If you want to get science-y, they are tiny strings of amino acids that help build important proteins like collagen and elastin.
So how do peptides help tackle signs of aging? As we age, these building blocks slow down, which means fewer of those important proteins are being built up naturally.
Fewer proteins means our skin starts to look a little worn out. It loses that elasticity and firmness, and is prone to more fine lines and wrinkles.
In using a skincare product that contains peptides, we are nudging them to keep building new blocks. The benefit of this is smoother and firmer-looking skin.
Are all peptides created equally?
So you may be wondering: are all peptides the same? Can you grab any old product with "peptides" on the label, and be good to go?
No, not really.
While ingredients can make or break your skin care product, so can their formulations.
While some formulations of an ingredient may struggle to really sink into your skin, Olay's peptides are specially formulated to penetrate deep beneath the skin's surface. They are also clinically proven to reduce the appearance of those fine lines and wrinkles!
But if you really want to see how well Olay's Micro-Scultpting Cream works to hydrate your skin, check out this experiment:
What's happening in the experiment:
This experiment shows how the Olay Regenerist Micro-Sculpting Cream face moisturizer holds up against a pricey alternative.
We start with hydration beads separated out into three bowls. These hydration beads represent our skin cells.
In one bowl, the beads are covered with the Olay cream. In the second, a prestige, $200 cream. The last bowl has nothing on it.

24 hours later, I come back to the beads, and as you can see, the prestige-cream beads are barely bigger than the ones that were left alone.
In comparison, the Olay beads are plump and hydrated. They also have a ton of elasticity. These are all characteristics we want to see in our skin!
My experience using this affordable, drugstore skincare product:
I have actually been on the lookout for a super-hydrating cream for ages.
The creams I've used in the past either left a weird white cast on my face, or left my skin dry after a couple of hours. Nothing was giving me that juicy, glowy look of my dreams.
At least, nothing was until Olay. I am so thoroughly impressed by this cream, and three things that really stood out for me.
1. How long my skin stayed moisturized.
This cream is long-lasting. For this first time, my skin felt hydrated and moisturized for the entire day.
I didn't get feel that need to step into the bathroom at work halfway through the day and apply a top-up.
My skin reacts strongly to the shift in seasons, and gets especially dry in Winter. I'm really excited to have this cream on hand going into the colder months.
2. How glowy, and healthy my skin looked.
For me, this runs deeper than just having well-moisturized skin. I am glowing. I feel like my skin looks plump, and just radiates healthiness.
After the first day of using the Regenerist cream face moisturizer, my husband looked at me and said, "what changed in your routine, because you are GLOWING!".
Every time I use it, I feel like I just came from getting a facial.
3. The texture of the formula
Some face moisturizers can get really heavy, and sometimes even oily. There is a line between well-moisturized and straight-up greasy, and Olay doesn't cross it.
Despite being a nice thick cream, this face moisturizer melts right into the skin, and doesn't leave a weird residue.
Final thoughts
If you are looking to tackle those aging signs like fine lines, wrinkles, and loss of firmness, you'll want to incorporate peptides into your skincare routine.
Peptides are such a valuable ingredient to have in your anti-aging products, and you do not need to break the bank to try them out.
This product is definitely going to be a staple on my skincare shelf going forward, and I'm excited to see how it holds up on these fine lines as time passes!
Overall, my best advice is: go to your nearest drugstore, pick up one of these red jars. Test it out, and see the results for yourself!
Thank you for reading! Did you learn something new about peptides and anti-aging? Leave a comment below!
I want to end with a huge thank you to Olay Canada for partnering with me to bring you all this post! Learn more at Olay.ca and on Instagram.

Related Posts: