Huge thank you to Benzagel, Canada's #1 Pharmacist Recommended Acne Treatment, for sponsoring this post on how to prevent pimples before periods! All thoughts are my own.
Today, we're going to talk about tackling those pesky pimples that come before your period. The dreaded period acne. The hormonal, often cystic, breakouts that make menstruating all the more traumatic. (And if you don't have a traumatically painful period, then just know I am very jealous of you).
Like clockwork, I usually start breaking out about week before my period. I get a variety of pimples, but always at least one painful, cystic bump.
Because I can usually anticipate this change in my complexion, there are steps I add or emphasize in my skincare routine to reduce the amount of pimples I have at that time of the month. (And therefore reduce the amount of scarring and hyperpigmentation I end up with on the other side of my period).
But first..
Why do people get pimples before their period?
Okay, I'm not a scientist or a dermatologist, but the short answer to why you may be breaking out before your period is: OUR HORMONES ARE MESSING WITH US.
What many people see around menstruation is a change in sebum production (the oil in our skin) due to hormonal changes. When these changes involve an increase and/or a thickening of sebum, the sebum is more likely to get clogged in our pores and cause acne.
Cystic acne is often a big symptom of hormonal break outs. They are those very deep and painful pimples, that make you want to cry. (Don't worry, because I have advice on how to help tackle these.)
On top of all that, it's no secret that people tend to lean on comfort food when their period comes, and many of those comfort foods are not the best for our complexion.
Okay, now let's get to it.
How I prepare my skin to help prevent breaking out before my period:
1. Ensure I'm using products with Benzoyl Peroxide in them to target pimples before my period.
This is a no-brainer for me. Benzoyl Peroxide is an ingredient that helps target breakouts in general, but is especially proven to help cystic acne (so it's great to have on hand when those hormonal breakouts come around).
In preparation of my period, I always reach for my Benzagel products. Benzagel is Canada's #1 Pharmacist Recommended Acne Treatment, and as you can guess by the name, its leading ingredient is benzoyl peroxide.
I started using their products earlier this year, and have not looked back since.
Related post: Review of Benzagel Canada's Skincare Products
As my skin is pretty used to benzoyl peroxide, I use the Acne Wash once a day the week before, and during my period. The Acne Wash contains 5% benzoyl peroxide. This usually prevents me from really breaking out before my period.
If I do happen to get any pimples during this time, I will use the Acne Gel (5% BP) at night, and the Spot-on (2.5% BP) during the day. I actually keep the latter in my purse when I go to work!
Also super excited to add that Benzagel just launched a brand new product: their After Care Moisturizing Lotion containing naturally derived ingredients, is both paraben free and non-comedogenic. Many people find that benzoyl peroxide dries out their skin, so this new product launch is a perfect addition to your routine!
2. Drink a LOT of water.
Yes I should be doing that all month long, but I'm bad at that.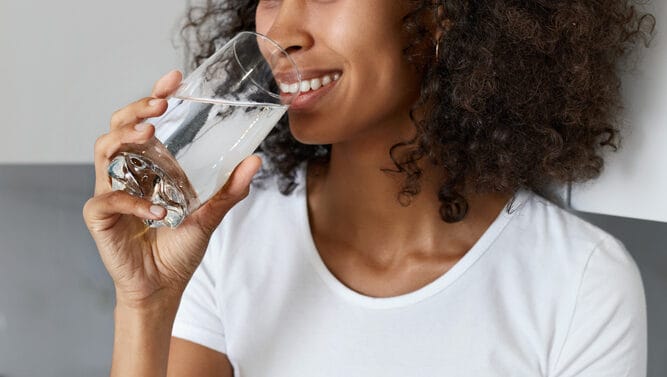 That being said, from my research, while proper water intake is pretty critical to maintaining a healthy body, the jury is still out on how deep the connection between water intake and clear skin is. (Despite people claiming that drinking water is the end-all be-all skincare tip to prevent breakouts). So that being said, I'm unsure how effective this is to prevent acne before your period.
But since I usually walk through life on the dehydrated side, drinking more water is nothing but beneficial for me, so I like to use this time to *really* soak it up.
3. Stay away from dairy.
Dairy is not a good call when your priority is fighting or preventing acne. So if your goal is keeping those pimples before your period away, steer clear.
While there hasn't really been enough studies to determine causation, there is a strong link between dairy products and acne.
I'm sorry, if you're someone who leans on ice cream to get you through that time of the month. I'm lactose intolerant, and I'm obsessed with cheese. It's a bad combo, so I feel your pain.
4. Use products containing Niacinamide.
Niacinamide is a very valuable ingredient to have in your skincare products. Niacinamide is known to help regulate sebum production. So if you start getting oilier around your period, Niacinamide may help regulate it.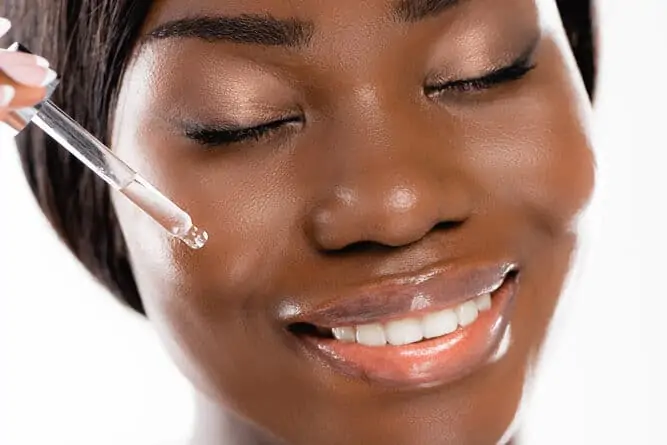 While there are lots of great products containing Niacinamide, for this time of the month, I like to reach for the ingredient itself in serum form. I like to use the Niacinamde 10% + Zinc 1% from The Ordinary.
5. Do face masks to draw out the excess oil.
If you're on the oily side and wondering how to prevent acne before your period, do face masks to draw the oils out. Usually your best bet is a charcoal, a clay one, or some combination of both.
Remember, because hormone changes can mess with your sebum production, you'll want to d
There is a downside to clay masks though, so be careful, they can draw out too much oil, and dry out your skin. If you're using one, make sure to follow up with a hydrating moisturizer after (like the new one from Benzagel), and drink some more water for good measure!⠀
Bonus tip for staying on top of your pre-period skincare routine:
Part of knowing how to prevent acne before your period, is knowing when your period is coming. I recommend getting a period tracker app that also lets you track symptoms like breakouts. This way you can make sure your pre-period checklist is on schedule!
---
And there you have it, that's how I do my best to tackle pimples before my period gets here! Huge thank you, once again, to Benzagel for sponsoring this post! If you have yet to try their product line-up, and you are someone with acne-prone skin (hormonal, or not), I could not recommend them more!

What tips do you have to help prevent breaking out before your period comes? Drop them below in the comments!
Related Post: The Consistent Routine that Cleared my Skin (Steps for Morning & Night)
If you enjoyed this post, pin the below to Pinterest: