I'm so excited to partner with Frizé Frizé, (a black owned, Canadian natural hair company) to bring you this review of their products. All thoughts are my own.
If you know me, you know I absolutely love trying out new natural hair care products. So when I had the opportunity to try out a new hair cream, gel, and bentonite clay mask, I was OVER THE MOON.
Below I'll talk about the brand, dig deep into the products, and share my braid out results on day 1, 2, and 3!
About Frizé Frizé
Acceptance is Beauty.
Frizé Frizé is a premium online boutique, specializing in natural hair care products that will "hydrate, moisturize and enhance" your coily, curly, or wavy hair.
I also want to highlight that this company Canadian and black-owned. I think there is a huge positive impact in making the choice to shop locally, and to support small businesses!
Looking for more Canadian brands? Check out this list of Canadian Natural Hair Care Companies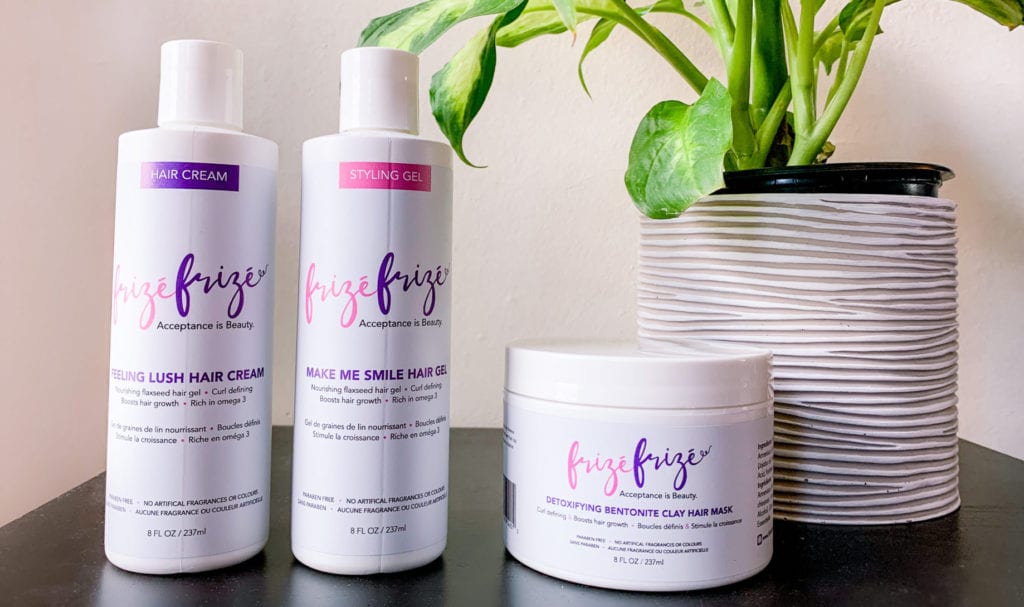 ---
The Frize Frize Hair Care Products:
Alright, it's time to dig into the products! I'll break down how I used each of the three Frizé Frizé products I tried, and then review them.
Before we get started, know that all these products are cruelty free, paraben free, and hand crafted. They also all have really pleasant scents that aren't too overpowering, and do not linger too long. (They also have scent free options of the cream and gel, if you are extra sensitive).
Believe it or not, I have gone my entire Natural Hair Journey without trying a clay hair mask. Don't ask me how I managed to stay out of the loop for so long.
But that's why I was extremely pumped to try this product. Clay masks are meant to help define curls and boost hair growth, both of which are things my strands could always use a bit of help with.
After shampooing and rinsing my hair as usual, I separated it into four sections and liberally applied the bentonite clay mask. My hair is quite thick, but I found a little goes a long way. You can see below, how much I used. I'm always excited when it looks like I'll get more than a couple uses out of a product!
After my hair was fully coated, I pinned it up, threw a garbage bag on my head, and wrapped it in my thermal hair wrap. This mask has a super pleasant scent. It's slightly sweet, but not overwhelming.
(Applying heat helps raise your hair cuticles so that products can penetrate deeper into the hair shaft! This isn't as critical for my high-porosity hair, but I love how luxurious this part of the process feels!)
One thing I loved about the Frize Frize mask, was that it wasn't only bentonite clay. The blend of ingredients seemed to help keep my hair hydrated, rather than completely stripping it, which is an often-described side effect of clay masks. (But still to be safe, I did do a deep conditioning treatment afterwards)
After I rinsed the product out, my curls were definitely more shiny and defined. It felt like my hair was a clean slate to better-receive my styling products!
Once I was done with the washing portion of my wash day, I settled in to begin styling. The first thing I reached for, was the Feeling Lush Leave-In & Styling Hair Cream (which I experimented using as both the L and C in my LCO method).
I'm relatively picky with my leave-in conditioners/creams, because I need them thick. I need them to hydrate for the long haul, and I find very few creams are up for the challenge.
This one was definitely up to my standard. It has a nice, thick texture that is perfect for my high-porosity hair. It also smoothed my curls out nicely, and left it hydrated.
Don't know your hair porosity? Check out this post: The Key to Healthy Natural Hair? Knowing your Porosity
I used the Frize Frize gel immediately after the styling cream and loved the way they played together. No annoying white cast or buildup!
I don't use gel very often in my hair, but I know my curls respond very well to flaxseed gels, so I was excited to try this one out!
And I was not disappointed! This gel is has great, flexible hold. My hair wasn't left feeling stiff or crunchy. And I had absolutely no flaking.
To ensure I really locked the moisture in, I followed up with light hair oil before braiding up each section. I ended up with twelve braids in total, and I separated them a few days later to achieve a braid out.
Above are the results over the course of three days. As you can see, my hair really held its shape! (Sorry team, for my make up-less face on day 2 and 3).
Overall Thoughts on Frize Frize Products
If you are looking for products with great hold, using the Frizé Frizé hair cream and hair gel together is going to get you great results. This is because they actually both have Flaxseed Gel in them.
And if you're looking to give yourself a clean slate to work with, I definitely recommend using the Detoxifying Bentonite Clay Hair Mask. Especially because this one will be a lot more gentle on your hair than some of the other clay masks on the market.
So if you're looking for great styling products for Natural Hair, and would love to support a Black-Owned, Canadian company while you're at it! Make sure you check these goodies from Frizé Frizé.
Make sure you check out Frize Frize's website (frizefrize.com), and their Instagram (@frizefrizeteam)
What did you think of this Frizé Frizé review? Let's chat in the comments!
Looking to support more Black Canadians? Check out the following:
Make sure to catch the latest from Comfy Girl With Curls on Social Media!