I'm so excited that Dee is back with another blog post outlining her loc Journey. Today she gives us all the details on caring for locs.
Hey guys! It's Dee here, I'm a content creator and naturalista. I'm back with Part 2 of my previous guest post which was about starting my loc journey. I'd love for you to check it out if you haven't already! In today's blog post, I'll be sharing my holy grail list of natural hair products. These products have been vital in the overall health and growth of my locs. I find that these products are versatile and will work for any natural hair type and any style you choose to rock your natural hair.
MY LOCS
Before we dive in, here's a little refresher about my locs. I'm officially ONE YEAR loc'd!!! I decided on starting my locs with two strand twists. Each loc is roughly a small/medium size and I have less than 80 total. I've gone to the stylist for only three appointments in one year and I maintain my hair myself, like most curly girls.
First Appointment: install starter locs
Second Appointment: interlock roots re-twist
Third Appointment: palm roll re-twist
---
Related: Dee's Starter loc journey YouTube playlist
CARING FOR MY LOCS
OILS
The first group of products I want to share with you are oils.
Castor Oil
Argan Oil
Avocado Oil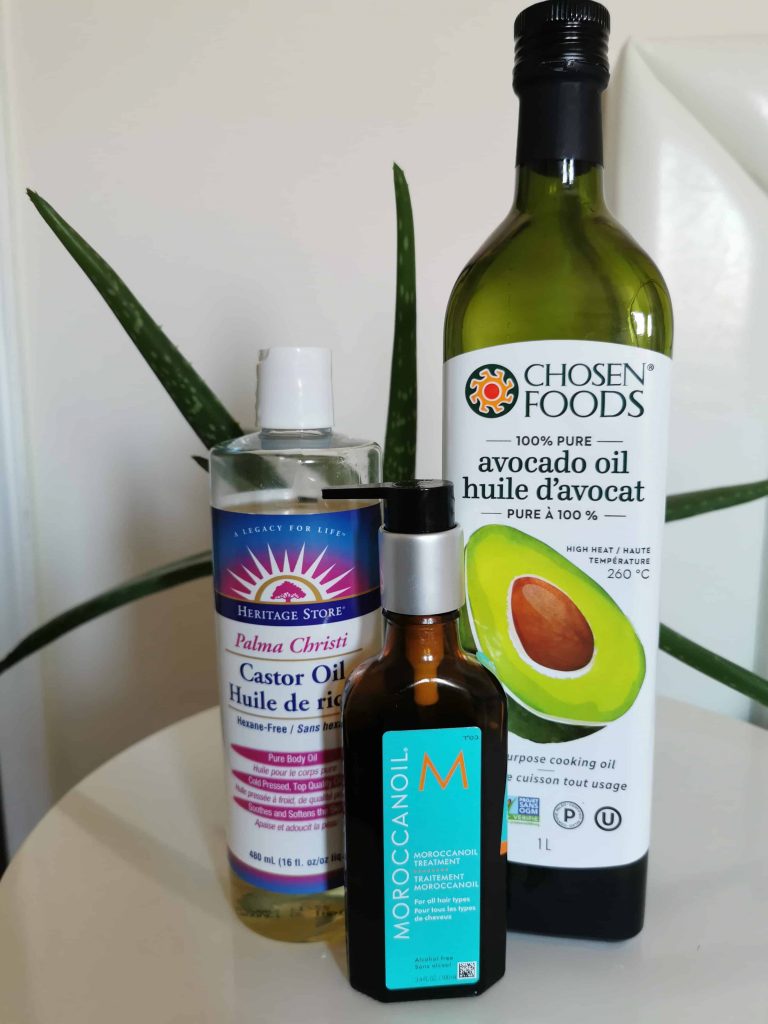 My favourite of all time is castor oil which I use on my scalp and in my DIY shea butter mix for my hair and body. There are so many benefits to using castor oil on your scalp and strands. I like to use argan oil to sort of condition my strands and add shine. Last but not least, avocado oil is one I feel doesn't get enough credit for how many benefits it provides and simply how amazing it truly is. I add avocado oil in my oil treatments and also in my DIY shea butter mix. Your natural hair will literally thank you for adding any of these oils to your natural hair care regimen.
REFRESHING YOUR HAIR
Next I want to share with you the best ways to refresh your hair.
Rosewater Spray
Root Rinse
I have grown to fall completely in-love with my rosewater spray. It does so much more for my hair than water in regards to refreshing my locs. It provides beautiful shine, moisture, and the smell is to die for (if you like the smell of roses). On a personal note, I suffer from itchy scalp regularly so finding a good scalp product has made my journey that much better. This one specifically has tea tree oil in it which I do not have sensitivity to and it assists in treating my itchy scalp between washes.
MOISTURIZING MY LOCS
Last but not least, my DIY shea butter mixture is the real MVP of my holy grail natural hair products. In fact, I dedicated an entire video to making this mixture so please go check it out if you want to try and make it on your own as well. I use this mixture on my hair to re-twist my locs and I also use it on my body. It's very simple to make once you have your ingredients which are a mix of your favourite oils and raw shea butter. I'm all about keeping it simple while using multipurpose simple products.
There you have it! With this short list of natural hair products you are on the path to a healthier natural hair journey. Feel free to use whichever shampoos, conditioners, or leave-ins your heart desires. These products have helped me to achieve the best twist-outs, braid-outs, curls of all kinds, and locs throughout my natural hair journey. Specifically, I have been able to achieve many different loc hairstyles while using these products such as waves, braids, and a variety of simple styles.
If you've made it this far in this post, I just want to take a moment to say thank you. Also, thank you Kaya (COMFYGIRLCURLS) for allowing me to do this feature post on your blog! I hope this post provided you with your future holy grail natural hair products. If you'd like to see more from me and my beautiful locs, check out the link below for more content on my loc journey. Subscribe to my YouTube channel (www.youtube.com/deeandfam) and follow me on IG @b_dee4 to see more from me. Let's stay connected!
-DEE
Related Posts: