I was gifted the Power Greens collection by SheaMoisture Canada and Langston PR. The thoughts of this blog post are 100% my own.
High porosity hair often looks dry, dull, and all around lackluster (I'm speaking from experience here). SheaMoisture's new Power Greens Line promotes shine. So is this the perfect product collection for High porosity hair? I think so.
ADDING to that, the reconstructor in this line is designed to actually smooth the cuticles of the hair. And if you're familiar with hair porosity, you'll know that those with high porosity hair (like me) have raised cuticles.
That being said, this product line up isn't just for people with high porosity hair. This Shea Moisture collection is for anyone struggling with dry and dull hair.
Related: What's the key to healthy natural hair? Knowing your porosity.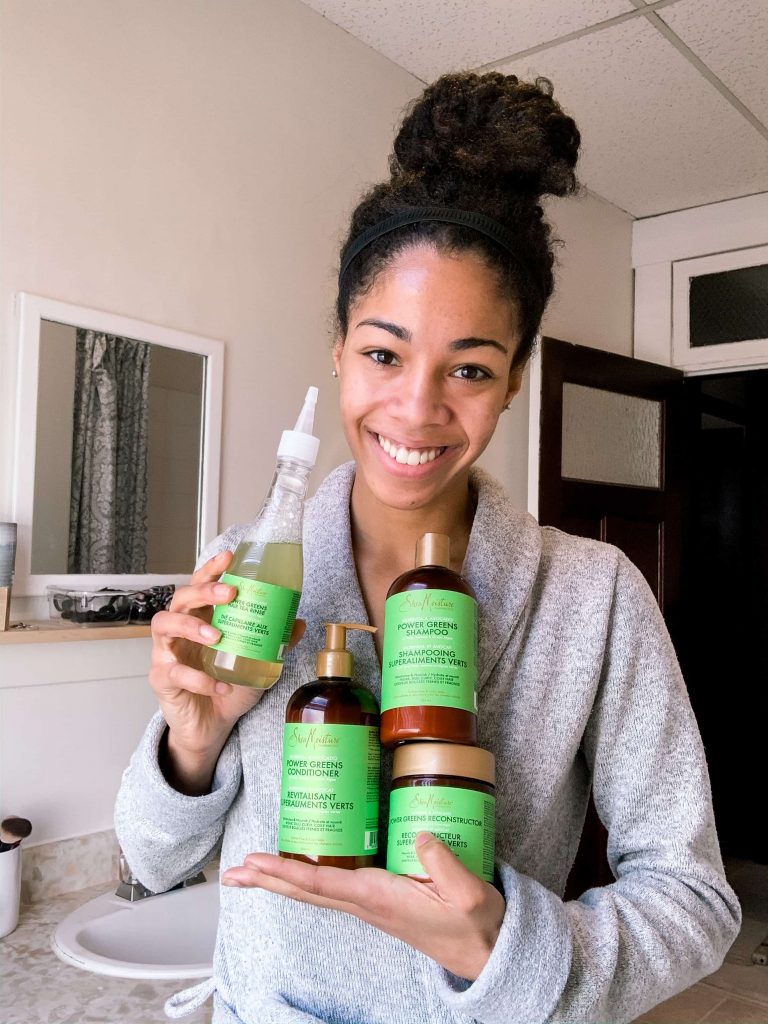 Before we get into the review, here's what makes this collection special:
Front-running ingredients are Fair Trade Shea Butter, Moringa and Avocado

Blended with Kale, Matcha, and Green Algae (hence the name Power Greens)

designed to revitalize, nourish, and promote shine. (Yes, please).
Currently this is a wash and treatment collection. No styling products included. Personally, I paired it with the styling products in the SheaMoisture Red Palm Oil line, with great success!
Breakdown of SheaMoisture's Power Greens Collection
This Shea Moisture collection consists of the following products:
Shampoo
Hair Tea Rinse
Conditioner
Reconstructor
To get the advertised level of 4x the shine, SheaMoisture advises you use all four of the above products in your washday routine. Below, we'll dive into each in the order they were designed to be used.
1. Power Greens Shampoo
Instructions: "Apply to wet hair, gently massage and work into a rich lather. Rinse thoroughly."
The texture of this shampoo was a lot more watery than I'm used to, but it lathered and cleaned well without stripping my hair.
The scent was also bizarrely nostalgic. I tried placing it for awhile, and am settling on old-school bubble bath. The kind you had as a kid with the Disney princesses on it.
2. Hair Tea Rinse
Instructions: *For the Hair Tea Rinse, I actually found the instructions on the bottle differed from the instructions on the website.* They both say to shake well, apply to hair and scalp, and to massage into a low-lather. Instructions on the bottle say to keep the rinse in, then apply the conditioner on top. Online, instructions say to wash out before putting the conditioner in. (Each time I've used it, I've kept it in)
SheaMoisture also says this product can be used instead of shampoo on light wash days.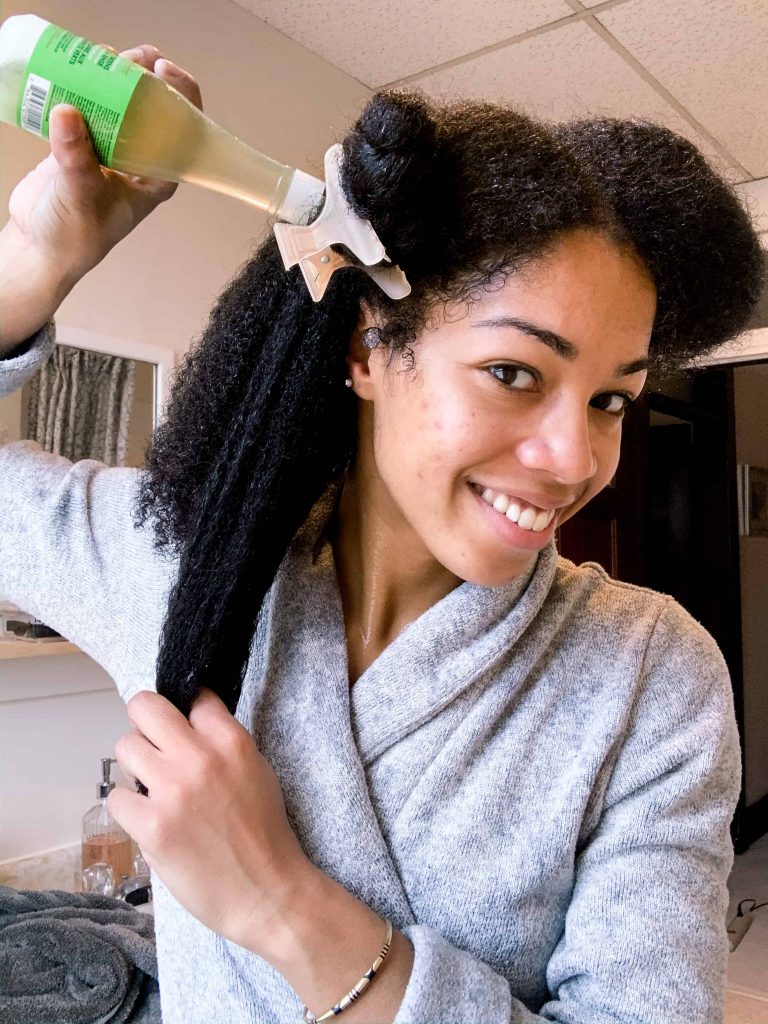 Tea rinses have been a thing in the natural hair world for awhile now, with many blogs and YouTubers sharing their advice and experiences.
Among other benefits, tea rinses are said to make hair shinier, stronger, and reduce shedding.
I haven't tried any others tea rinses (DIY or pre-made) to make a true comparison, but I loved the clean tea scent of this rinse, and found it really did help add shine to my curls.
I also love the design of the bottle. The narrowed applicator helps you get the product right at your scalp!
3. Moringa & Avocado Power Greens Conditioner
Instructions: "Apply to wet hair, gently massage and work into a rich lather. Rinse thoroughly."
As I mentioned above, I applied the conditioner on top of the tea rinse, as per the instructions on the bottle.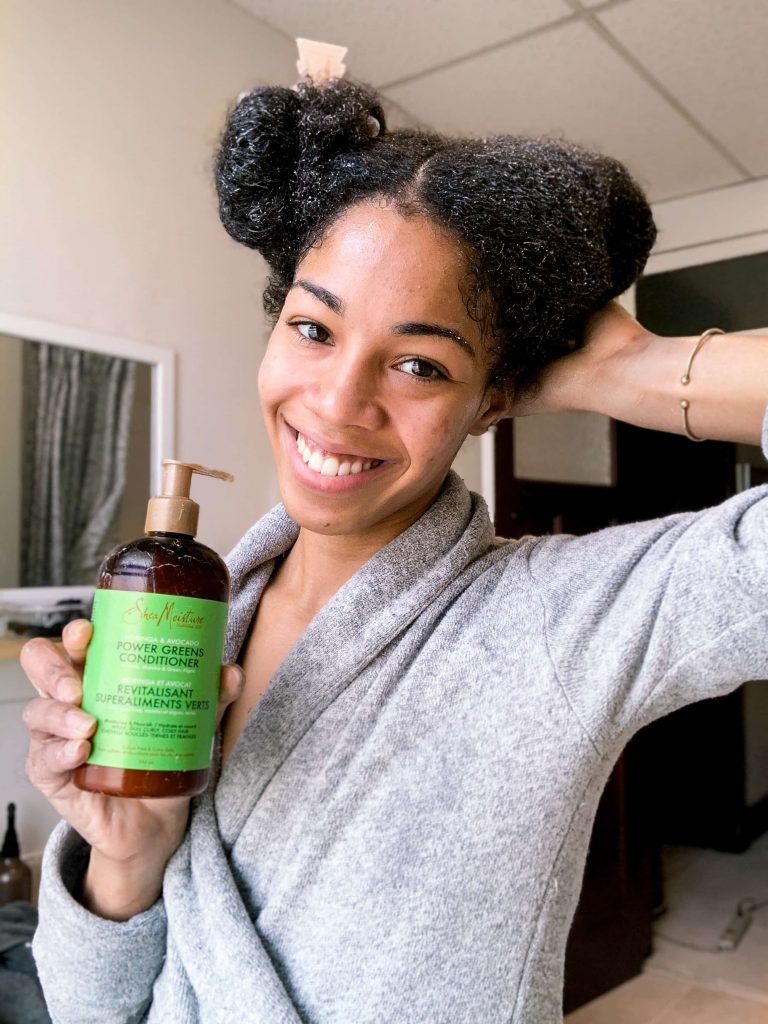 The texture of this conditioner is pretty consistent with other SheaMoisture conditioners. I also found a lot of joy in the fact that this one was green. (That probably shouldn't have surprised me, given the name, I know).
Overall worked well with the other products, and when I rinsed it out, my hair definitely had an added shine to it.
4. Moringa & Avocado Power Greens Reconstructor
Instructions: "Section clean, wet hair. Apply generously. Use a wide tooth comb to distribute evenly from root to ends. Leave in for 5 minutes. Rinse thoroughly."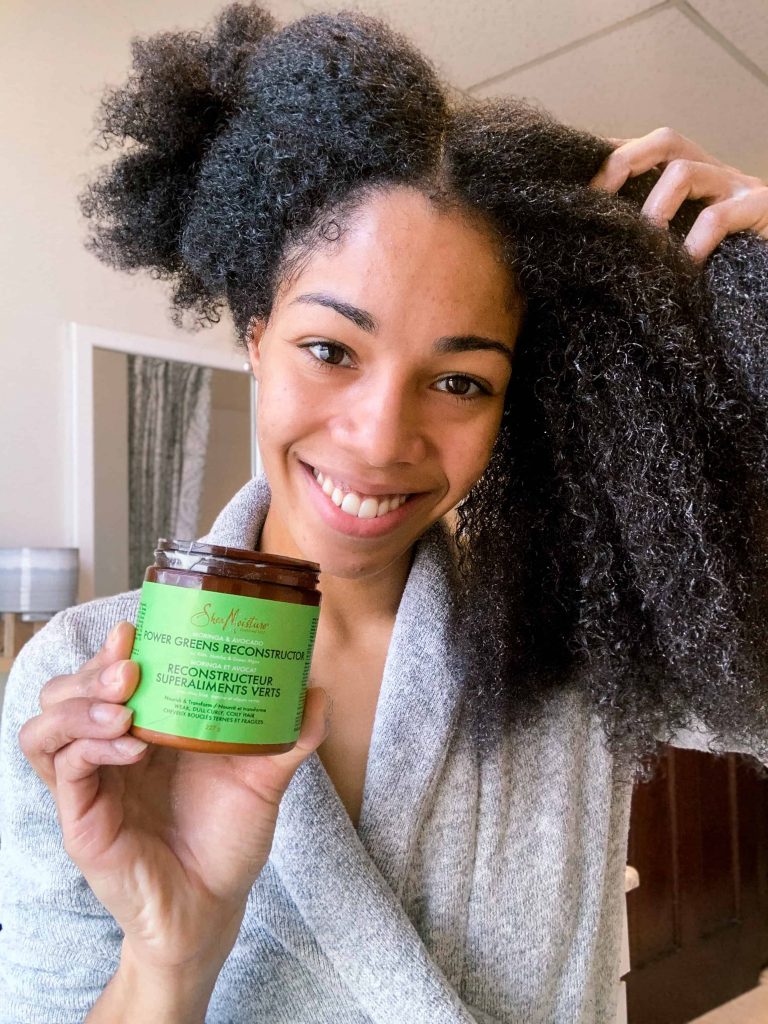 I feel like every single SheaMoisture collection has an absolutely SHOW STOPPING product. One that carries the entire line, and I know I'll repurchase again and again. For me, the Power Greens Reconstructor was the showstopper.
As I've mentioned many times, I have high porosity hair. This means my cuticles are lifted, making it harder for my curls to retain moisture. As a result, my hair often looks dry and dull.
The SheaMoisture Power Greens Reconstructor is designed to smooth out those cuticles, and I genuinely think they succeeded.
After using this product (in conjunction with the shampoo, hair tea rinse, and conditioner), my hair was shiny, soft, easy to detangle and style, and retained moisture SO much better than before.
Only downside? The size of the container. I have a lot fo hair. I went through the entire tub in three consecutive wash days.
Overall Thoughts
If you have high porosity hair, or are struggling in general with dry/dull hair, I definitely recommend picking up the SheaMoisture Moringa and Avocado Power Greens line.
I found that especially after consistent use (once a week for a few weeks), my hair felt stronger, and definitely looked a lot shinier. My husband even remarked out of the blue that my hair was looking especially healthy.
But as I said above, the absolute show stopper, my favourite product in this line up, is the Reconstructor.
What is your favourite SheaMoisture collection? Have you given these products a try yet? Let's chat in the comments!
Make sure to catch the latest from Comfy Girl With Curls on Social Media!