Thank you Benzagel Canada, for sponsoring this post! I'll be reviewing the Benzagel 5 Acne Wash, Acne Gel, 2.5 Spot On Treatment, and Cleanse-Wipes. All thoughts are my own.
I'm super excited to share this post with you all! When I received the opportunity to partner with Benzagel Canada, I was immediately on board. I've been talking a lot about skincare lately, and I know you want the details on all the product-options available!
Most of us know what it feels like to look in the mirror and see the beginning of a red bump emerging. Or sometimes there are days, when you can actually feel the painful bump, before you see it.
The first thing I do when I get these early acne-signs is reach for a product with benzoyl peroxide in it (especially when my period comes around). And when it comes to a brand that has benzoyl peroxide as its key ingredient, I've recently started using Benzagel Canada's product line.
So first, we're going to talk about Benzagel's star ingredient, Benzoyl Peroxide. Then we'll get into the four products in their collection, and I'll share my experience with each.
---
What is Benzoyl Peroxide?
Depending on your level of skincare knowledge, you may or may not be familiar with the super-ingredient that is benzoyl peroxide. But if you've ever picked up a heavy-hitting OTC (Over the Counter) acne treatment, there is a very good chance you've used this ingredient on your skin.
Benzoyl Peroxide is a powerful acne fighting ingredient. It kills bacteria, and provides oxygen to the skin (reducing inflammation/redness). This ingredient also helps unclog pores, and remove extra sebum (or oil) from your skin.
It is also the main ingredient usually recommended for treating cystic acne (the acne that's deep under the skin). Cystic acne is often hormonal, I tend to get it in the week leading up to my period.
Are there any side effects from using benzoyl peroxide?
Because it removes oil from the skin, benzoyl peroxide may cause a bit of dryness. If you experience this, try easing the products into your regimen, don't jump straight to using it twice a day. Personally, my skin is pretty used to the ingredient, but I always make sure to moisturize, moisturize, moisturize after using any products containing it.
If you aren't already using benzoyl peroxide in your routine, it is also possible that you may experience a bit of purging.
But before we get into the Benzagel Review…
Let's talk about Benzagel Canada
Benzagel Canada is currently 8 years running the Pharmacist Recommended National #1 OTC Brand (voted by EnsembleIQ).
I consider them to be a very "pharmaceutical" brand. One you go to to get the job done, and that vibe carries through in their simple, clean, packaging design. You're buying these products to get clear skin, not for the aesthetic of having them on your shelf. (That being said, I think they look super cute in the pictures I took.)
These products are also very affordable, and very accessible (for those living in Canada). You can find them at essentially any drugstore, and at most grocery stores that have a skincare/pharmacy section.
Benzagel product lineup & review:
Okay, now it's time for the Benzagel Review. They have four different products to help you clear acne, three of which have benzoyl peroxide as a leading ingredient. Because of the benzoyl peroxide in them, I actually rely on these heavy-hitters as part of my pre-period acne routine.
So let's get into them, one by one:
Benzagel 5 Acne Wash
The Benzagel 5 Acne Wash contains 5% benzoyl peroxide, and its formula is micronized to better penetrate the skin.
The consistency of this acne wash is extremely watery, so be careful when you pour it out. You don't want any of this goodness going to waste.
When it goes on, however, it feels a bit like an exfoliator. I was surprised by how soft it left my skin.
Application: I like to double cleanse my face at night, especially when I'm wearing makeup. While I found this wash well-suited for targeting acne, it doesn't cleanse the face on its own.
So I used this as the second cleanser in my double cleansing routine, and applied it using my fingers, gently massaging for one minute. (I've been using the #60SecondRule from LABeautyologist, and have been seeing AMAZING results).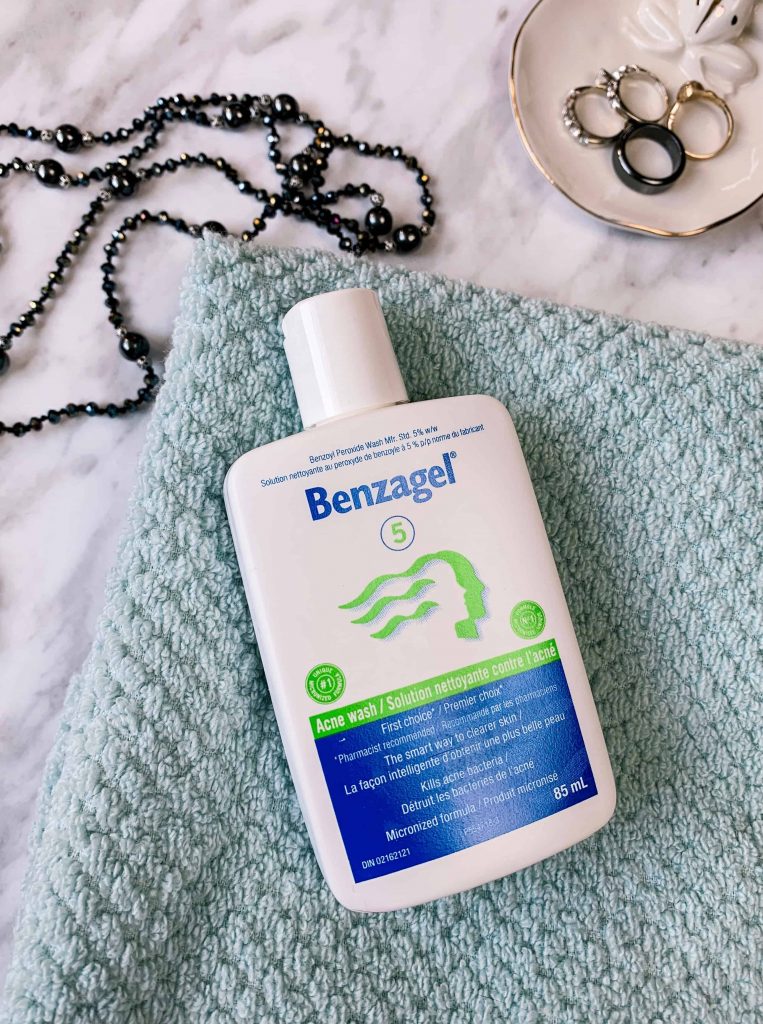 Benzagel Acne Gel 5%
Like the Acne Wash, the Acne Gel contains 5% Benzoyl Peroxide, with a micronized formula.
This goes on SO clear, and a little goes a long way. While I find Benzoyl Peroxide products to be a bit drying, I found that this was less-so than other products I have tried.
Application: I used this after using the acne wash, again, applying with (clean) fingers.
As I mentioned above, I take extra care when moisturizing after using anything that contains BP. So after using this Acne Gel, I moisturized, then applied a facial oil.
Benzagel Spot On Acne Treatment
The Benzagel spot treatment has a lower concentration of Benzoyl Peroxide, sitting at 2.5%. This makes for a gentler alternative to the 5% Acne Gel, which is especially great if you have sensitive skin, or are easing in to using Benzoyl Peroxide.
So I've been on the hunt for a benzoyl peroxide spot treatment that doesn't dry thick and white… And ladies and gentlepeople, THIS PRODUCT IS IT.
The Spot On gel really is perfect for on the go spot treatments.
I've actually started keeping it in my purse. If I start to feel a bump popping up throughout the day, I can put this on to tackle it.
Then when I get home, I can do the full treatment with the Acne Wash and Gel which are heavier-hitting, due to their BP percentage.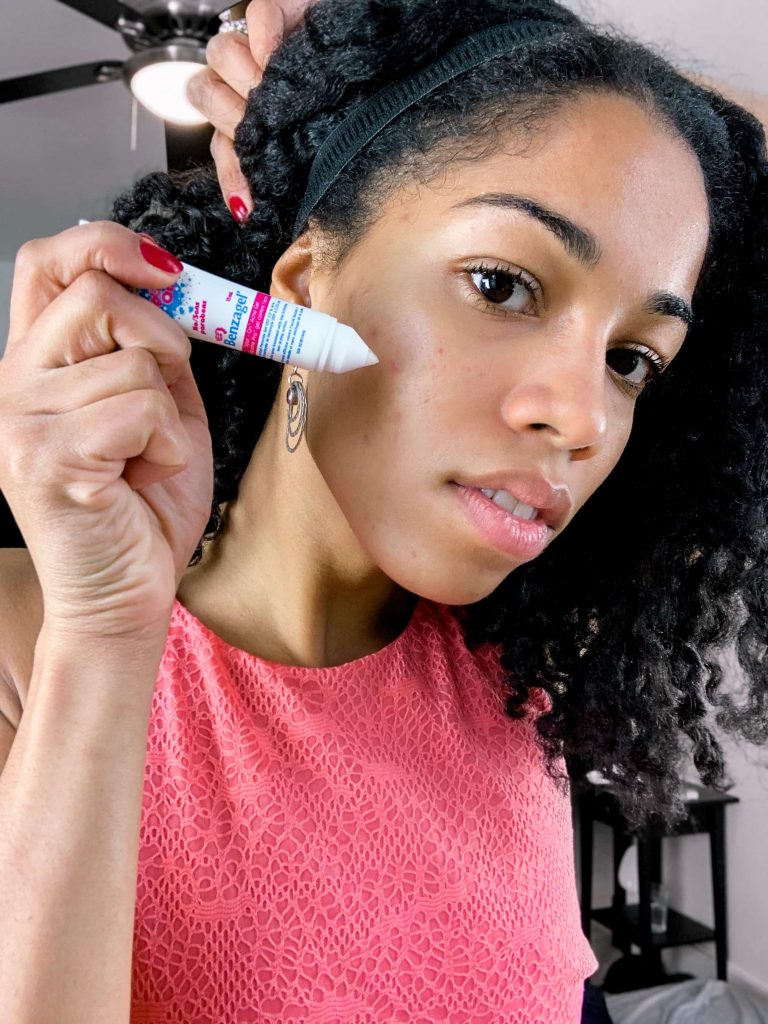 Clensa-Wipes
I was super curious about this product because cleansing wipes weren't a regular part of my skincare routine.
I do, however, regularly use micellar water to remove my makeup before cleansing, and when I peeked the back of the wipes I saw that these wipes are "based on micellar water, enriched with chamomile and vitamin E". So that helped me figure out real quick that I could reach for these instead of my bottle of micellar water.
I also discovered that these wipes make a good team with the Spot on Acne Treatment. As I mentioned, I like to keep the Spot on gel in my purse, and I've begun keeping these wipes in there too. This is because I hate applying any type of treatment to dirty skin. Having these clensa-wipes readily available makes it so I can give the breakout area a quick, cleansing wipe down before applying the spot gel.
I also am going to start keeping another pack of these wipes in my bedside-drawer. Specifically for those lazy nights where I find myself underneath the covers before I've had the chance to wash my face.
If I can at least grab a Cleansa-Wipe and do a quick rub down of my face, I can go to sleep knowing I did the minimum to keep my skin happy.
Overall thoughts on Benzagel products
Honestly, I'll be buying these products again and again. (No, I'm not just saying that because this was sponsored to do a Benzagel review).
After the first day of using Benzagel products, my skin felt SO good. No joke, I woke up the next morning, looked at myself in the mirror, and had to pause and admire.
Benzagel's 5 Acne Wash and Acne Gel is going to be a staple for tackling all breakouts going forward. And the Benzagel Spot-On Treatment is not leaving my purse.
I've really changed my relationship to skincare the past few months, and because of that, I've been able to get my major acne concerns under control. But these products seemed to smooth out my texture, and tackle the smaller, pesky breakouts that keep wanting to pop up.
---
Where can I find Benzagel Canada Products?
As I mentioned these products are very accessible. My go-to for any over the counter products is my local drugstore, specifically Shoppers Drugmart. But, if you're not in the mood to leave your house, you can also grab these products on Amazon.ca. And you can catch the list of official retailers here.
---
There you have it. My thoughts and review on Benzagel's acne products. Benzagel's Acne Wash, Acne Gel, Spot on Treatment, and Clensa-wipes are definitely new staples.
If you're struggling with acne, I definitely recommend you go pick up a product containing Benzoyl Peroxide. And if you can get your hands on them, I definitely consider picking up some Benzagel products.
Have you had the chance to check these products out? Do you rely on Benzoyl Peroxide to help clear your skin? Leave a comment below!
Related Post: The Consistent Routine that Cleared my Skin | Steps for Morning & Night.
If you enjoyed this post, pin the below to Pinterest: