The newest hair product in the Melanin Haircare line up is a Multi-Use Softening Leave in Conditioner. If you aren't familiar with this hair care line… first of all, where have you been? And second, go read my post on the initial product launch, where I do a lot of fan-girling over the co-creator of Melanin Haircare (Whitney White).
When I placed my order for the leave in, I ended up replenishing my entire collection, and purchasing the stretch satin head wrap in Sunset (the pinkish, orangey one). I had the other two wraps in my cart, but my wallet said "girl, who are you kidding?".
---
Anyways, let's start talking about this leave in conditioner. First, I'll provide some basic facts on the product (i.e. ingredients, and recommended usage), then we'll move on to my personal thoughts and experience.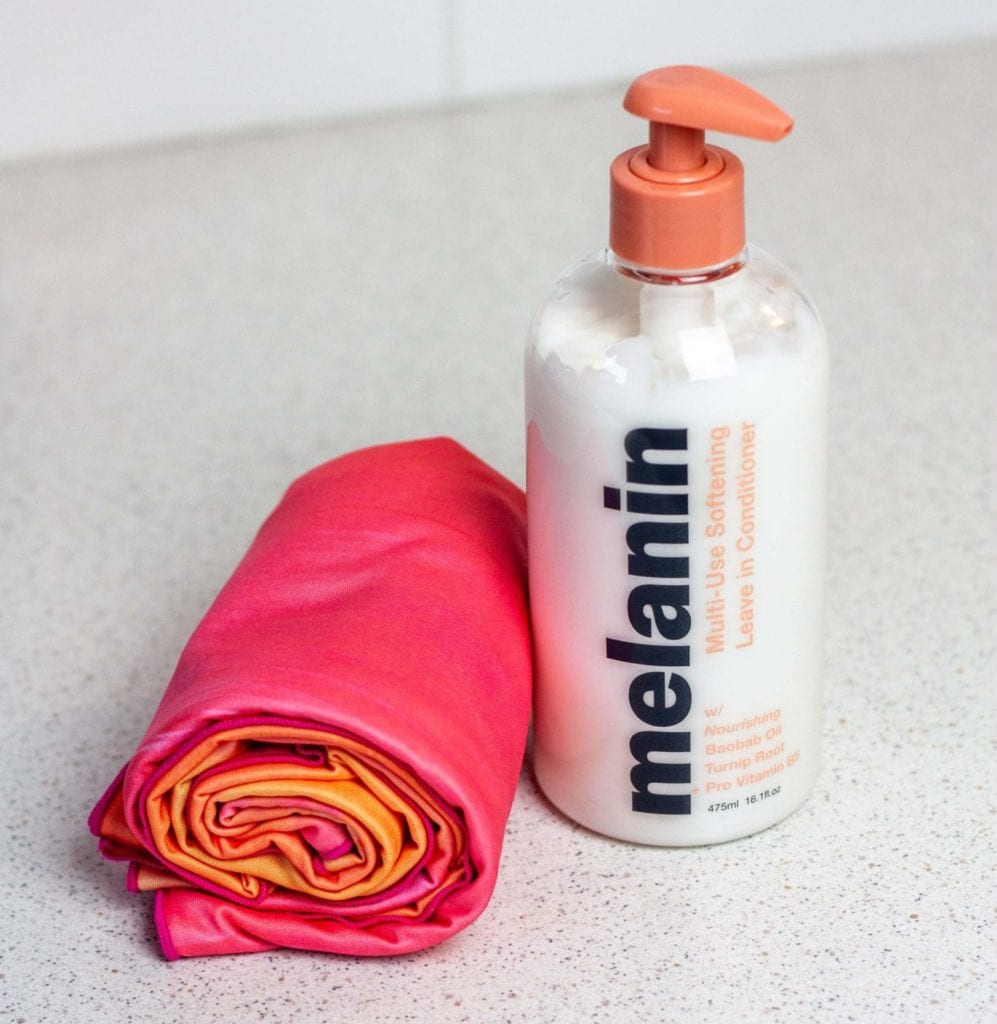 ---
Facts on the Multi-Use Softening Leave in Conditioner:
"W/ Nourishing Baobab Oil, Turnip Root + Pro Vitamin B5 | No silicones, no sulphates, no petroleums, no mineral oil, no paragons, no phthalates, no formaldehyde."
In addition to the key ingredients of Baobab Oil and Turnip Root, which are featured on the front of the bottle, this leave in conditioner also has a ton of thoughtfully chosen ingredients. Here's the entire lineup:
ProVitamin B5
Bamboo Extract
Wheat Amino Acids
Hydrolyzed Wheat Proteins
Turnip Root Extract
White Tea Leaf Extract
Rosemary Leaf Extract
Hops Extract
Chamomile
Aloe Vera
Argan Oil
Baobab Seed Oil
Jojoba Oil
Spearmint
You're likely familiar with some of these, as ingredients like Argan Oil and Jojoba Oil are relatively common in Natural Hair Care products. Others, you may not have seen before (hops extract, anyone?).
But Melanin Haircare says these ingredients are specifically chosen to respectively strengthen, hydrate, and promote growth. I love that they are being innovative with their choices, instead of copying and pasting what already works on the market right now.
Consistent with Melanin Haircare's other products, this leave-in gets you more bang for your buck: it's large (16oz), and multi-purpose. Their website advertises 7 ways you can use it. It can be used as a:
pre-poo
detangler
conditioner
deep conditioner
leave-in conditioner
a styling cream
a way to rehydrate your hair throughout the week
To read up on the different uses of Melanin Haircare's other products, check out my full review of their Oil and Twist Elongating Style Cream.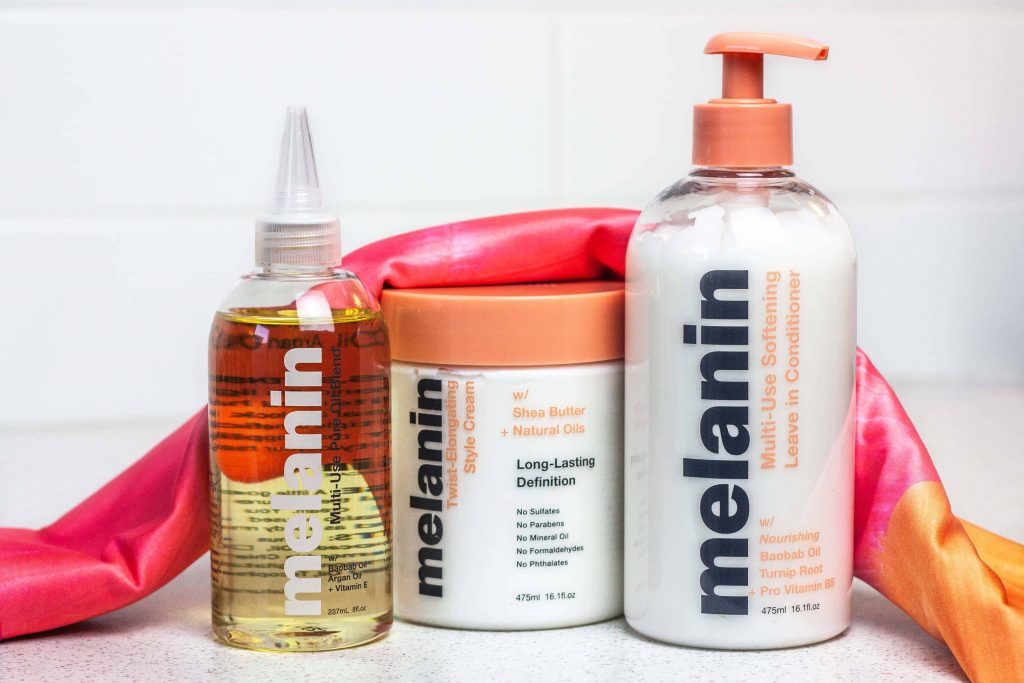 My Thoughts on the Leave in:
To preface, as I usually do: I have thick, high porosity, type 4a/4b hair. My experience with products may differ from yours.
Related: The Key to Natural Hair Care? Knowing your porosity.
The first thing I noticed about this product was the scent. The moment I pumped it into the palm of my hand, I was hit with the smell of spearmint. Personally, I loved this, because spearmint is one of my favourite flavours. But in reading some of the reivews on the Melanin Haircare website, some people were turned off by it.
Regardless, I found that the scent didn't linger long. By the time I had finished styling my hair, it had dissipated.
I used this leave in conditioner four of the seven ways that Melanin Haircare recommended: as a pre-poo and detangler (I did these two in one go, I detangled with the product, then left it in as a pre-poo), then as a leave-in in my LCO method, and as a rehydrater to refresh my hair.
When it came detangling:
Overall, I would say it worked as designed. I spritzed my hair with water, put the product in, and comb through pretty easily. I will say, however, it didn't have as much slip as I would have liked. The texture of this leave in is very similar to the As I AM Long and Luxe Leave in (which also had less slip that I would have liked). Whitney White had actually listed that leave in as one of her top products of 2018, and wouldn't be surprised if she used it as inspiration.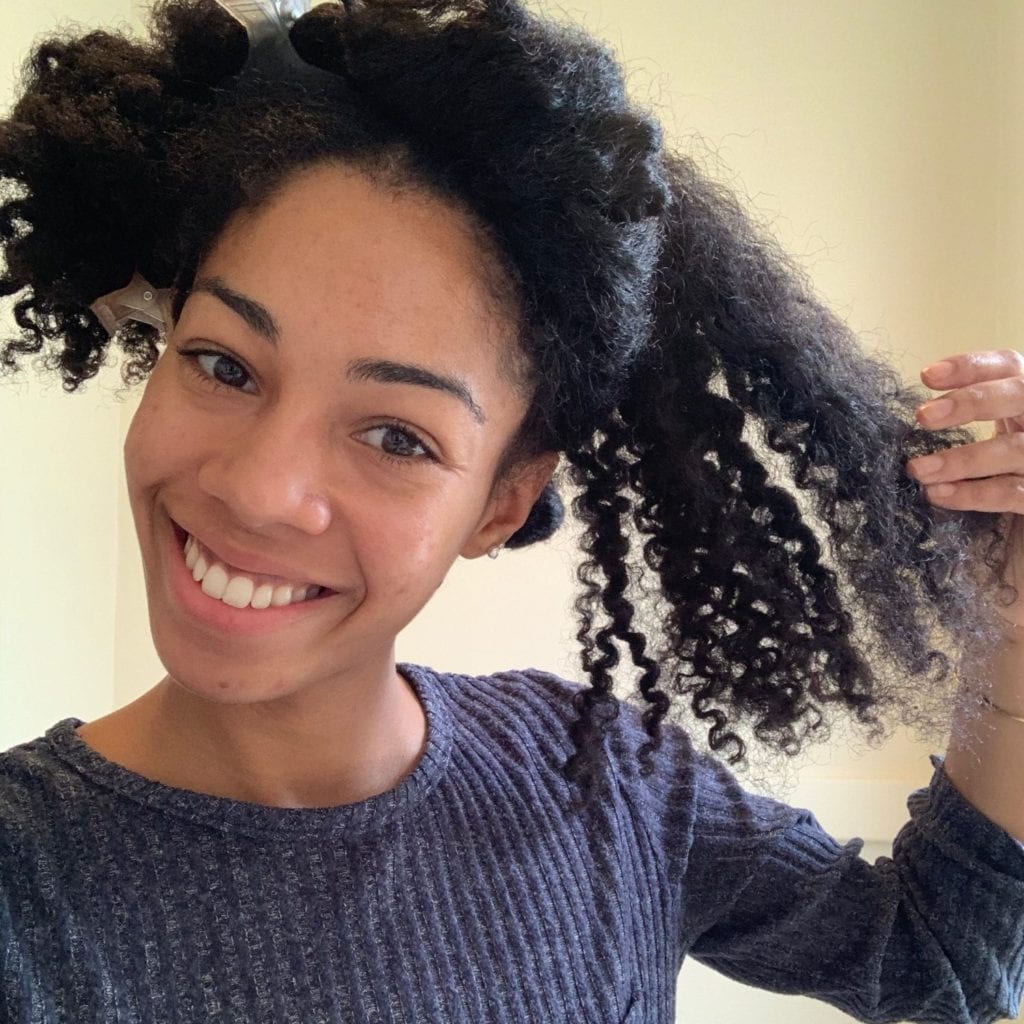 Thoughts on pre-pooing:
This product did fantastic as a pre-poo. When it came time to shampoo, my hair was still nice, soft, and moisturized.
Using it as a leave in:
I really do believe that this leave-in conditioner complimented the existing two products beautifully. They are truly the golden trio. If you follow the LOC or the LCO method to style your natural hair. These three products are all you need. You literally have a leave in, an oil, and a cream.
In my personal case, I used the products in the order of LCO (Leave in, Cream, Oil), and I used them style six flat twists. Inspired by this video, by the queen herself.
I would like to note, that this was my absolute first time trying a flat twist out. I didn't do clean parts, and I wasn't very careful with the twisting part or the take down.
That being said… I was FEELING THE RESULTS. Like feeling it SO HARD, that I'm bombarding you with all these photo
My hair was defined, shiny, and moisturized!
Using the multi-use softening leave in conditioner as a refresher/rehydrator:
A couple days later, I sprayed my hair with water, worked in some more of the leave-in, and attempted banding my hair (I don't have photo evidence, sorry). I absolutely loved the result though. My hair felt moisturized, the leave-in helped hold the new style. And I had absolutely NO product buildup.
---
Okay , that was a lot of information.
All in all, I'll definitely be picking up another bottle of this. I love how it plays with the other products in the collection, and for the size and the amount of uses I can get out f it, it's definitely worth it.
If you haven't tried any of their products yet, check out their website!
What do you think. Will you be trying Melanin Haircare's Multi-Use Softening Leave in Conditioner anytime soon? Have you already tried it? Leave your thoughts below in the comments, and SHARE if you enjoyed this post!
Related Post: 4 Easy Ways to Wear Your Melanin Hair Care Wrap
Looking for more hair product reviews? Look no further:
Make sure to catch the latest from Comfy Girl With Curls on Social Media!