In this post, I outline the products I used from The Ordinary to make a regimen for my acne-prone skin. The list is extensive, and I don't think you need all of them. I recommend reading the why's behind my purchasing of each product, and proceed with what best-fits your routine and needs!
If you aren't familiar with The Ordinary, it's a brand under DECIEM. It's blown up as a cult skin-care line due to it's simplicity and affordability. Where other "luxury" brands woo you with their brand name, packaging, and product names with "glow", "youth", "anti-aging", in their title, The Ordinary is a no frills brand, and their products go only by the ingredient names.
When I decided to try out The Ordinary skin care products, I did a ton of research for my problem areas, and what items would work for my brown, acne-prone skin. Below, I've listed each of the products I purchased, and a quick note on the problem areas I was hoping they'd target.
After that, we'll break down the benefits of each product one by one, and I'll show you how I used them in a regimen as a sort of review.
*This post contains affiliate links. This means, at no additional cost to you, if you click them and make a purchase, I may make a small commission (which helps support the growth of this blog).*
The Ordinary Products I purchased and Why:
There are more benefits to each of these products than what I list below. For now I'm just sharing my main reason for purchasing them. Further on, I'll share how I incorporated these The Ordinary products into a regimen for my acne-prone skin.
*Since writing this post, my skin has undergone an even better transformation. Read more about how I started using a new personalized skincare serum, the SkinCeuticals Custom DOSE.
The Ordinary Product Breakdown
Now let's get into the nitty gritty: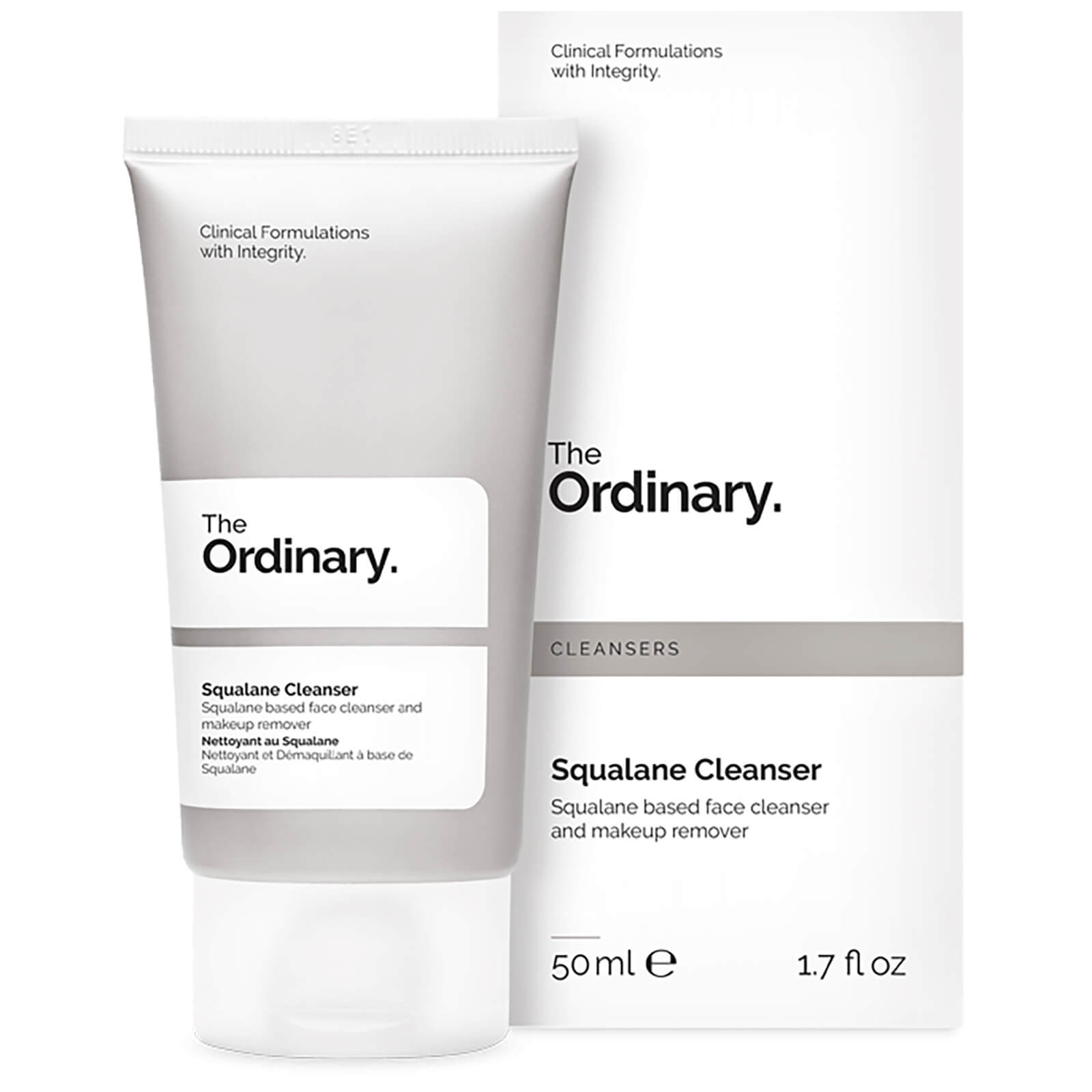 This cleanser is magic. It melts makeup and dirt off my face.
To use the cleanser, you rub the product between your fingers until it turns into an oily texture. You rub it into dry skin, then rinse with warm water. It's gentle enough to use around your eyes, and it completely removes even my trickiest of mascaras.
Bonus? It doesn't leave my skin feeling stripped, or dried out.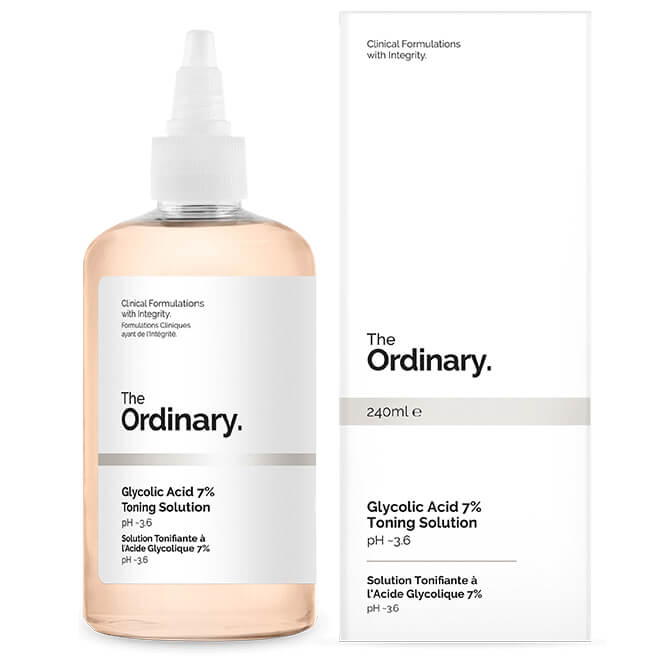 The Glycolic Acid 7% Toning Solution is an AHA (alpha hydroxy acid) that exfoliates the skin. Their website states that it helps with "improved skin radiance and visible clarity", and I 100% agree with this statement. Shortly after using it (as in the next day) I received compliments that my skin was glowing.
It acts as a fantastic toner that helps clear away any of the residual dirt (which isn't very much). It is only recommended to be used maximum once a day, so I use it at night to make sure I go to bed with an especially clean face. But I also rotate it with other acids so I'm not actually using it more than 3-4 times a week.
Please note that Glycolic Acid is a direct acid, and you may experience purging from using it, like I did. (More on what purging is later).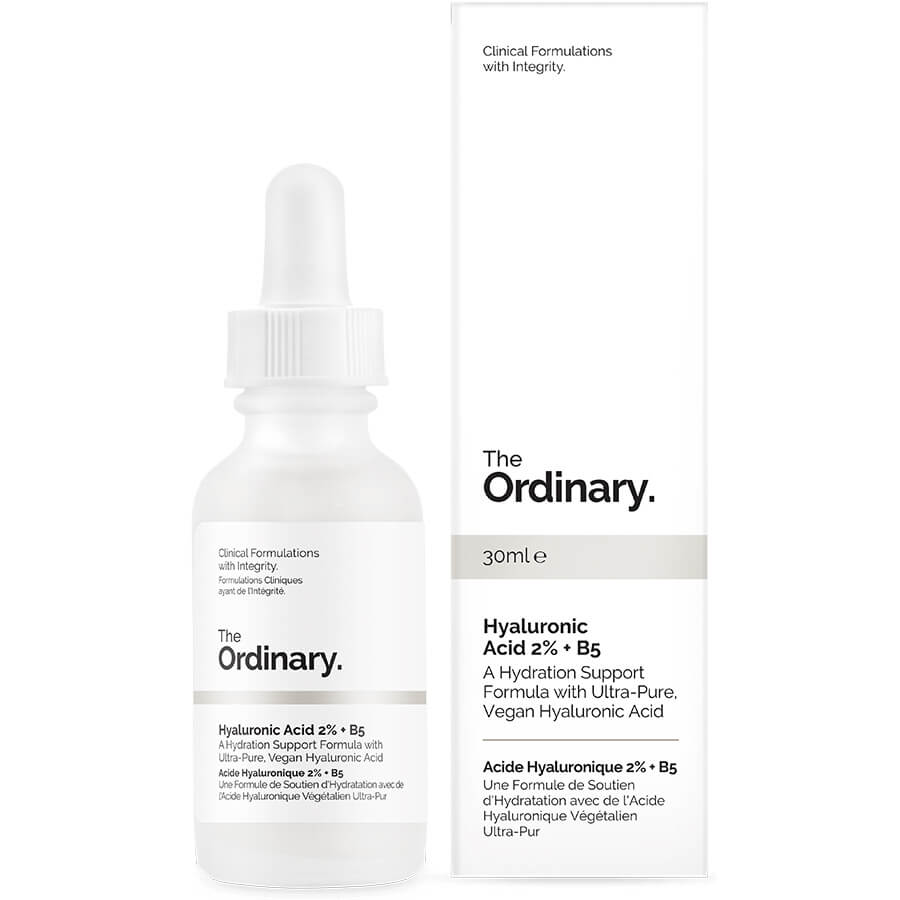 Hyaluronic Acid has a lot of buzz in the skincare world. HA is naturally occurring in our skin, and is a humectant (naturalistas are likely familiar with the term), which means it works to attract and retain moisture.
When your skin is well-moisturized, it looks plump and youthful, minimizing fine lines.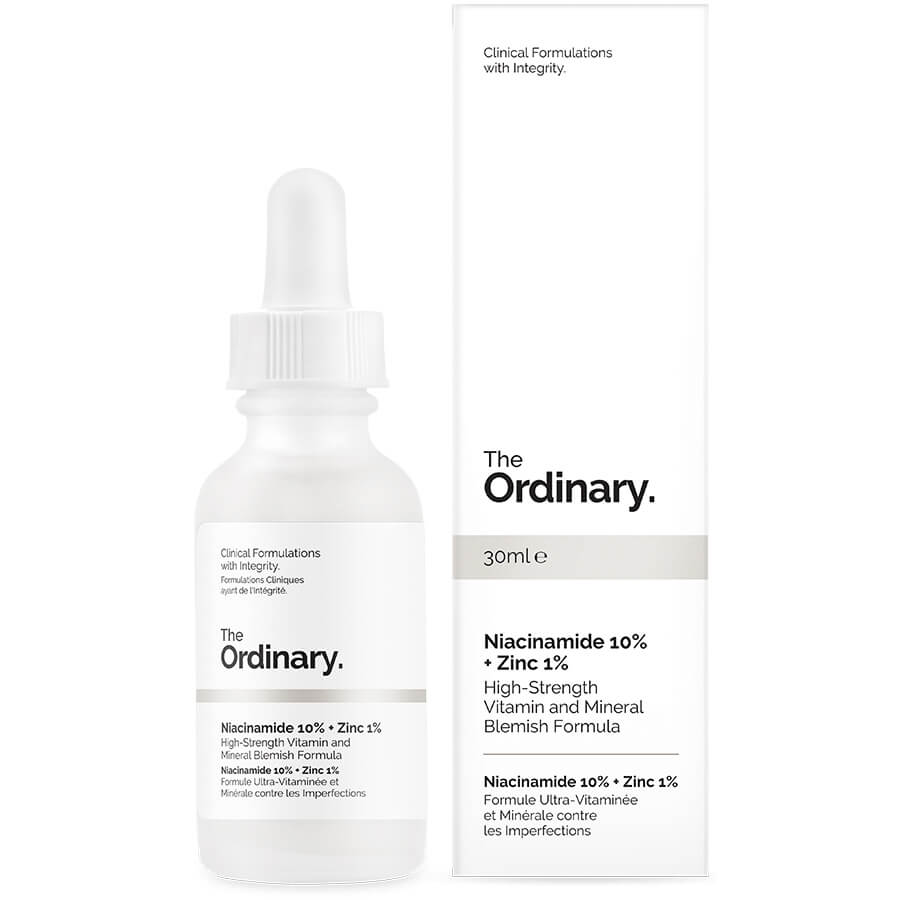 As mentioned above, I purchased the Niacinamide 10% + Zinc 1% solution to help target my acne.
Niacinamide (Vitamin B3) has anti-inflammatory properties (great for pimples), and studies also suggest that it helps regulate sebum (or oil) production.
Zinc also has anti-inflammatory properties, and helps fight bacteria. Together with Niacinamide, they're a great pair to assist with fighting acne.
Note, this solution can affect the integrity of topical Vitamin C products. I use Ascorbic Acid 8% + Alpha Arbutin 2%, and just make sure to rotate their use. I'll usually use the N + Z in the morning, and the Ascorbic Acid at night.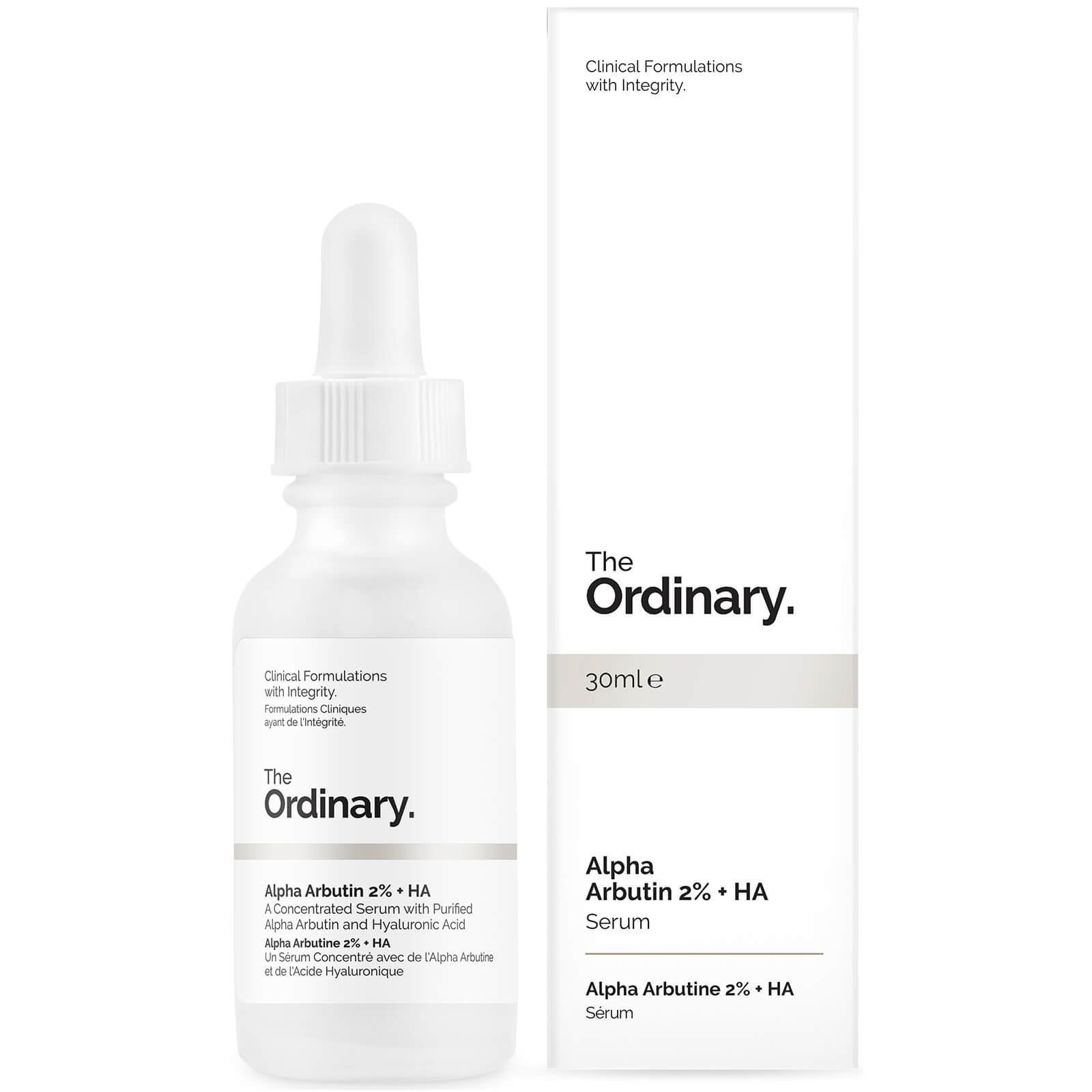 I scar very easily. So I deal with that when I pick at pimples, and I also deal with post-inflammatory hyper-pigmentation when I don't. So there's really no winning.
This is why added Alpha Arbutin to my list. It's known for aiding in skin brightening and hyper-pigmentation.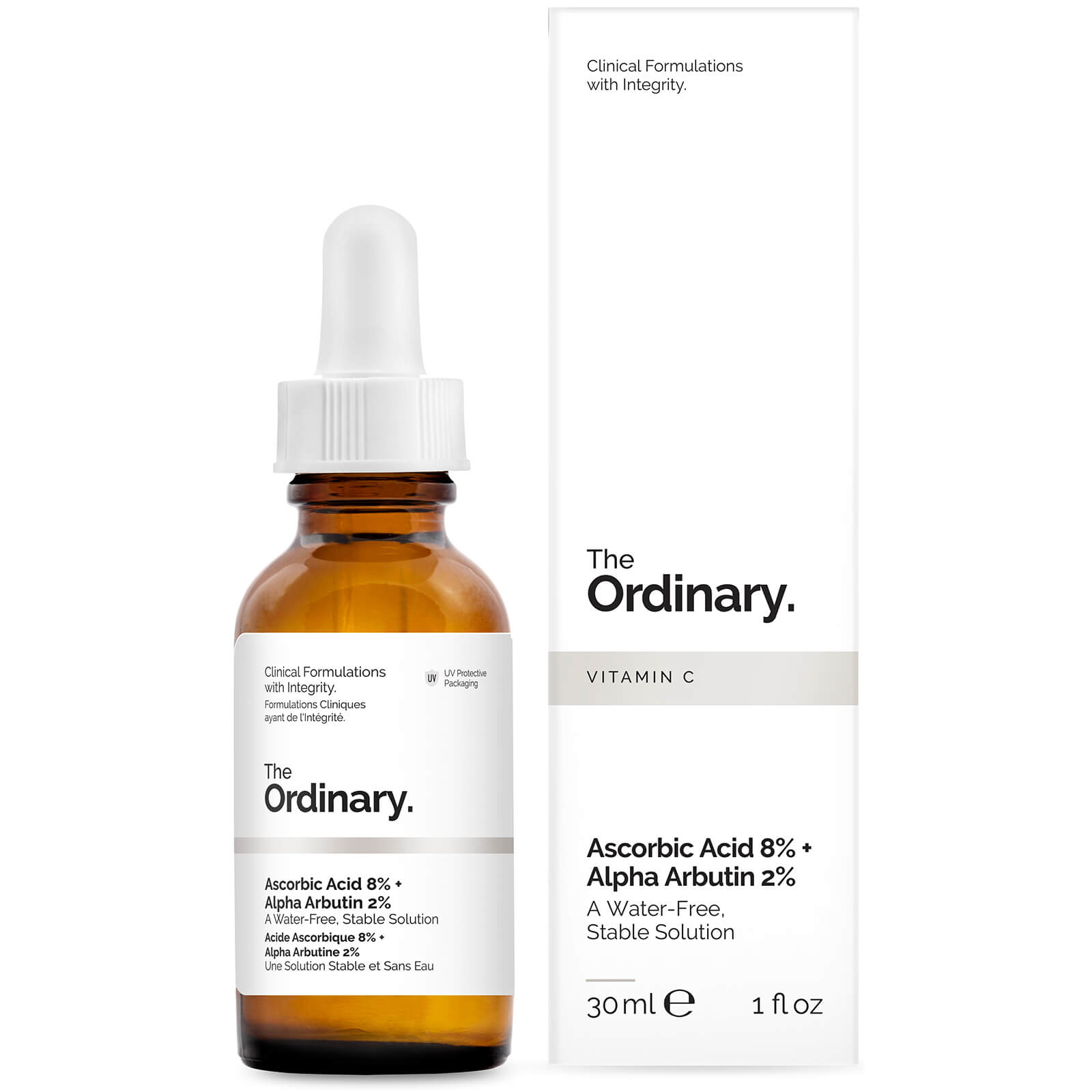 Ascorbic Acid 8% is straight Vitamin C. So I'm not a skin expert, but the trends say Vitamin C is an antioxidant, and is very in. So you know what I did? I went and picked up some vitamin C.
The Ordinary has a lot of different vitamin C combos, but again since my focus has been targeting those dark hyper-pigmentation spots, I chose the combo that has Alpha Arbutin in it. The Ordinary also has a handy dandy Vitmain C guide so you can find the best solution for your needs.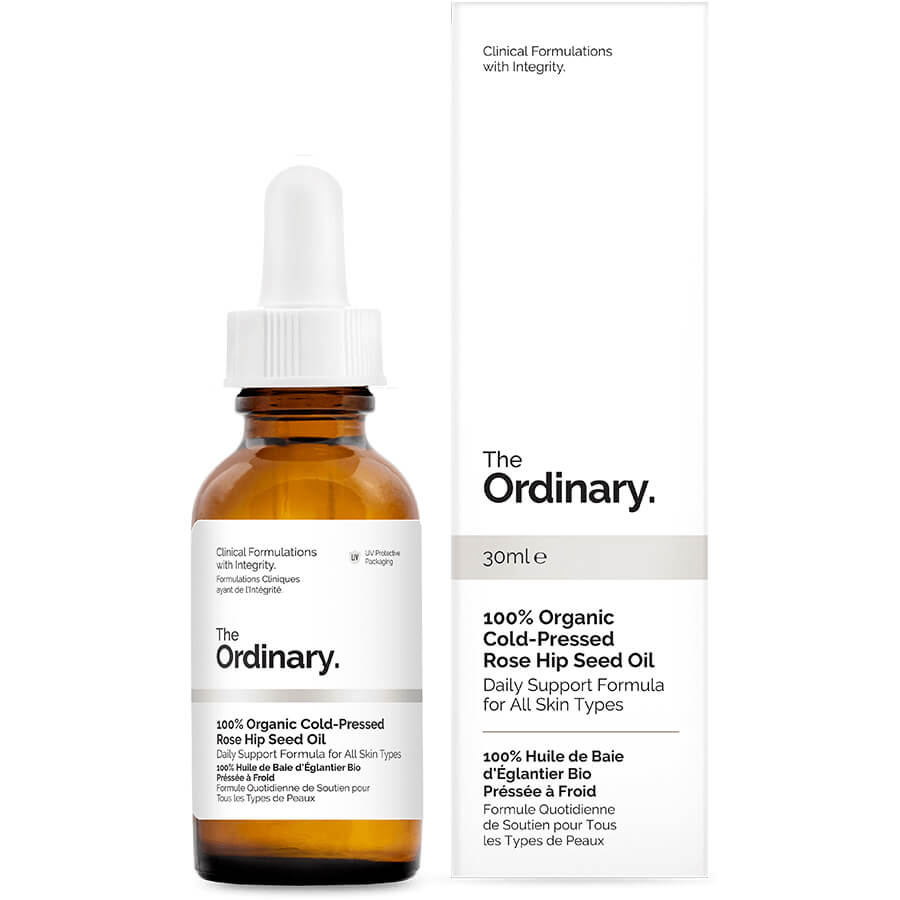 Easily my favourite item from The Ordinary. I wake up with my skin feeling so nourished and luxurious. I was definitely wary about putting an oil on my acne-prone skin, but I found out that Rose Hip Seed Oil is non-comedogenic, meaning it will NOT clog your pores.
They say Rose Hip Seed Oil has a plethora of benefits too. As I mentioned earlier, I mainly purchased it to help brighten up those scars, but it's said to also help with anti-aging, help acne, help healing, and more!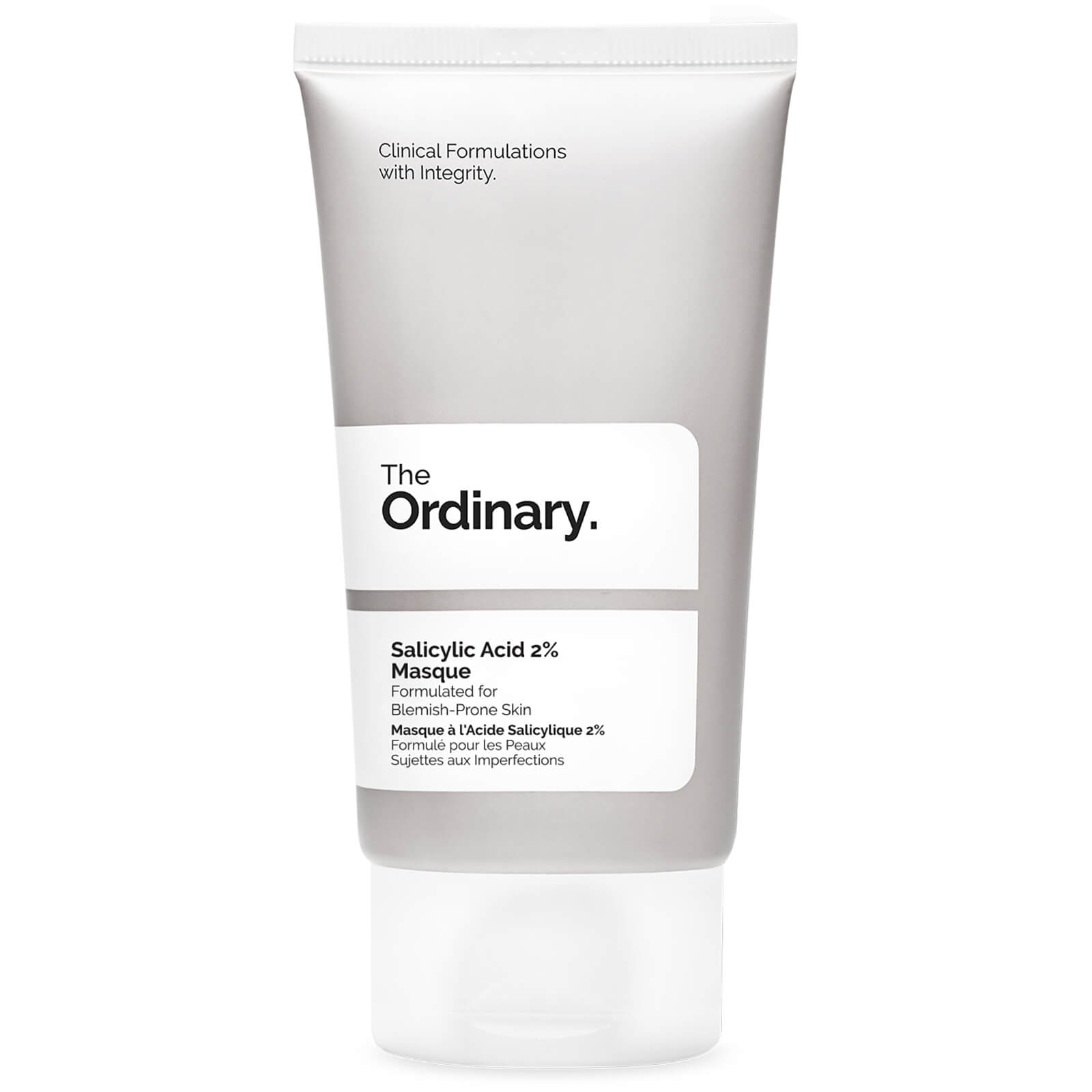 Even people who are only slightly versed in skin care know what Salicylic Acid is. It's an incredibly common ingredient in any acne-reducing products.
I originally wanted The Ordinary's Salicylic Acid 2% solution to help target my acne, but apparently they are changing their formula and it can't be found anywhere.
I purchased this rinse-off masque instead, which is infused with charcoal and clays to help smooth and clear the skin.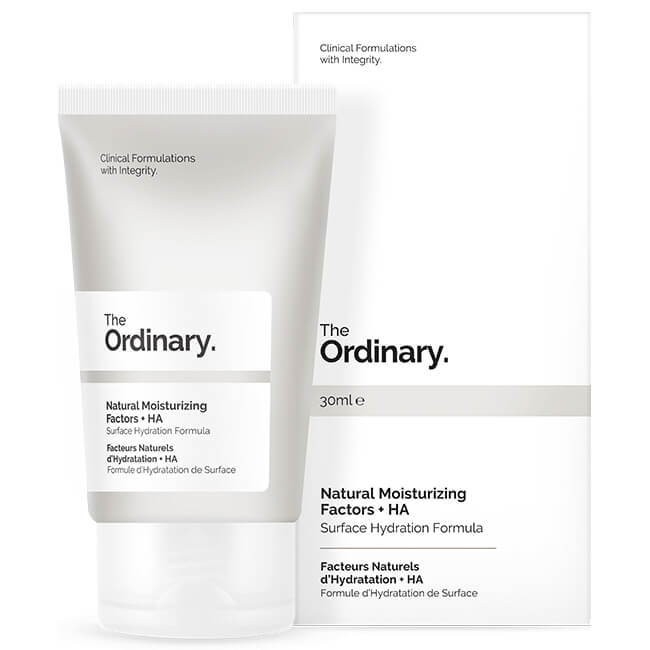 A lot of friends swear by the Natural Moisurizing Factors + HA, but I will say it isn't my favourite.
This product is composed of amino acids, fatty acids, hylaruonic acid and many other compounds that are naturally in our skin.
This product is non-greasy, so I would definitely recommend for those who have dry skin. Me, on the other hand? I find that it leaves my skin dry and a bit ashy. It only really works the way I want it to when I dab a bit of water on my fingers before applying.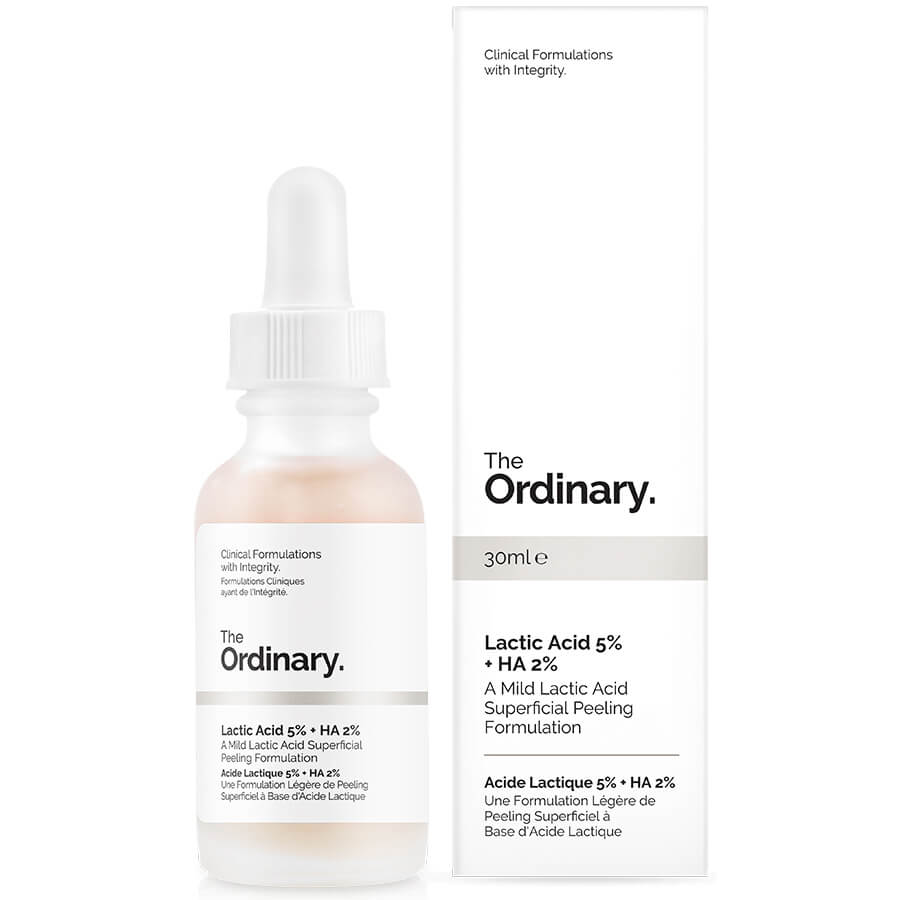 As I mentioned above, I picked up the Lactic Acid a few days after purchasing my initial haul. Mostly because every site I stumbled upon recommended it.
Am I a sucker? Absolutely.
Lactic Acid is another AHA which exfoliates the skin. It again assists with skin turnover, and as a result will improve skin texture, and assists with hyper-pigmentation.
I purchased the 5% which is more mild, and maybe one day I'll build up to the 10%. That could take awhile though, since I use this solution only once a week.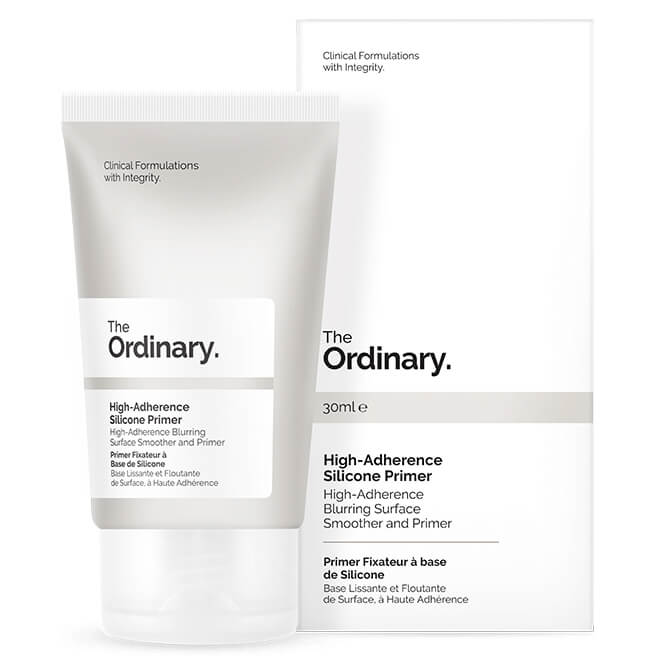 I got this mostly because I was out of primer. While it isn't clear, the consistency is very similar to the NYX Shine Killer Primer, and the Smashbox Photo Finish Primer.. But So. Much. Cheaper.
---
The Ordinary Regimen used for my Brown, Acne-Prone Skin
So before you go ahead and slap the above on your poor face every morning and night, please read my regimen! If you've been on The Ordinary's site, you probably would have read that you shouldn't be layering more than 3 solutions in one go at a time.
The Ordinary also has a regimen guide which will tell you which products are incompatible, and which products should be used only in the morning, or only at night.
I'll elaborate a little more below, but here it is, my morning and night The Ordinary Routine: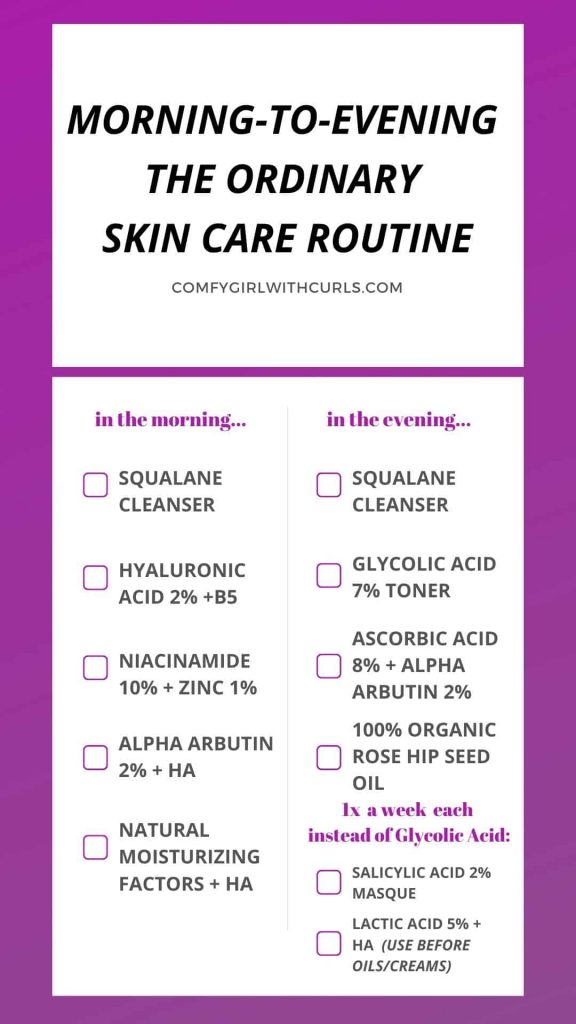 Related Post: The Consistent Routine that Cleared my Skin | Steps for Morning and Night
I want to talk about about how I use Glycolic Acid. It is relatively harsh, and I know some people advise against using it, or any other AHAs every day.
For the evening portions of my regimen, I rotate my direct acids. 3 – 4 times a week, I will use the glycolic acid after cleansing. Once a week I will do the Salicylic Acid Masque instead. Then once a week, instead of Glycolic or Salicylic Acid, I will use the Lactic Acid right before putting on my rose hip seed oil.
Active Ingredients and Purging
Day one of my regimen was like magic, but a few days in, I had pimples so big I almost had a break down.
I did a bunch of research and realized that this is completely normal… and then I took to Instagram to see if others had the same experience using The Ordinary actives.
How to know it's a Purge and not a Reaction?
There are a bunch of resources online, if you'd like to dig deeper, but here are some key things to note:
Purging will:
occur when using new products that stimulate cell turnover
occur in your problem areas, not all over your face
progressively get better, (but it may take a month)
not be itchy or swollen (think about how you might react if you had an allergy)
Want to know how long the purging stage lasts? It's advised to be patient for one skin cycle (about a month).
The results of my The Ordinary Regimen: (warning, if pimples make you squeamish, don't look.)
I don't have any photos to share of my skin completely before using these products, let me set the stage. I was dealing with a lot of small bumps on my forehead, and random breakouts around my cheeks that I just haven't been able to shake.
So… the results on day 1 & 2 of using the Ordinary were almost miraculous… but they were short lived as my face moved into the purging stage.
3 day mark (beginning of purging):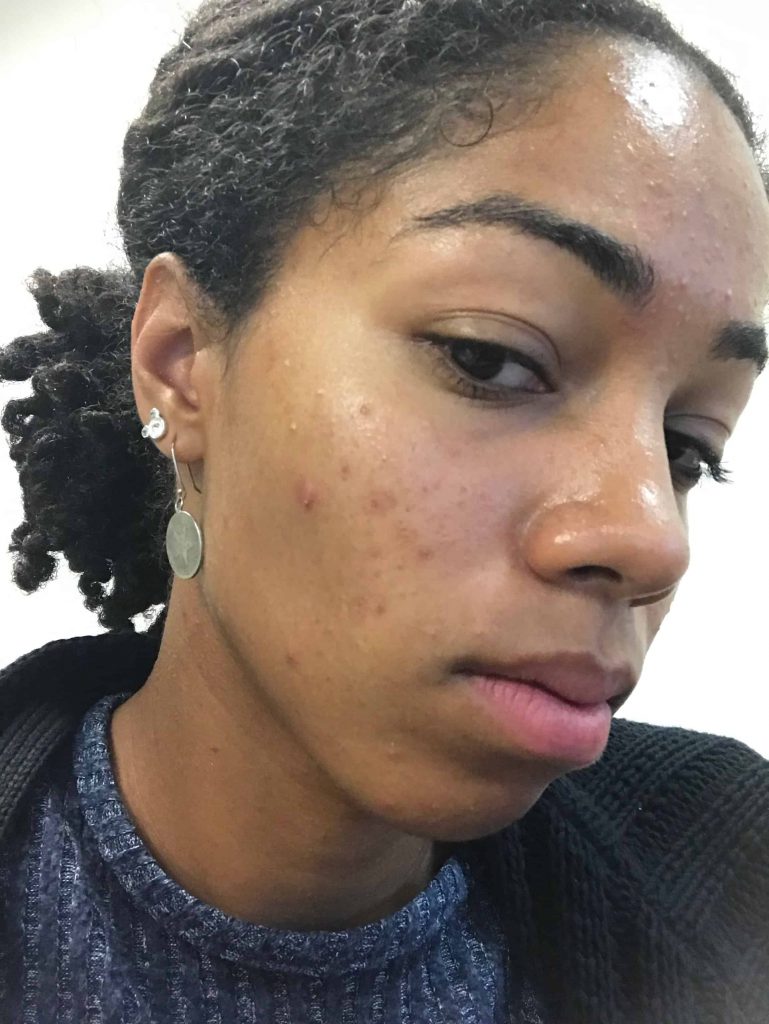 Day 4 was probably the lowest point. At first, I panicked, and thought I was reacting to the products, but I did a lot of researching on purging and decided to persevere.
Ironically though, this is pretty much what my skin has looked like for the past year, but with a few more spots.
Day 6, some of the pimples popped and scabbed.
2 week mark. Not flawless, but better than my skin had been in a VERY VERY long time.
By the time 3 weeks hit, I had dropped the ball on official update pictures. But at this point, I was kinda feeling myself:
From there on, my skin only improved. The primary dip in progress I've seen is a few pimples right before my period, but even that was less than I usually experienced.
Related post: How I help prevent breaking out before my period.
Final thoughts on The Ordinary and my regimen for Acne-prone skin
At the point of writing this (two months in), I'm mostly working on consistency and on managing my scars.
I've definitely gone a few days without keeping up with my regimen… and several without washing my face before bed (please don't shoot me, because my acne-prone skin has punished me enough for my lapse in commitment). That, along with my PMS pimples has created a few new scars each month. But I will say, that they don't appear to run as deep, and fade a lot quicker than they used to.
So have you tried any of The Ordinary for acne? Or any of their skin care products in general? Share your experiences and regimens below!
More Skincare Posts:
Make sure to catch the latest from Comfy Girl With Curls on Social Media!