You may remember Saccheen Laing's book, The Curly Hair Club, from the list books uplifting black kids with natural hair. Now, she's here to share a little bit about herself, and talk about her kid's book geared towards little black boys: Thrones not Cells.
Saccheen Laing is a Jamaican author, residing in Jamaica. In addition to the children's books she's written, Laing is a Published Poet, and the author of Voice of Jamaica, The Poet's Escape, Stripped Souls and Poetic Queens.
And she has kindly answered some questions to help us all get to know her better:
How long have you been writing for?
I have been writing from when I was about 6/7 years old. I published my first poetry collection in 2015, and then went on to publish two children's books, a colouring book and three additional poetry collections.
What made you want to start writing books for children?
I wanted to write children's books because I see a void in books that promoted self love in our black community. Growing up, there were literally no books like this for me to read and I would question the reasons why. I want children to see characters that look like them that they can connect with.
What motivated you to write Thrones not Cells?
After the success of my first children's book, The Curly Hair Club, I saw a need for a book for boys. Boys also face issues of low self esteem about their appearance. Thrones Not Cells encourages love for natural self and the value of education. Boys are more reluctant to read so I want to change that. I went on to compile The Curly Hair Club and Thrones not Cells to create a colouring book called Thrones&Curls.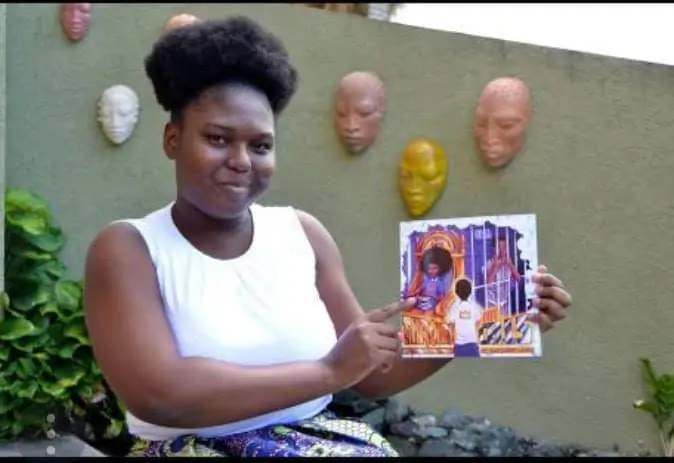 Anything you would like people to know about Thrones Not Cells?
Thrones Not Cells is powerful and should also be read by parents. There are lessons in this book that parents also need to read so they can better handle this sons and build their own self-love.
---
Thank you to Saccheen Laing for sharing about herself, and above all, for creating content for little black kids. While we've seen a lot more books for children of colour coming out in recent years, it's hard to find books created for black boys in particular.
You can get find her on the web at the following:
Facebook: @SaccheenTheWriterLaing
Instagram: @SaccheenLaing_Poet
Website: authorsaccheenlaing.com
---
Check out this list for more Children's Book Recommendations!
Make sure to catch the latest from Comfy Girl With Curls on Social Media!