Shea Moisture Canada and Langton Communications generously sent me the Shea Moisture Red Palm Oil and Cocoa Butter Collection to share my thoughts on Instagram. I loved the products so much, that I also wanted to share a review with you all!
These are my honest opinions, and this post is not sponsored.
*This post contains affiliate links. This means, at no additional cost to you, if you click them and make a purchase, I may make a small commission (which helps support the growth of this blog).*
Before we get into the review, here's what makes this collection special:
made for 3-4c hair types
designed to combat shrinkage, but they do preface with a very important point: "Shrinkage is normal for healthy fros and curly-coily hair".
while this line is called "Red Palm Oil and Cocoa Butter Collection", all the products also contains Flaxseed Oil. But I'm guessing including that would have made for way too wordy of a title.

the flaxseed oil, however, is a key ingredient. It is what helps elongate your curls, and reduce shrinkage. Have you ever used a flaxseed gel? Same idea.
I didn't expect a miracle going into these products, and to be candid, I didn't get one. I have type 4a/4b curls that LOVE to shrink. And since chopping a good few inches off them, they are even more prone to shrinkage than before.
That being said, the reasons I'm obsessed with this collection actually have nothing to do with its anti-shrinkage promises. Instead, it has everything to do with how manageable it made my curls, and how moisturized it left them… and for how long!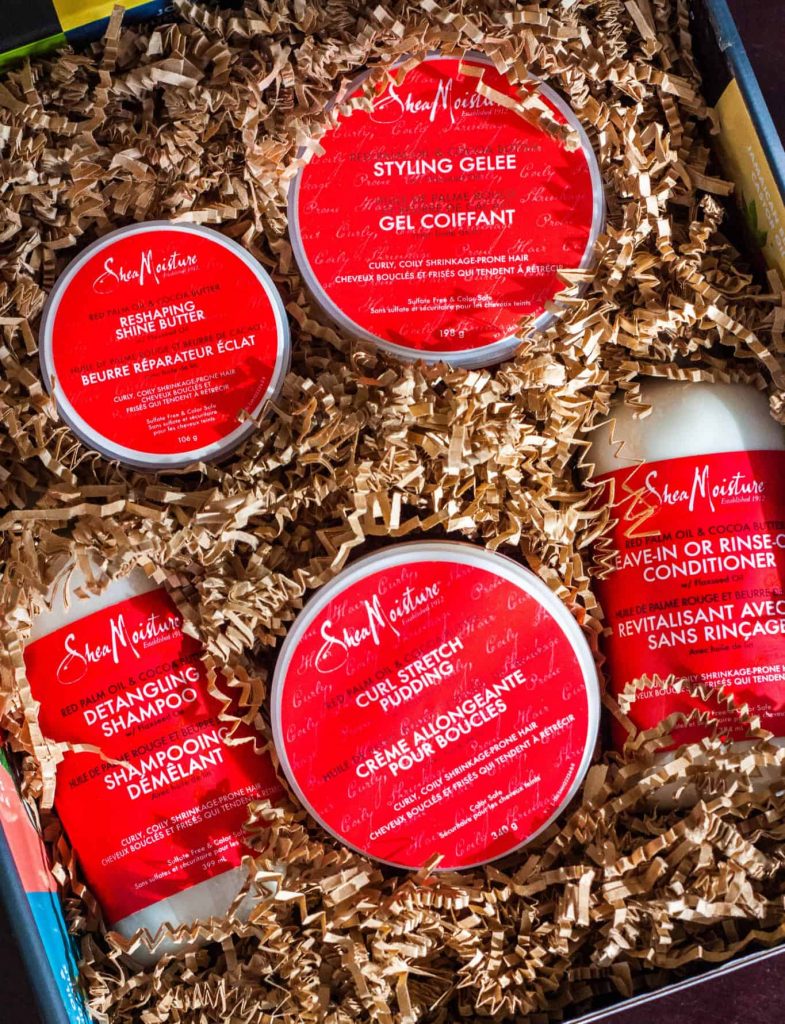 This Shea Moisture collection consists of the following products:
Detangling Shampoo
Leave in or Rinse Out Conditioner
Curl Stretch Pudding
Styling Gelee
Reshaping Shine Butter
I'll breakdown my thoughts on each product and share my overall thoughts below! But please note, these are my personal results! I have very thick, coarse, highly porous hair. Depending on your curls, your results may differ!
Not sure what your hair porosity is? Click here to read all about high and low hair porosities. (Knowing mine has been a hair-care game changer).
To use this product, I separated my hair into quarters in the shower, and shampooed section by section. First, I tested the product's slip by finger detangling, but when my fingers passed through easily, I stepped it up to a wide tooth comb.
I often find that detangling shampoos are good at only one thing. They detangle or they clean. This one did both. By the time I rinsed out the shampoo, my hair was tangle-free, and nice and clean. All with very little effort on my part, and no noticeable breakage.
As the name suggests, the Red Palm Oil & Cocoa Butter conditioner can be used as a rinse out or a leave in.
I'm definitely wary of a product that can do more than one thing, but I've been proven wrong before, and was proven wrong again. This conditioner works great as both, but using it as a leave in knocked my socks off.
After shampooing and detangling my curls, I rinsed out the product, and braided my hair back into quarters. Then, I soaked each section in water once more, and put in 3-4 pumps of the conditioner.
Once my hair was thoroughly coated, I hopped out of the shower to style it. And this is wear using the conditioner as a leave-in really wowed me:
Normally when I twist or braid my hair after washing, I need to keep a spray bottle on hand to keep it wet. This is because I have high porosity hair. It soaks up water fast, but it evaporates just as quickly.
But when I used this Shea Moisture conditioner as a leave-in, directly on top of my shower-wet hair, it locked in the water, and prevented it from drying before I could finish styling. No spray-bottle needed!
The Curl Stretch Pudding is nice and thick. The weight and consistency of the product helped stretch my curls, and locked in the water and the leave-in conditioner incredibly well. (If you're looking for a heavy cream in your LOC/LCO method, I definitely recommend this one).
The Styling Gelee has flaxseed oil in it, which I find makes for a very great addition to gels. For example, Flaxseed gels tend to run a bit watery, but have pretty remarkable hold. The best part about them is that your curls stay defined and hold their shape, while still being flexible.
And this was precisely my experience with this Gelee. The product is quite runny, but it coated very nicely over the street pudding.
The Red Palm Oil & Cocoa Butter Shine Butter was a SHOW STOPPER.
This butter literally melts in my hands, smells delicious, and made me third day twist out look SO GOOD.
There are two ways that I used it, and I loved it both ways:
Retwisting my hair at night.
Refreshing an old twist out in the morning.
Number one was pretty straightforward. Right before bed, I retwisted my hair using only the shine butter, and went to bed. The next morning, when I took it out for a twist out, my hair was popping as though I had just done a full wash day and styling.
I especially was impressed with the results, because I only needed one product to achieve amazing results! I didn't even need to add water!
For number two, I melted the butter between my hands ands ran my hands over my hair. Then, to fluff it a bit, I scrunched my curls from the bottom up. The result? Incredibly shiny and healthy looking hair, without needing to wait for products to dry!
And finally, here are my results (using everything but the Reshaping Shine Butter… since I used that a few days later):
Overall thoughts:
I'm not exaggerating when I say this collection is a new go-to for me! My two ultimate favourites are the leave in or rinse out Conditioner, and the Reshaping Shine Butter.
I know you might be thinking, the results can't have been all good. There's got to be some cons! And yes, all products, even my absolute favourites, have a downside, so here are two things that didn't work for me:
Almost too much slip when styling. The slip is AMAZING for detangling, but I really struggled to hold on to the ends of my twists and braids. My fingers kept losing their grip, so the ends weren't as clean or tight.
Because the products lock moisture in so well, they take awhile to dry. If you have to head out of the house, or are planning to rock a twist out or braid out. You'll need to prep your hair a couple days in advance, or sit under a table top dryer.
All in all, the Red Palm Oil and Cocoa Butter line is great for people with thick, high porosity hair, like mine. I've seen some feedback from Naturalistas with thin and/or low porosity hair, and these products tended to sit on top of their curls and weigh it down too much.
These products actually have me very tempted to try another wash and go.
Looking for more reviews on SheaMoisture Products? Check out:
Make sure to catch the latest from Comfy Girl With Curls on Social Media!
---