If you're a blogger who's not on Pinterest, you are missing out on a huge traffic opportunity. Pinterest is the number 1 traffic-driver to my blog. It outshines all my social media platforms, and it even outshines Google.
Pinterest and Tailwind hold a very special place in my heart, because the two together are what have been keeping my blog-traffic consistent. Even when I've disappeared on incredibly long hiatuses, they had my back–steadily driving people over to my site.
There are a ton of Pinterest courses, tips and resources out there, so I don't want to inundate you with too much information. But I still wanted to highlight the potential of Pinterest, why you should be using it, and some notes to get you started!
*Please note there are affiliate links in this post. This means, at no additional cost to you, I will make a commission should you click through and make a purchase.*
First, did you know that there are 250 million users on Pinterest per month? That is a lot of traffic opportunities. No matter what your blogging niche is. There is bound to be somebody looking for your content.
Things to remember about Pinterest:
It's a search engine (so Search Engine Optimization (SEO) is important!)
It gives your content a longer lifespan.
Quality graphics are key.
Pinterest likes it when you pin consistently (This is where Tailwind comes in…but more on that below.)
Let's break it down a little bit, and then I promise we'll get to my favourite part–my go-to tool for Pinterest automation.
Pinterest is a Search Engine:
If you aren't too familiar with search engine optimization, the first thing you'll want to understand is that key words are important. When trying to optimize for Google rankings, for example, you'll want to be very strategic about where you stick your key words, (but that's another tip for another time).
But you want to make sure you keep the same principle in mind when working with Pinterest. To ensure your pins show up when people search your topic on Pinterest, you'll want to make sure you've optimized both your pins and your profile with the relevant search terms.
These are the different places you'll want to make sure your key words are located. They will begin a bit more broad, but narrow down in specificity by the time you get to your pin:
Pinterest Profile
Pinterest Boards
Board Sections (NEW)
Hashtags (NEW)
Pin Descriptions
This is an example of my Natural Hair Pinterest Board:
Then this is an example of one of the pins I pinned to that board. (These stats are a 1 month snapshot. Not out of this world, but decent. But a BUNCH of pins over time getting 9 clicks or more a month? That adds up.)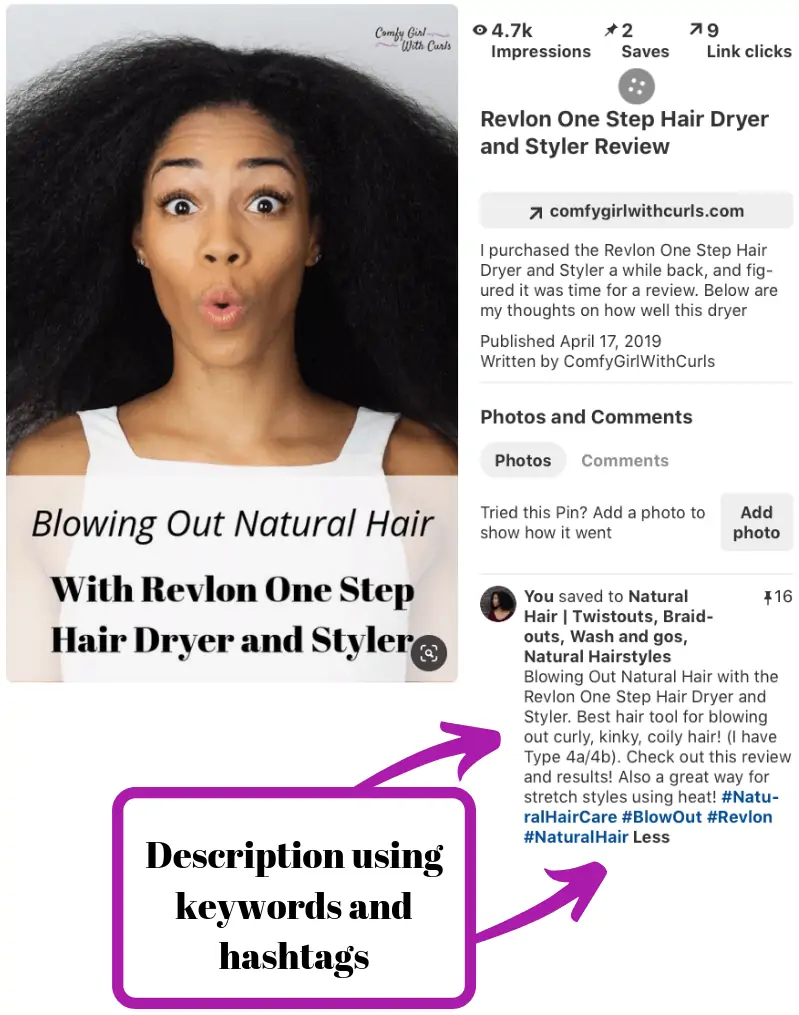 Think of it this way. If you upload a pin linking to your Natural Hair Tips post, but it doesn't say 'Natural Hair' ANYWHERE on your profile, boards, or the pin description itself. How do you suppose people are going to find it?

At most, some of your followers might see it. But that's it. You aren't maximizing your potential reach if you aren't optimizing your keyword usage.
Content posted on Pinterest has a longer lifespan
This ties directly into the fact that Pinterest is a search engine and not a social media platform. When posting to social media, you give your content a finite window.
On Twitter, your content will likely get buried in a matter of minutes, with Facebook, maybe a few hours… if your followers see it at all (stupid algorithms…).
But with Pinterest, people can find your content months later. Personally, I've had some pins go viral half a year after posting them (and they are still generating some traffic a couple years later)!
Quality pin graphics are key
Quality images and clear blog titles or calls to action are extremely important on Pinterest. While yes, Pinterest is a search engine, it is very much a visual one. So to stand out, your pins need to be attractive!
I have discovered two things from being a beauty/lifestyle blog that is active on Pinterest.
Pins with images only, get more saves
Pins with text (usually my blog post title) get more clicks than saves
I've personally had a lot of success balancing the two. I'll often pin the same image multiple times. Once, with just the image, and then a few more times with text overlay.
Here are two of my top preforming pins this week. Check out that save to link click ratio. I know posting just images is a bit contrary to a lot of the Pinterest advice you see out there. But I think it works for more beauty-focused content, because often, people are saving hairstyles or looks for inspiration. When that's the case, they don't necessarily care or want the text overlay.
But still, the pin with text, still got more clicks. And at the end of the day, the goal is to get people to my website. So while you definitely want to make sure you're adding text, it doesn't hurt, or take much time to throw up the same pin, with just the image!
Again, this is just my personal experience, yours may differ, especially depending on your niche.
To note, the pin on the right isn't even a good graphic. Honestly it's pretty mediocre, but the blog post title is what grabbed people. I swear I've upped my graphic skills since creating that one.
Here's a newer pin! It's still new, so it doesn't have the same traction as above, but looking pretty good for a couple months old.
I won't get too deep into how I make my graphics, because I use Canva, and I figured this blog post does a much better job explaining than I do.
Pinterest likes it when you pin consistently
Pinterest loves profiles that pin on a consistent basis.
This means you will have a lot more success pinning 10 pins a day, versus signing in once a week to pin 100.
The problem with this is that human beings aren't particularly consistent. I don't think I'm speaking only for myself when I say it is completely unrealistic for me to open up Pinterest every single day and pop some pins up.
So if we can't rely on ourselves to pin manually, how do we make sure we keep Pinterest happy, and our pin frequency consistent? The answer to that is Tailwind, which makes manually pinning your blog content a thing of the past.
Before we get into it, check this out:
Below is a snapshot of my average monthly viewers as of posting this: 520k monthly viewers. That is 520k people who probably wouldn't have seen my content otherwise.
So how did I get to that volume of monthly views? Keyword optimization and quality pins helped get me on my feet, but it's absolutely exhausting and near-impossible to pin consistently enough to get those views.
That's where Tailwind comes into play.
(And before we dive in, please note that the above are just my personal results; yours may differ. But Tailwind does publish typical results seen from their users about once a year, and I'll share their info graph below.)
Using Tailwind to Up your Pinterest Reach
Tailwind is a service that I rely on to grow my reach, and they are actually a Pinterest partner. This means they tend to be ahead of the curve, and really know what works for platform and what doesn't.
Tailwind has quite a few useful features, but the one I especially want to talk about is the ability to schedule pins!
Through their service, you have the ability to create your own schedule, or let Tailwind take the reins and create its own Smart Schedule. personally, I rely on the latter. This is because the smart schedule will choose the optimal time slots to pin my pins. This saves me time, and helps maximize the potential reach of each pin.
I dedicate one full evening a week to working with Pinterest and Tailwind
Every week, I make sure to set aside time to do the following:
Design new pins for old and new content (using Canva)
Upload pins to Tailwind and customize the descriptions with keywords
Add pins to relevant Tailwind Communities
Schedule to relevant Pinterest boards using Tailwind
This may seem like a lot, but a few hours once a week to reach 520k (and growing) viewers? That doesn't seem like a big sacrifice.
Currently I have Tailwind Plus, and I pay annually. This level is perfect for bloggers and small businesses, and on top of valuable insights and metrics, it gives you the following:
*If you really enjoy the Community features, additional functionalities can be purchased through Powerups.
If you're interested in checking them out, they do have a free trial! The trial is based on 100 pins scheduled, which is pretty cool! It's not time-bound–it doesn't expire in 14 or 30 days like most trial runs. Click here to give it a go!
If you try Pinterest and Tailwind to up your traffic, come back and leave a comment! I'd love to know how it works for you!
If you enjoyed this post, pin the below to Pinterest: