Mello Hair, a Canadian Natural Hair care company, added two new products to their line-up–a shampoo and conditioner. They were kind enough to send me the products to try out, so here is my honest review!
Check out my first review on Mello Hair products. (Back when my blog was a young babe).
If you haven't heard of Mello Hair yet, here are some highlights about the company:
Proudly Canadian (owned and made)
Their tag line is "Nature Derived. Eco-Friendly. Effective"
Free of Parabens, Silicone, Artificial Colour, Artificial Fragrance, Harsh Sulfate, Petroleum, DEA, Mineral Oils, and Propylene Glycol
Cruelty-free
Mello Hair Shampoo
Their shampoo left my Natural hair feeling clean but not stripped.
I am always wary of a shampoo that says it can detangle, but for me, a good sign that this is true, is when the shampoo does not get excessively foamy while lathering. And that was the case with this one.
My wide-toothed comb worked through my hair nicely with the shampoo–never feeling like it was ripping, or breaking my curls. And the peppermint in the product left my scalp feeling tingly and fresh.
Mello Hair 2-in-1 Conditioner
Their conditioner has an very soft and fluffy texture. Something you don't see very often in conditioners.
It is also labelled as a 2-in-1. You can keep it in for 5 minutes, as your standard rinse-out, or you can use it as a softening mask by keeping it in longer with a cap on.
My favourite way to use it is the latter–I love putting a hair mask on and puttering around the house, or working on blog posts for an hour. I consider it the ultimate self-care experience!
The 2-in-1 conditioner definitely left my curls feeling soft, and incredibly easy to manipulate.
More of their Natural Hair Products:
They also have a Scalp Stimulating Growth Serum and a Leave-in Conditioner, and I highly recommend both! I've talked them up on Instagram a bit, and it was actually the Mello Hair Leave-in that helped me achieve this bomb Wash and Go.
Here is a picture of the rest of their collection! (Both the Revitalizing Hydration Spray and the Moisture Retention Butter come in bigger sizes).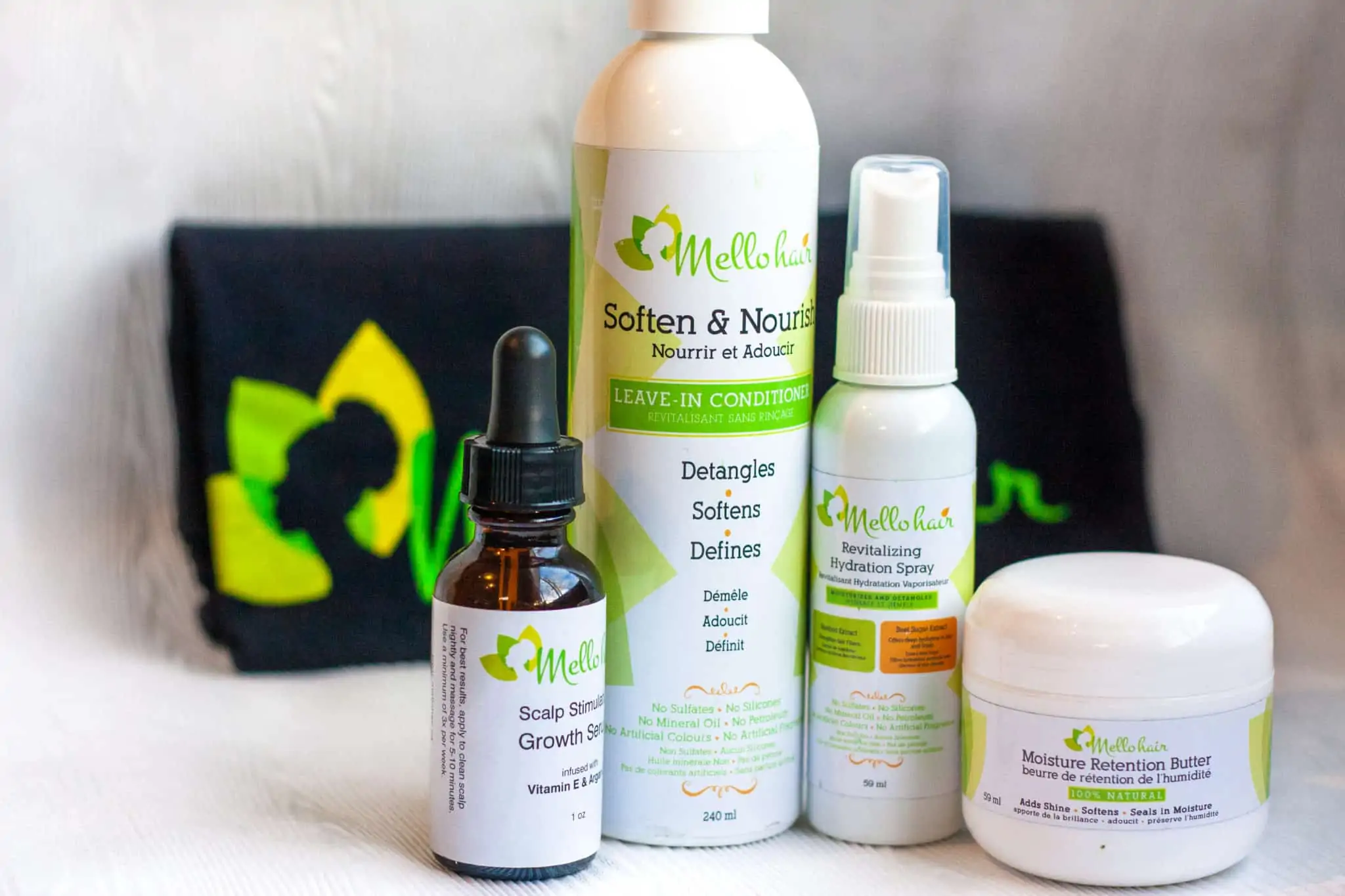 In conclusion, the Mello Hair Shampoo and Conditioner are solid additions to an already strong line-up. Definitely recommend you take the time to support Canadian business-owners, and take care of curls at the same time! Have you had a chance to give them a try yet? If so, let us know what you think in the comments!
Are you a Canadian with Natural Hair, looking for more products? Check out this ever-growing list: Where to buy Natural Hair Products Online.
Make sure to catch the latest from Comfy Girl With Curls on Social Media!