When I discovered that tNatural Hair Care Brand, As I Am, had a new line, Long and Luxe, designed to "lengthen and strengthen your hair", I knew I needed to try it out. After all, this year's hair goals are all about getting my curls healthy and strong.
*Some of the links included in this post are affiliate links. This means, at no additional cost to you, if you click on them and make a purchase, I will make a small commission.*
About the Long and Luxe Collection:
The Long and Luxe collection is infused with pomegranate and passion fruit, making me wonder if pomegranate is the new trend in Natural Hair Care. (Check out my review on Mielle Organics, to see what I'm talking about.)
The seven hair care products in their line-up are designed to help toughen up our strands, and help us attain that length that so many of us desire.
The products that are part of the As I Am Long and Luxe collection are a:
Today, I'll be reviewing the Long and Luxe Shampoo, Conditioner, GroYogurt, and the Curl Enhancing smoothie.
Related Post: As I Am Born Curly – Natural Hair Products for Babies
As I Am Long and Luxe Product Reviews:
So I gave the products a try, and my thoughts are below. (We know that the line advertises stronger, longer, healthier hair, but I'll add in some of the other notable claims of each individual product, (taken from Asiamnaturally.com)
Notable claim: "reduces tangles and combing damage"
WOW. I can vouch for the above claim on this one. The strengthening shampoo honestly left my hair feeling like I had just conditioned it. My hair was indescribably soft, and the curls were springy. They didn't have that stripped feeling afterwards, and my fingers ran through them easily.
Notable claim: "smooths cuticle layers" and "promotes shine".
Combined with the strengthening shampoo, this conditioner worked magic. I actually got out of the shower and stared at my incredibly moisturized curls in the mirror for a bit. I was in awe, I'm so not used to coming out of the shower with hair that soft.
Notable claim: "adds moisture and shine" and "a must use before gel or setting cream to avoid flaking"
I was anticipating the texture of this Leave-in to be similar to the As I Am Classic, which is clear, and very similar to the Kinky Curly Leave-in (i.e. it has amazing slip.)
Instead, this product was creamy, reminding me a bit of a conditioner. Well actually, as the name implies–it was the texture of yogurt. (Yeah, I don't know why I would have thought otherwise…)
The slip was decent, but didn't melt my curls as well as the Classic version of the Leave-in. It did however prevent flaking when I used it with the Curl Enhancing Smoothie.
Notable claim: "light weight, hydrating formula – No residue build up with this"
Pretty awesome definition. And as advertised, layered with the Leave-in, absolutely no flaking or product buildup! When looking at my braidout, it kind of looked like my hair was just holding itself in place. There was no evidence of product in my hair.
(My selfie game was not on point at the time of using this product, so I have no photographic evidence… but maybe I'll update this post in future.)
Overall Product Line Pro:
There was no noticeable breakage, or even shedding for that matter, on my wash day. This is HUGE for me, as I have been battling breakage the past while.
At first, I thought this may be because I used the Aphogee 2 step Keratin treatment on the washday prior. But I used the Long and Luxe line again a few weeks later, and again, there was minimal shedding and breakage!
Overall Product Line Con:
Lately, I've been testing products from a single line to see how they function on their own. For my high-porosity hair, these 4 products alone were not enough to lock in moisture. The next day, my hair was dry and crunchy.
That being said, I tried them all second time, and used olive oil in-between the leave-in and the smoothie–WOW, what a difference. My hair was soft and juicy for days.
So I'm not blaming As I Am for the dryness and crunch. Especially since I looked back on their site and saw they also have a GroHair Oil as part of their collection (and Olive Oil is on the ingredient list).
Related Post: How to Use Olive Oil in your Natural Hair Care Routine
I suspect if I had added that to the mix, I would have ended up with well-moisturized hair the first time around.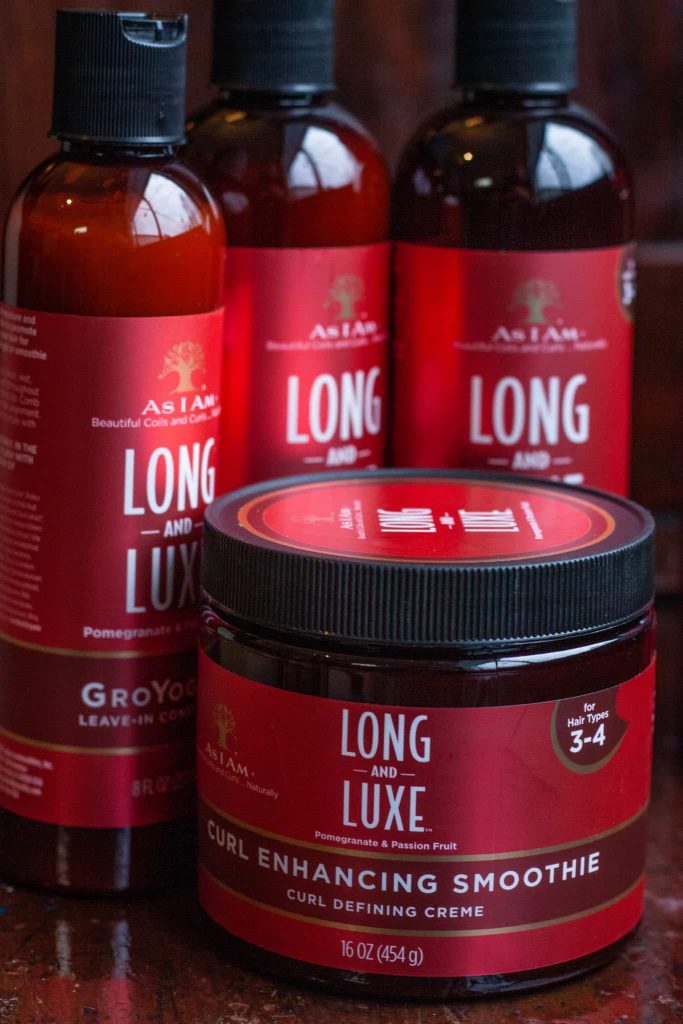 As a note, As I Am now has five product lines: Classic, Long and Luxe, Dry and Itchy, Pure Oils, and Born Curly (a line for kids, which I wrote about HERE).
Have you tried the As I Am, Long and Luxe hair products, or any of their other lines? If so, let me know your thoughts in the comments!
Looking for more natural hair product reviews? Look no further:
Make sure to catch the latest from Comfy Girl With Curls on Social Media!