The Natural Hair Community has been talking about Mielle Organics for awhile, so I figured I should finally try them out! I purchased the Leave-in Conditioner, the Curl Smoothie, and the Twisting Soufflé from the Mielle Organics Pomegranate and Honey Collection, and below you'll find my review!
*The links in this post contain affiliate links and I will receive a small commission if you make a purchase after clicking on my link.*
I chose to try this line from Mielle Organics above any other because of this blurb on their website:
These products are perfect for women with a tighter curl pattern focusing on key ingredients such as Pomegranate and Honey. Type 4 naturalistas and those desiring intense moisture and hydration are sure to love the Mielle Organics Pomegranate and Honey Collection!
I mean come on, how could I resist trying these out? The luscious ingredient combination alone piqued my interest.
So without further ado, my review: *me giggling to myself over the unintended rhyme*
First, two comments that are consistent across the entire line:
The smell. The honey and pomegranate combination is wonderfully decadent, but not heavy enough to make me dizzy. (I'm sensitive to smells). After my hair dried, it lingered only slightly–just enough for me to get compliments on it. I also found the Curl Smoothie and the Twisting Soufflé to be more honey-scented, while the leave-in conditioner, more pomegranate-y.
The packaging. I normally don't comment on the packaging, but this was luxurious. Shiny, bold and gold. I honestly felt so fancy and put-together while using them! They did a great job of embodying the name-sake ingredients in their packaging.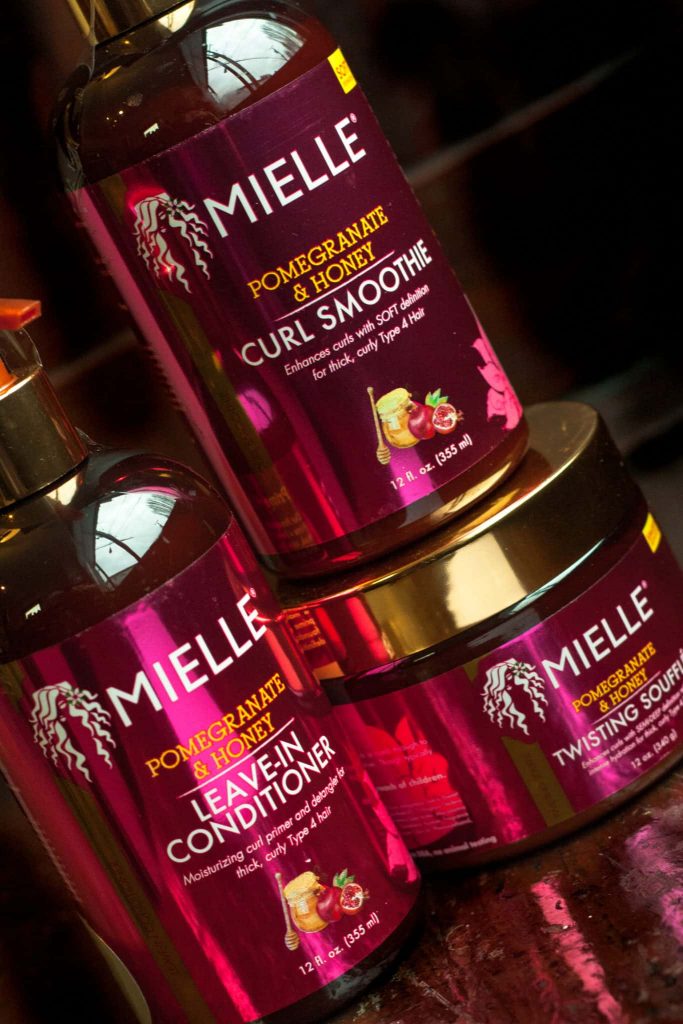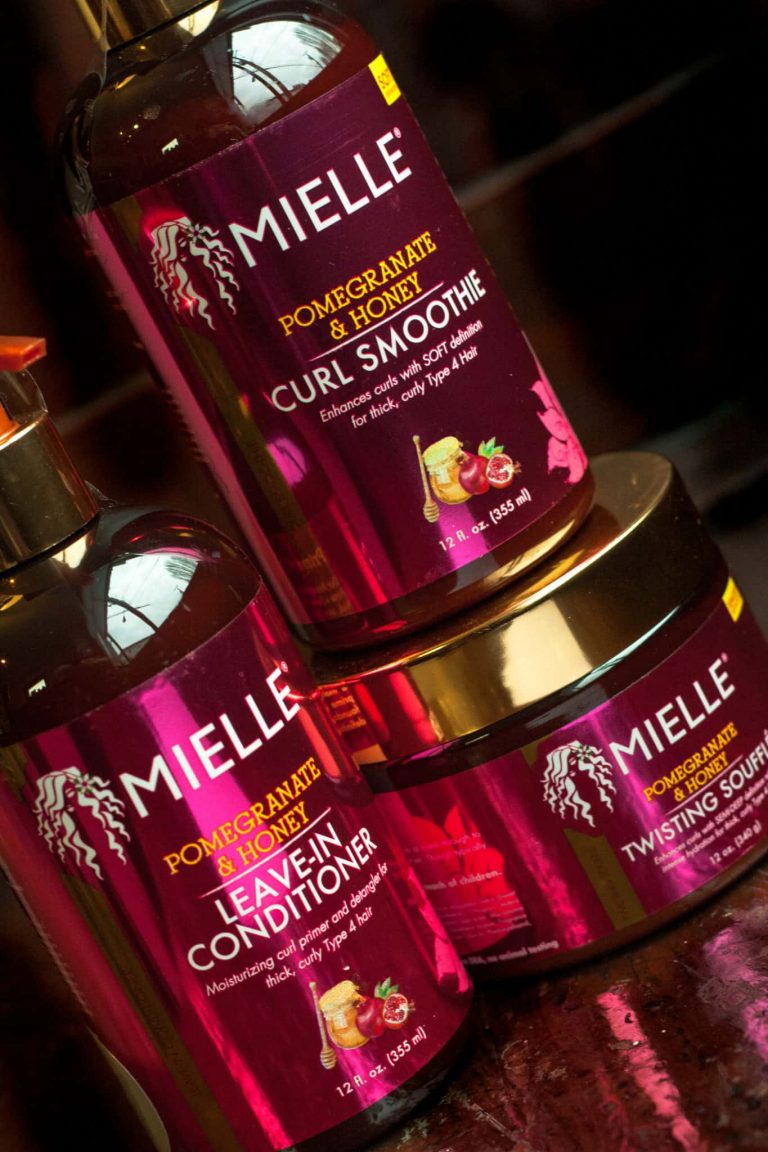 The leave-in is described as a "moisture sealant and cuticle smoother", and I think this is why my high-porosity hair loved it. It did a great job of keeping the moisture in.
It's a light-weight product, and the texture reminded me a lot of both the Kinky-Curly and the As I am Leave-Ins. It had great slip, making detangling a breeze!
The Curl Smoothie is a pretty light product as well. Mielle Organics describes this product as a serum, that "enhances curls with soft definition". From what I can tell, this product is designed to be able to be used on it's own after the Leave-In. But since my thick, kinky hair requires a lot more than soft definition, I can't use this product without something heavier on top. I found that it in combination with the Leave-in and the Twisting soufflé, that it did a great job of reducing frizz.
The package says that this product "shapes curls with semi-deep definition", and at first that had me wary. I was like "semi-deep?? I need the deepest to hold my curls in place". But I was wrong, the twisting soufflé was perfect!
It's very thick, and locks in moisture like no other! Honestly, after twisting with this product, my hair was still wet a few days later. When my hair finally dried, my twists still felt soft and juicy. I was very very impressed by this one!
*I just need to remember as a note to self, that if I'm in a rush for a bomb twist-out, I'll need to prep a few days in advance, or settle in under the dryer for long time.
My Twist Out with Mielle Organics
Instead of doing my usual LOC/LCO method, I wanted to see how my hair would turn out using only the above Mielle Organics products. So using only the above three products, and a spray bottle to keep my hair wet as I went, I put my hair into about twelve twists.
As I mentioned above, my hair was very well moisturized, and my twists took forever to dry. But patience was key. I kept my twists in for a few days,
And then, upon untwisting, my hair was SO incredibly moisturized, and because of that, the shrinkage was real. And personally, I love that. Here is the final result of my twist-out: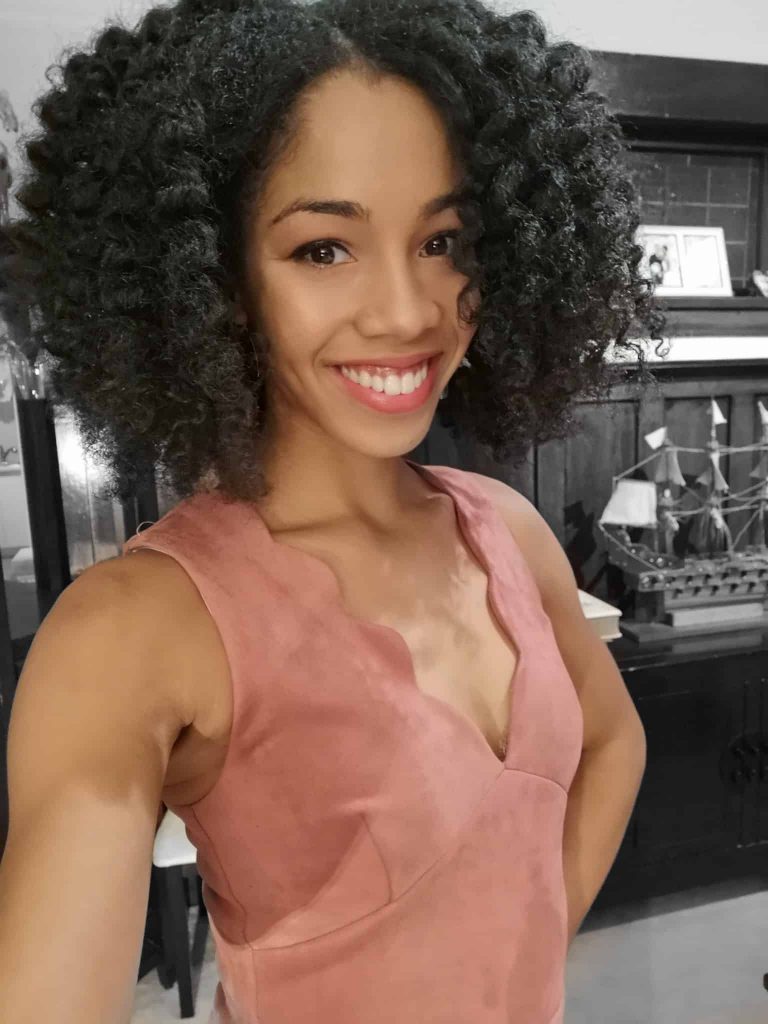 And then, without washing the products out, I tried them all again a few days later in another twist out. (This was mostly me being lazy and not yet ready for another wash day, but I also wanted to try the products a second time before doing this review).
Here was the result of round 2:
(Click here to see more examples of my second attempt, and to read about the lipstick I'm wearing!)
I don't recommend being lazy and doing what I did. Because the Twisting Soufflé is so heavy, there was a lot of product-build up. The hold was definitely there, but the product flaked off so bad I had no choice but to wash the style out that same day. (You can even see some of the flecks on my shirt!)
Final notes:
When I'm out of these products, I will definitely look at rebuying. I also honestly am now very interested in purchasing the rest of the Pomegranate & Honey Collection. They also have a Conditioner, a Shampoo, a Curl Refreshing Spray (which I'm especially interested in), and a Curl Sculpting Custard (which is supposed to be great for wash and go's).
Make sure to catch the latest from Comfy Girl With Curls on Social Media!