I flat-ironed and blew out my Natural Hair and used Aveda's Smooth Infusion Naturally Straight line. Review on Aveda's Smooth Infusion shampoo, smoothing masque, and style prep smoother.
In honour of my 24th birthday, I heat-styled my natural hair with the help of Aveda Smooth Infusion. For the first time in a year in over a year and a half, I did a blow out and straightened my natural hair with a flat iron! Going natural has made me extremely wary of heat damage, so the most heat I have really experienced has been under a table-top dryer.
I was mostly just craving a bit of change, and so my birthday seemed to provide me with the perfect excuse to flatten out my locks. I didn't, however, do it without a healthy amount of preparation. In fact, I split the process up into two days for the sake of time, and to prevent subjecting my hair to back-to-back heat processing. So here are the steps I took to accomplish the hairstyle:
Aveda's Smooth Infusion products helped ensure my hair would stay straight longer by fighting off humidity.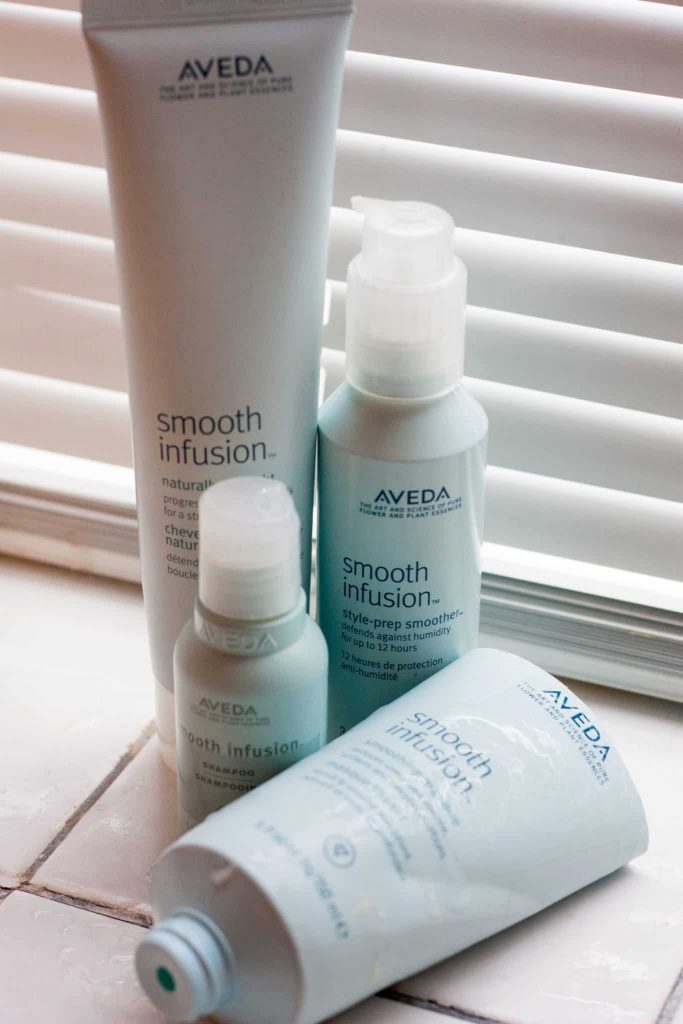 When I decided to straighten my curls, the first thing I did was dig beneath my shelf for my Aveda products. They were purchased about a year and a half ago, but they still did the trick.
For the entire process, I used four out of the six products in the Aveda Smooth Infusion line.
For my #washday preparation, I used:
For blow drying and flat ironing, I used:
The Shampoo and Masque both work to moisturize the hair, reduce friziness, and protect it from damage from heat-styling. The Style-Prep Smoother works to protect your hair from up to 12 hours of humidity, and Naturally Straight helps keep the hair straight longer. (You're meant to build upon this product. If you're planning to straighten your hair on consecutive occasions, this product will make it easier each time.
Blowing Out My Natural Hair
On the first day, I wanted to take it slow. So after washing my hair with Aveda's Smooth Infusion Shampoo and Masque, I blew out my hair with my handy-dandy Gold N Hot Blow Dryer. (And when I say "handy-dandy", I mean it's about time I get a new one. My hair has pulled nearly all the teeth out from the combs…)
Since writing this, I've upgraded my hair dryer to the Revlon One-Step Hair Dryer and Styler, check out my review and results.
I used the Aveda's Style-Prep, followed by Naturally Straight on each section before exposing it to the heat of the dryer. It took a good couple hours, and you can see I was a little frazzled and overheated by the end of it…
Flat Ironing My Natural Hair
The blow out pooped me out. I put my hair into two chunky braids and went to bed. After work the next day, I came home ready to tackle the flat-ironing part. I sectioned my hair off, added more Style-Prep and Naturally Straight to each piece before flat-ironing, and about an hour later, VOILA, my hair was straight (as it was going to get).
*As a note, I didn't do anything fancy. I ran the flat iron over my hair 2-3 times per section. I tried the chase method (where you run a comb through your hair, and chase it with the flat iron), but I'm definitely not coordinated enough for that.
Want to see how long my hair was when I flat-ironed it as a teen? Check out this throwback.
My natural hair actually stayed straight for a full week after flat-ironing it. For which, I truly do thank the Aveda Smooth Infusion line. I will say, however, that I got sick of my straight hair almost immediately. I enjoyed taking selfies with it, but I really wasn't used to styling it. It wouldn't do what I wanted it to. I wanted my curls back after the first day, but felt like I had to stick it out after all the effort I had put in!
P.s. This was how my whole birthday look came together (styled by Tilda, of course):

P. P. S. Here's my progress from back when I first relaxed my hair :
Flat ironed #naturalhair vs my hair when it was relaxed!
Look at that growth 👀✨#lengthcheck pic.twitter.com/OEfQJChmDy

— Comfy Girl (@ComfyGirlCurls) June 14, 2017
Final Thoughts
Overall, I absolutely loved the Aveda Smooth infusion line, with Naturally Straight and the Style Prep Smoother really stealing the show.
While it's probably not the best to make heat-styling my natural hair a habit (especially as it is already quite high-porosity), I know that when I do, I will be reaching for this hair product line.
Related Post: Damaged Natural Hair? Try the Aphogee Two Step Protein Treatment [Review]
Catch the latest from Comfy Girl With Curls on Social Media!
---