Anna Sylla of Anna S. Lipsticks (a black-owned lipstick brand) hand-makes beautiful organic and vegan lipsticks. I had the great privilege of meeting her in London, and you can catch the details of my last order here. My mother bugged me for ages to order her some of her own Anna S. Lipsticks, so I bought her Queen Gold, Queen Bronze, and Trouble Aubergine.
Both lipsticks from the Queen Collection (Gold and Bronze), are beautiful, rich, and metallic colours. They pop beautifully on their own, but can also be mixed with other lipstick or lipliner colours to create something truly unique. The third colour, Trouble, is a beautiful deep purple (and it's my mother's favourite).
Here, we swatched the three colours:
Top to bottom- Trouble Aubergine, Queen Bronze, Queen Gold.
You may also have noticed something a bit different from the last time I wrote about Anna S. Lipsticks. Anna updated the packaging! While yes, the previous lipsticks had beautiful gold packaging, I am absolutely loving the sleek black containers.
I really wish my mother and I were a bit better with selfies so we could have shown you what these look like on, but alas, we are not. We were too busy living life in the colours to stop and take a pic. (At least that's my excuse for now).
I do have this picture though! My mother snapped it of us–we're both rocking Trouble: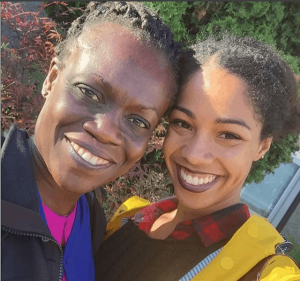 And then, because it seemed made for her. My mother ended up giving Queen Bronze to Tilda:
So come on guys, go out there and buy black, buy small business, and buy from an empowering and inspiring woman. In other words, go out there and buy from Anna S. Lipsticks. How cool is it to be able to support a black-owned lipstick brand as it grows?
I swear you won't regret it, she's also an exceptionally kind human being, so if I had to choose between giving money to her and someone else, I'd rather give my money to her. (Don't forget to check her out under the handle @annasbeautycosmetics on Instagram!)
---
Make sure to catch the latest from Comfy Girl With Curls on Social Media!