Mello Hair is a Canadian Natural Hair care company that you will definitely want to put on your radar. As a Canadian Naturalista, finding hair products for my kinky, curly hair is always nothing short of an adventure. So when Mello Hair reached out to me, and sent a sample of two of their products to review, I was extremely excited for the opportunity to show some love for something Canadian made!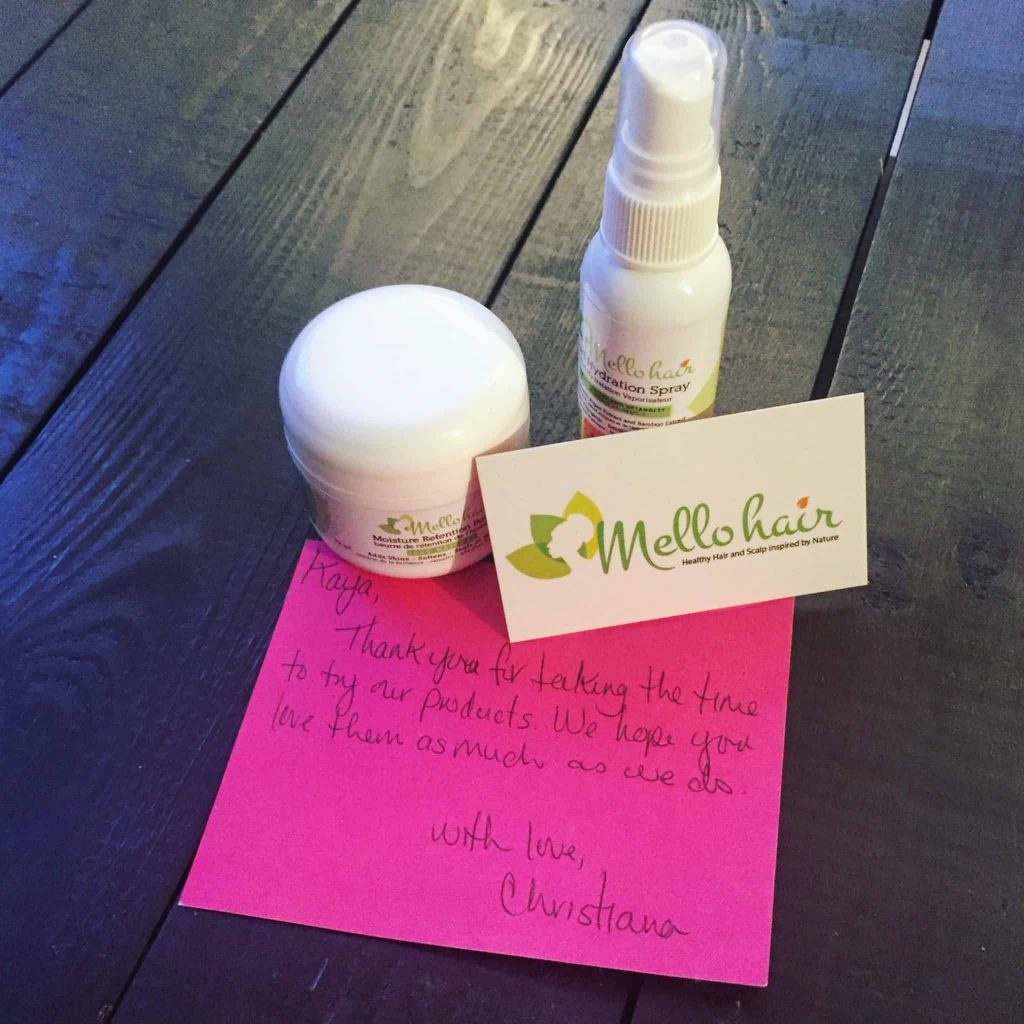 What I received was the Hydrate and Seal Trail Size Duo, designed to… guess what? HYDRATE and SEAL! Which is exactly what your average Canadian Naturalista needs (and any Naturalista for that matter…). So let's get right down to it.
Curl Hydration Spray:
Ingredients: Aqua (Water), Glycine Betaine (Beta vulgaris (Beet) Sugar Extract, vegetable glycerin, Bambusa vulgaris (Bamboo) Stem Extract, Algae extract,Jojoba Oil, Ricebran Oil,Panthenol (Vitamin B5), Grapefrut essential oil, creatine, Gluconodeltalactone (and) Sodium Benzoate, potassium sorbate.
What does it do? (According to the Brand)
Restores shine
Reduce breakage
Penetrates the hair shaft to increase moisture retention.
Nourishes and strengthen
Promotes growth and retention
Reduce dryness
How did I use it?
When I first received the product from Mello Hair, my hair was in Senegalese Twists. Initially, I thought I would have to wait until I removed them to test out the product, but I was pleasantly surprised that this wasn't the case. The Curl Hydration Spray was actually my saving grace in solving the Itchy Scalp Syndrome that comes with wearing protective styles. I would spray it on every morning, and it would relieve my itch like nothing else would! It ended up fully replacing the scalp spray I had purchased… (which is now sitting uselessly beneath my counter).
Related: My Experience wearing Senegalese Twists
After the twists came out, I used the spray two ways. First; to add in some nourishment before twisting my hair on wash-day. And then second; to refresh my curls mid-week.
Moisture Retention Butter: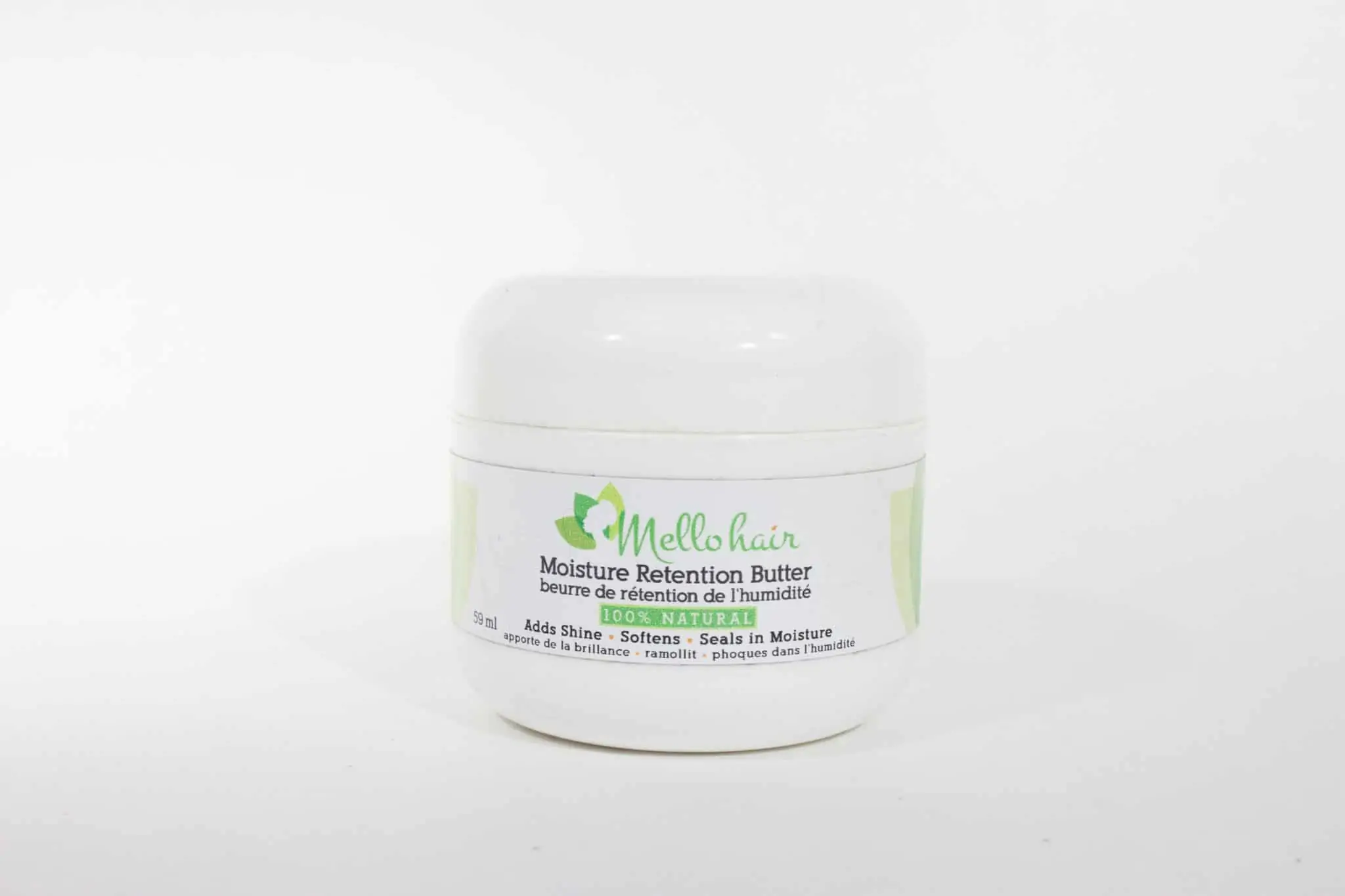 Ingredients: Butyrospermum parkii (Shea) Butter, Mangifera indica (Mango) Butter, Persea americana (Avocado) Butter, Ricinus communis (Castor) Seed Oil, Orbignya Oleifera (Babassu) Seed Oil, Theobroma grandiflorum (Cupuacu) Butter, Prunus amygdalis var.Dulcis (Almond) Nut Oil, Macadamia integrifolia (Macadamia) Nut Oil, Carthamus tinctorius (Safflower) Seed Oil, Astrocaryum murumuru (seed) butter, Citrus sinensis (Orange) Peel Oil, Citrus paradisii (Grapefruit) Peel Oil, Melaleuca alternifolia (tea tree) leaf oil
What does it do? (According to the Brand)
Promotes growth and retention
Nourishes the scalp
Restores shine
Reduce breakage
Strengthens
Fight Frizz
Use for your twist out and laying down fly aways
How did I use it?
As with the spray, I first used Mello Hair's Moisture Retention Butter on my scalp while wearing Senegalese Twists. The Butter helped to keep my scalp well-moisturized and healthy. It was great to keep the dandruff away, and it made sure my roots stayed strong.
Then, once I took out my protective style, I used the butter to seal in moisture, just as it was designed to do. On wash days, I am a huge fan of the LCO method Liquid, Cream, then Oil), and this butter was a great replacement of the oils I standardly use. It locked in moisture and helped my styles retain their shape.
Related: My Tips for Wash Day
(A photo I shared back when I received the product, and tested it on my protective style:)
---
So have you given Mello Hair a try yet? If you're a Canadian with Natural Hair, what other Canadian Natural Hair care companies have you tried? Help a sister out, and let us know in the comments!