Hello Everyone, we are back with another Empty Alert! This is a Two-For-One because I ran out of both of these products on the same Wash Day. Today, we're talking about two Deep Conditioning Masques; the SheaMoisture Jamaican Black Castor Oil Intensive Strengthening Masque and the SheaMoisture Manuka Honey & Mafura Oil Intensive Hydration Masque.
*This Post Contains Affiliate Links. Thank you for your support*
So…What are they? (In SheaMoisture's Words)
SheaMoisture's Jamaican Black Castor Oil Strengthen & Grow Treatment Masque makes even coarse, dry and over-processed curls and coils so soft and tangle free that you will love to love your hair. Heat style treatments like straightening and perming make hair dry, coarse and brittle. Damaged hair sheds easily, reduces in volume and looks unmanageable and unhealthy.
This intense conditioning deep treatment infuses hair with a powerful dose of moisture and nutrients. Certified organic Shea Butter, Honey, Mafura and Baobab Oils are blended with antioxidant-rich African Rock Fig to restore and lock in moisture. Smoothes and fortifies follicles for stronger, healthier frizz-free hair.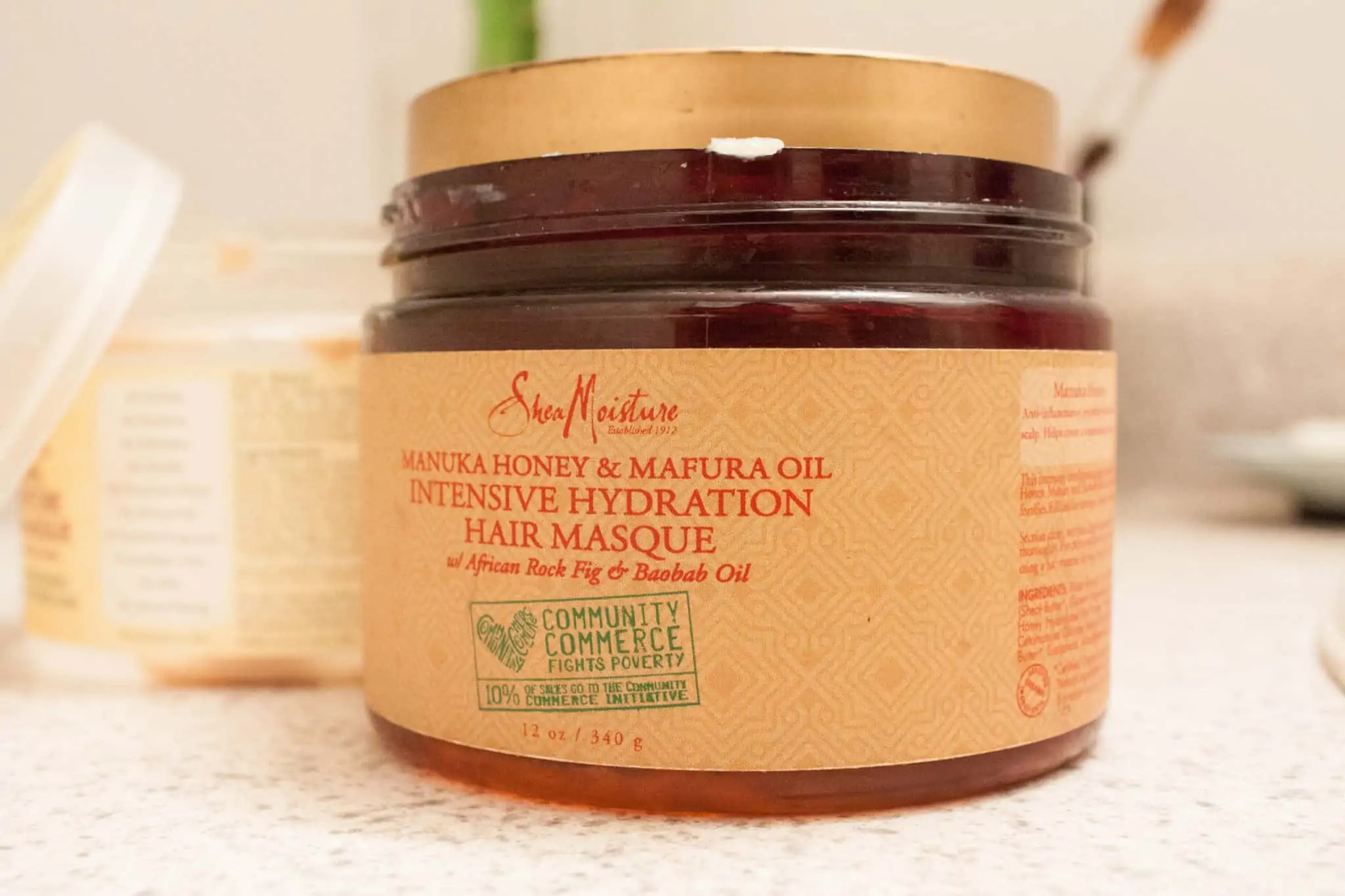 How do I use them?
First of all, I use these SheaMoisture Masques on different washdays based on the needs of my hair. The Jamaican Black Castor Oil Masque is used when my hair needs strengthening (when it feels soft and mushy). Then the Manuka Honey & Mafura Masque is my best friend when I need more moisture (when my hair feels hard and brittle).
Also, whenever I can, I use the masques with either my Table Top Dryer or my Hair Therapy Wrap. This allows the cuticles to open up, and really gets the product working!
SheaMoisture JBCO Treatment Masque Vs SheaMoisture Manuka Honey & Mafura Oil
Normally I have extensive(ish) points listed as pros and cons for my product reviews, but for these, I don't have that many cons, since they both get the job done. Instead, I will highlight some key things I have noticed about the different masques.
SheaMoisture Jamaican Black Castor Oil Masque:
Heavier product.
An odd earthier/nutty scent. (Some have compared it to play-doh…) But it doesn't stick around after rinsing, so I don't mind it!
Great for adding strength to your Natural Hair. If you are wondering how to make Natural Hair Stronger, this is a great option. Unlike many strengthening treatments, it doesn't leave your natural hair feeling hard and stripped. This strengthens and moisturizes simultaneously.
Manuka Honey & Mafura Oil Masque :
Lighter Product.
A lighter, sweet scent (Although personally, it wasn't what I expected, and I am not too sure how I feel about it).
Great for adding moisture to your Natural Hair.
Makes hair incredibly soft. I find this to be especially true when I use it (as mentioned above) with heat.
Final Thoughts
So out of the two, which is my favourite SheaMoisture Masque? Well, I really, really wanted it to be the Manuka Honey one, because it was so luxurious-sounding, and a little exclusive. However… for my needs, the Jamaican Black Castor Oil Strengthen and Grow Treatment sealed the deal. My hair is after all, colour-treated, and as a result high-porosity. So if you find yourself thinking, "what is a good deep conditioner for High-Porosity Hair?" This may really work for you!
Have you tried these two SheaMoisture Masques? Are you team Jamaican Black Castor Oil? Or team Manuka Honey & Mafura Oil? Discuss in the comments!
Looking for more SheaMoisture Reviews? Check out these:
SheaMoisture Power Greens Collection Review (I am in LOVE with the reconstructor from this line)
Shea Moisture Red Palm Oil and Cocoa Butter Collection Review (A favourite collection of mine, for SURE!)
———————————————————————————————————