Beautycounter Daily Shampoo & Conditioner Review on Natural Hair. Read more on these non-toxic hair care products below.
I first discovered Beautycounter when attending a local Natural Hair event (Vancouver Curlfriends), where I met a lovely woman named Camille.
She works with a company called Beautycounter, and she is refreshingly passionate about what she does.
In no more than 3 minutes, she brought to everyone's attention the extent in which harmful ingredients are allowed in Canadian beauty products (and even more so in the USA). Let's just say that what she shared really impacted me. And it's likely to shape the way I shop for products in the future.
Here are some excerpts from the "Our Story" page on the Beautycounter website:
Mission Statement:

To get safer products into the hands of everyone.

Decades of studies indicate that serious health issues (including but not limited to asthma, cancer, and infertility) are on the rise and due in some part to our ongoing exposure to toxic chemicals—whether it's in the shower, on our commute, while we eat lunch, or when we clean our kitchens at home.

(…)

The European Union bans over 1,400 ingredients from its personal care products. Canada has banned less than half that amount.

WE DESERVE BETTER, AND WE'RE DOING
SOMETHING ABOUT IT.

At Beautycounter, we've banned more than 1,500 ingredients, setting a new health and safety standard—
I feel The Natural Hair community is one of the most conscientious communities out there when it comes to knowing what they are putting on their head. A big problem with having natural hair, however, is trying to find a product that is not only good for you, but also works for you.
Camille happened to have a bottle of Beautycounter's Daily Shampoo and Daily Conditioner on hand, and she asked if I would be willing to test and review them. She specifically wanted to see how Natural Hair responded to it. Of course, being the hair product-obsessed human that I am, I said yes. And so here we are with this Beautycounter product review!
The Beautycounter Daily Shampoo:
If you read about my wash-day schedule, you would know that I do not wash my hair daily. In fact, my wash-days are on a weekly, or more often, bi-weekly schedule.
So I used the Beautycounter's Shampoo twice over two weeks, just as I would in my normal regimen. Like many Naturals, I am wary of Shampoos, and now lean more towards Cowashing (washing with conditioner only). This is because shampoos, by nature, are often more harsh, and tend to strip away moisture along with the dirt and residue build-up it is meant to clear.
Despite this, I went into using Beautycounter's Shampoo with an open mind. The first thing I noticed when I popped the cap? A nice clean scent.
I put the product on my head, starting from the roots and smoothing it down my curls. Then, I found myself grabbing a wide-tooth comb. I usually wouldn't ever dare doing this with a Shampoo in my hair. I usually reserve detangling for either the pre-poo or deep conditioning process. In the past, shampoos never offered enough slip for me to comb through my thick hair.
With Beautycounter's Shampoo, the comb glided right through my shampoo-soaked curls, and that surprised me. I've never been able to use a shampoo to comb out my natural hair! When I washed it out, it felt exceptionally clean, and had the new bonus of being tangle-free!
Also after rinsing out the product, in addition to feeling clean, my hair did not feel stripped. I will also say that when compared to many shampoos that are designed for natural hair, Beautycounter's shampoo did leave me with comparable, if not higher levels of moisture.
The Beautycounter Daily Conditioner:
I used the Daily Conditioner both times after Shampooing; leaving it in for 10 minutes as I completed other shower-time activities, like shaving my legs. It was very light, and smoothed into my hair easily. But, because the product was so light, I needed quite a lot to make sure all of my hair was covered, but that isn't unusual for my thick type 4 curls.
I then used the wide-tooth comb to detangle some more to gauge Slip levels, and Beautycounter surprised me again. The comb worked through my hair nicely with the conditioner in it.
I will say, however, that as nice as the conditioner was, it wasn't powerful enough for my hair. As I've said, my Natural Hair is very thick. It is also highly porous due to a few rounds of Hair-Dyeing, so I need a conditioner that really packs a punch.
In my normal Wash-Day regimen, I actually rarely just use a basic conditioner. Instead, I use either a protein treatment, or a heavy deep conditioner, and let it sit on my head for at least an hour.
Beautycounter's Daily Conditioner left me with decent levels of moisture when I stepped out of the shower, but by the time I started styling my hair, my hair felt a little crispy to the touch.
If Beautycounter made a Deep Conditioner, or a product line tailored to the needs of a kinky-coily-curly haired girl like me, I would be all over that. Goodness knows, there is a market for it.
***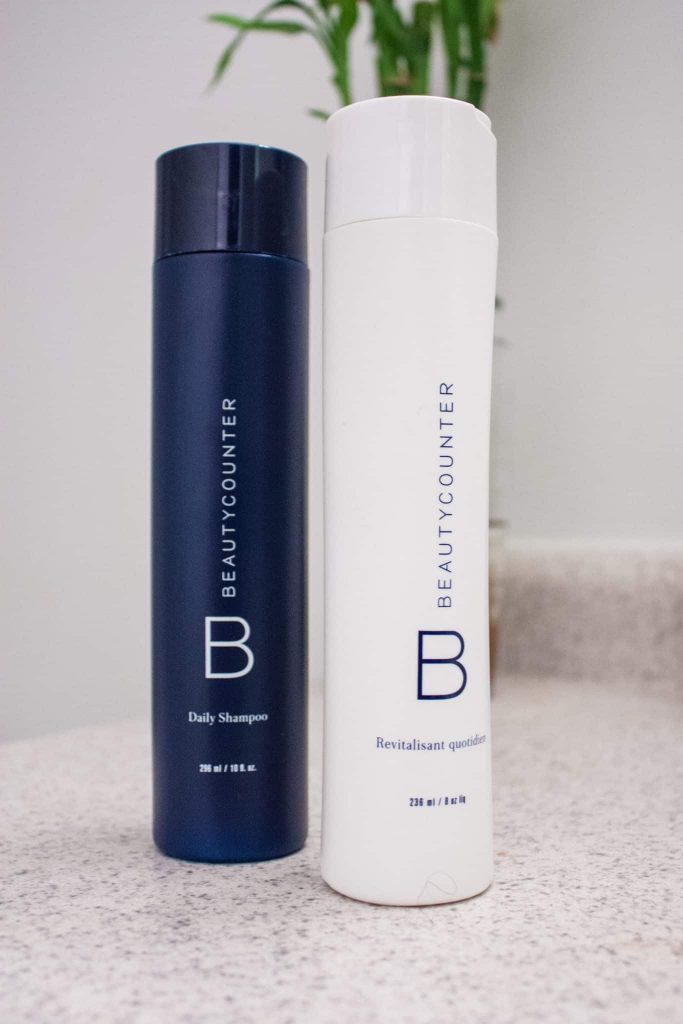 Other Beautycounter Products
Beautycounter has a ton of other clean beauty products lined up on their site, so presumably, you could get everything you need done while keeping yourself free of harmful ingredients.
In addition to their hair care products, they also have an expansive Skincare and Makeup Product selection. I definitely recommend you take the time to check them out!
At the end of it all, I absolutely love what Beautycounter stands for as a company.
I really hope you enjoyed this Beautycounter daily shampoo and conditoner review. The reality of women's health issues is undeniable, but here is the problem:
It is so easy to keep using toxic products when we don't see the direct impact of the harmful ingredients. Instead, many of us go for the instant gratification. We choose what makes our hair feel softer, stronger, smoother, or whatever we are going for, in that very moment, not thinking about the damage that could affect our futures.
Will I be going through my cupboard, looking up ingredients, and tossing out all my products? My gut is telling me I'm lazy, so probably not this very moment. But then again, if one day I find myself struggling with fertility problems, I may regret not being more conscious of what I put on my body.
Do you think you'll be trying the Beautycounter Shampoo & Conditioner after this review? Are you ingredient-conscious? Leave your comments below.
More Hair Care Product Reviews:
If you enjoyed this post, pin the below to Pinterest:
Make sure to catch the latest from Comfy Girl With Curls on Social Media!