I love testing out different Oils in my LOC method when washing and styling my Natural Hair. So here we have an OGX Argan Oil of Morocco Review.
*This Post Contains Affiliate Links. Thank you for your support*
The Renewing Argan Oil is a penetrating oil recommended for all hair types, but is especially great for dry and coarse hair (like mine!).
What is special about Argan Oil?
In general, argan oil is light, and dry, which means it soaks up fast, and doesn't feel greasy, and that is exactly what we have here.
The details from ogxbeauty.com:
This one-of-a-kind oil is our secret to hair's silky perfection. Infused with argan oil, it helps nutrients seep into the hair shaft to protect each strand from styling heat and UV damage and seal in the shine.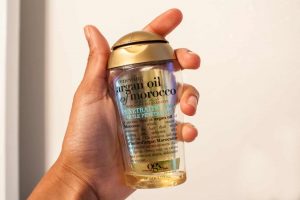 How do I use the Argan Oil?
I use Argan Oil of Morocco for my natural hair the same way I do any of my oils; as a sealant, and in my LOC method. Because it's so light-weight, I use this oil when I'm doing a less-thorough wash day. It's for when I want to make sure the moisture stays locked in, but am not too concerned about it lasting days and days. I will also use it when I want my curls to dry in a timely manner.
In terms of using it as a sealant, this is my go-to oil for a refresh. If my hair is looking a little dry, and needs to pick-me up, I'll spray my hair with water, run some cream through it if I'm feeling especially ambitious, then smooth OGX Argan oil through it to make sure the moisture stays locked in.
The Good and the Not-So-Good (A nice way of saying Pros and Cons)?
Good:
Subtle, pleasant scent. When it comes to oils, the scent is what it is, and there's no getting around it. I find that this argan oil (the only argan oil I've ever used), has a nice soft scent that fades very quickly.
The fact that this oil is dry is a huge plus, and probably the reason I keep buying it. Coconut Oil is great, and I can't get enough of my Olive Oil, but I find that they take so long to soak into my hair, and as a result, it takes so long for my hair to dry.
Does a really good job sealing in moisture on my 'refreshes'. Makes for a great pick me up when my hair is feeling a dry.
Adds really amazing shine without looking greasy. (And the residue doesn't come off in my hands when I touch it!)
Easy to find! My local drugstore (which happens to be open 24/7) carries all of the OGX line, so when I'm in dire need of some hair oil, I'm covered.
Not-so-good:
Teeny-Tiny Bottles. Come on. There is A LOT of natural, curly, kinky, coily hair a-top my head. I went through two of these in a very short period of time, so that says something.
Because it's so light and dry, the moisture doesn't last as long. I need to re-moisturize daily when using the Argan Oil, where as with good old Olive Oil as a sealant, I can honestly go half a week without having to so much as grab a spray bottle.
The shape of the bottle! Something about the way it's shaped at the top doesn't let me get out that last bit of oil! Since I am often way too lazy to grab a pair of scissors, that valuable millimetre of Argan Oil just goes to waste!
A bit pricey for the size. For a 100ml bottle, it's showing $9 online, but here in Canada, I pay a bit higher.
Would I buy the OGX Argan Oil again?
Yes, yes, and yes.. unless I find a bigger bottle, for a cheaper price. I'm a fan of quick and easy, and OGX Argan Oil of Morocco is a quick fix for my dry hair.
---
Thanks for taking the time to read the OGX Argan Oil of Morocco Review. Have you given the hair product a try? What's your favourite oil for your Natural Hair? Leave a comment below!
Related: