Looking to help repair damaged natural hair? Whether you relaxed your curls, dyed, or heat-damaged them, then this Aphogee Two Step Protein Treatment Review is for you!
*Some of the links included in this post are affiliate links. This means, at no additional cost to you, if you click on them and make a purchase, I will make a small commission.*
I was motivated to write out this review after I finished my 4 oz bottle of Aphogee Two Step Protein Treatment (this is about the fourth time I'm used the product in my life). This stuff really works for helping damaged natural hair (whether from over processing, heat damage, or dyeing), so I wanted to make sure I wrote a review for it.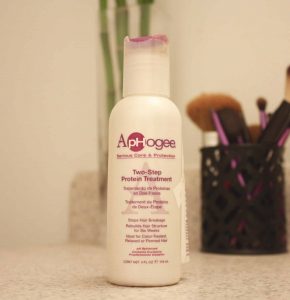 About Aphogee Hair Care Products
Aphogee has long-been a leading brand when it comes to damaged haircare.If you have never heard of Aphogee and their amazing products, now is the time to look into it.
Aphogee is well-known for treating damaged hair, whether it be heat damage, manipulation damage, or colour damage.
If you have any issues with the above, and want to test them out, I highly recommend their Serious Care and Protection Kit. It's a combination of the Aphogee Two Step Protein Treatment, their Keratin 2 minute Reconstructor, and their Shampoo for Damaged Hair. (I actually began using the latter two, back in 2011 when my hair was relaxed.)
What is the Aphogee two step protein treatment?
The Two Step Protein Treatment, which is what we are talking about today, is a treatment specifically designed to stop hair breakage.
This is an extremely powerful product that is used in professional salons, so you don't want to mess around too much without reading the directions.
Quoting from the Aphogee website, this product is to be used for those who's hair is:
Is too weak or fine to take a perm, bleach, straightener or relaxer. (use the week PRIOR to service)
Is over-bleached.
Will not hold color. (use PRIOR to color application for 30% less fade after 10 shampoos and truer shades)
Breaks when combed or brushed.
Is mushy when wet and brittle after drying.
Has lost it's curl pattern due to chemical over processing
Personally, I find I need to seriously consider reaching for this product if I've been doing a lot of heat-styling. Like if I am blowing my natural hair out, or flat-ironing my curls.
How do I use the protein treatment?
I honestly use it exactly as the directions drescribe on the bottle. As it says "for professional use only!" I'm not about to get creative with this one.
First, I made sure to do my whole (normal) wash-day ordeal. I pre-pooed, washed, and deep conditioned my hair.
Personally, I think it's really important to deep condition before doing the Aphogee two step treatment. This helps lock in the moisture, and keep my hair as soft as possible. While, protein treatments hep make your hair strong, they can hard as well, so the deep conditioner balances it out.
Related Post: LUS Brands Deep Conditioner & Elixir Oil Review.
Next, I towel-blotted my hair, and then put the Protein Treatment in. I worked in sections as quickly as possible to ensure it was evenly saturated.
After it was all in, I went and awkwardly under my hooded hair dryer for a good long while. I haven't timed this–all I know is that I have to stay their until my hair is dry.
In terms of important directions, Aphogee puts in all caps on their bottle, that your hair SHOULD NOT be agitated while it dries. Because it hardens on your strands, any agitation can cause your hair to snap.
Once my hair was 100% dry and hard to the touch, I jumped into the shower and rinsed it out. Once it's all rinsed, as instructed, I follow it with Aphogee's Balancing Moisturizer.
The Pros of Aphogee Two Step Protein Treatment
This stuff works. I have been relatively lazy with my Natural Hair regimen lately, and I've been experiencing a lot of breakage. It has been two weeks since I did the Protein Treatment, and I can still feel the effects: I am not experiencing much breakage or shedding even while combing it out or washing.
You don't need to buy it often. Because you wills see reduced hair breakage for 4 – 6 weeks following use, you don't need to repurchase the product often.
Great to use as precautionary measure in anticipation of damage. In other words, it is great to strengthen your hair prior to relaxing or dying your hair, not just to fix it afterwards!
Cons of the Aphogee 2 Step Protein Treatment
The Paranoia: As the treatment dries in the hair, it becomes very hard, and disturbing your curls while in this state could cause breakage. This makes me incredibly paranoid, thinking that everything I do may cause my hair to snap. Usually, I sit like a stone until I know the treatment is set!
It is VERY messy. drips orangey-yellow drops everywhere, so make sure you are not moving around, and you have towels around you! (The Orangey-Yellow drops also taste and smell horrible, so make sure it isn't dripping down into your face/mouth area
Small bottle. The 4 oz only lasted me two treatments, but I have a ton of thick curly hair. If your natural hair is thinner, you may be able to stretch out the 4 oz to a couple more washes.
Would I buy the Aphogee Two Step Protein Treatment again?
150% Yes. I probably have a good month or so before I will need to do the treatment again, but I love this stuff, and definitely need it beneath my sink. And if I ever decided to dye my hair again, this will help curb/repair the inevitable damage.
And that's all she wrote. I definitely recommend purchasing this if you're struggling with damaged or weak natural hair. Anyone else swear by this stuff? Leave your experience in the comments!
Related Posts:
If you enjoyed this post, pin the below to Pinterest: