If you happen to follow me on Instagram, Facebook, or even Pinterest, you may have noticed that I've taken a very recent and very strong interest in wearing head wraps.
*Edit: I wrote this post back when I first started getting into head wraps. Click here to check out the head wrap styles I've worn since then!
If you've been around since the beginning of my blog, you may remember one of my first posts being about my love for toques. I loved them (and still do) for their ease and simplicity. I use them as a lazy protective style (hiding bed-time twists for days) and most frequently, when I'm deep conditioning my hair and I realize I need to leave the house.
How I got into wearing head wraps:
Once Summer came around, I found myself wanting to try something a bit different, and this was the video that got me thinking that wearing head wraps might be a cool thing to try out.
Since I found and shared this video on my Facebook page, I have become obsessed with the idea of testing some of the options out. I waited a really long time before giving it a go. But I was mostly hesitant because I didn't think I would be able to pull wearing a head wrap off.
*Quick story time. A while back, one of my best friends confided in me that she wanted to test out headscarves. Ironically, I gave her a big fat no…although I can't even remember why I said so. So as you can imagine, about a month ago, when I finally wrapped my hair up in a scarf, and went to go meet her for coffee, I got called out big time for my hypocrisy. Views change, okay? I realize my mistake, and that head wraps are cool!
My first attempts at wearing head wraps:
I have yet to be able to successfully pull off any of the above head wrap styles exactly. That being said, I've been improvising. This is what I've come up with: (The first one is the one I am most proud of.)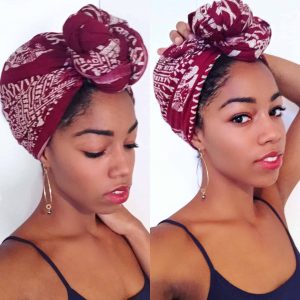 Another thing that makes scarves a nice alternative to toques, is quite simply that wearing head wraps makes me feel relatively put together. They're a perfect solution when my natural hair isn't cooperating… which is honestly whenever I have a day off.
Then there's the added bonus of protecting my hair from the sun! Not only is my hair protected from the elements, I can do a full on conditioning session underneath one of these. (Just as easily as I could with a toque).
Final Thoughts:
So there you go. My first attempt at wearing head wraps. Now I have yet another obsession that I'll have to budget for, as though makeup and toques weren't enough…
So are you curious about headwraps, just testing the waters, or a long time sporter of them? I would love to see photos or links to your favorite inspirations. Also, where do you get your scarves from? I need to find a good go-to, affordable place!
Related Posts:
Make sure to catch the latest from Comfy Girl With Curls on Social Media!
---