I was sent some products in exchange for a Carmella Marie Hair Product Review. These are my honest opinions after testing them out.
Carmella Marie sent me three products to review. I received the Alabama Mix Creamy Cleanser, MyGel and a travel size Hair Lotion. The package came with a lovely card, and a handy overview of the different products the company carries. (You may have caught the image of my haul on Instagram.)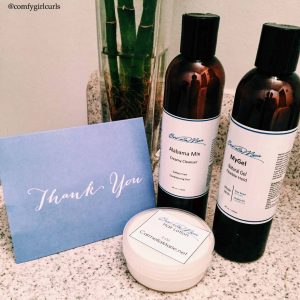 According to the brief "About Us" inside the package, "Carmella Marie creates hair-care products composed of both natural and organic ingredients. Our team combines the use of research, nature's finest ingredients and imagination to create quality handmade hair-care products to meet your needs."
While I am not the most ingredient-conscious natural out there, it's always reassuring and kind of satisfying to know there's good stuff in the stuff you're globbing on your head.
So here are the goods:
Carmella Marie's Alabama Mix Creamy Cleanser
"A Sulfate free cleanser made with Castile Soap, which will moisturize your hair all the while cleansing it. Your hair will be refreshed and your scalp will thank you." – Carmella Marie
My Thoughts:
When I popped the cap and sniffed I couldn't smell anything, but yet I was pleasantly surprised by the subtle natural scent that emerged while washing.
As I am still relatively new to the CoWash world, I try to avoid expectations going in. Still, I was surprised by the amount of slip there was while using it! I could actually comb out my hair in the shower using the product as a detangling agent.
The softness. Despite avoiding expectations, I hadn't expected my hair to leave the process feeling soft and moisturized.
It genuinely felt clean. Like squeaky clean, without the stripped feeling. As someone who finds reassurance in the suds of a normal shampoo, this sudless cleanser gave my other CoWashes a run for their money.
Shelf Life. I am a self proclaimed Product Junkie, and as a result, it takes me a long time to work through the endless products I own. I'm guessing it's due to the natural ingredients, but the products I received from Carmella Marie have a recommended "use by" time of 6 months. I am used to the full 12 months given to me by most of my regular products, so I worried that I may not be able to use it all in time.
Carmella Marie's MyGel
"Made of Flax Seeds, which are full of Omega-3 Fatty Acids that support a healthy scalp. MyGel promotes shine and helps revive dry scalp and dull hair. This light holding gel is a great way to enhance curls, twists or twist outs even wrap or set hair. For those who have relaxed hair, this will leave your hair bouncy if you wrap your hair with it at night." – Carmella Marie
My Thoughts:
Please note, I have a long-standing aversion towards gel. (And I am 100% sure this came from slicking back my hair in a ballet bun with Dippity Doo for the majority of my childhood). I always fear that a gel will turn on me and convince everyone that I have a huge, flaky, dandruff problem.
But yet, MyGel didn't betray me.
Besides the mucus-like consistency that comes with flax seed gel (it just is what it is), MyGel really impressed me. It added shine, and it didn't flake. Definitely something I will keep using.
Only down side is the same as the above with the shelf life. However because of how bouncy and flexible my hair became after using it, I can see myself using it way more often than I would a standard gel!
Carmella Marie's Hair Lotion
"Was created to keep those dry curls and coils moisturized. Our hair lotion will soften the hair and bring it back to life. Hair Lotion cane used on wet or dry hair." – Carmella Marie
My Thoughts:
I received a nice travel size portion of Carmella Marie's Hair Lotion, but since I have SO MUCH HAIR, I could only use the product once.
What I can say though is that I loved the thickness of it. I used it as the Cream in my LOC method, and I found it sealed in the moisture for a good couple of days. I will definitely consider ordering it in the future.
I hope that you found this Carmella Marie Hair Product Review helpful! I will keep you all updated when I use them on some future styles!
And of course, a huge thanks to Carmella Marie <3
Make sure to catch the latest from Comfy Girl With Curls on Social Media!