So, if you've been paying attention, you may have caught my post about what ColourPop looked like on dark skin. The post was made in hopes of helping myself, and ladies like me choose lip colours that might compliment their skin tones.
Since then, I have been obsessing over making a purchase on ColourPop.com, and a few weeks ago I finally cracked. I filled up my cart with what I thought was careful, painstaking, consideration, plugged in my credit card info, and pressed order (and it arrived last night!).
Before I start showing you my haul, first some of the things I wanted to share:
Although there is a lot of negativity circling around the web in regards to the shipping times for Colourpop, I was greatly surprised. I made my order on May 2nd, and they were very transparent, sending this after my order was complete:
(…)Orders typically take 3-5 business days to process.

Please Note: Due to extreme rapid growth, orders are taking an additional 2-3 days to process. We thank you for your patience and support as we work hard to lower processing times.
My order took a total of 7 business days to ship out, then after that, it took only 5 business days to get here. Considering I'm in Canada, and I'm used to waiting nearly a month for packages to arrive from the States, I can't complain
They sent a lovely handwritten note, and I'm a sucker for handwritten notes.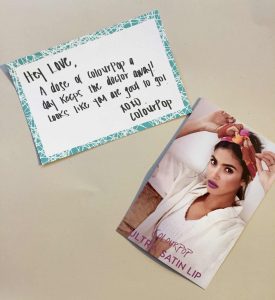 What I purchased:
1 Ultra Matte Lip – Scrooge
1 Ultra Satin Lip – Lyin' King
2 Lippie Pencils – LBB & Lumiere
2 Lippie Stix – LBB & Croquet
There is no doubting that these were and are all beautiful colours, but there is just one problem.. And I'll give you a couple chances to figure it out.

Nope?
Okay, how about now?
No? Okay, this will do the trick:
I swear they all looked different online!! (Although looking back, they are all very similar.)
I know I have always been drawn to plum-like colours, but this is a bit ridiculous. I basically bought 4 of the exact same color, just in different forms; a matte liquid lipstick, a satin liquid lipstick, a matte solid lipstick, and a lip pencil.
Really, I should have known myself better than this. I'm the kind of person who spends hours swatching back and forth at the drugstore to find the right colours. Seriously, last time I went into a Shoppers Drugmart, I had spent so much time in the makeup isle that the manager had tabs on me like no-one's business, obviously convinced I was trying to nick some Nyx Suede Lipsticks.
Anyways, I decided to try them all on, and at the very least there are some very subtle differences that I will be holding on to so I can convince myself I didn't just waste 50 bucks.
*As a side note, so far, I really do love the formulas of each and every one of these and maybe, just maybe, after a bit more research and and comparisons, I may make another purchase.
What do you think? Can you tell the difference, or am I total idiot? Stay tuned for a follow up post on how these wear long term!
~ Comfy Girl With Curls
[amazon template=banner easy]