Wondering if you can use Coconut Oil for shaving cream on your legs and body? Real about it here, and see if you'd be willing to slather coconut oil on your legs to shave.
*Some of the links included in this post are affiliate links. This means, at no additional cost to you, if you click on them and make a purchase, I will make a small commission.*
I'm sure by now, you have seen the coconut oil meme floating around the inter webs. And perhaps if you are like me, you have caught yourself wondering how much of the above is truth, and how much is inserted for the sake of a quick giggle.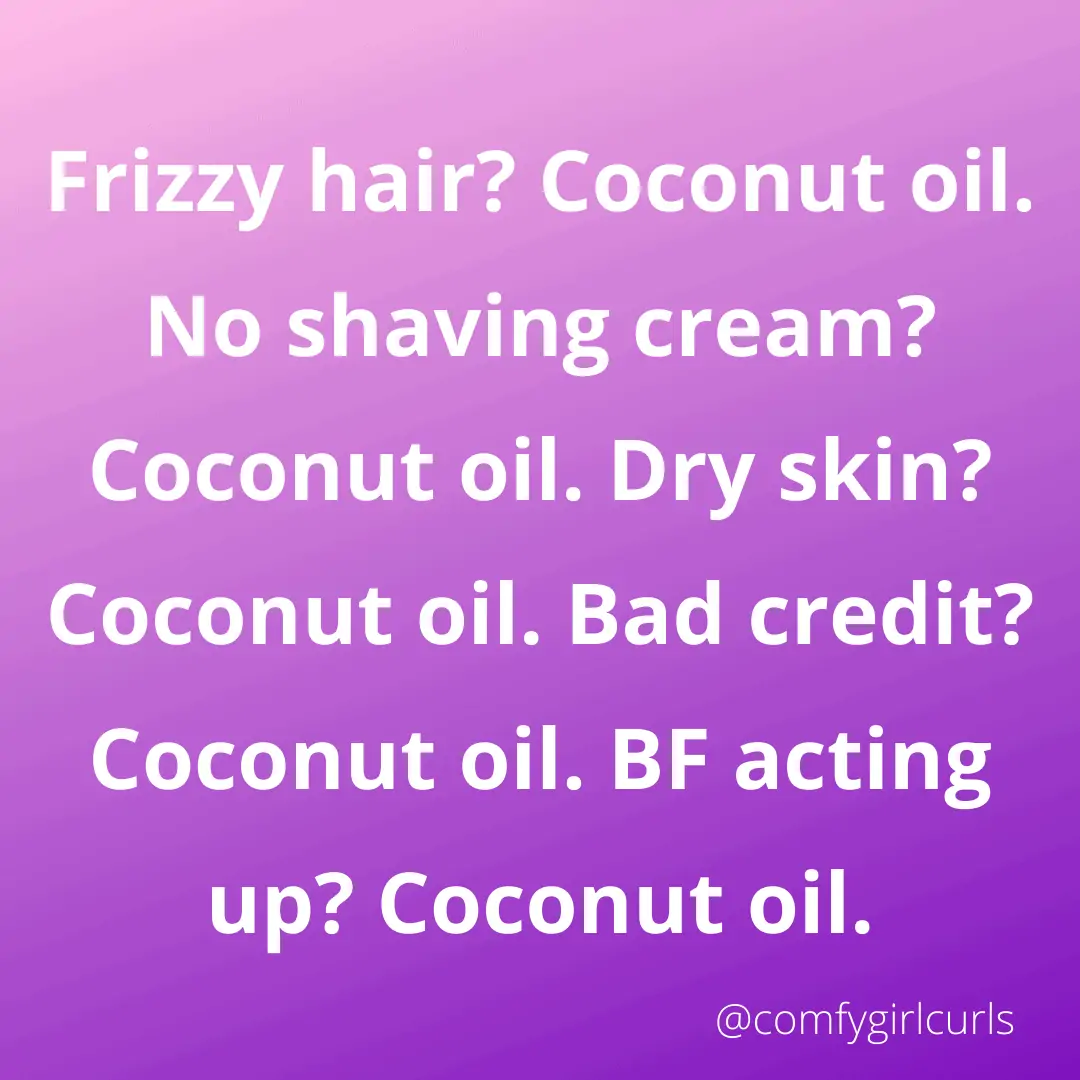 I mean, obviously we know coconut oil is the go-to cure for a crazy boyfriend, as well as a great hair-care product, but what I have always wanted to know, is does coconut oil really work as a shaving cream?
Related Post: How to Use Olive Oil for your Natural Hair.
So, let's get into the nitty gritty details, shall we?
My Experience Using Coconut Oil for Shaving
Over the past while, I've been thinking about it, and I'll be honest about being a bit squeamish about the idea. I mean, oil and freshly shaven skin all wrapped up in one? That has always sounded like a recipe for razor bumps to me.
Either way, I couldn't shake the idea of my trusty jar of coconut oil being put to more uses. So, after a good few months of humming and hawing over this question, I finally decided to test it.
As the sun began to come out, and Summer neared, I felt it was about time to take my razor out of hibernation. For a couple of years now, my go-to "shaving cream" has been a cheap conditioner or my husband's shaving cream.
But on this particular leg-shaving day, I decided to reach beneath my sink for my big, beautiful jar of Trader Joe's Coconut Oil.
I brought it into the shower with me, slathered it on to my legs, and gave it a try and…
I don't think I'm ever going back.
Shaving your legs with coconut oil actually works, and I want everyone to jump on this bandwagon so hard that it collapses.
What I Loved About Using Coconut Oil as a Shaving Cream
Not Messy. I find with conditioner, I get the stuff EVERYWHERE. But with coconut oil, you put it on your body and it stays there.
It goes on clear, so I can see if I'm missing any spots as I go. I don't have to rinse it all off, spot check, then reapply, as I normally would with a heavier cream.
No weird residue! I was really expecting to feel oily and weird after, but my skin just felt smooth and well moisturized.
Did you catch what I said about being SMOOTH and WELL MOISTURIZED? I really couldn't stop feeling my legs after I got out of the shower. More so than usual after a clean shave.
Benefits of Coconut Oil
There are many benefits to coconut oil, which is why so many people reach for it for such a wide variety of uses.
The fatty acids it contains (linoleic acid, lauric, and palmitic), help moisturize the skin.
Researched to be an antioxidant, and antimicrobial.
It is also an anti-inflammatory.
Cons of Using Coconut Oil
Despite all the great benefits, and my personal experience, coconut oil might not be the save-all, end-all, be-all product you are looking for.
In doing my research, there is one con you really want to look out for if you decide to use coconut oil for shaving your legs.
Coconut Oil is comodegenic. This means it will clog your pores. That being said, the skin on your legs is usually pretty tough, and can withstand some abuse.
And there is also the point that you will be rinsing the coconut oil off after shaving with it, so it is a lot less likely to do any pore-clogging.
That being said, if you are someone who is prone to acne, I would be wary of using coconut oil to shave your face (or any other sensitive parts of your body, like your bikini line).
Alternative: Actual Shaving Creams that Contain Coconut Oil
Maybe you're reading all of this, and you've decided that for whatever reason, using straight coconut oil as a shaving cream, just isn't for you.
If you are not interested in slathering your body with coconut oil out of your jar you use for your cooking, but still want all the coconut-oil benefits, a great alternative is to use a shaving cream that contains coconut oil.
Here are some great shaving cream options:
Cremo Coconut Mango Moisturizing Shave Cream – Find it Online
This shaving cream is highly-rated and extremely popular. In addition to the coconut benefits, this product is specially formulated for an ultra-smooth glide of the razor.
Geo F. Trumper Coconut Oil Soft Shaving Cream – Find it Online
A little of this product goes a long way to get a nice and effective lather. Their famous glycerine formulation helps you get a great shave, and the coconut oil helps moisturize your skin.
Taylor of Old Bond Street Coconut Luxury Shaving Cream Tube – Find it Online
Gives you the coconut oil benefits in a shaving cream lather. With the added fragrance blend of heliotrope flowers, ripe fig, caramel and vanilla.
Taylor of Old Bond Street Shaving Cream Bowl, Coconut – Find it Online
Same reputable brand as above, but your shaving cream is in a different form: a shaving cream bowl. Shaving bowls are most-often used in a barber setting, or for those looking to create a luxurious at-home shaving experience.
Final Thoughts
So there you have it. My personal experience using coconut oil for shaving, as well as some objective points to help you make your own decision!
Using coconut oil for shaving your legs does work. I would recommend it out of convenience, or if you're on that all-natural kick. But sometimes, using a real shaving cream might still be ideal.
While coconut oil left my freshly-shaven legs feeling nicely moisturized, soft and smooth, I am a bit wary about the long-term use of using a comodegenic oil on my skin.
But as always, to each their own! I hope this post was helpful to you!
Looking for answers on more unconventional product uses? Check out Dawn dish soap, can you use it to wash your hair?
~Comfy Girl With Curls
Related Posts:
If you enjoyed this post, pin the below to Pinterest: