So I tried something new, and it worked out and failed all in one. It started when I saw a video shared on Camille Rose Natural's Facebook page. It was a tutorial on a "Twisted Coil Out" by YoursNaturally11, and the end result was AWESOME. Naturally, the "Twisted Coil Out" was added to the long list of styles I needed to try out.
Just so you know, it takes a lot out of me to stray from my tried and true, two strand twist out. To test something new, I need to plan. I usually need to watch and compare other tutorials with other hair textures, gather my tools, and buy new products to ensure I pull off the perfect look. However, this style was similar enough to my usual routine that when I first decided to try it out, it was on a whim.
Attempt # 1
So my first attempt was mostly out of curiosity–more of a "Let's see what happens" sort of thing. Right away, I was impressed with myself because I was finding the process quite easy. Once I got the hang of the extra coiling motion, I was able to go fairly fast. The total execution time was comparable to a normal twisting night.
When I woke up the next morning, I was so excited; my twists were still tight! Usually when I twist my hair at night, they sort of loosen and puff out a bit as I sleep; creating less definition when I undo them.
My excitement was quick to wear off though. It took me about 10 seconds to revel in the tightness of my coils, before I realized that they were still wet and that I had about 30 minutes before I had to leave for work. I undid them super fast, fluffed them a bit, and threw my hair up in a bun to seize the day.
Attempt # 2
On my second try, while I didn't explicitly plan in advance, I did at least make sure I was off the next day to allow for maximum drying time. This time I did more twists, which helped them dry a bit faster, and by about noon the next day they were ready to go!
One thing I did notice though, was that as my hair dried, something about that extra coil had my ends coming undone. It got to the point where I couldn't keep up with retwisting the ends, so I gave up and stuck bobby pins at the bottom of the twists that were particularly troublesome, (which by looking at the picture, seems to be most of them).
So another step that intrigued me in the process was something YoursNaturally11 does at about 3:10. You see her coiling the ends of each section in order to maintain the look of little ringlets. I tried this, and although I did not get nearly as much definition as she did (due to differences in texture and thickness), it was way more defined than I WAS used to with my usual twist outs.
Now, on to the finished product: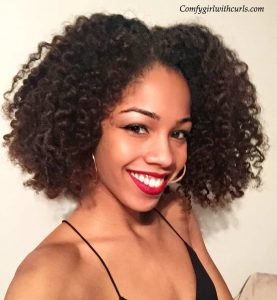 Obviously it turned out nothing like the video, but I wasn't expecting it to. I was really happy with the end result though, and I found it gave me a different look from what I was used to.
In retrospect, there were two things I didn't do that could have potentially created a more similar style to the video. A) I didn't steam my hair (because I don't own a steamer) and B) I didn't use Camille Rose Natural's Aloe Whipped Butter Gel .Either way, the above may have helped, but my hair is much thicker, more damaged (due to color treatment), and overall kinkier than hers, so it wouldn't have been possible for the recreate the style identically.
Now the "Con" of the style, really didn't hit me until the next day. After rocking my style all night, I came home, did two LOOSE twists, threw on my satin cap, and went to bed dreaming of beautiful second day curls.
This is what I woke up to:
The first reason for disappointment was that it was flat and limp the next morning. Not so much the beautifully full second day curls I had been imagining. I maybe could have made it work, but this was so far off from what I had been expecting that… well you probably guessed it, I ended up tossing my hair up in a bun and sulking off to work.
But here's the thing that really frustrated me. Let's zoom in a bit, shall we?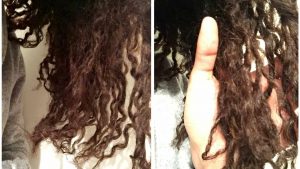 Remember that little extra coiling step while separating? Between that, and the Coconut Oil I used to take out my twists, I basically ended up with mini dreadlocks.
After work, I lost chunks of hair in a detangling battle. I think if I had been a bit more patient, and used something with more slip, it is possible I could have fared better. Either that or I just shouldn't be messing with such tight curls on my hair texture. Either way the breakage was REAL, and I don't think I will be trying this again anytime soon.
What about you, have you tried the twisted coil out yet? Any suggestions in case I decide to try this again? Let me know in the comments!
Make sure to catch the latest from Comfy Girl With Curls on Social Media!